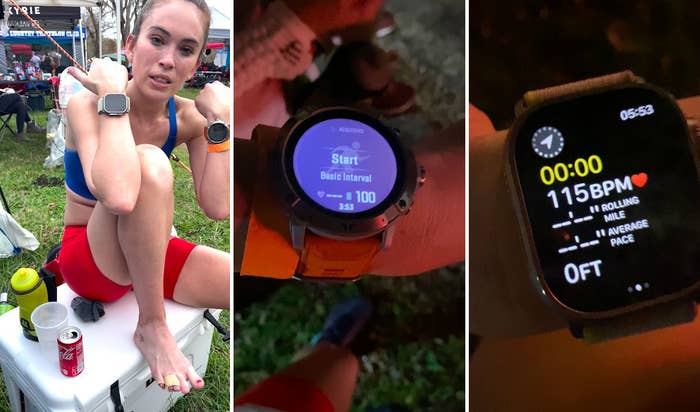 Lindsay Phenix is a professional running coach, model, and ultrarunner. She ran the Brazos Bend 100 in Needville, Texas, on Dec. 3 – a 100-mile race. All products were independently selected by Lindsay, and the prices were accurate and items in stock at the time of publication. BuzzFeed may collect a share of sales or other compensation from the links on this page if you decide to shop from them.
My dad got me into running as a kid. He would organize fun runs for me and my cousins and keep our stats up on the fridge. When I was 17, he asked if I wanted to run the Houston marathon. From there, I continued doing one marathon per year until I moved to LA and realized that some people run even more than that.
At this point, I've done around 70 races that were marathons or longer. Wearing a watch while I run is essential for controlling my pace and collecting all of the data that helps me improve. I normally use a Coros Vertix watch, which is built specifically for extreme sports, but the new Apple Watch Ultra claims it can keep up with me for a 100-mile race with all of the necessary running features like pace, splits, heart rate, distance, cadence, et cetera. I decided to find out if that was true. (You can check out a full list of running gear I use for ultramarathons too.)
Battery life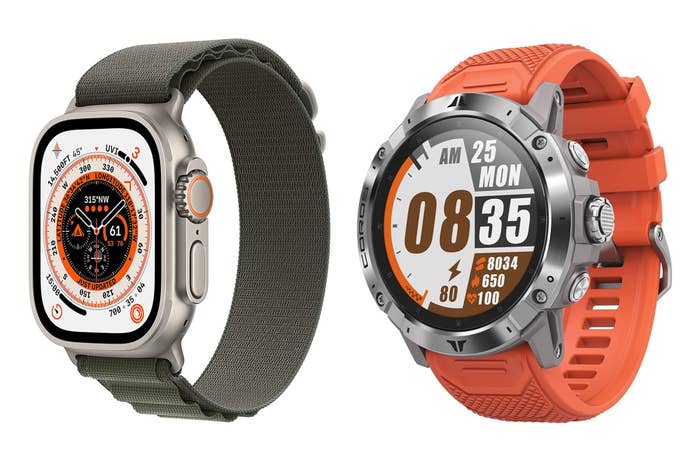 I've been using the Coros Vertix 2 for a while now, but I tested the Apple Watch Ultra for the last two months. I used it on low-power mode since the main update (with ultra-low-power mode) didn't come out until right before my race, so I wasn't able to test that out. But I've used it for all my runs — probably 30 or 40 runs — and didn't really have any issues with the low-power mode. The ultra-low-power mode was the kicker.
This race took me longer than the last race that I was supposed to do, because that was cold weather. This was a really hot race. I did not think the Apple Watch was going to last 22 hours, and it's still on [two days later]. I haven't charged it or turned it off and it's still on. So if it is meant to last, it lasts.
There's low-power mode and then there's this ultra-low-power mode. The low power mode, which has always been on the new Ultra watch, would have probably lasted me around 12 to 15 hours. But this was a brand new update. They're basically slowing it down as much as possible.
At the end of the race, the Apple Watch had 24% battery left, and the Coros had 87% which is insane, but that's what those watches are designed to do. So they both lasted the whole time, but I did have issues with the Apple.
Design and wearability
A pro about the Apple Watch is its sleek design. The Coros is massive for my little wrist, so with the Coros I had a little scuff mark on my wrist, and with the Apple product, I didn't.
The Apple Watch definitely felt better as far as not being heavy on my wrist. It didn't stay put as well because this race was so hot and so sweaty — it was insanely humid, and the fitness band wasn't made to withstand that. It was moving around a lot, so I had to adjust it as my arm would swell and get sweaty. The Coros band stayed put the whole time.
I'm sure you can get a rubber watch band (for the Apple Watch) like the Coros has, but the one that it comes with doesn't do well for extreme distances. But, I didn't have any chafing or anything like that with Apple. So it is a sleeker design than the Coros.
Data tracking
I was told to put the Apple Watch into ultra-low-power mode, which allows it to update my GPS and heart rate less frequently so that the battery will last longer. They use different variables to figure out exactly where you are, but I got only 99.2 miles on the Apple. That isn't terrible — it's actually pretty accurate. My problem with it was the auto-pause function.
I've always used auto-pause in the normal mode; when you stop, it pauses, and then it keeps going. It kept glitching for some reason, and it's never done that before (in regular low-power mode). So every once in a while I'd get a notification saying it was paused, and I'm there running. I might be going a little slower, but just because the GPS wasn't picking up as frequently, it thought I was staying still. I think that's why the distance was a little less [than my actual distance].
This course is very flat. My Coros registered 800 feet in total climb, which is nothing for a hundred miles. It's very, very flat. For some reason, my Apple recorded 4,468 feet of climb, which is like climbing to the top of a mountain over here in LA, so not accurate. That had to be because the GPS wasn't pinging very frequently.
Other than the elevation completely getting thrown off in the ultra-low-power mode, I couldn't get the display to change. Every mile, the Coros pings and tells you what your split is — one mile is eight minutes or whatever. On the Apple Watch, all it was telling me was my time. I literally thought for half the race, We're not gonna get any data. It just has a timer on. It wasn't telling me that I ever hit a mile. All I saw was that I'd been moving for 10 hours and 45 minutes.
Another thing about the functionality — since I'm running through the night, both of the watch faces are dark. Whenever you flip your wrist up, the Coros lights up so you can see what mile you're at, what your splits are, all of that. Whenever I did that to the Apple Watch, it wouldn't show anything because it had to be shut down to preserve power.
I also specifically asked if I needed to turn off all my notifications on the Apple Watch, because it's meant to connect to Instagram and text messages — it's meant to do all that. They said that when you put it in the low-power mode and then the ultra-low-power mode, it shuts all of that off for you. That wasn't the case. I was getting notifications all night long. I couldn't see my mileage, but I could see people texting me and Instagram and all of that.
With the Coros, you can also see the entire course laid out in the uploaded data. With Apple, I'm not getting that. All I'm seeing is my start and end location. As far as the data goes, Coros is way superior because that's what it's designed to do. But if you're an average runner and you just want to get your Apple running data along with everything else the watch does, I think it's good.
You can buy a Coros Vertix 2 from Amazon for around $699.
You can buy an Apple Watch Ultra from Amazon for around $780.
As told to Loren Cecil.
Correction: The name of the marathon race was misstated in an earlier version of this post.