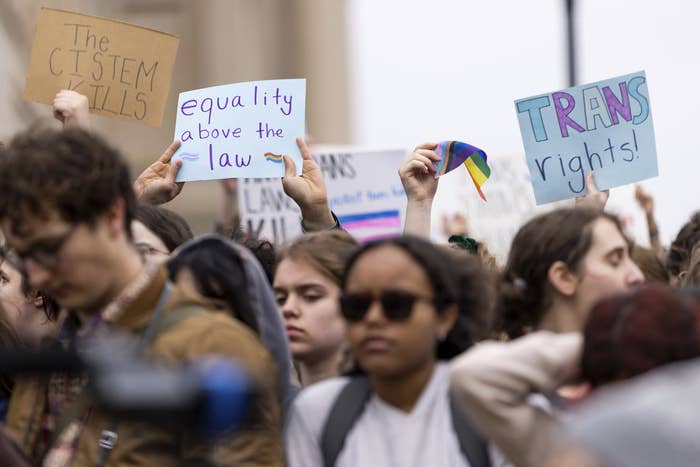 In early March, when Bo Belotti noticed that a post for a trans rights protest they helped organize for this weekend was shared on the right-wing news site the Daily Wire, they didn't think it was anything more than the usual right-wing panic about trans activism.
The 22-year-old and one of the organizers for Trans Radical Activist Network, or T.R.A.N., decided to keep spreading the word about Trans Day of Vengeance, which was slated for Saturday in Washington, DC — the day after hundreds of International Trans Day of Visibility protests were slated across the country.
"Trans Day Of Vengeance is more action-oriented," Belotti told BuzzFeed News. "The idea is that we want more than visibility, we want more than a hypothetical spot in the room. We want the seat at the table. We don't want to just see trans folks represented in media as tokens. We want trans people in their everyday lives to be able to live lives free of transphobia."
But after the pile-on by conservative commentators escalated, the organizers decided late Thursday afternoon to cancel the event, citing concerns for the safety of trans participants. Across social media, right-wing users had spent days falsely trying to connect the tragic Monday shooting in Nashville that killed six, including three children, to the weekend protest in support of trans rights.
"We received a possible active shooter threat," Belotti said over text late Thursday. "To protect trans life, which is our ultimate goal, we will be canceling."
The organizer noted that the threat was reported to the FBI. BuzzFeed News reached out to the agency, which said it "does not comment on complaints or tips we may or may not receive from the public."
The protest, Belotti said, was organized by T.R.A.N. and two other groups, Our Rights DC and RVA Feminism, in order to protect trans people's ability to exist openly in public. Across the country, more than a dozen states — with Kentucky and West Virginia as the latest examples — have passed bills that require people to use the bathroom of the gender assigned to them at birth, ban drag performances, and even restrict access to gender-affirming medical care for minors. Altogether, the laws in many areas create a culture of hostility that limits trans people's participation in society at large.
However, the days ahead of the planned march saw a terrible act of violence, as well as an increase in dangerous anti-trans rhetoric in its aftermath. On Monday, a 28-year-old shooter opened fire on a Christian school in Nashville. Nashville officials said Monday that they believed the shooter was transgender, though BuzzFeed News has not confirmed further details on their gender identity.
But conservative commentators and Republican politicians quickly piled onto this narrative in an attempt to draw connections between the shooting and violence committed by the transgender community broadly.
Conservatives have also amplified false narratives about the Trans Day of Vengeance protest in an attempt to connect them to the Nashville shooter. Media Matters reported that part of what fanned the flames this week was a "hoax" tweet tied to a racist 4chan meme that spread across right-wing Twitter on Monday on a now-suspended troll account. The meme featured an image of a person holding a gun in front of a trans pride flag with the hashtag #transdayofvengeance.
On Tucker Carlson's show after the shooting, he posted a photo of the T.R.A.N.'s protest poster as the chyron read: "We are witnessing the rise of trans violence." The Fox News host also falsely claimed that the "trans movement" was deliberately targeting Christians.
Republican Rep. Marjorie Taylor Greene shared T.R.A.N.'s Trans Day of Vengeance flier on her congressional Twitter account and claimed that "antifa" was behind the event.
Twitter removed her post, and then, using automated processes, it removed more than 5,000 others that used the phrase "Trans Day Of Vengeance" without consideration for the context in which the tweets were shared.
"We do not support tweets that incite violence irrespective of who posts them," Ella Irwin, Twitter's head of Trust and Safety, said in a tweet Wednesday. "'Vengeance' does not imply peaceful protest. Organizing or support for peaceful protests is ok."
After news of the shooting broke Monday, the Daily Wire published a second article about Trans Day of Vengeance, noting that the organizers previously held a fundraiser for firearms training and were going ahead with the protest during the same week of the Nashville shooting.
Belotti said the fundraiser was for an unrelated trans self-defense course for the Virginia chapter of the Trans Radical Action Network and would include both "armed and unarmed" training.
In response to the wave of right-wing attention on the protest, T.R.A.N. released a statement about the shooting Monday expressing outrage and grief for the families of the victims.
"We also reject any connection between that horrific event and ours," the statement read. "Vengeance means fighting back with vehemence…It is also a call to our allies to stand up and fight with us to bring down the forces that try to divide and subjugate us.
"TDOV was created for exactly this," the statement added.
Belotti is no stranger to this kind of targeting. When the Daily Wire article on the protest first ran on March 6, the author put Belotti's name and information about their life in the piece.
"I am also afraid of what the right getting away with this means," Belotti said on Wednesday, in reference to the lack of accountability for the right's fearmongering. The organizer said they've been doxxed and had trolls leak pre-transition photos of their partner. "I'm scared, but I'm very lucky that I have a wonderful community that I call home here in Virginia and in the national network that I was able to lean on," they said.
Throughout their life, Belotti has fielded numerous threats and hateful language as they advocated for trans rights — including helping draft successful Virginia legislation to protect trans students while they were a college student.
The way that the right has leveraged the Nashville shooting to make broader false claims about violence in the trans community is an elevated and novel departure from how conservatives have usually fearmongered about trans people, advocates say.
"This has fit into their existing narrative presenting trans people as dangerous criminals…and it's alarming to see them turn this up to 11," Ari Drennen, the LGBTQ program director for Media Matters of America, told the Washington Post.
Drennen, who focuses on tracking anti-trans rhetoric in right-wing media, added: "I didn't think it was possible to escalate from implying we are pedophiles, but we are seeing this escalate into people calling trans people violent terrorists."
Across the internet, trans activists, including Belotti, were quick to point out that neither "Trans Day of Vengeance" nor the protest itself have anything to do with promoting violence. "Vengeance is all about fighting against these false narratives, the criminalization and eradication of trans people from public life," Belotti said.
The name of the protest comes out of a years-old meme and joke within the community: The word "vengeance" is used to express upset about the violence trans people face in their everyday lives, an edgy response to the frustrating limits of visibility politics.
In the United States, trans people have faced record numbers of fatal violence, with at least 38 trans people killed last year and 50 others killed in 2021, according to a tracker by the Human Rights Campaign.
Just as there is a Trans Day of Vengeance, there are dozens of other spin-offs. There's the Trans Day of Rage and an album called Trans Day of Revenge by the punk band G.L.O.S.S. There's even a Trans Day of Having A Nice Snack, a March fundraiser for trans mutual aid created by the host of the podcast Gender Reveal.
But long before any of this, there was the International Trans Day of Visibility, which was founded in 2009 by Rachel Crandall, a 63-year-old Michigan-based psychotherapist. Crandall created the holiday as a joyful counterpart to Trans Day of Remembrance, which began in the 1990s to memorialize people killed due to anti-trans violence.
"I wanted a day that rather than focusing on the dead, focused on those of us who are alive and really gives us a chance to be proud and celebrate," Crandall told BuzzFeed News. "It would be nice if one day there wasn't a need for it; however, I expect it to be around for years and years — and that's a good thing."
In the wake of the shooting, some queer events in Tennessee, such as a weekend protest on the first day of the state's drag ban, have been canceled due to security concerns. Belotti said that after the Twitter barrage by right-wing accounts, T.R.A.N. organizers decided to lock their social media accounts.
"We were receiving really violent threats and just absolutely heinous and untrue things," Belotti told BuzzFeed News on Wednesday. "Having to watch people claim that we have blood on our hands is really upsetting, obviously."
Belotti is saddened and concerned that the organizations decided to cancel the protest as a preventive measure to keep other trans people safe, though across the country, other Trans Day of Visibility and Trans Day of Vengeance protests will continue as planned.
"The goal of these articles being spread around is to get people to not come," Belotti said. "It is to get people afraid… We need every support we can get right now because trans folks are under the microscope of all these alt-right think tanks and legislators."