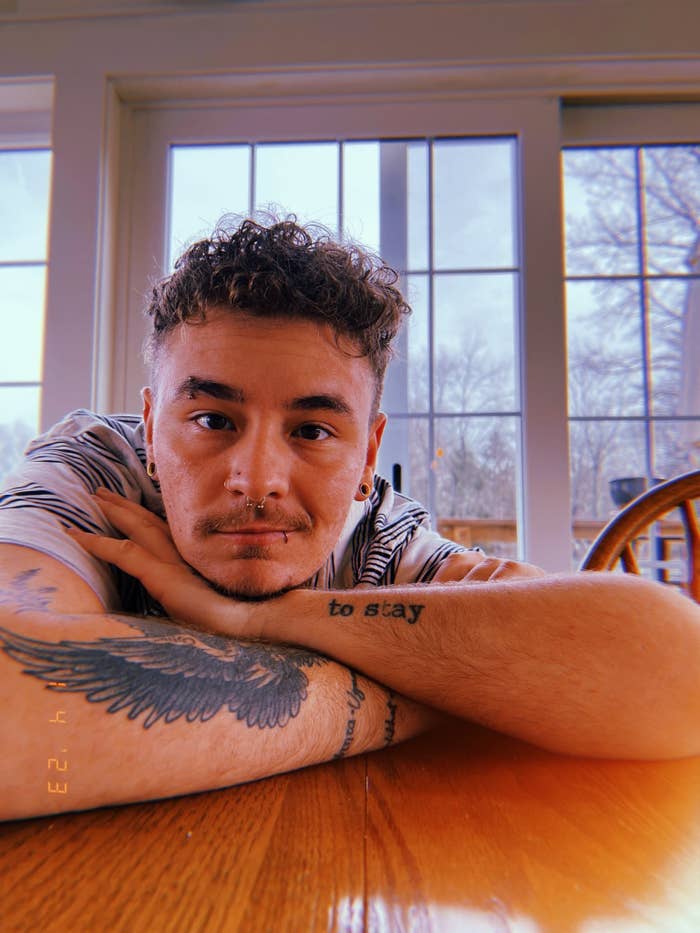 Last Friday, Lindsey Spero woke up early to make the four-hour drive from St. Petersburg to Tallahassee to testify in front of Florida's boards of medicine and osteopathic medicine.
They and a dozen other trans organizers expected a ban on gender-affirming care for minors to be approved, but they had been angered by Gov. Ron DeSantis's increasing attacks on trans kids and wanted their voices to be heard. Spero, who is 25 and nonbinary, waited through three hours of testimony from dozens of youth and their families before it was his turn to speak.
Though he was nervous, he told BuzzFeed News when he arrived at the podium he felt a wave of calm wash over him as he devoted his allotted two and half minutes to injecting his testosterone in front of the board.
"I could stand here and tell you about the times that I tried to end my life because I didn't have access to gender-affirming care, but I know you don't care," Spero said during the testimony. "I see you sneering at us while we come here and talk to you. Instead, I'm going to take the rest of my time to demonstrate the sacred and weekly ritual of my shot in front of you in this body."
Spero then opened up his supply kit, which he had laid out on the podium, took out his syringe, and placed the cap in his mouth. He drew back the needle before placing the subcutaneous shot in his stomach.
When they finished, Spero raised their fist and shouted, "Trans liberation today, tomorrow, forever," before the crowd behind them cheered and stood in solidarity.
Meanwhile, online trans activists watched the hearings from afar, including civil rights attorney Alejandra Caraballo, who first posted the clip of Spero on Twitter. It garnered millions of views across social media.
Spero wouldn't know until much later that thousands of people would see his testimony. In the moment, however, he only felt angry at how much he and his community have to fight for their right to healthcare.
"I felt anger and this kind of holy rage that comes from knowing that you have no choice but to fight and that your fight is justified," Spero told BuzzFeed News. "My hands stopped shaking and my voice became steady. I was able to slow down and look into each of their eyes. I could see the fear in their eyes and I could see in that moment how unsure they were of themselves."
Spero said they spent a week planning their speech and action, consulting with queer elders about what to do in case they were escorted out of the room or arrested. They hoped that injecting their hormones in front of the board would not only demystify what gender-affirming care looks like, but force the regulatory body to see Spero for who he is.
"It's crazy how many people have never seen it before," Spero told BuzzFeed News about the process of injecting hormones. "The medical board has quite literally heard from everyone — from parents, youth, they've summoned medical professionals. It seems like they are past the point of being reasoned with, so I felt like action would be a strong show of resistance."
Spero said their actions were inspired by moments of queer and trans resistance throughout history, from the Stonewall Uprising to the activism of ACT UP during the early years of the AIDs epidemic. "I recognize that Stonewall and our freedom wasn't won with passiveness and words and public forums," Spero said. "It was won with bricks and blood."
Around 4 p.m., the Board of Osteopathic Medicine wrapped up the meeting early by voting to bar transgender youth from receiving hormone therapy and puberty blockers — even those participating in clinical trials. The rule doesn't apply to those currently being prescribed medication. A spokesperson with the Florida Department of Health told the Tampa Bay Times that there is no start date for the rules to take effect.
The decision enraged the crowd of 200 or so trans families and youth, who erupted into chants, shouting "Trans Lives Matter" until they were all escorted from the building.
That evening, on the drive back to St. Petersburg, Spero stopped with their friends at Waffle House to debrief. "It was a great way to just sit together and enjoy a meal and feel like we could be safe for a moment," Spero said.
Spero doesn't feel like their actions on Friday were particularly special, but they said they have been overwhelmed by the response and love of their trans community in Florida — and from trans people across the country who saw their testimony online. Spero said they did not have that kind of support growing up in a strict evangelical household in Pennsylvania, where they said they were subjected to conversion therapy and eventually kicked out for being trans at age 18.
"It is a radical act to continue to simply live here and exist here and be ourselves. This is our home too, and we're going to fight tooth and nail for it," Spero said. "My community is still gathering, still going to drag brunches, getting together and making posters. We're still radically loving each other…and building community outside of a capitalistic binary structure..it's filled with all the love and hope and home and safety that we've needed our entire lives. The only way for them to stop us is to put us in the ground."