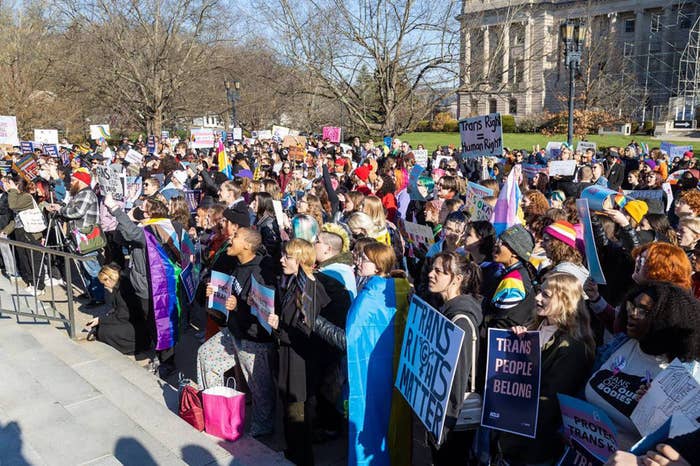 The Republican-controlled Kentucky Legislature on Wednesday overrode the Democratic governor's veto of a sweeping anti-trans bill aimed at targeting multiple aspects of the lives of transgender youth — from access to gender-affirming care to the ability to use the bathroom that aligns with their gender identity.
Republican lawmakers in both the Statehouse and the Senate were successful in sidestepping Gov. Andy Beshear's veto on the penultimate day of the legislative session, despite his plea that the bill allowed "too much government interference in personal healthcare issues" and would turn teachers into "investigators" of transgender youth.
SB 150 — dubbed an "omnibus anti-trans" bill and one of the most extreme in the nation by opponents — bundles numerous restrictions to the autonomy of transgender youth under the guise of parental rights. The bill also bars discussions of sexual orientation and gender identity in schools and gives teachers the right to refuse to use transgender students' correct pronouns.
Most of the bill goes into effect immediately, and the ban on gender-affirming care will begin in late June, but advocates have signaled they plan to file a lawsuit seeking to block it before the summer.
At the beginning of debates about overriding the veto on Wednesday, the bill's sponsor, Republican state Sen. Max Wise, defended it, saying, "The goal is to strengthen parental engagement and communication in children's education while protecting the safety of our children."
Its passage comes as more than 470 anti-LGBTQ bills have been introduced across state legislatures so far this year, according to the Human Rights Campaign. Late Wednesday, West Virginia Gov. Jim Justice signed a bill banning gender-affirming care, bringing the number of states that have restricted care to more than a dozen.
The law, which goes against the recommendations of all major medical associations, is just one of several anti-trans bills introduced in Kentucky despite efforts from vocal Democrats to halt restrictions of gender-affirming care.
Among them was state Sen. Karen Berg, who has for months made passionate pleas to her colleagues to protect youth access to gender-affirming care since her son, transgender rights advocate Henry Berg-Brousseau, died by suicide in December.
Berg, a Democrat and physician, read from the last news release her son wrote for the Human Rights Campaign, where he worked as the deputy press secretary, about the rise of anti-trans extremist rhetoric and the role of legislation in fueling the fire. Days before he died, Berg remembered how Henry, then 24, called her and said, "Mom, this is getting really scary."
In front of the Senate, Berg asked her colleagues, "Why are we here? To say this is a bill protecting children is completely disingenuous. To call this a parent's rights bill is a despicable affront to me personally."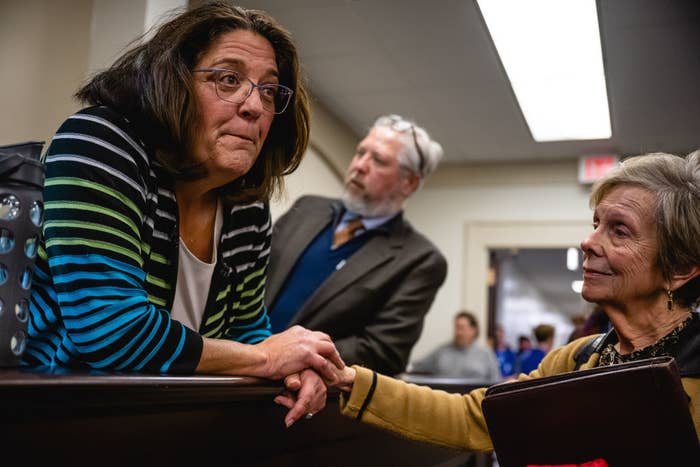 She urged trans youth who were listening to the legislative session not to lose hope.
"Keep marching, keep fighting, keep writing, keep forcing people to listen to you," Berg said. "Do not hurt yourself while we as adults figure out where we went wrong and what we need to do to fix it."
Only four Republicans voted in opposition, including state Sen. Danny Carroll, who spoke about how he could not forget the story told by a pediatrician at a previous hearing about a young trans girl who was experiencing suicidal ideation because she could not transition.
"We're taking away an option. … We're not doctors. I trust them to make the right decisions. … If it made a difference in that one girl, then it's worth it," Carroll said.
Outside of the chambers, hundreds of Kentucky students rallied in protest of the bill. The sound of them shouting "Shame!" could be heard in the background as the lawmakers debated.
Earlier Wednesday, students, who had walked out of school to attend the protest, met on the steps of the capitol building in Frankfort. Joined by a handful of Democratic lawmakers, the students urged the Legislature to listen to them.
"How heartless do you have to be to lie to kids that they will be alright, when you're actively working against them?" one student from Danville High School asked.
The American Civil Liberties Union of Kentucky has already signaled that it is prepared to challenge the law.
"To all the trans youth who may be affected by this legislation: we stand by you, and we will not stop fighting. You are cherished. You are loved. You belong. To the commonwealth: we will see you in court," the civil rights organization said in a statement on Wednesday.
Angela Cooper, the communications director at the ACLU of Kentucky, said that the impacts of the bill are "innumerable" and "reprehensible."
"We know that social acceptance is key to trans kids' well-being, and taking away social supports and medically proven interventions is dangerous and deadly," Cooper said. "To say nothing of the Kentucky families who will be forced to flee the state to keep their children safe."