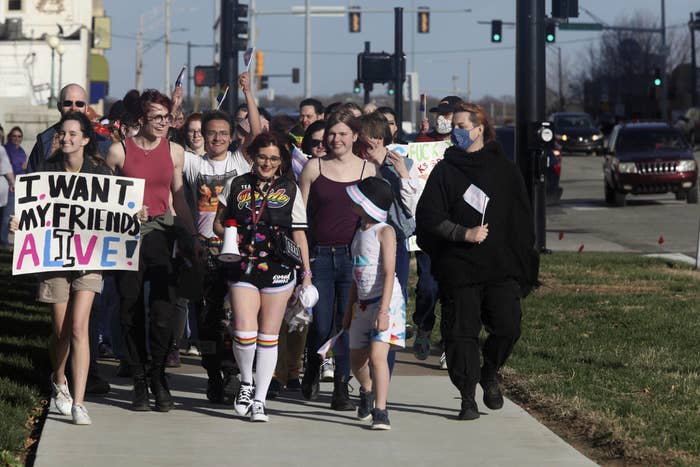 Kansas on Wednesday banned trans students from participating in women's and girls' sports from kindergarten through college, with the Republican-controlled legislature overriding a previous veto by the Democratic governor.
With a Republican supermajority, the legislature broke through Gov. Laura Kelly's third veto of the bill in three years and passed legislation that it calls the "Fairness in Women's Sports Act."
With the vote on Wednesday, Kansas joined 19 other states that have passed bans on transgender student-athletes. HB 2238 restricts trans women and girls — but not trans men and boys — from participating in sports.
"It breaks my heart," Kelly told reporters in Kansas City. "I'm sorry that they distracted themselves with this really awful bill."
Many of the law's opponents have said the ban will not only be discriminatory and create heightened scrutiny of trans and gender-nonconforming girls and women, but it will lead the state into murky waters in terms of how institutions handle enforcement.
"The sports ban has never sincerely been about protecting women's sports," said Micah Kubic, the executive director of the ACLU of Kansas, in a statement. "Rather, it arises out of the same gender discrimination, stereotyping, and paternalism that has held back progress for cisgender women athletes for centuries, and will now open up all girls and women to potentially invasive examinations just to be able to participate."
In a heated, 90-minute-long House meeting in February, Rep. Barbara Wasinger, who introduced the legislation earlier this year, was asked to explain how it would be enforced.
The Republican answered that enforcement would happen during a student-athlete's "sports physical." However when Wasinger was pressed further by a Democrat whether that meant a "genital inspection," she said she couldn't recall.
Wasinger didn't answer BuzzFeed News' questions about potential genital inspections, but said in a statement, "Sports physicals are done for every athlete participating in schools sports. Every child in Kansas must provide a birth certificate to attend school in Kansas. Both should be enough for any student."
Though proponents of the bill claim such legislation will help promote fair competition among cisgender women and girls, the actual numbers show that transgender female athletes are an extreme minority. According to the Kansas State High School Activities Association, there are currently only three trans girls competing in sports at the high school level.
On Tuesday, Kansas also passed a separate bill, SB 180, which ties together a number of restrictions on how trans people of all ages can move through public spaces, including a ban on transgender people using public restrooms and locker rooms and a prohibition on changing one's name and gender markers on driver's licenses.
The bill, which Republicans call the "Women's Bill of Rights," defines sex in binary terms as "either male or female, at birth," and advocates say it would lead to the legal erasure of transgender, gender-nonconforming, and intersex people.
Republicans in the state have more than a two-thirds majority to overturn a veto from Kelly.
Kansas's sweeping bill is the latest in a number of anti-trans bills that bundle multiple restrictions or have broad definitions of where they can be enforced.
Last week, Kentucky's Republican-controlled legislature similarly overrode the Democratic governor's veto of "an omnibus anti-trans bill" that banned gender-affirming care for trans youth, barred them from bathrooms that align with their gender identity, and gave school officials the right to refuse to use students' pronouns.
Unless blocked by a judge, the Kansas sports ban will go into effect July 1.