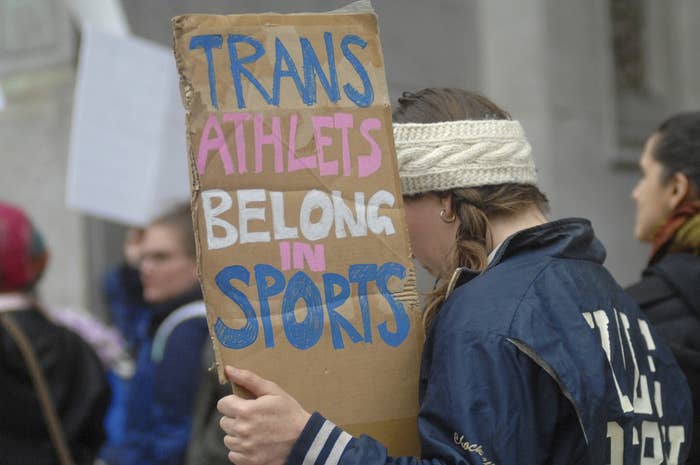 The Biden administration proposed new regulations that would prohibit schools from totally banning transgender athletes from participating in sports but would allow schools to bar some trans players in competitive high school and college sports.
The proposal, which was met with mixed reactions from both transgender activists and Republican legislators, came shortly after the Supreme Court ruled to allow a 12-year-old trans girl to continue competing in track and cross-country as a challenge to West Virginia's ban makes its way through the courts.
As states across the country consider blocking trans athletes from participating in school sports — and those bans are challenged in court — the Education Department said it aimed to provide clarity for schools and families and underscored that blanket bans on transgender student-athletes would jeopardize institutions and educational programs that receive federal funding under Title IX, which protections against sex discrimination.
The Education Department said that the reasoning behind the proposed change to Title IX regulations was to "develop team eligibility criteria that serve important education objectives such as ensuring fairness in competition or preventing sports-related injury."
The criteria used to determine the eligibility of a trans athlete would vary by sport, the level of competition, and the education level, but the regulations say they should "minimize harms" to transgender students.
But transgender advocates say that while this guidance may have been well-intentioned, it does not do enough to ensure protections for transgender students seeking to participate in school sports, particularly as 20 states have imposed bans on trans athletes.
Erin Reed, a Washington, DC–based trans activist and journalist who tracks anti-trans legislation, said she was stunned by the regulations.
"Schools are going to look at these regulations and they're going to see that they allow bans if it serves an 'educational purpose' and if it minimizes the harm to trans students," Reed told BuzzFeed News. "In essence … it gives the playbook for how to enact the bans and still be in compliance with the law."
The guidance says that it would be difficult for schools to justify the exclusion of elementary school students. However, when it comes to transgender students at the high school and college level, Reed said the language of the proposed rule doesn't explicitly say whether a school would be out of compliance for discriminating against them.
"I think the most frustrating part is that by leaving those unaddressed, [Biden is] leaving an open door and he's kind of giving credit to right-wing talking points," Reed said. "What [Republicans] seize on is the places where he's conceded ground. This is going to feel like a betrayal."
The department states that schools could use documents such as a birth certificate or driver's license and require physical examinations or medical testing related to a student's sex to "limit or deny a student's eligibility to participate consistent with their gender identity."
Reed worries that this kind of criteria could open the door to invasions of privacy, which echo the concerns of advocates in Kansas, where Republican lawmakers pushed through a ban on trans students in women's and girl's sports despite the governor's veto.
"I think that's troublesome and that's going to be a big thing for states like Kansas that are trying to require genital inspections for playing sports," Reed said. "I think that this document falls short of what it needed to do. It hurts more than it helps things for trans people."
Other trans advocates are similarly concerned with how the proposed rules might be enforced.
Melanie Willingham-Jaggers, the executive director of GLSEN, told BuzzFeed News in a statement that the eligibility criteria "cannot be based on junk science or bigotry and must serve a legitimate purpose."
"This should mean that no transgender, nonbinary, or intersex student is denied the opportunity to play school sports — but amid intensifying anti-transgender political attacks, we cannot count on good actors," they said.
At a press briefing Thursday, a reporter asked the Education Department how it would tackle enforcement of this rule in states that have already passed total bans on trans athletes.
"Federal civil rights law is the law of the land," a senior department official told reporters. "In the unlikely scenario that a school committee declined to come into compliance with the law, the tool that the department has is to initiate fund withholding and to ensure that no federal dollars are spent to discriminate against students."
The department also nodded to the NCAA's sport-by-sport policy as an example of how to include transgender athletes, but an official said that the department does not take a position on the association's policy.
Earlier Thursday at a White House press conference, press secretary Karine Jean-Pierre stressed the dire status of LGBTQ rights in the country. "This has been one of the worst weeks of 2023 so far in terms of anti-LGBTQ bills," she said, adding, "We have their back, this administration has their back."
The release of the proposed rule change on Thursday also drew heavy criticism from Republican members of Congress, who argued that the Biden administration's explicit acceptance of trans athletes in school sports would threaten women's sports and broader Title IX protections.
"This insane justice cannot stand," Rep. Andrew Clyde, a Republican representative from Georgia, tweeted. "Mark my words: I will fight this woke nonsense through the appropriations process."
Sen. Marsha Blackburn told Fox News that Democrats were rolling back protections for women. "The left sure is intent on depriving them of the opportunity to fairly compete," she said.
The regulation will be open for public comment for 30 days, and the department plans to have the rule finalized by May.