From the moment they went public with their relationship early last year, the newly married pair haven't shied away from getting incredibly touchy-feely.
As well as regularly sharing Instagram photos of themselves embracing, kissing, and sometimes even more, Kourtney and Travis have also displayed their now-infamous tongue kisses on the red carpet of several iconic events, like the Oscars, Grammys, and Met Gala.
And we've only seen more and more of the couple's PDA since Kourt's family's new reality series, The Kardashians, premiered on Hulu last month.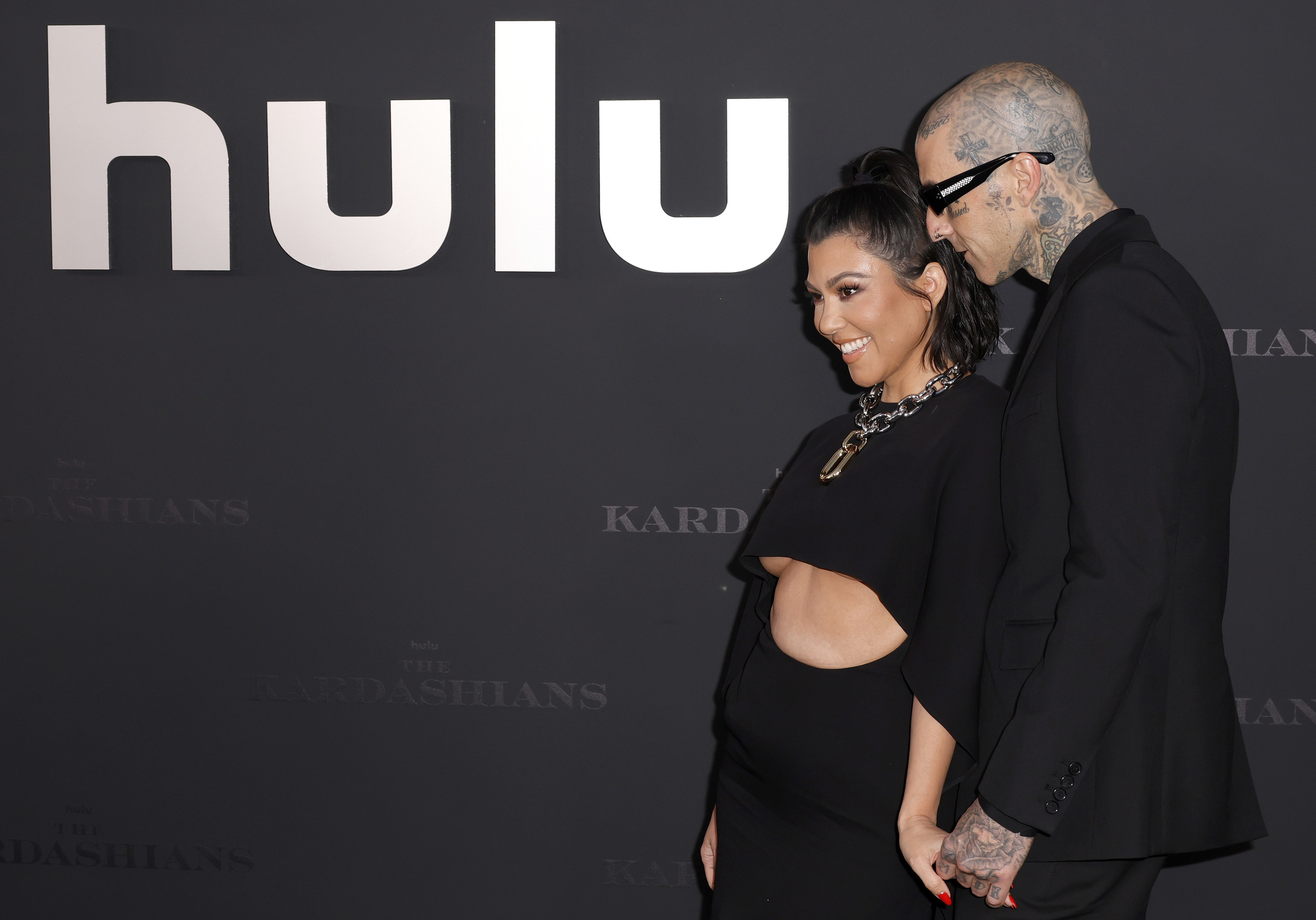 In fact, Kourtney directly defended her and Travis's PDA in the second episode of the show and insisted that she was grateful her children — 12-year-old Mason, 9-year-old Penelope, and 7-year-old Reign, whom she shares with ex-boyfriend Scott Disick — get to see such an "affectionate relationship."
"Kissing and hugging is not a bad thing," she said in a confessional, referring to the backlash sparked after Travis posted a video of her straddling and kissing him at Disneyland. "I'm actually grateful that my kids can see a loving, affectionate relationship because they haven't seen that their whole lives."
Similarly, Travis shrugged off all the criticism, labeling anyone who'd called the pair out "fucking miserable."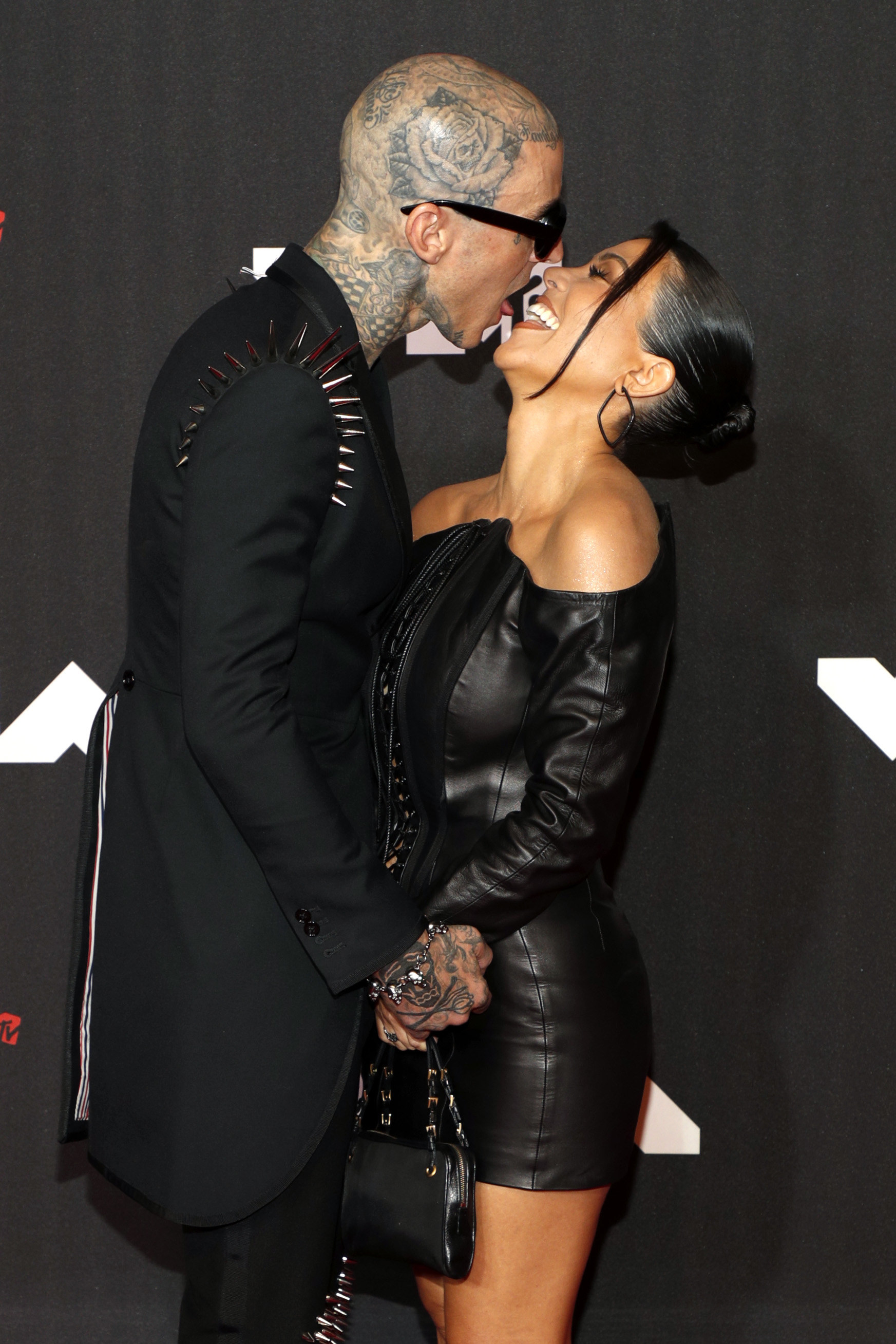 But while Kourtney and Travis are clearly advocates for being as openly affectionate as possible, her children seem to have very different opinions, with Penelope and Reign condemning the couple for their "French kissing" in this week's installment of The Kardashians.
In the episode, which aired on Hulu last night, we initially see Kourtney enjoying a standard game of table tennis with Penelope and Reign inside Travis's home.
But within seconds of the Blink 182 member walking into the room, he and Kourt start making out — in direct view of a pretty horrified-looking Penelope, who yells: "Mom! No kissing!"
Travis sheepishly tells Penelope that he's "sorry," while Kourt insists she wants "just one" peck from her beau.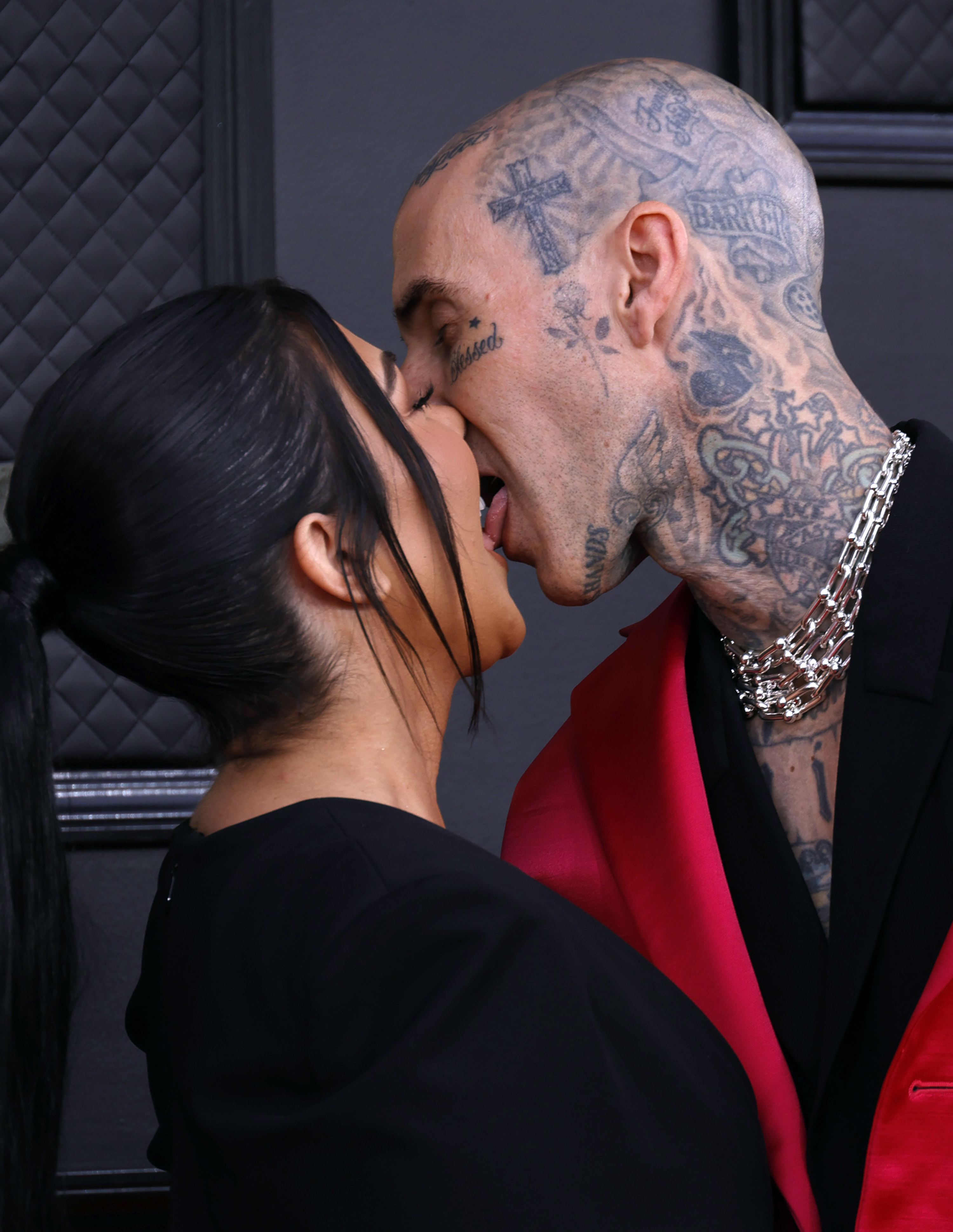 "What about our certificates you gave us?" Kourtney questions, seemingly referencing some sort of approval they received from her daughter. But, clearly unenthused, Penelope firmly replies: "No!"
Moments later, we see the group sitting around a lavish dinner table, where they're joined by Travis's three kids from his previous marriage: 23-year-old Atiana, 18-year-old Landon, and 16-year-old Alabama. It's unknown whether or Kourtney's eldest son, Mason — who didn't appear in this scene at all — was present that night.
As the group enjoy their evening meal, Kourt opens up about her adoration for their blended family. "I am really close with Travis's kids, and I love them. It's a beautiful thing," she says in a confessional, before going on to gush about how great of a parent Travis is.
"Travis is a really amazing father," she says. "It's one of the reasons that I fell in love with him. He is very, very patient, [and] I think because we've all known each other [so long], it does make it easier to blend our families."
But after a few minutes of standard dinner conversation, things get super awkward when Kourtney and Travis shamelessly start making out at the table in front of all their kids.
Well, only a few seconds of kissing go by before Reign — who's clearly seen enough of their PDA — actually tells the two to tone it right down.
"Ew guys! Can you guys not kiss in French again?" he asks, before begging a second time: "Can you guys please not French kiss?"
Giggling to themselves, Travis ultimately tells Kourtney, "No French kissing, baby," to which she reluctantly agrees.
And moments later, Landon leaves the dinner table and goes up to his bedroom, swiftly followed by Atiana and Alabama, who head outside.
As uncomfortable as the dinner is, it certainly isn't the first time that Kourtney and Travis have been blasted for getting a little too intimate in a family-friendly setting.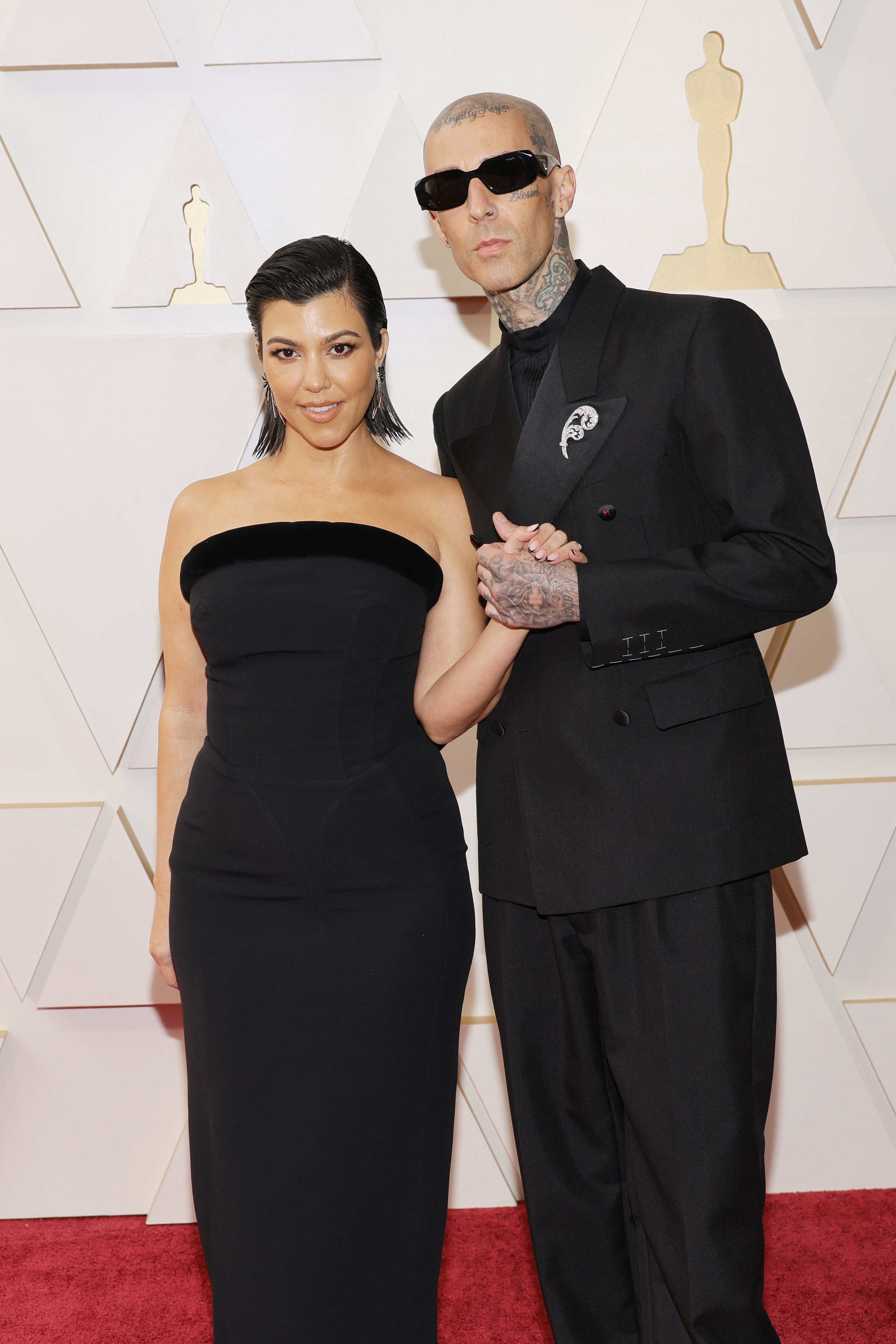 In the very first episode of the season, Penelope directly questions some of the couple's PDA as she and Kourtney spend time in Travis's studio.
As soon as they walk in, Kourtney — who manages to avoid any physical contact with Travis — tells her daughter: "Look, no kissing," suggesting that Penelope was perhaps uncomfortable with their affection.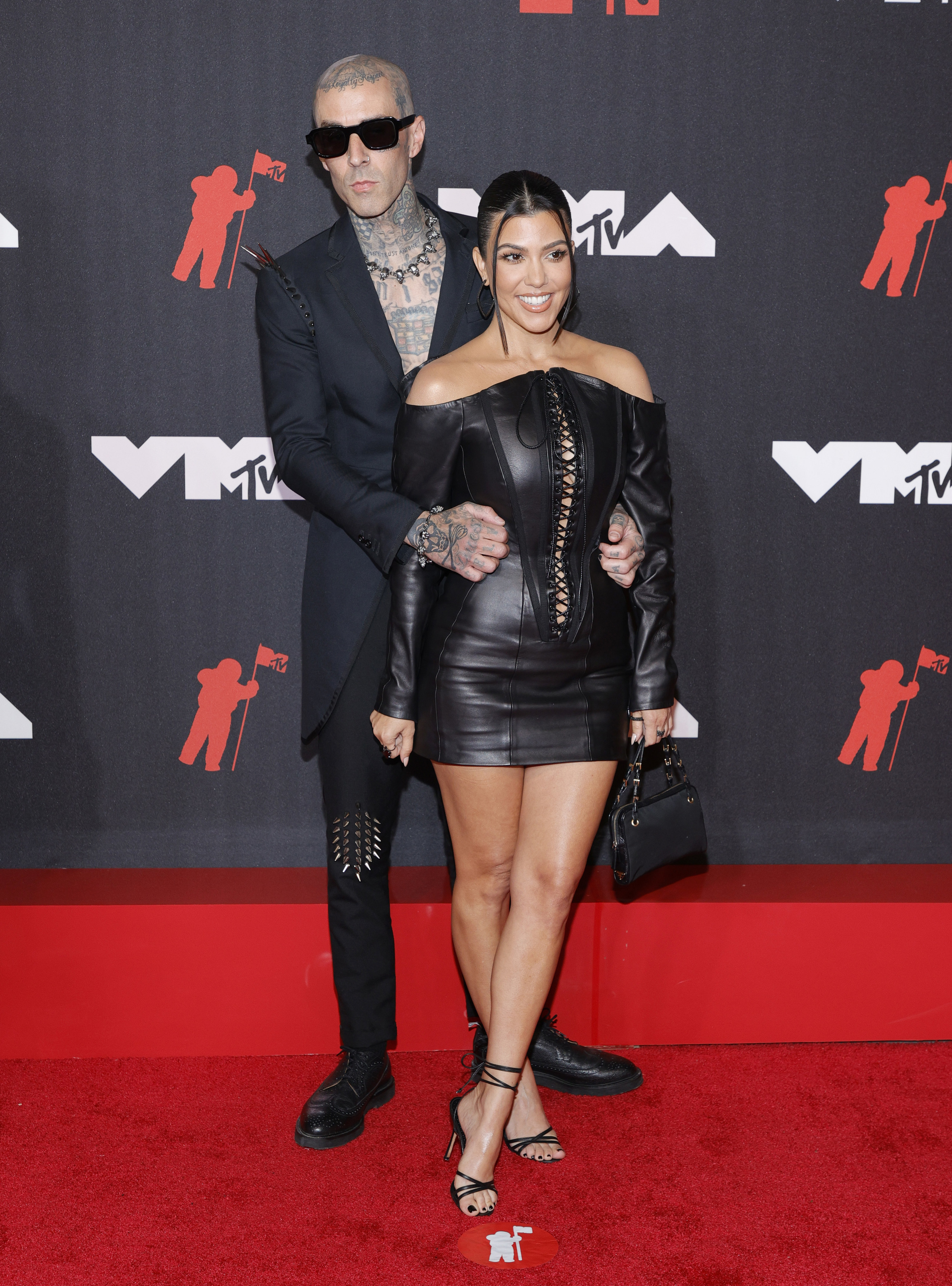 Penelope later asks, "Travis, why are you always like this to my mom?" while drumming her hands on Kourtney's thigh.
After telling Penelope that he's planning on using Kourtney "as a drum one day," the 9-year-old asks, "You're gonna use her butt?" while actually gesturing on her mom.
Travis nonchalantly replies, "Actually, that's what I had thought would make the loudest noise."
What's more, back in November, the pair were filmed getting very handsy at her mom Kris Jenner's birthday party, while the family — including sisters Kim and Khloé — were enjoying an in-house karaoke session.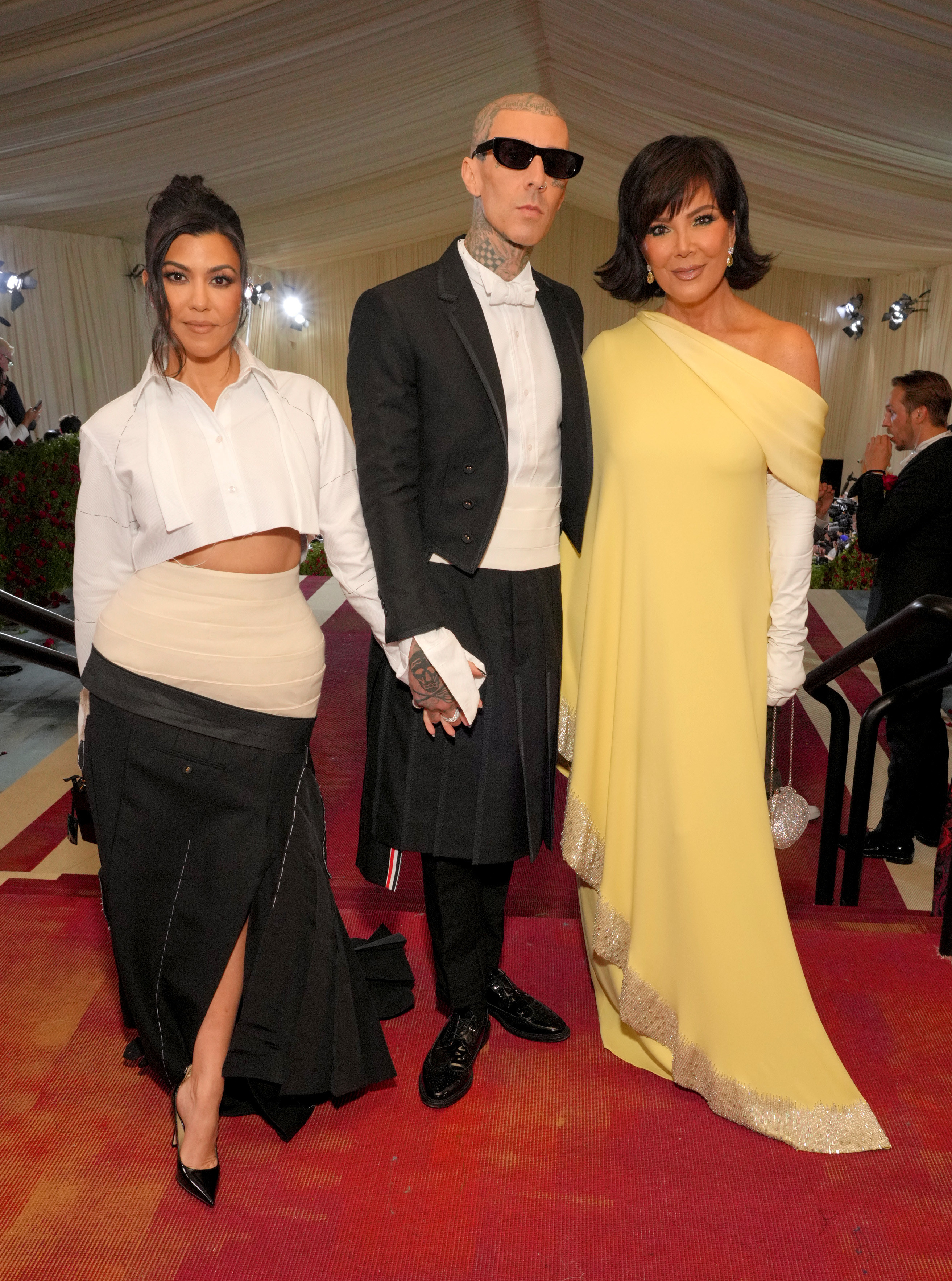 While Kris took center stage with the microphone, Travis was recorded brushing his hand all over Kourtney's front — once again, in plain sight of everyone around them.
Once the video began circulating online, fans were quickly bewildered by the full-on PDA and used Instagram and Twitter to denounce the pair. "Why is he feeling her up at a family party? That is pretty awkward," one user commented. "Classless and Disrespectful! What a great example for your kids!" wrote another.
Just weeks later, the couple faced another wave of criticism after Kourtney was filmed giving Travis a lap dance at their close friends Simon Huck and Phil Riportella's wedding.
You can watch the latest episode of The Kardashians now on Hulu or Disney+ internationally. The next episode will be released on May 25.