It's safe to say that this year's Met Gala, which boasted the theme In America: An Anthology of Fashion — or, as Vogue put it, gilded glamour and white tie — was full of some interesting looks.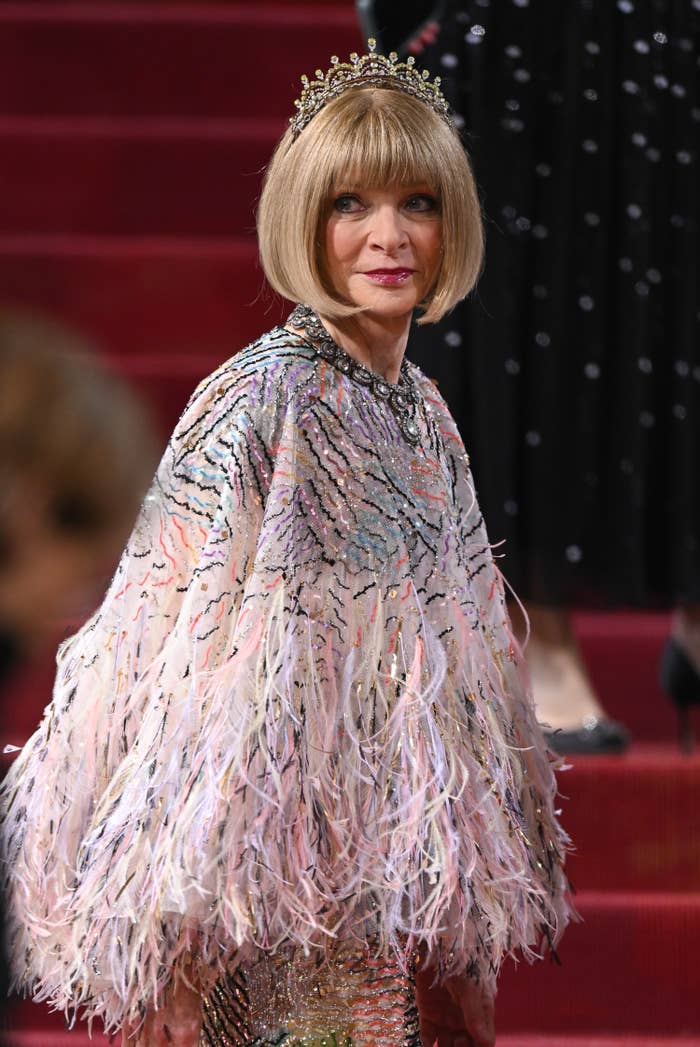 Hundreds of celebrities walked the iconic carpet at Anna Wintour's highly coveted event on Monday night, all dressed in various attire to (presumably) embody its theme.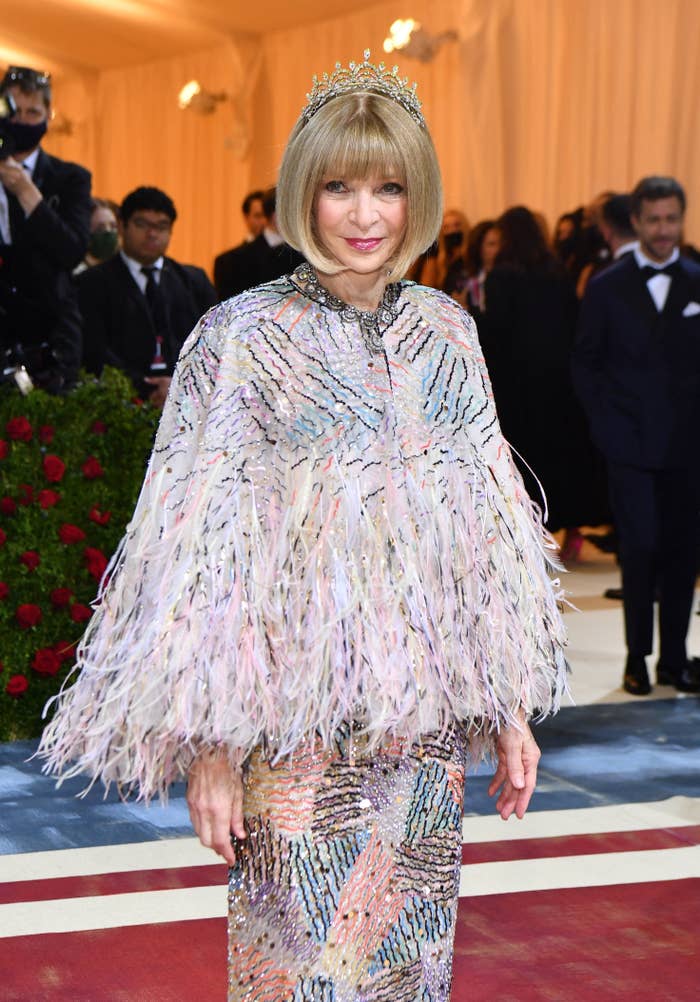 Among the range of A-listers that attended were — for the first time ever — all of the Kardashian/Jenner ladies!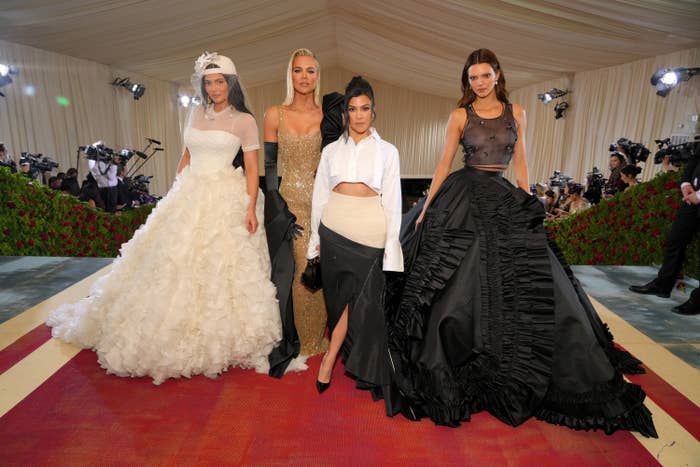 While Kris, Kim, Kendall, and Kylie have attended the Met before, this year was the first time Khloé and Kourtney Kardashian were invited.
Khloé stunned in a sheer, floor-length gold Moschino gown, while Kourtney — who walked alongside her fiancé Travis Barker — rocked a Thom Browne fit.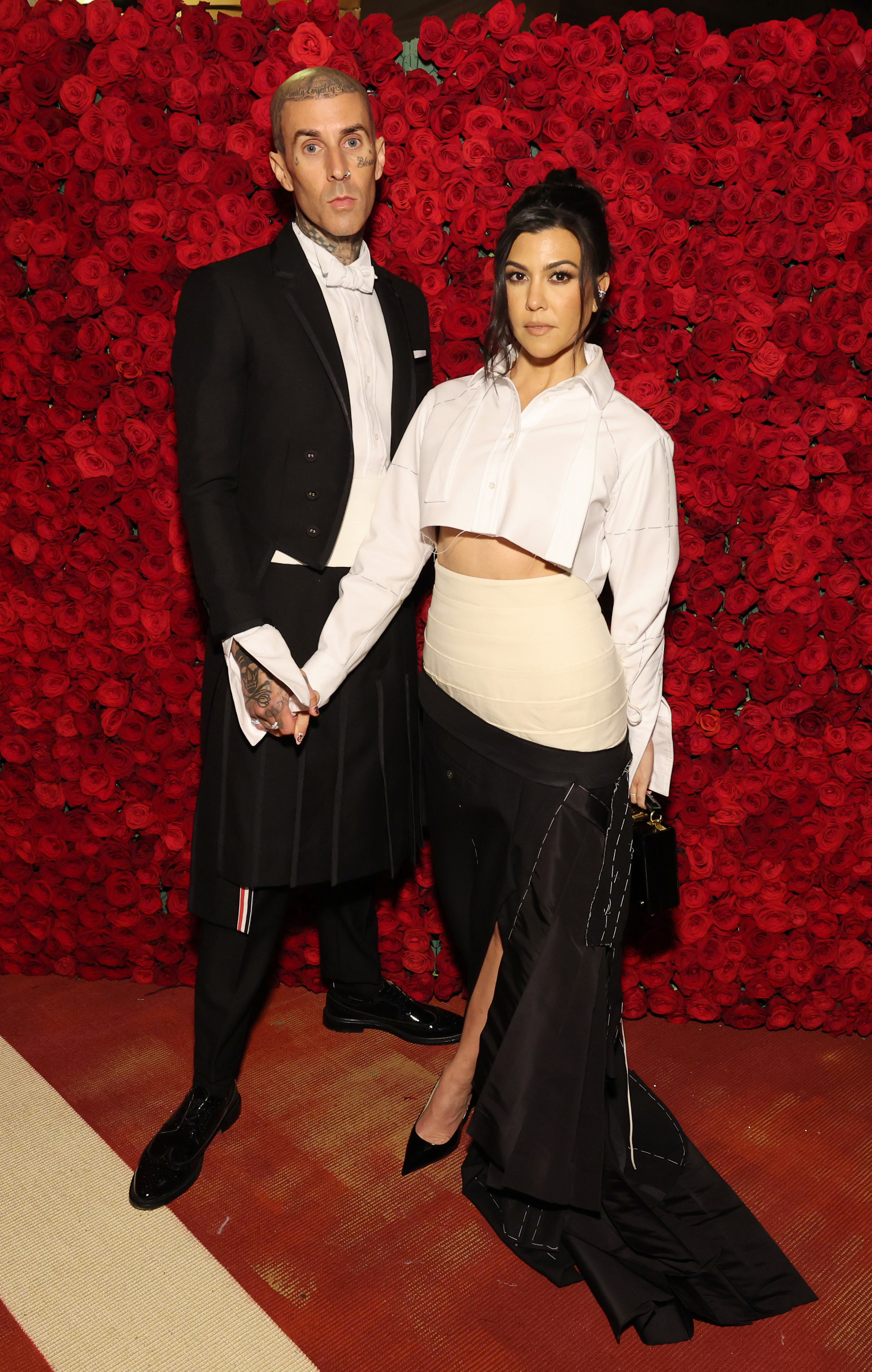 And while Kourtney and Travis certainly turned heads with their PDA — including their now-infamous tongue kiss — on the red carpet, a particular moment from their interview with media personality La La Anthony is now drawing tons of attention.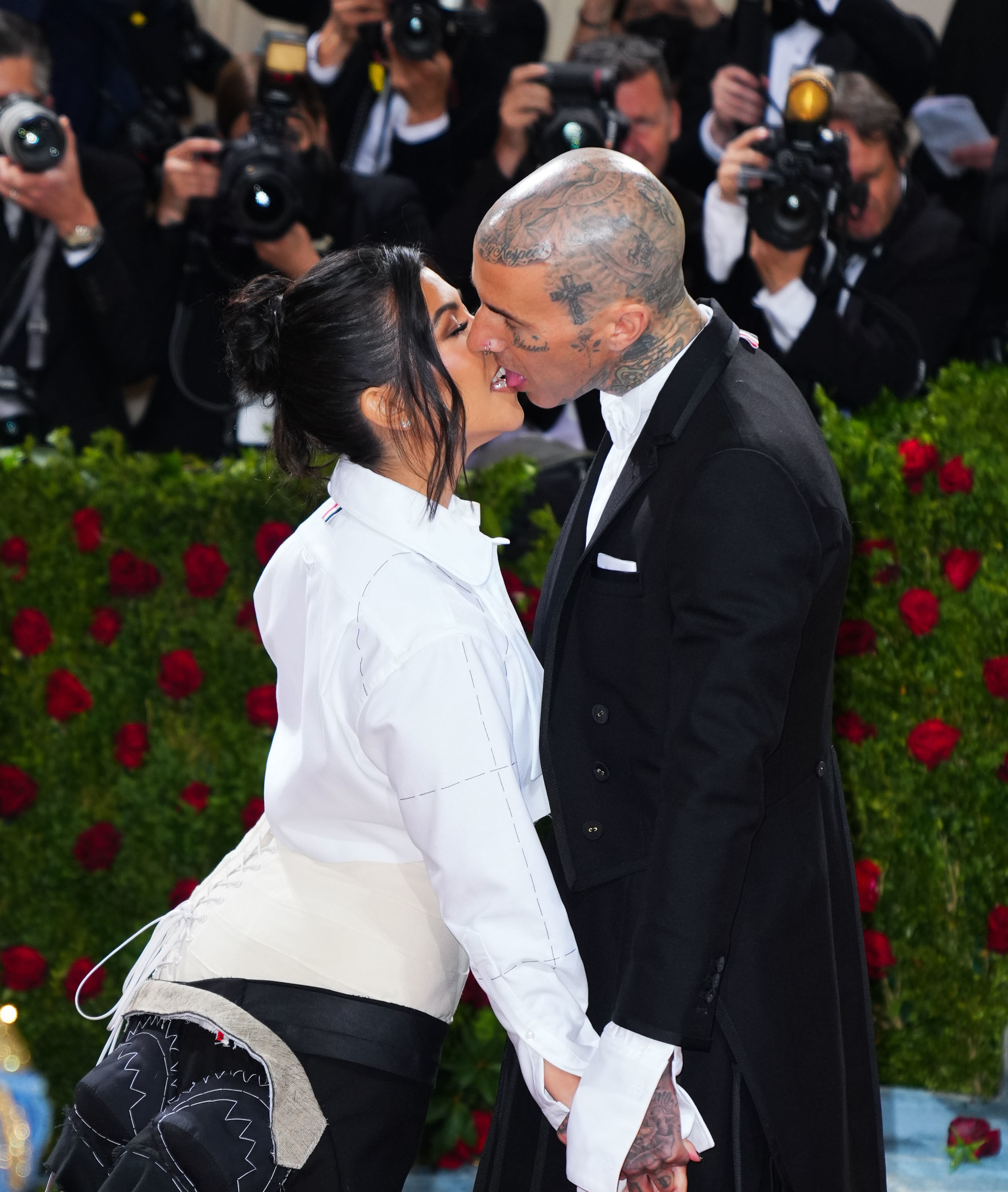 La La, who is a longtime close friend of the Kardashian bunch, asked the couple: "How are you both feeling tonight?"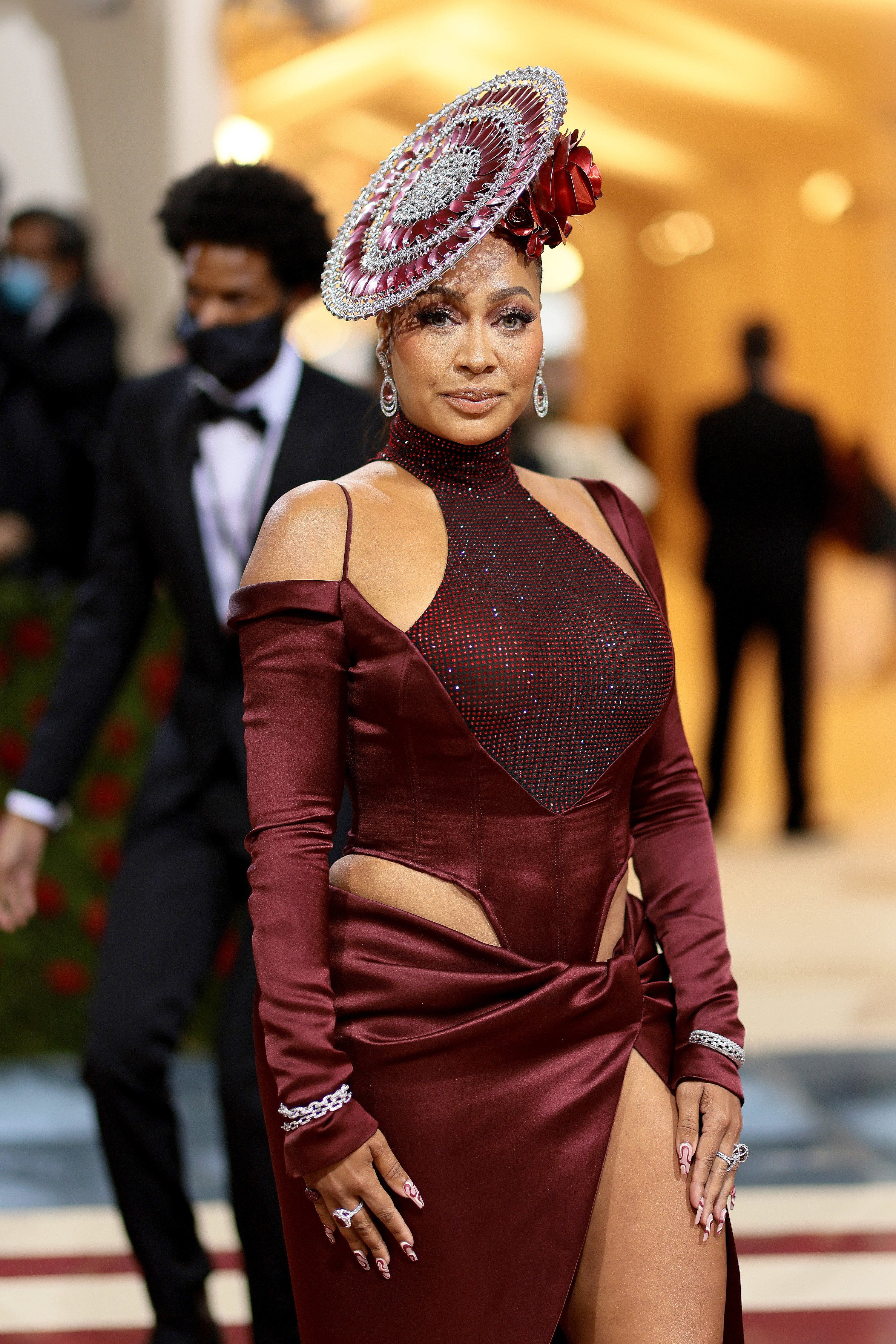 "So good," Kourtney replied. "We're just having fun. We were standing down there with all the sisters except for Kim. Do you know she has to get dressed in a secret dressing room?" she added, referencing the iconic Marilyn Monroe gown that Kim wore.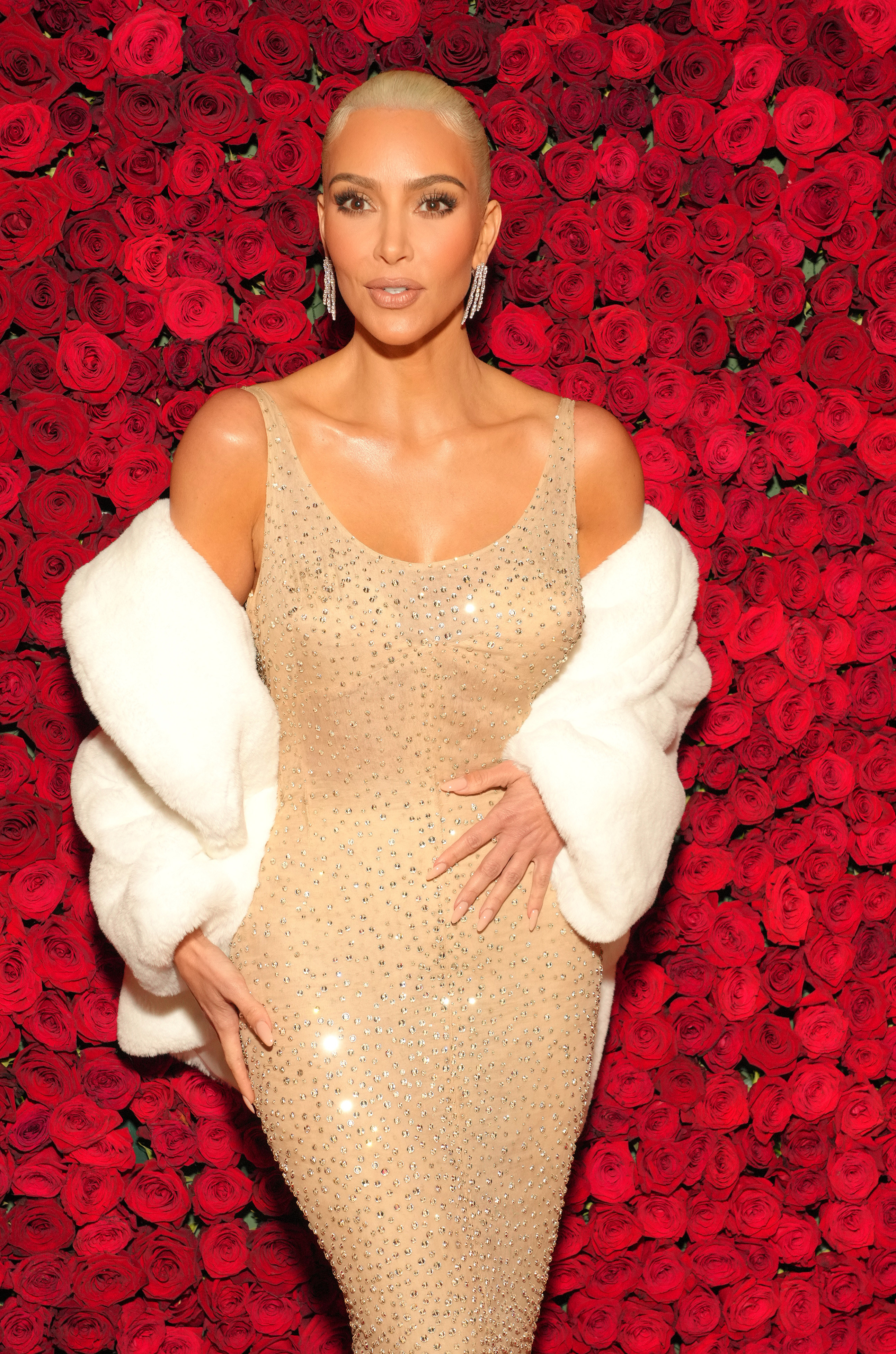 Kourtney went on to explain the gist of her and Travis's fits. "We're in Thom Browne. And I'm basically like a deconstructed version of his outfit," she said.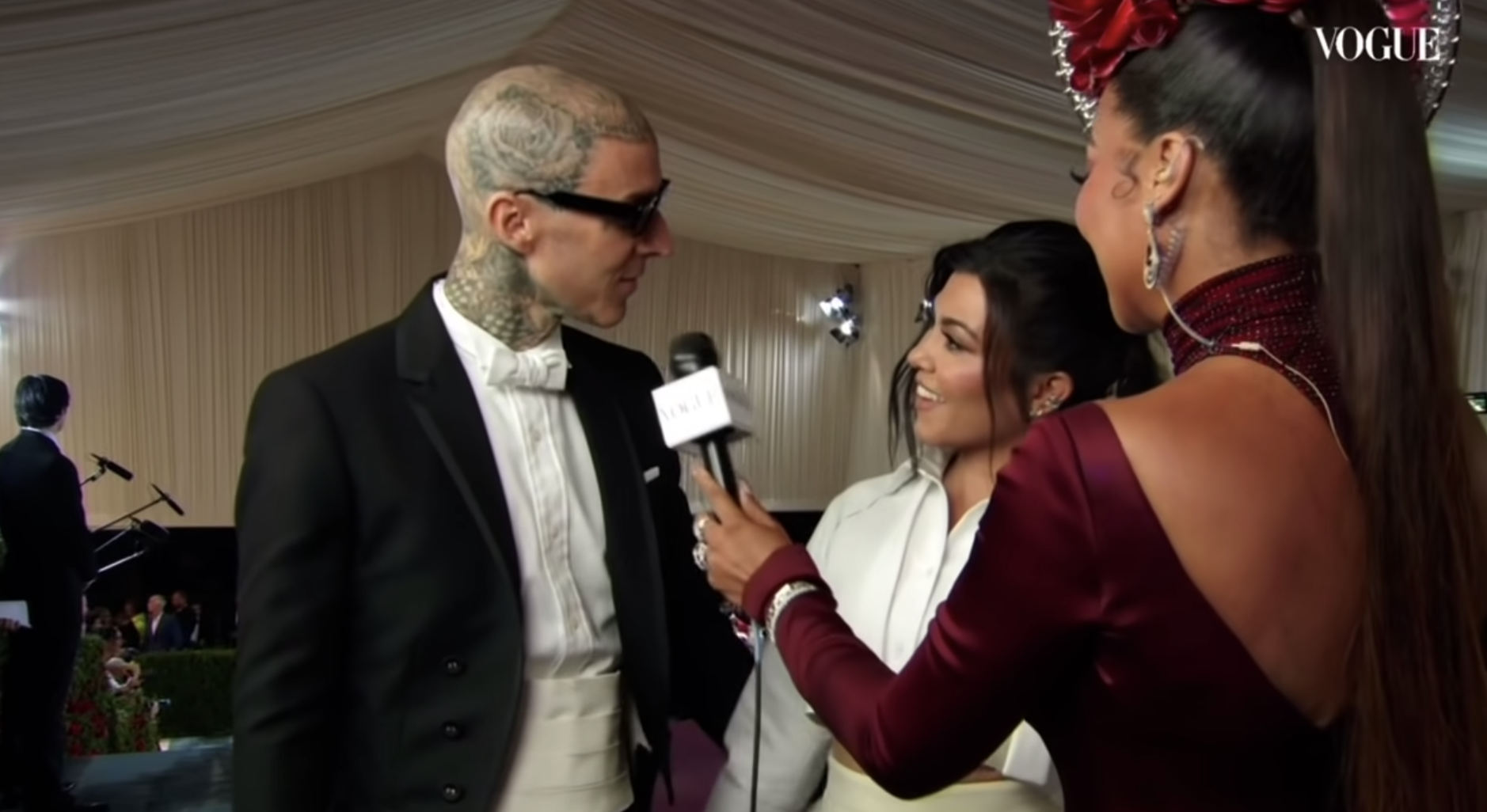 Travis chimed in, "She looks amazing." Following suit, Kourtney said: "My baby looks amazing."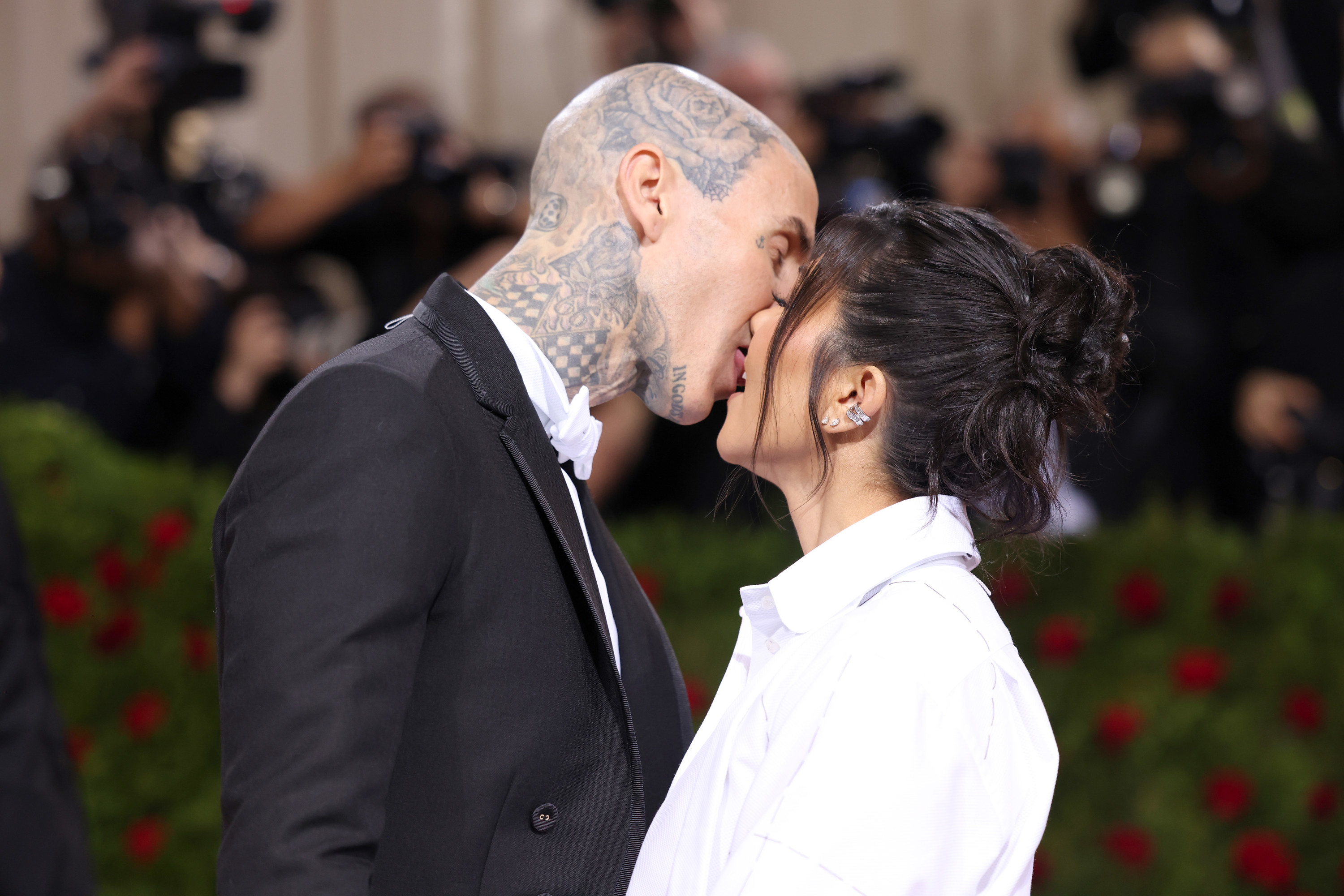 Lala then turned the attention to the theme of the Met, which was widely referred to as "gilded glamour" throughout the night.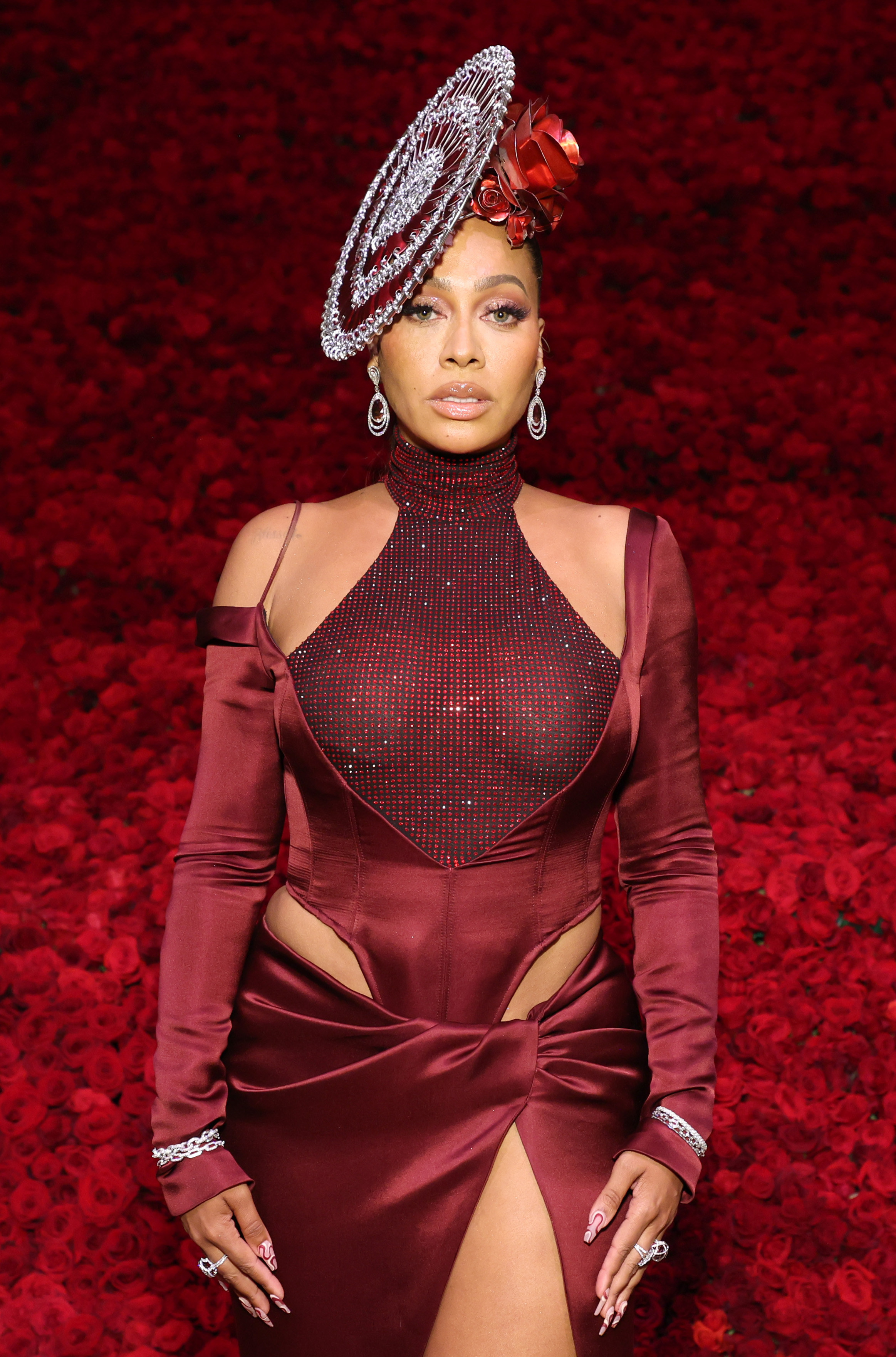 "So Kourtney, when you heard that the theme was 'gilded glamour,' what did that mean to you?" she asked.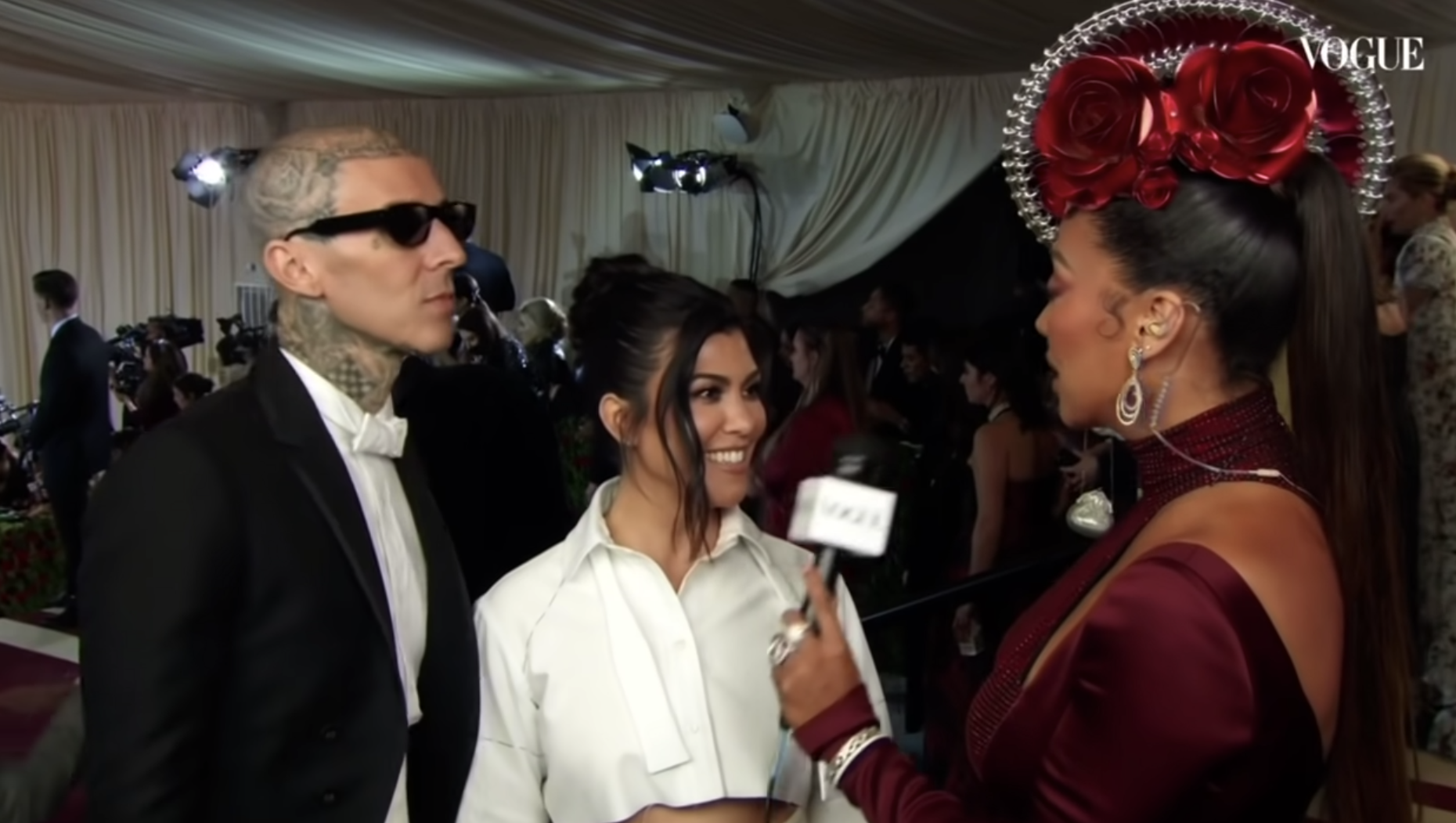 But in response, Kourtney didn't hold back as she revealed she'd barely considered the theme at all.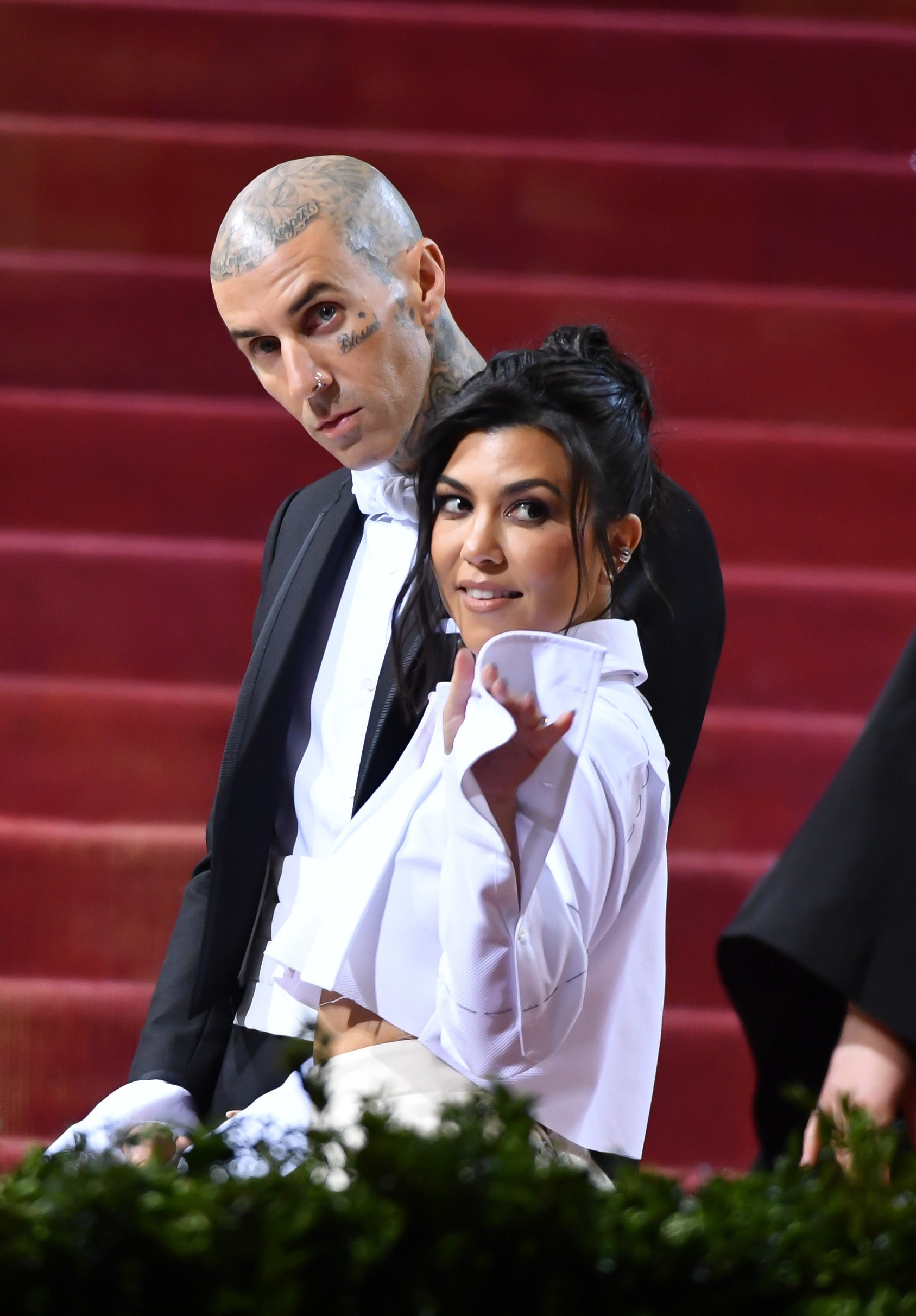 "I honestly didn't really think about it," she said while laughing and turning toward Travis, before attempting to explain how their outfits fit the "gilded glamour" description.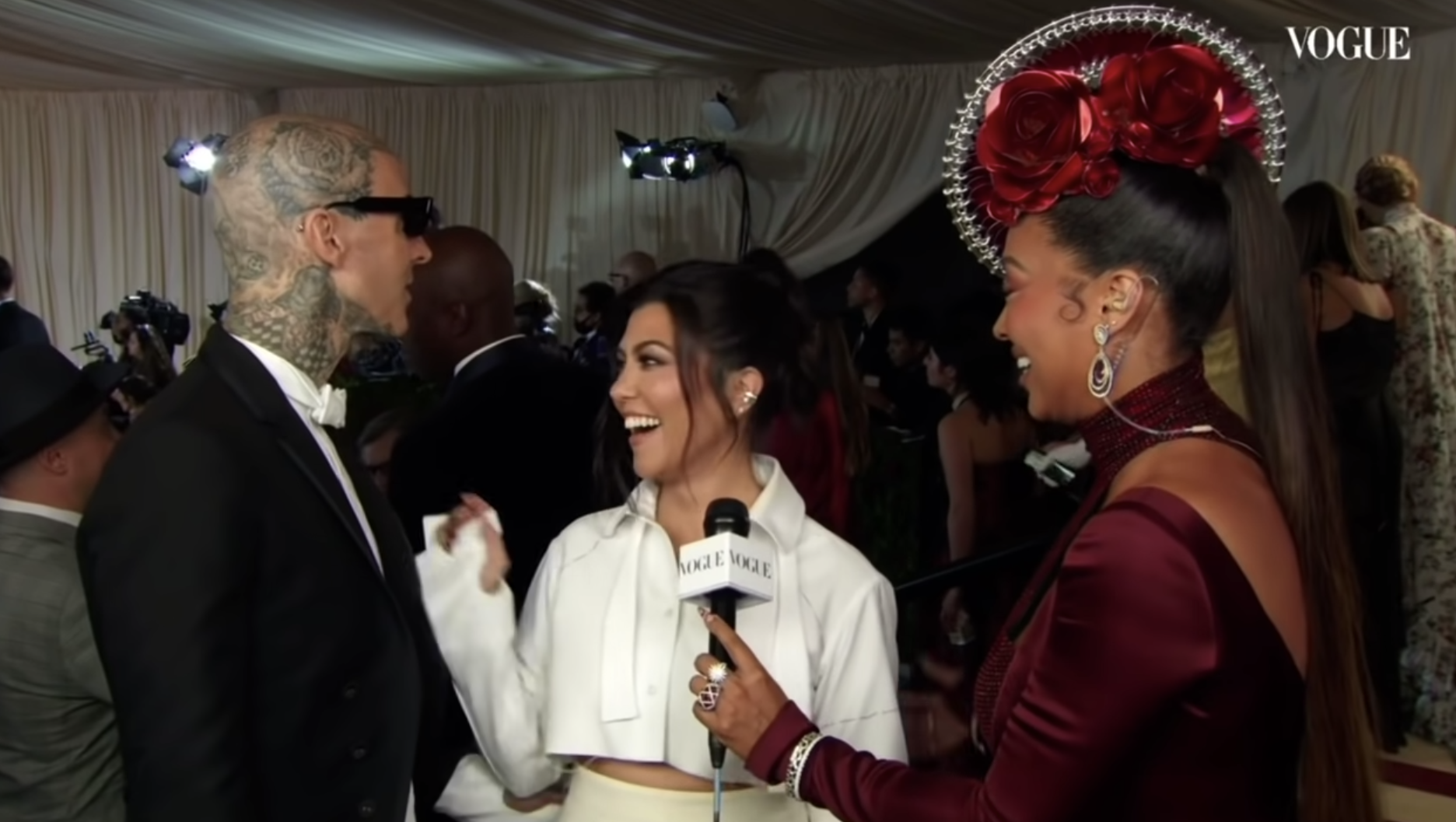 "But, yeah. I feel like [Travis's] is like it, and then mine's like, falling — like, dripping off of him," she said.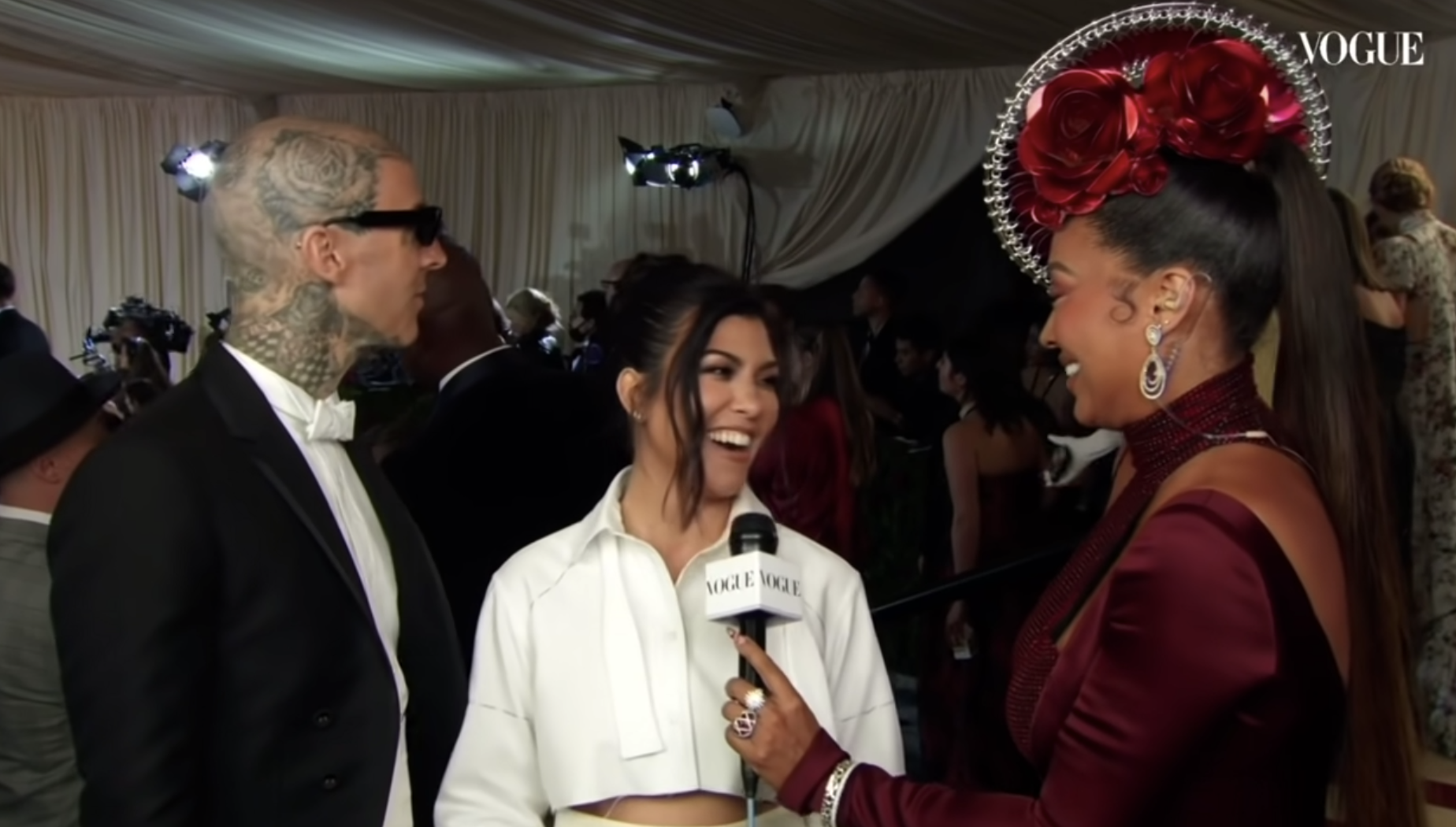 Kourtney's supposed lack of interest in showcasing any gilded glamour–esque attire quickly sparked a negative response from fans, given that the Met Gala is known for its focus on celebrating the world of fashion through its annual theme.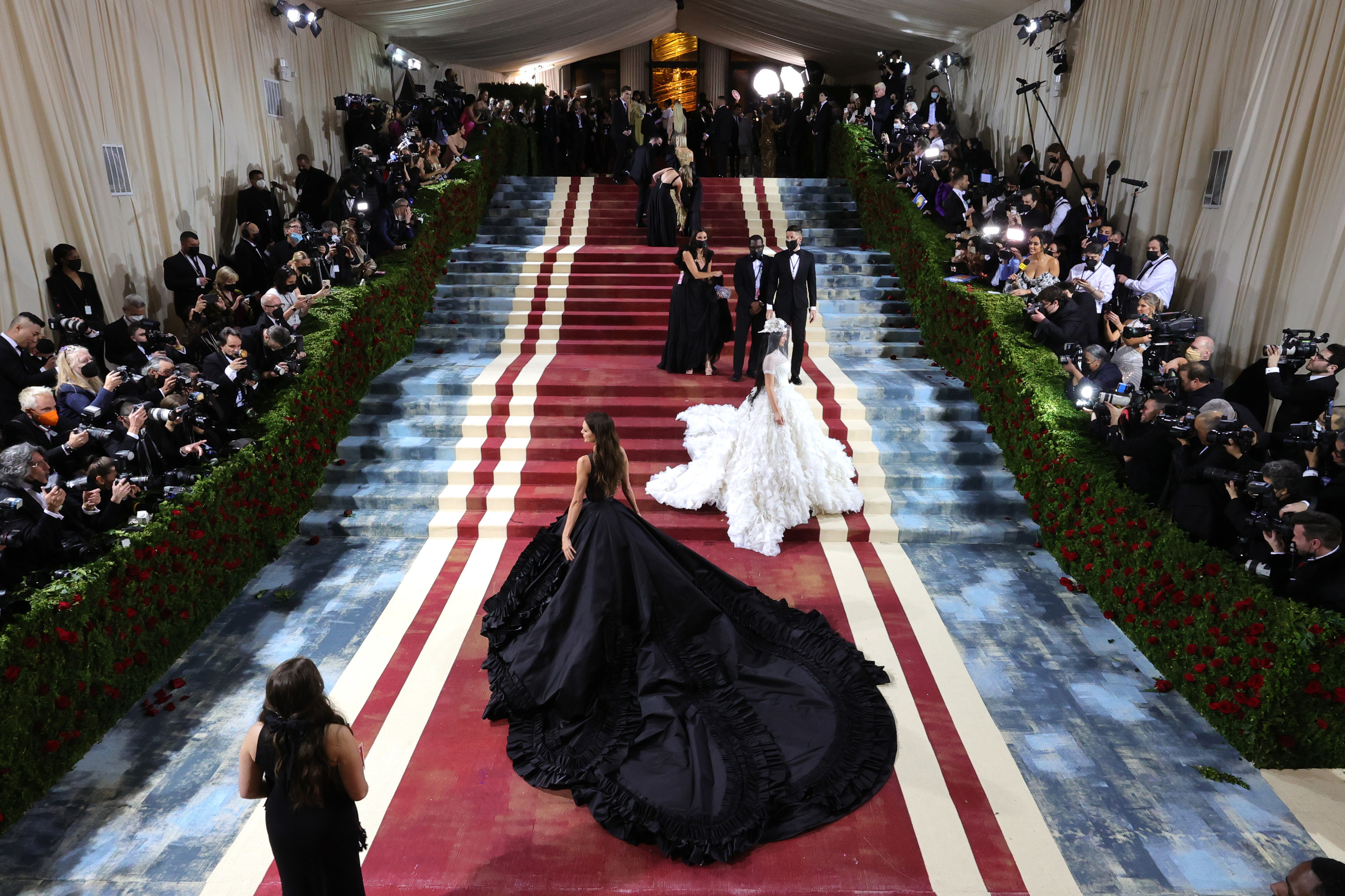 If you didn't know, the Met is far different from other A-list red carpet events — such as the Oscars or the Grammys — as it celebrates the annual grand opening of the Costume Institute exhibition at the Metropolitan Museum of Art, which in turn inspires its strict theme.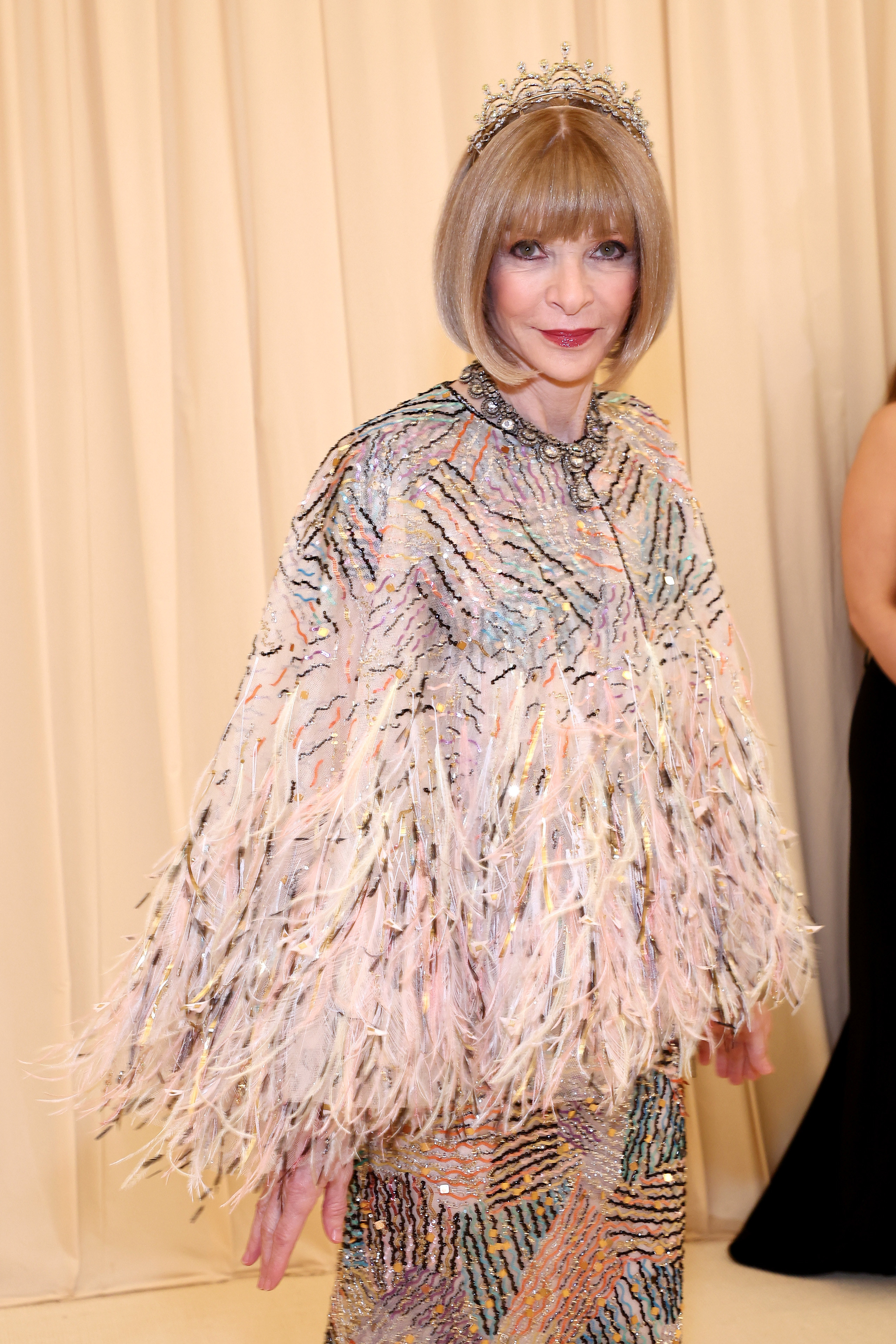 Time and again, celebrities have gone all out with their outfits for the exclusive event. In fact, as Kourtney herself mentioned, Kim rocked a standout piece this year: the iconic nude-and-diamond gown that Marilyn Monroe wore when she sang "Happy Birthday" to then-president John F. Kennedy.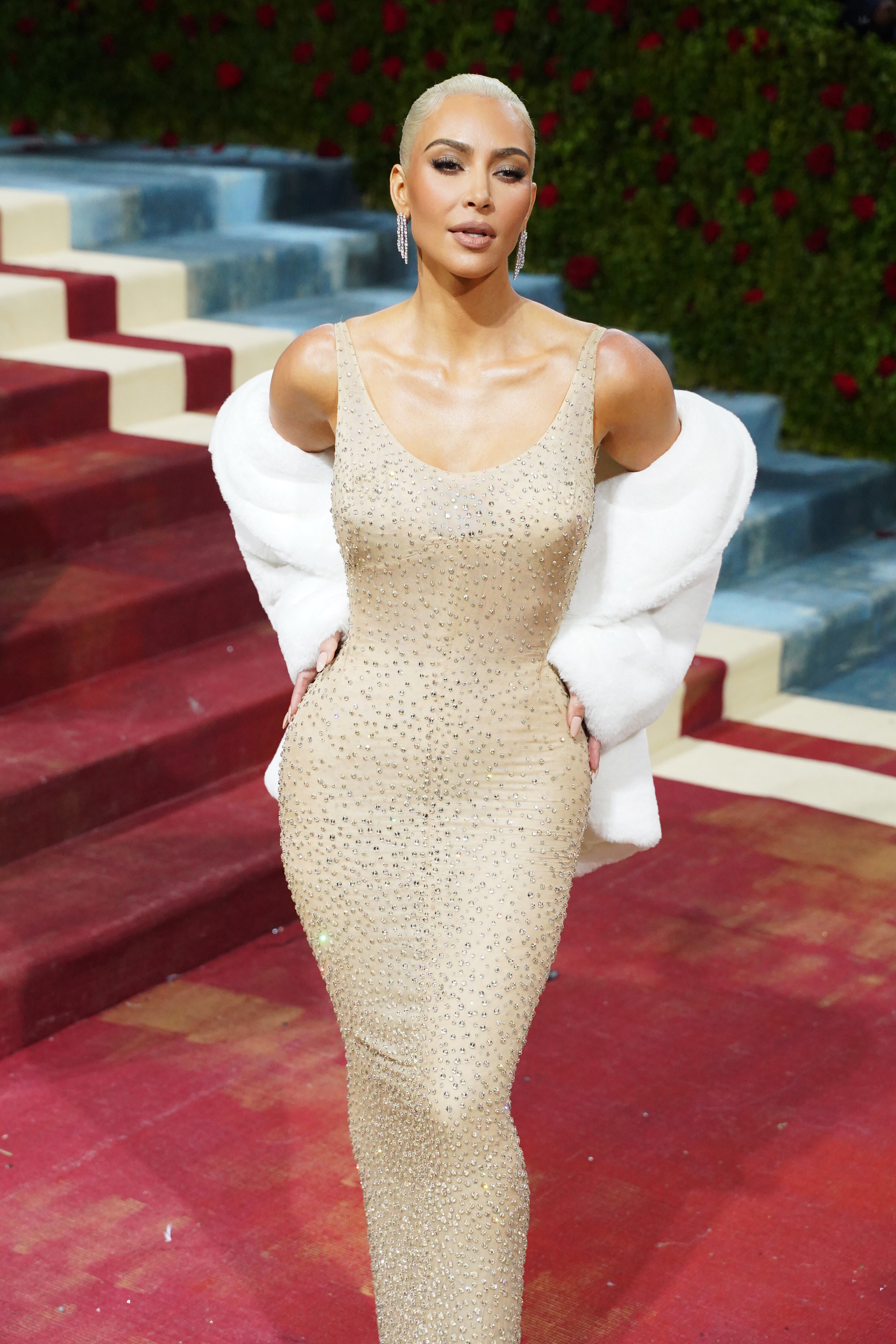 In light of the meticulous amount of effort and thought that is meant to go into celebrities' Met outfits, fans were unsurprisingly disappointed with Kourtney's apparent lack of enthusiasm — especially given that this was her first time being invited.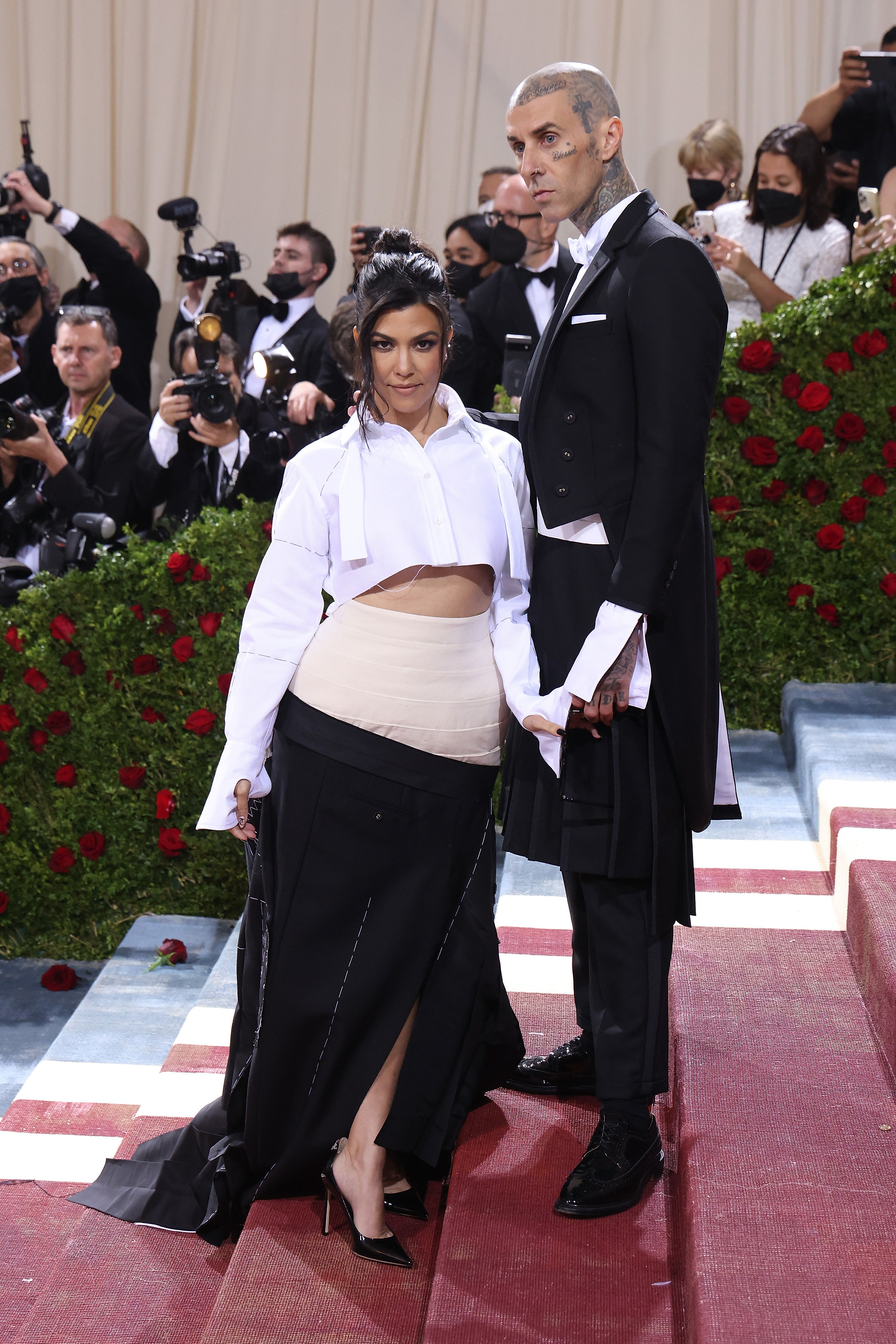 "Kourtney does not deserve to be there. She literally is just so disrespectful," one person tweeted.
"kourtney kardashian saying she didn't really think about the theme? girl we can tell but don't be so disrespectful wtf," another echoed.
"Kourtney said 'I didnt really think about the theme' mad disrespectful IMO," someone else wrote.
Some users called out Kourtney's "IDC" attitude, suggesting that she seemed unbothered about being invited back in the future.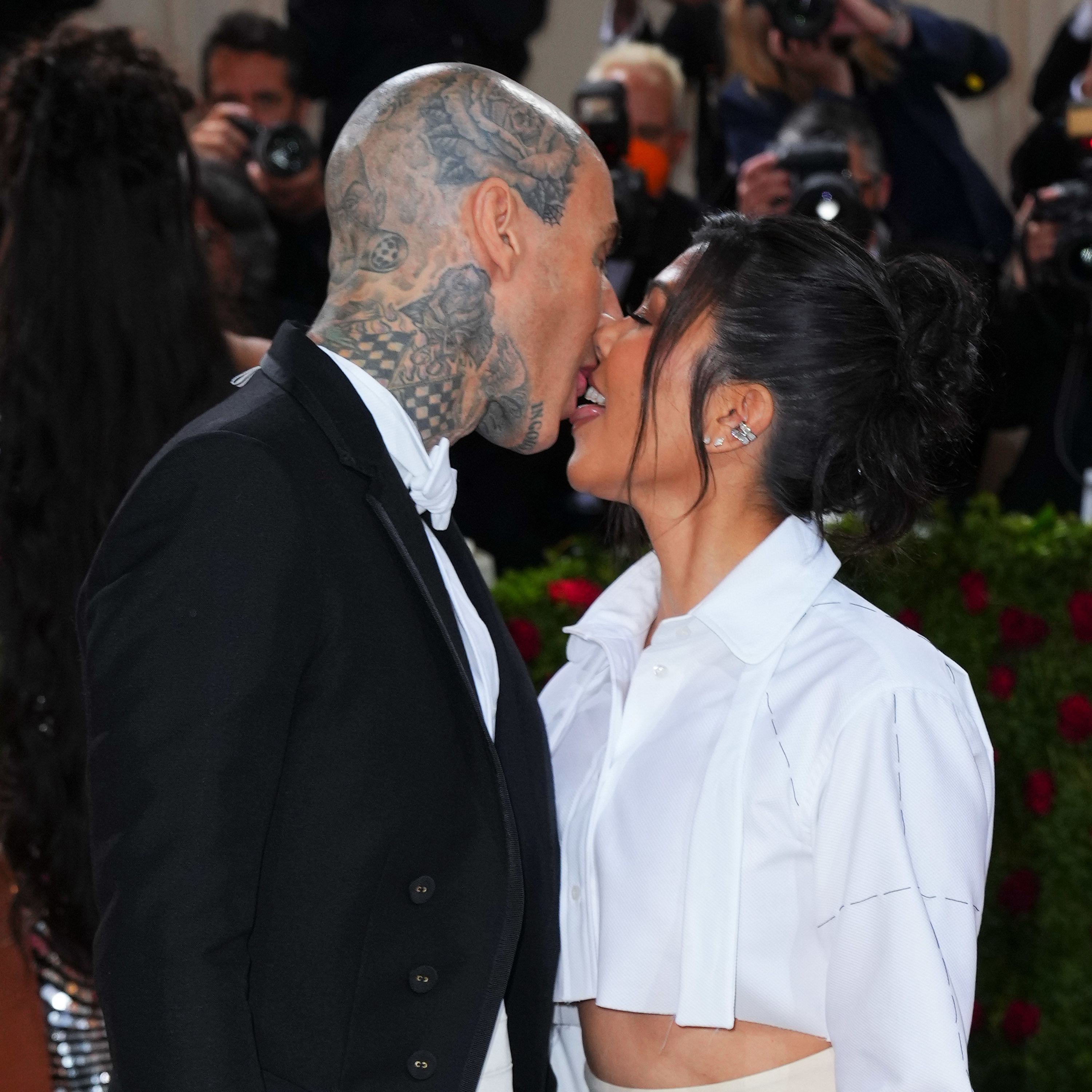 "Kourtney Kardashian saying she didn't really think about this years theme when she found out it was Gilded Glamor. #awful The IDC vibe she portrays is annoying," one person tweeted.
"Kourtney said 'yes this is my first met gala and I don't care to be invited back ever again,'" another quipped.
Others pointed out that Kourtney laughing at La La's question was disrespectful enough, noting that the vast majority of people would have made the most out of their first invitation to the Met.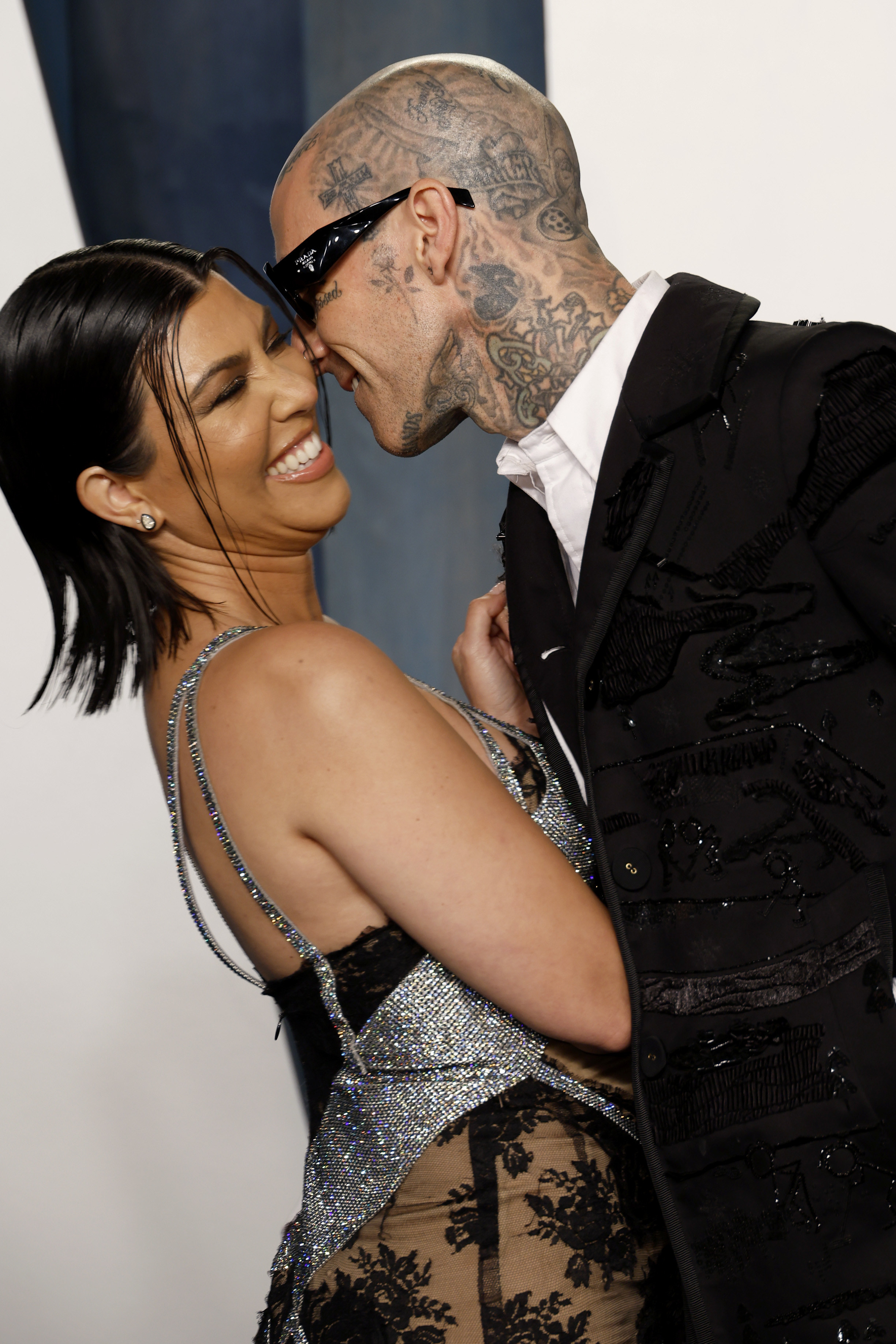 "kourtney kardashian saying "I didn't really think about it" when asked abt the theme is so infuriating bc there are so many smaller celebs/fashion bloggers who would fucking eat and instead she gets invited :)" one tweet read.
"100. I'm so furious rn. The way she laughed at the question too. The disrespect," someone replied.
Meanwhile on Instagram, more fans called Kourtney's attitude "disrespectful." One person questioned, "Why invite her if she doesn't give a shit about the event?" while another wrote, "You get your first invite and ignore the memo."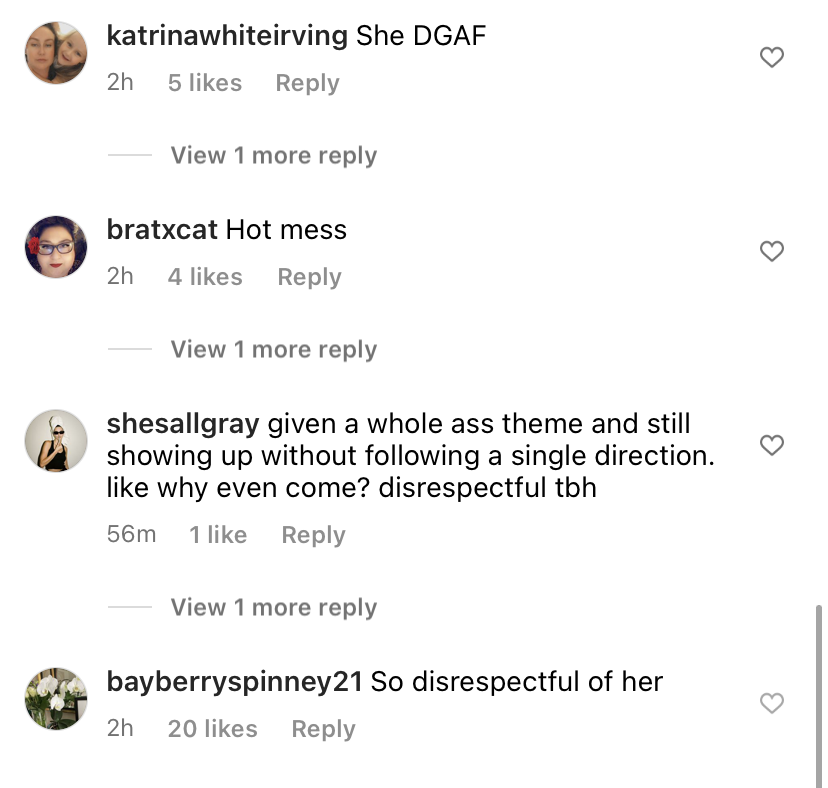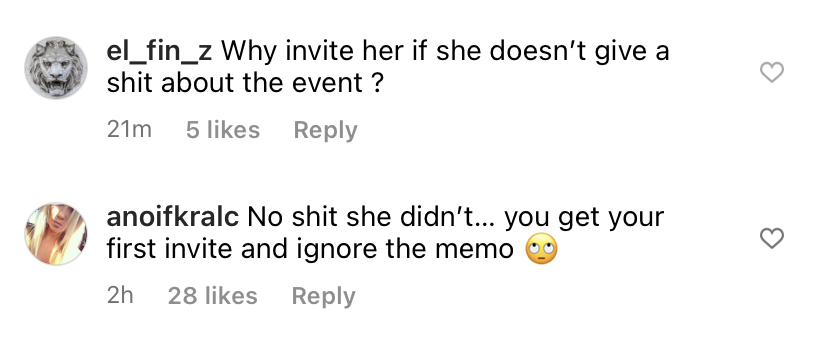 But while she might be the only one who's admitted it so openly, Kourtney certainly isn't alone in the group of celebrities who don't seem to acknowledge the Met theme whatsoever.
Just days ahead of the Met, in fact, actor Sarah Jessica Parker called out the seemingly growing list of people who don't put tons of thought and effort into their outfits.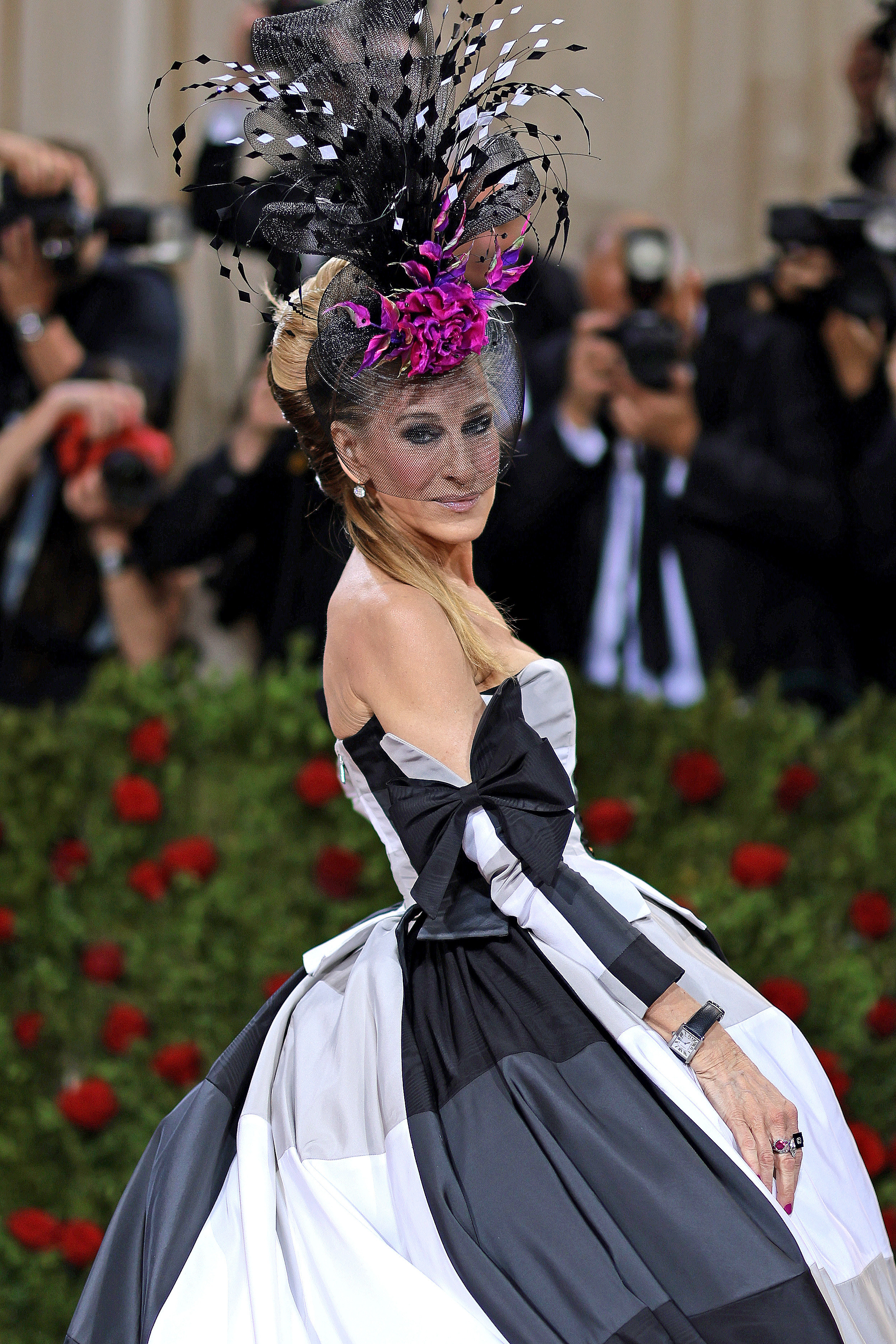 "Wherever I go to the Met, I don't understand how everyone else didn't spend seven to ten months working on it," she said during an interview with Vogue.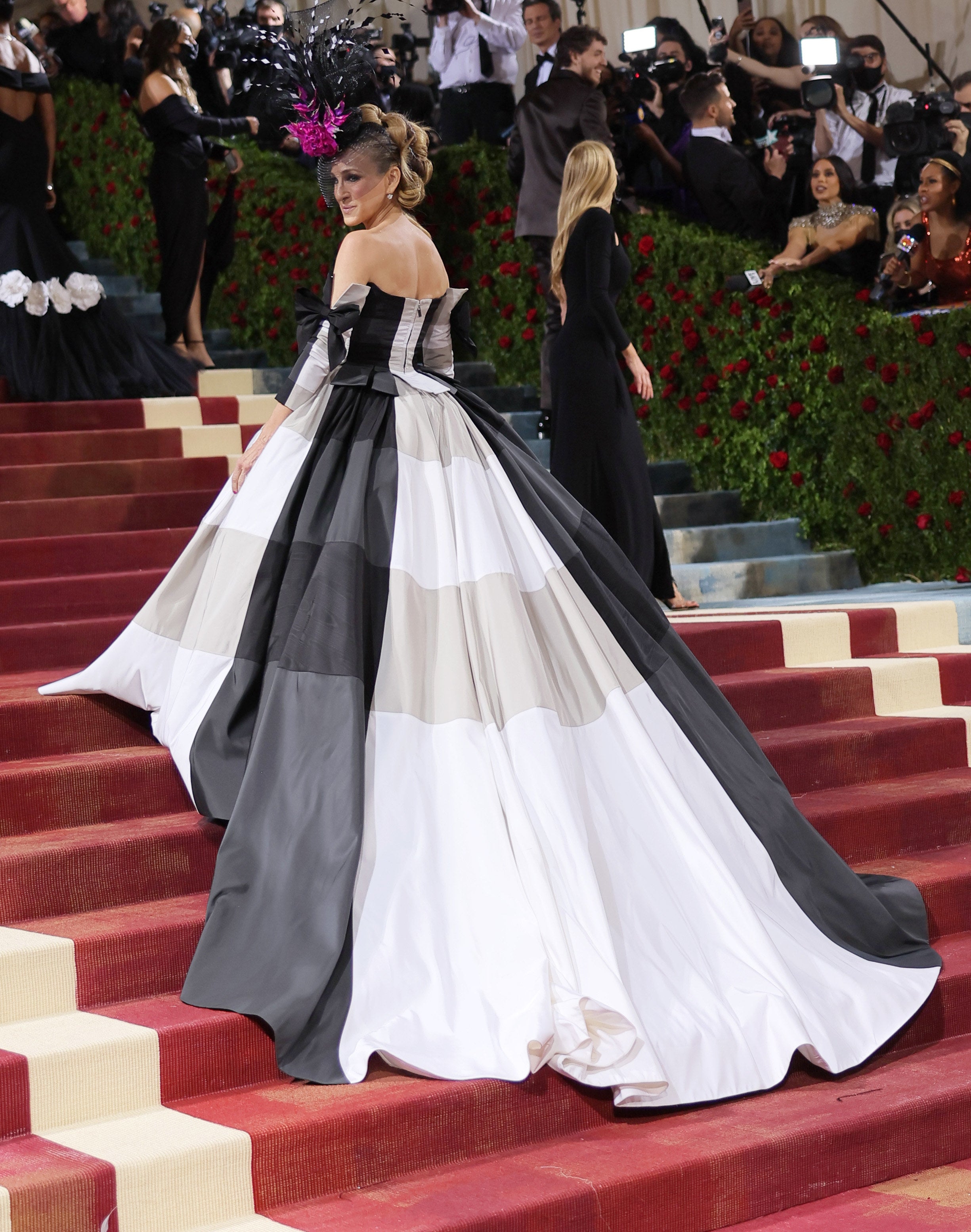 "I'm like, 'How do you not arrive exhausted by the details of getting it right?' All these people came together and worked really really hard to put together an extraordinary exhibit," she went on.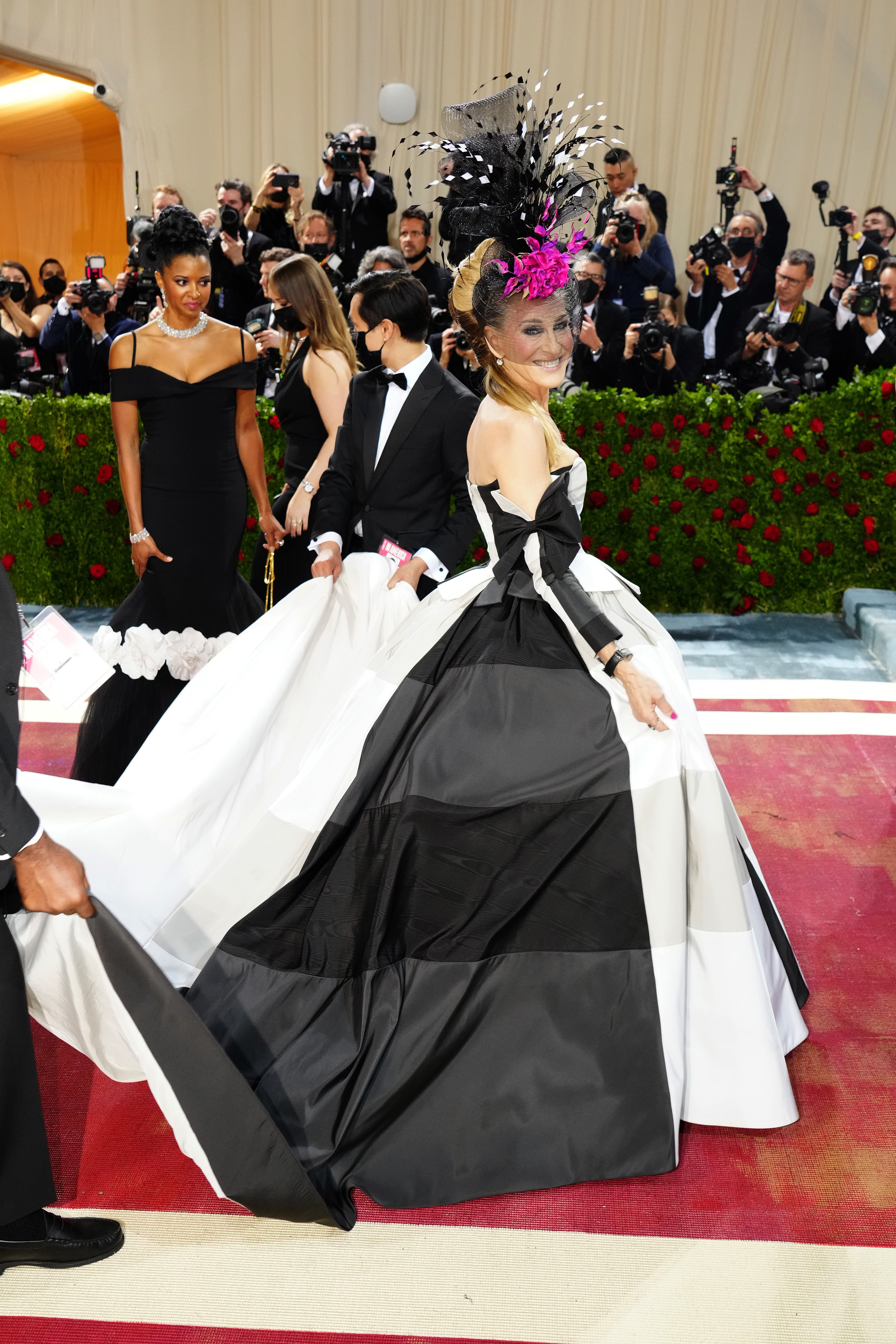 "It would be so easy to find a beautiful dress to wear that night... But that is not the assignment. The assignment is the theme," she said. "It is an assignment and you should interpret it, and it should be labor intensive, and it should be challenging."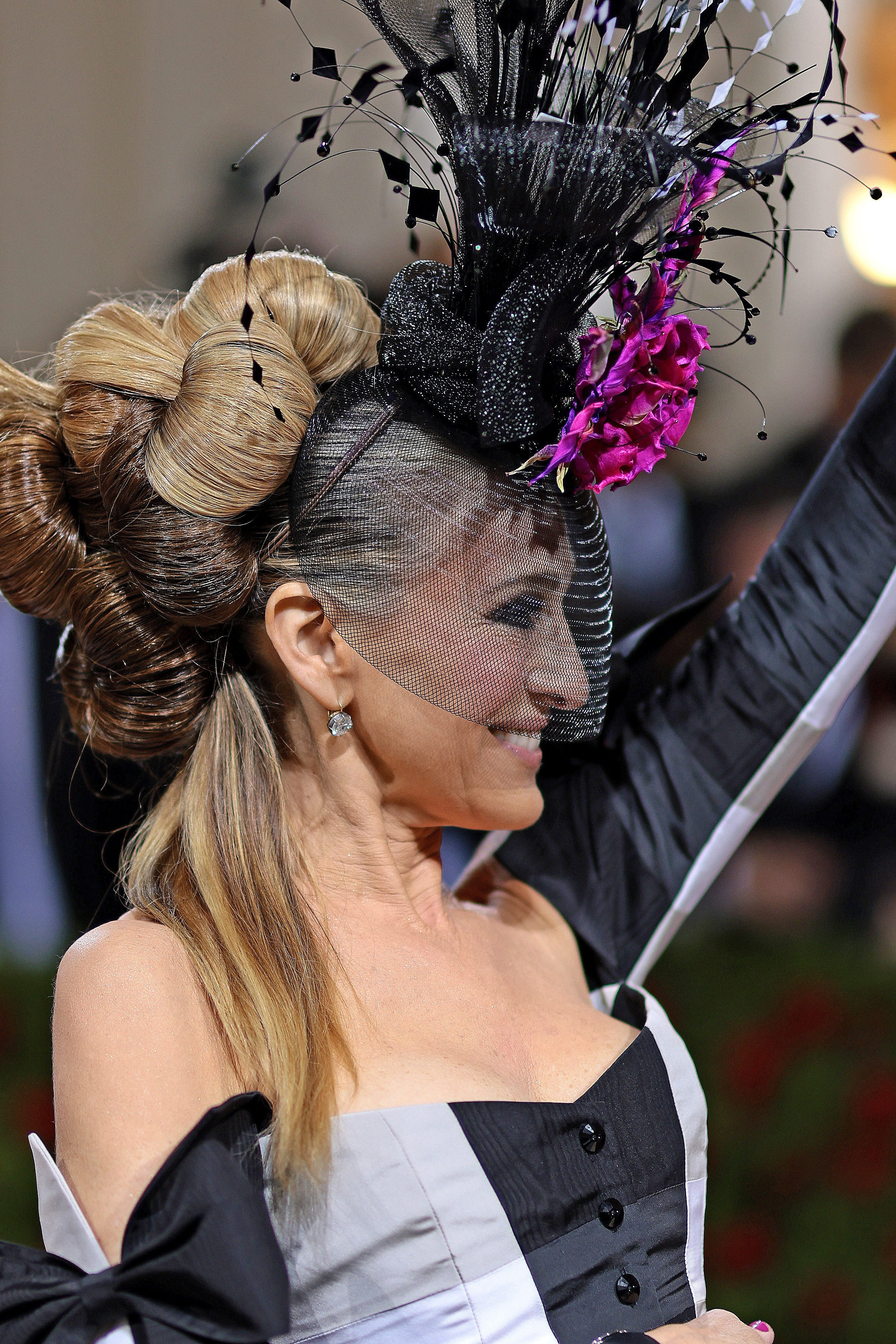 Well, unfortunately for SJP, Kourt certainly doesn't seem to care about taking on any assignments just yet.