Kourtney Kardashian has defended herself against comments that she no longer spends time with her children amid her romance with fiancé Travis Barker.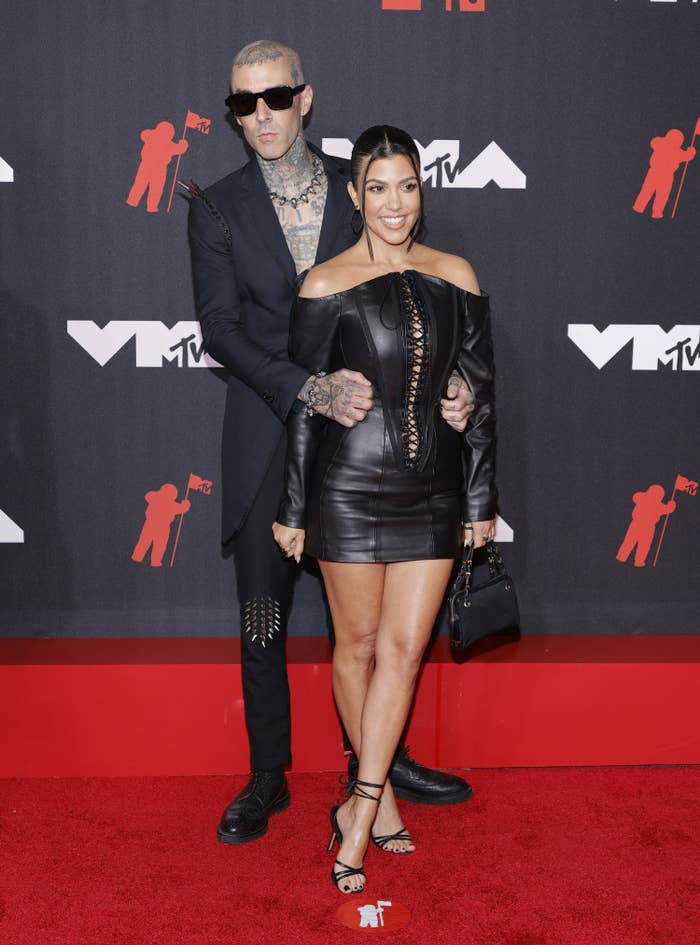 Kourtney's relationship with her kids — Mason, Penelope, and Reign, who she shares with ex-boyfriend Scott Disick — has been probed ever since fans accused her of being "occupied" by her current romance with Travis.
Prior to her relationship with Travis, Kourtney repeatedly emphasized the importance of her role as a mother and regularly shared images of her kids on social media.
Since she began dating Travis earlier this year, however, these posts have become less frequent, with some fans also highlighting that the pair have taken numerous trips — including to Cabo, Paris, and Venice — without her kids.
Other fans have drawn attention to the fact that while she and Travis have been photographed with her younger children on a handful of occasions, her eldest son, Mason, has never been present.
But Kourtney hasn't shied away from posting numerous photos of her and Travis engaging in lots of PDA over the course of their 10-month relationship — something that's only heightened since they got engaged in October.
Well, on Thursday, the Keeping Up With the Kardashians star attracted attention once again after posting a series of photos from a trip to Cabo San Lucas, Mexico, where she and her family were celebrating Travis's 46th birthday.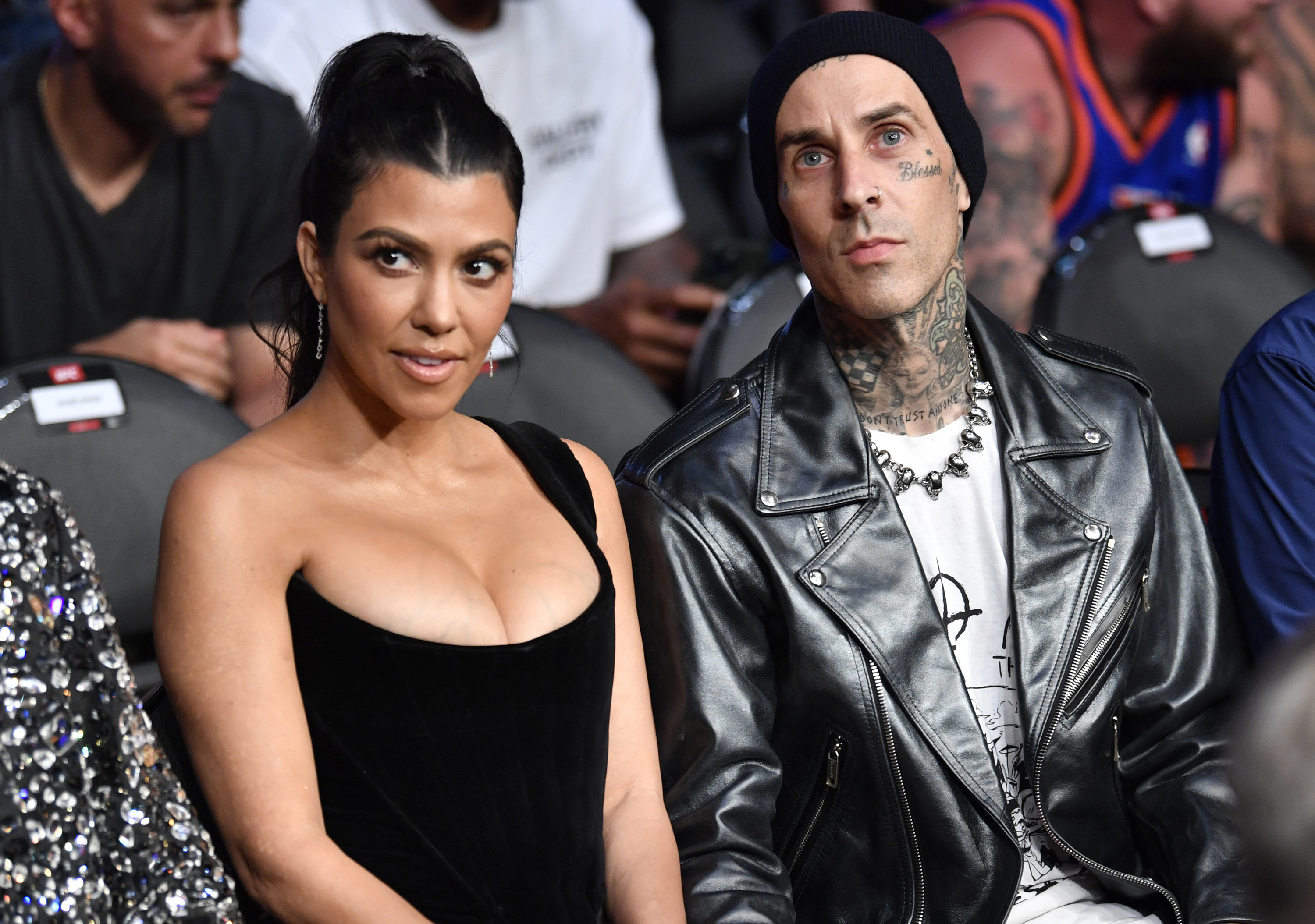 In several of the images, Kourtney could be seen enjoying a horseback ride on the beach along with her kids Penelope and Reign.
And it didn't take long before people began expressing surprise that Kourtney was "finally" spending time with them.
"oh wow you're with your kids finally????" one comment read.

However, Kourtney was quick to jump in and defend herself, telling fans in a follow-up comment that contrary to what we see on social media, she's with her kids every day.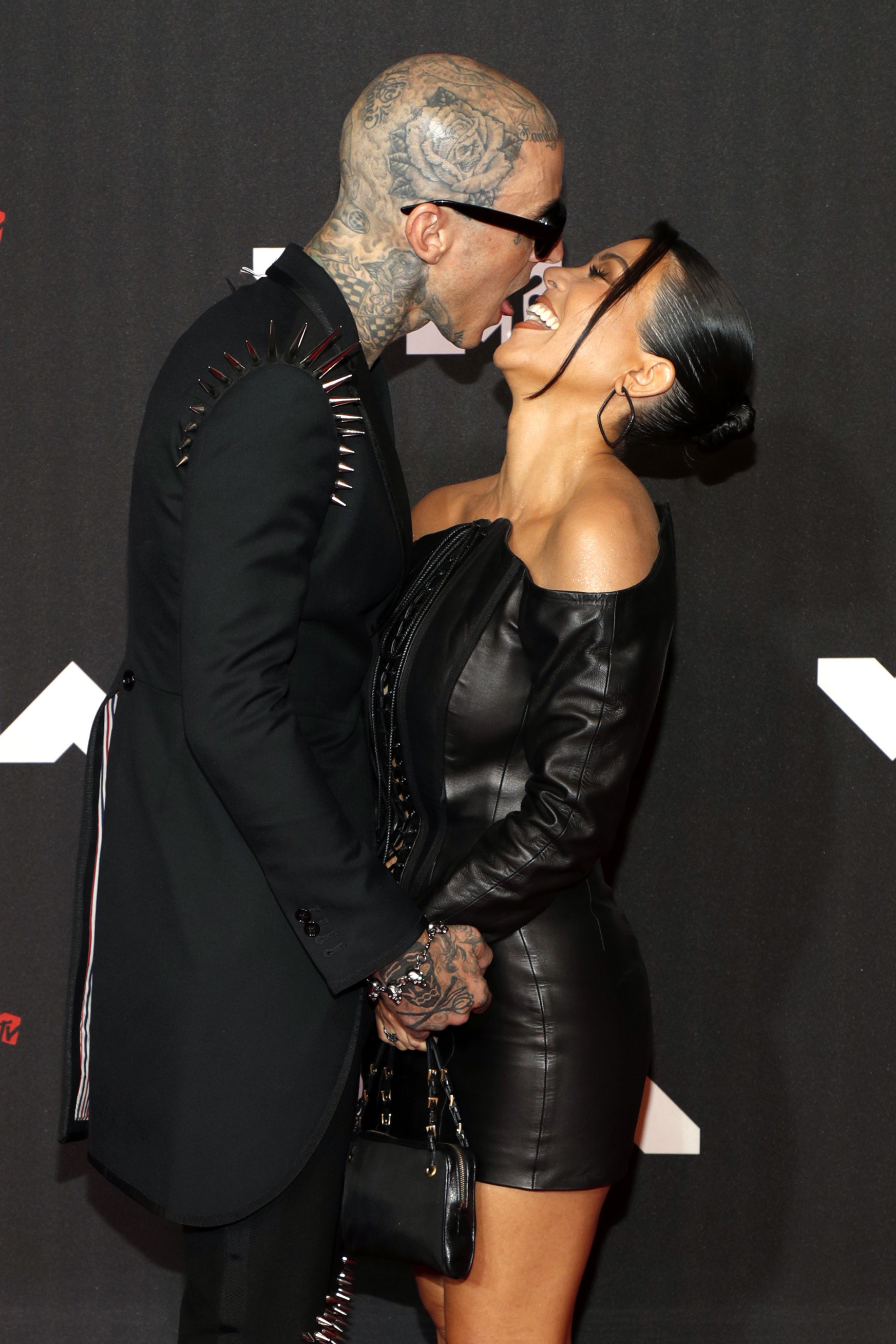 "I'm with my kids every day thank God," she wrote in response.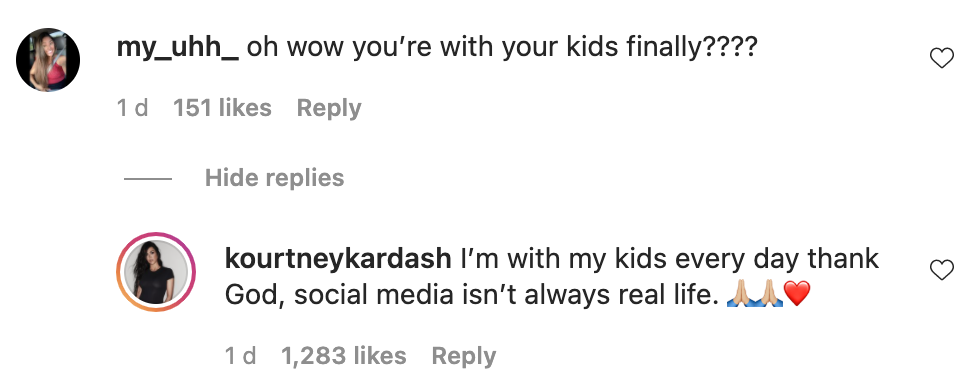 "social media isn't always real life," she added, alongside some prayer and heart emojis.

The comment came just days after Kourtney was flooded with questions from fans about her relationships with her children when she shared a tribute post to Travis on his birthday.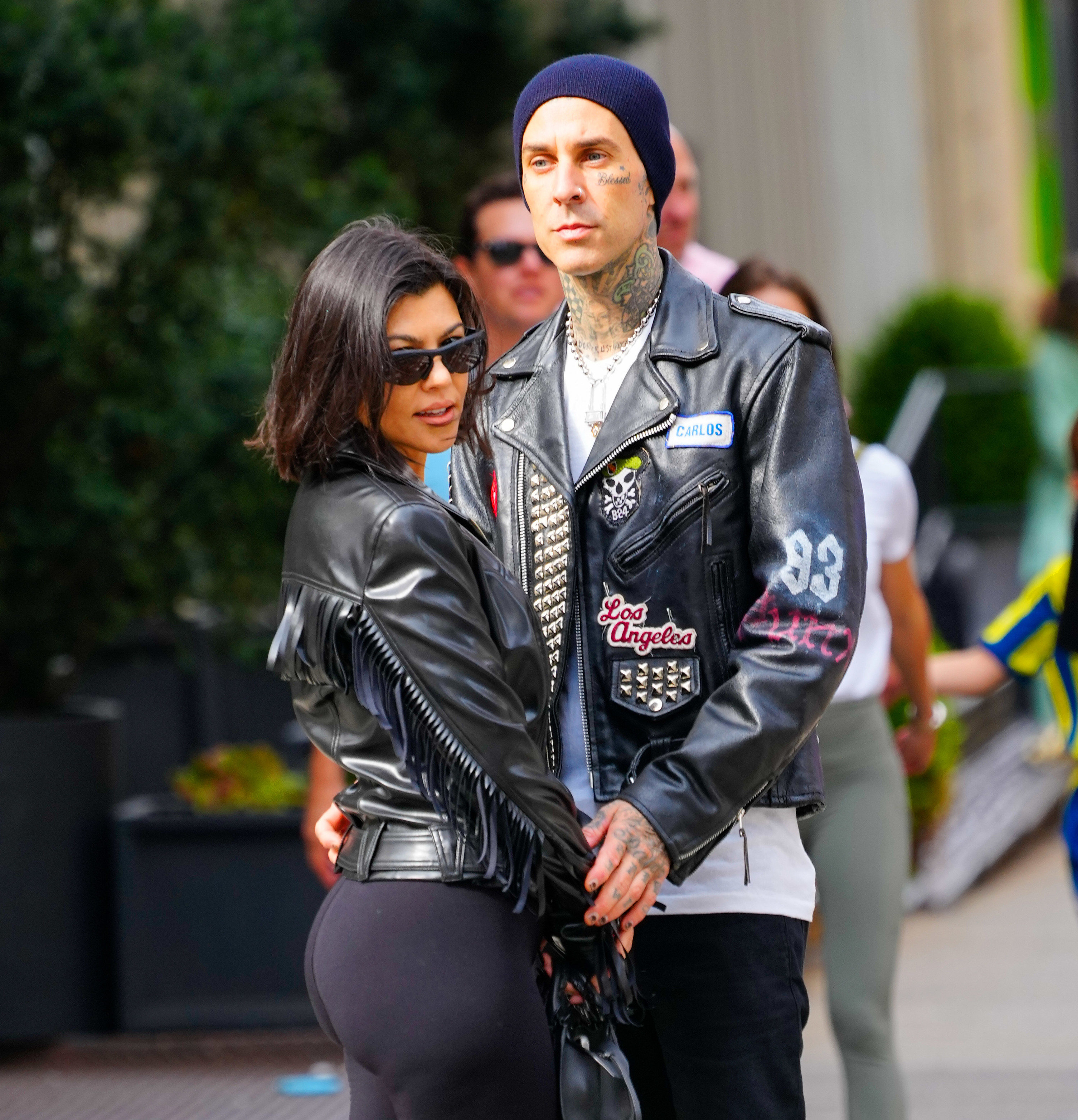 In the caption of her post, Kourtney wrote: "I fucking love you more than anything. My favorite everything. Happy birthday to you my baby!"
Shortly after Kourtney shared the pictures, the comments were filled with fans questioning if she loved Travis more than her own children.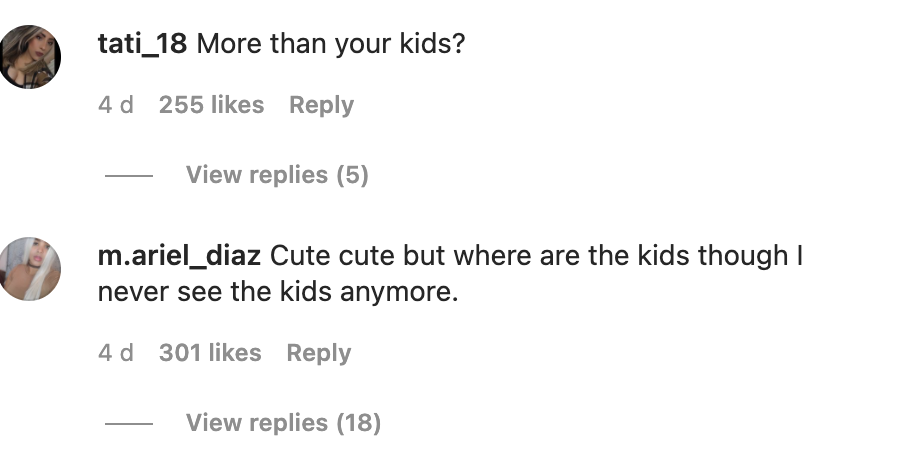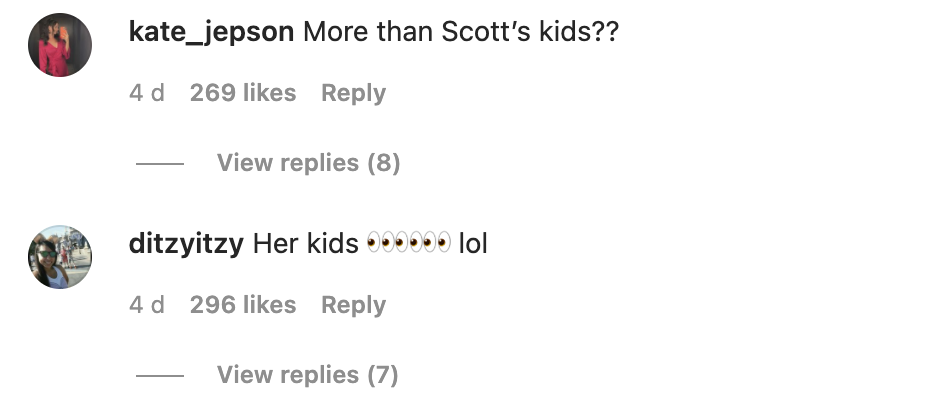 And this isn't the first time Kourtney and Travis have come under fire in recent weeks.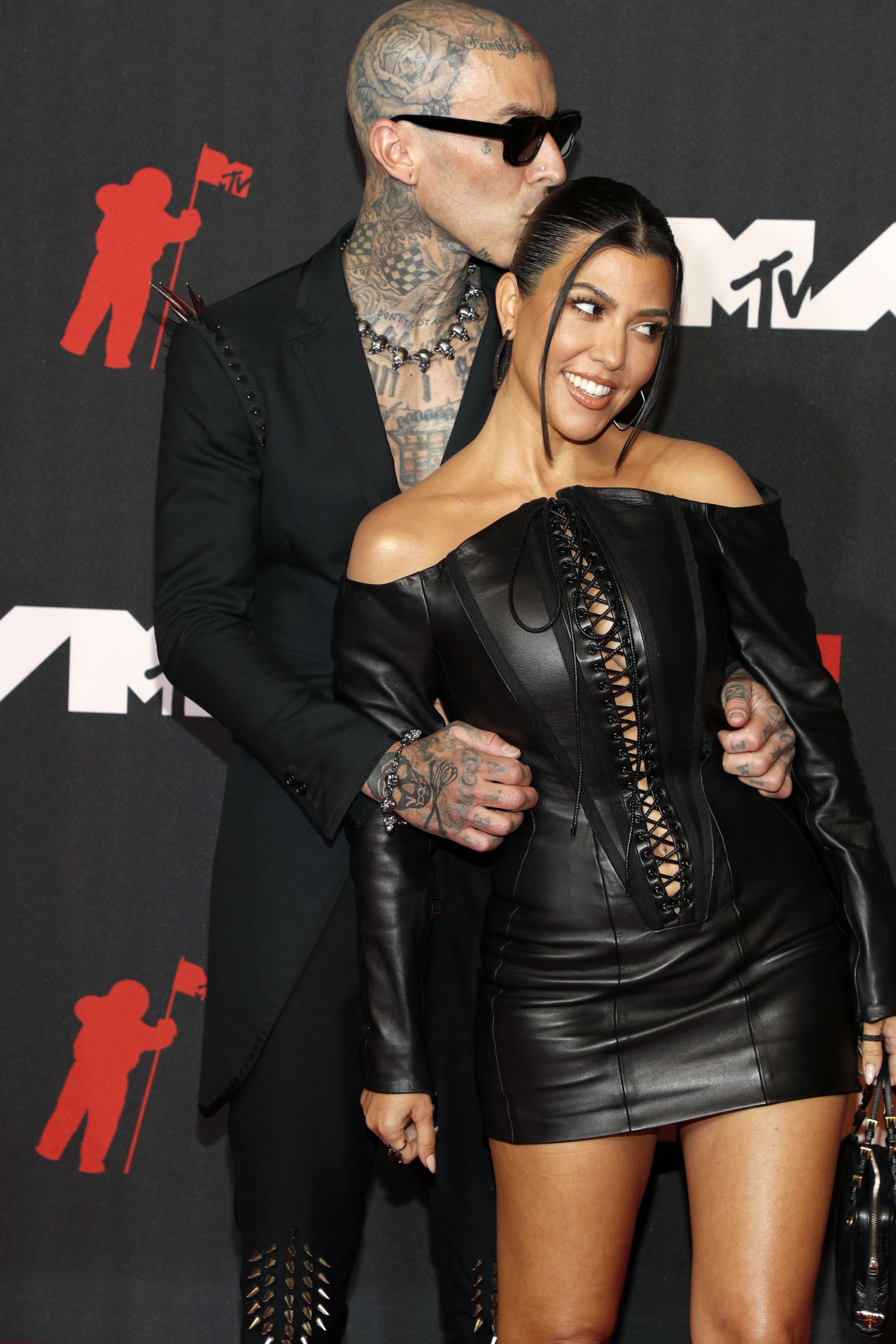 Just days ago, the couple found themselves at the center of criticism after they engaged in some very heated PDA at a family friend's wedding.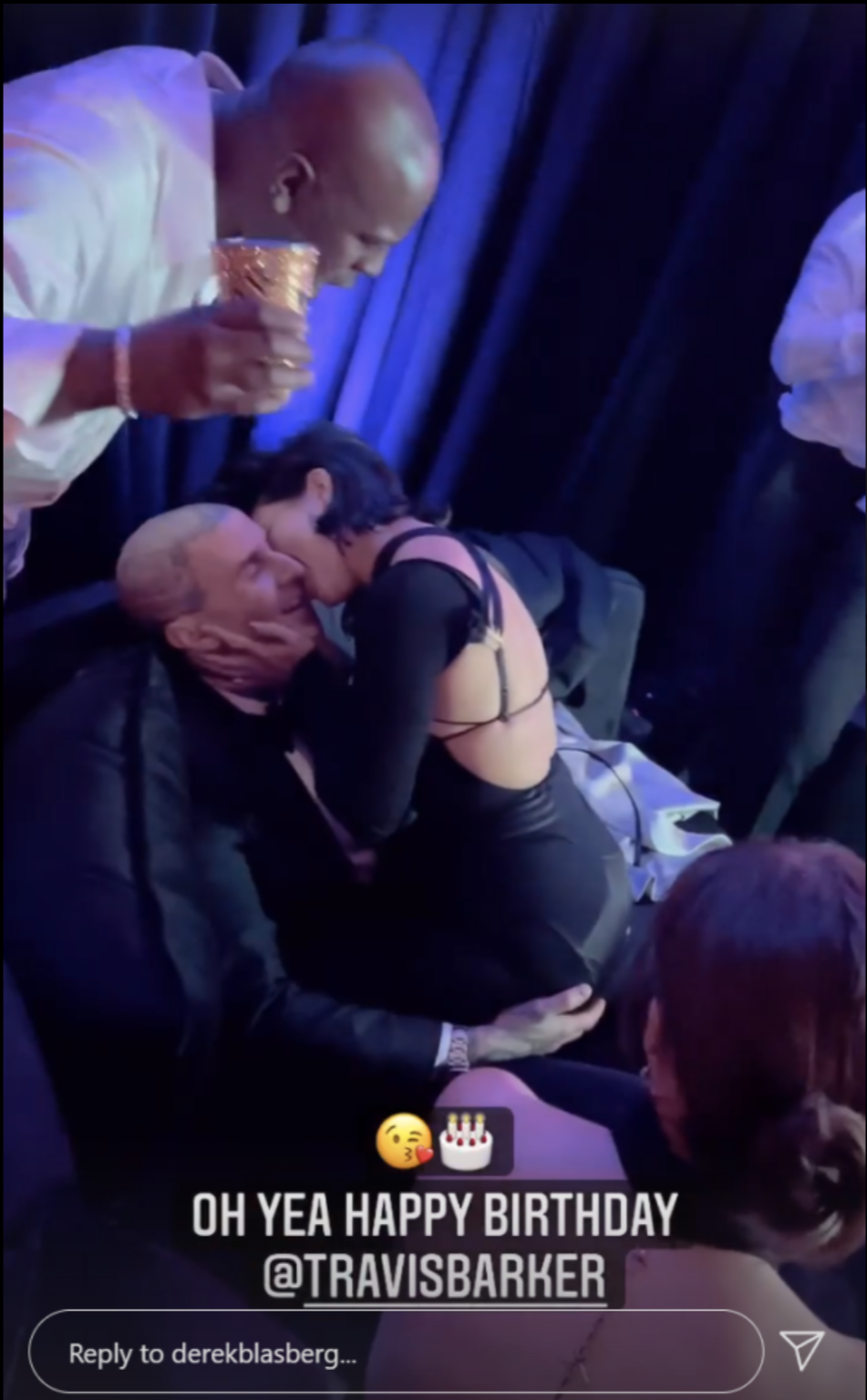 At the wedding of PR executive Simon Huck and his partner Phil Riportella, Kourtney was filmed giving Travis a lap dance in front of their friends and family.
And it's safe to say that fans weren't on board with the public display, with many labeling it "tasteless" and "classless."
"My second hand embarrassment just went through the roof," one person commented after watching the video. "My body physically shriveled up."
However, despite the PDA being ill-received by the public, several of Kourtney's family members have spoken out in defense of the couple's affection for one another.
Back in September, Kourtney's sister Kim Kardashian West defended the PDA, noting that while it's "a lot," it's still "so cute."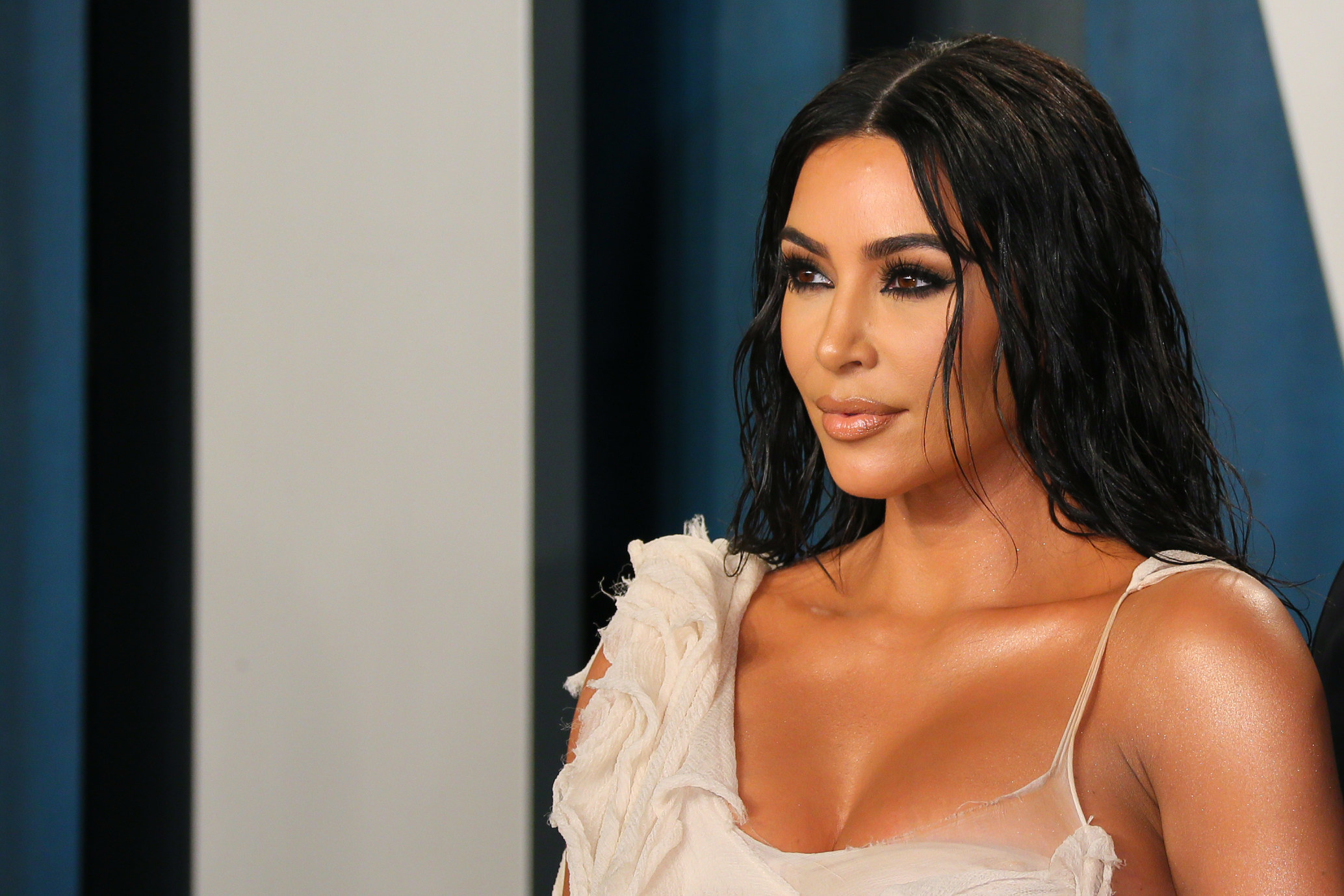 Speaking to Ellen Degeneres on The Ellen Show, Kim said that she loves Kourtney and Travis's relationship, adding that "they've grown so much together."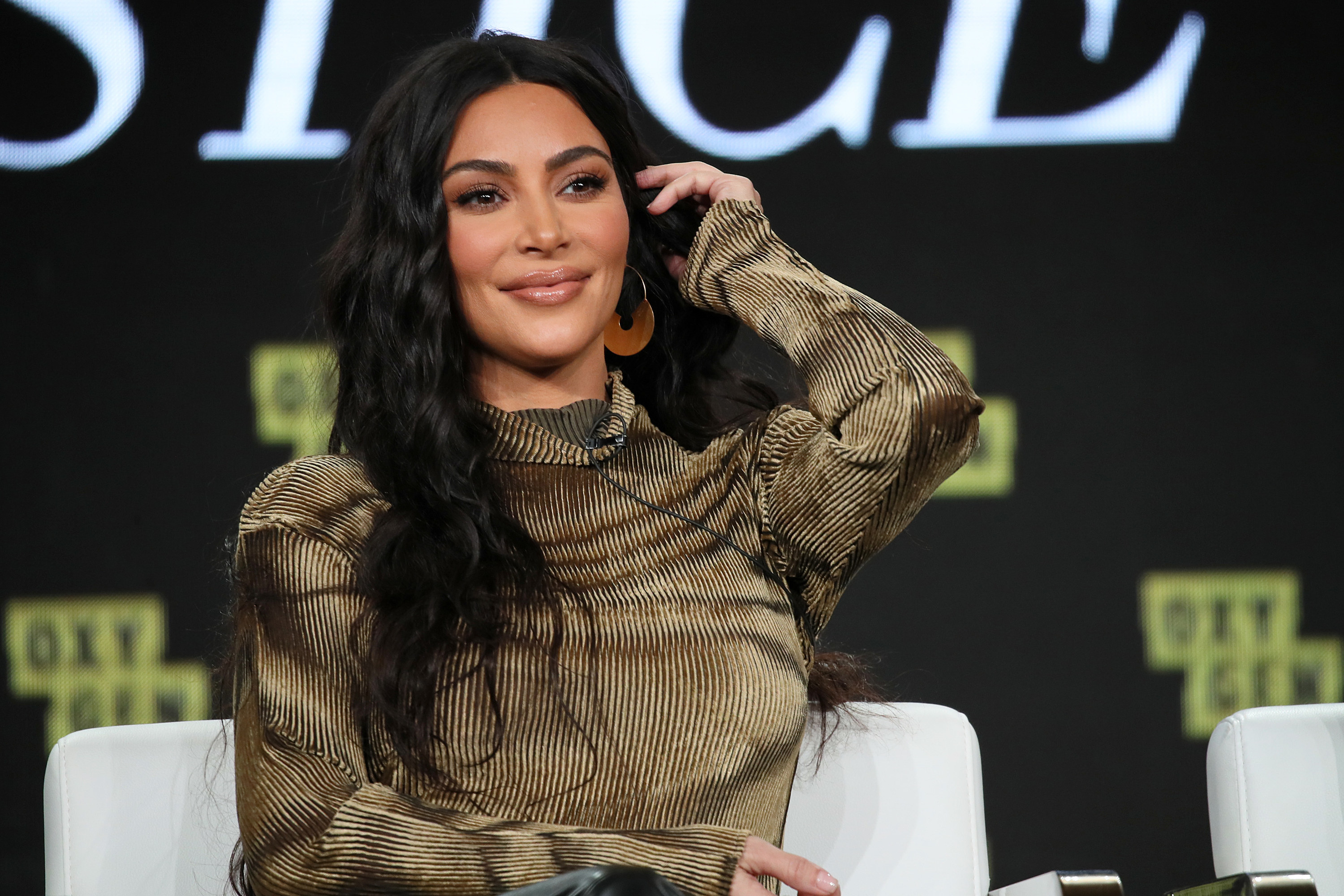 More recently, Kourtney's mom, Kris Jenner, also made an appearance on The Ellen Show, where she revealed she feels like "looking for a closet to hide in" when the PDA gets to be too much.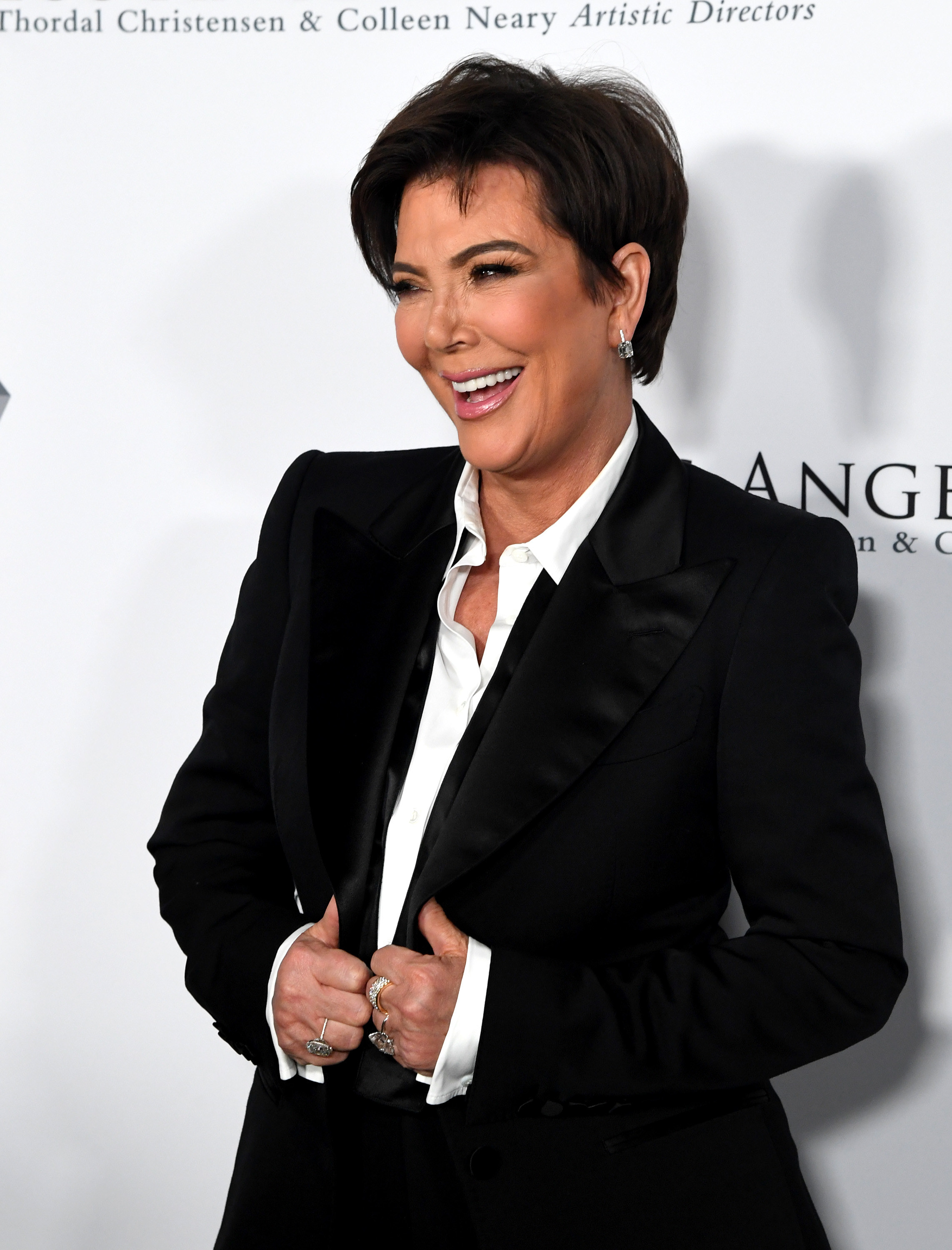 "You feel like they're the only two people in the room, and we almost don't know what to do with ourselves," Kris told Ellen.
"They're the cutest couple. They're so in love, and they let us know they're so in love — constantly," she added.
Well, Kris's comments certainly aged fittingly, as Kourtney and Travis were filmed getting very handsy at her birthday party earlier this month.
During an in-house karaoke party, Travis was seen feeling Kourtney up in front of her family. While Kris didn't seem to care, fans were certainly left questioning the full-on public display.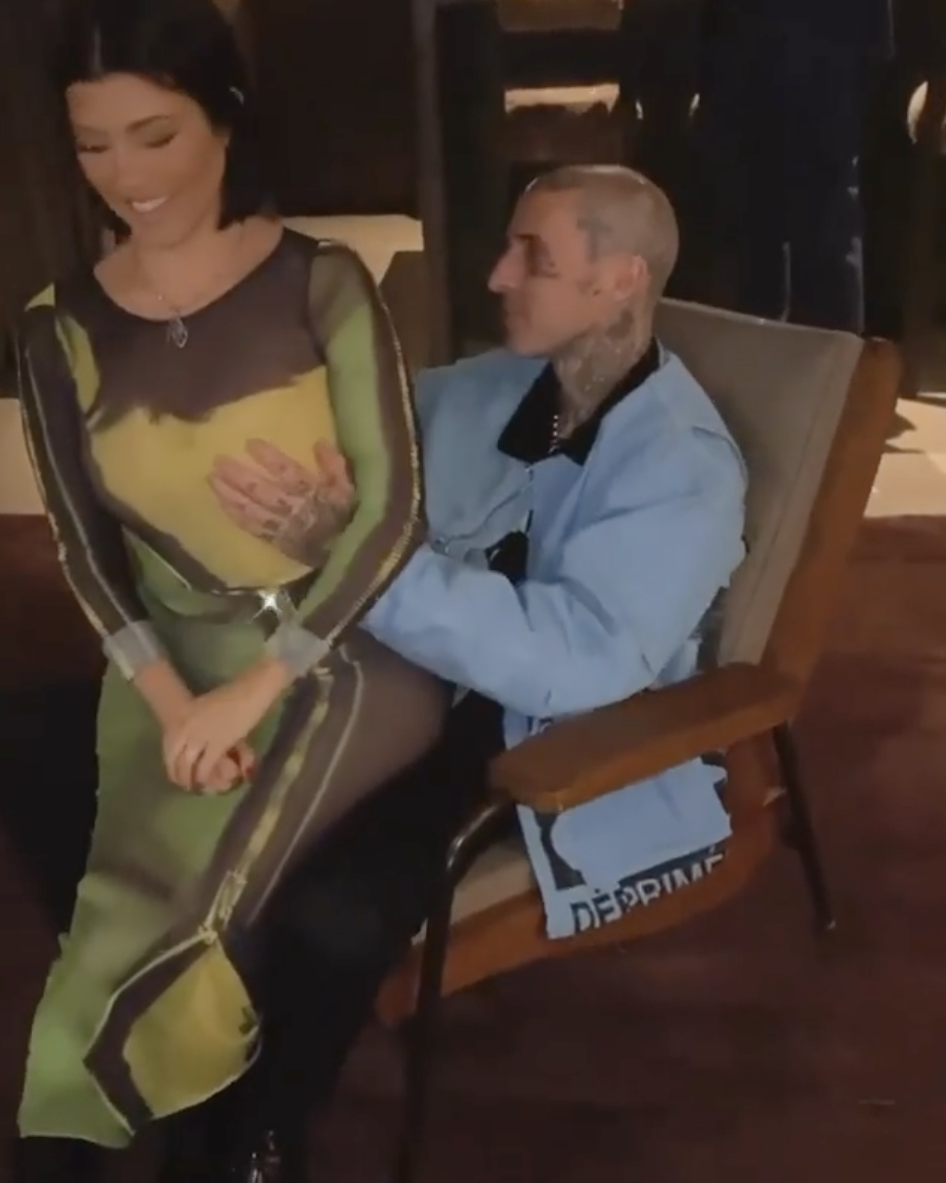 "Why is he feeling her up at a family party? That is pretty awkward," one person commented.

"Wow he's feeling her up in front of her mom," another echoed.