If you've been following the Kardashians over the years, you'll know that 9-year-old North West — eldest child of Kim Kardashian and Kanye West — has already expressed her discomfort at being filmed on several occasions.
Back when she was 2, for example, North went viral as she yelled, "No pictures!" to the paparazzi who were eagerly waiting outside her ballet class.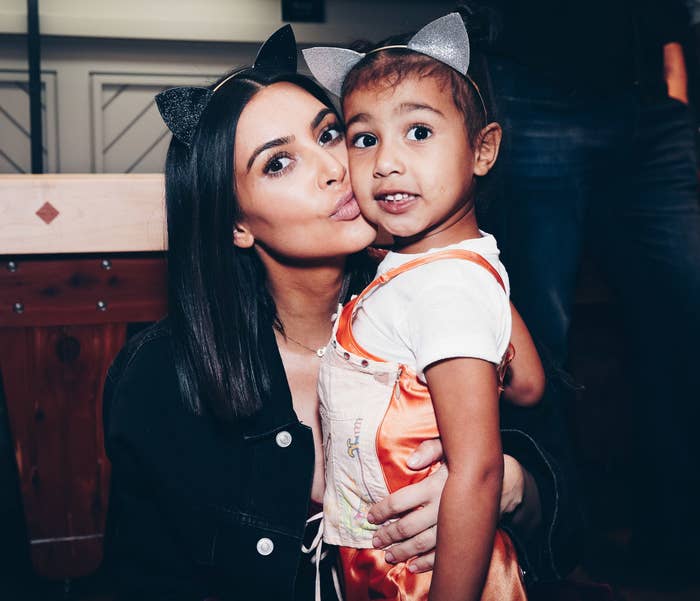 North has continued to maintain her frustration at the paps, and in July, she questioned why they film her and her famous family members "all the time." Days later, the little girl was ironically captured holding up a handwritten "STOP" sign at photographers at the Jean Paul Gaultier fall/winter fashion show.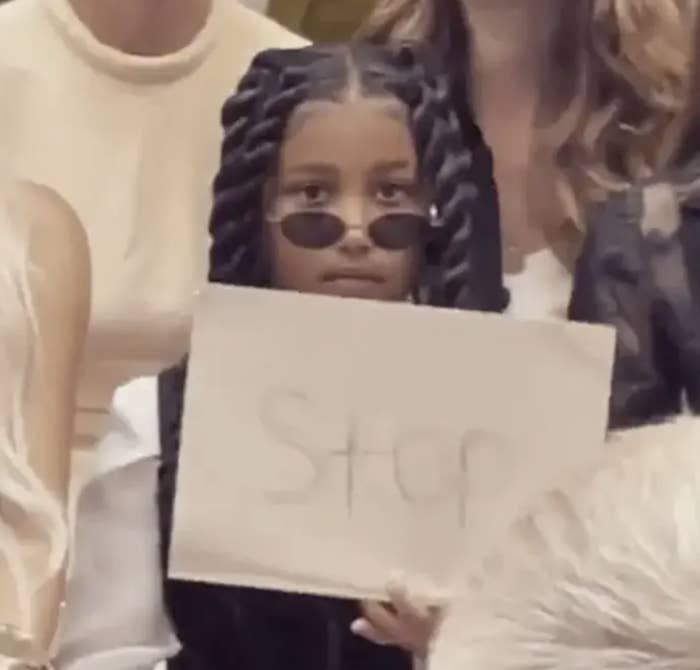 So it's not exactly surprising that North often shies away from the camera when she's not the one in control, with several fans often expressing their concern for the 9-year-old's lack of a normal life.
However, North's mom, Kim, has continually made light of the young child's discomfort, claiming last month that the whole "STOP" sign fiasco was just a "funny" blip.
"For anyone who knows North knows how funny she finds this video! North I guess had it with the people taking pictures of her so she wrote on her invite STOP and held it up and wanted them to just focus on the show," she wrote on Twitter.
A few years prior, Kim had posted a video to her Instagram page in which she asked an uncomfortable-looking North why she didn't want to be photographed or filmed.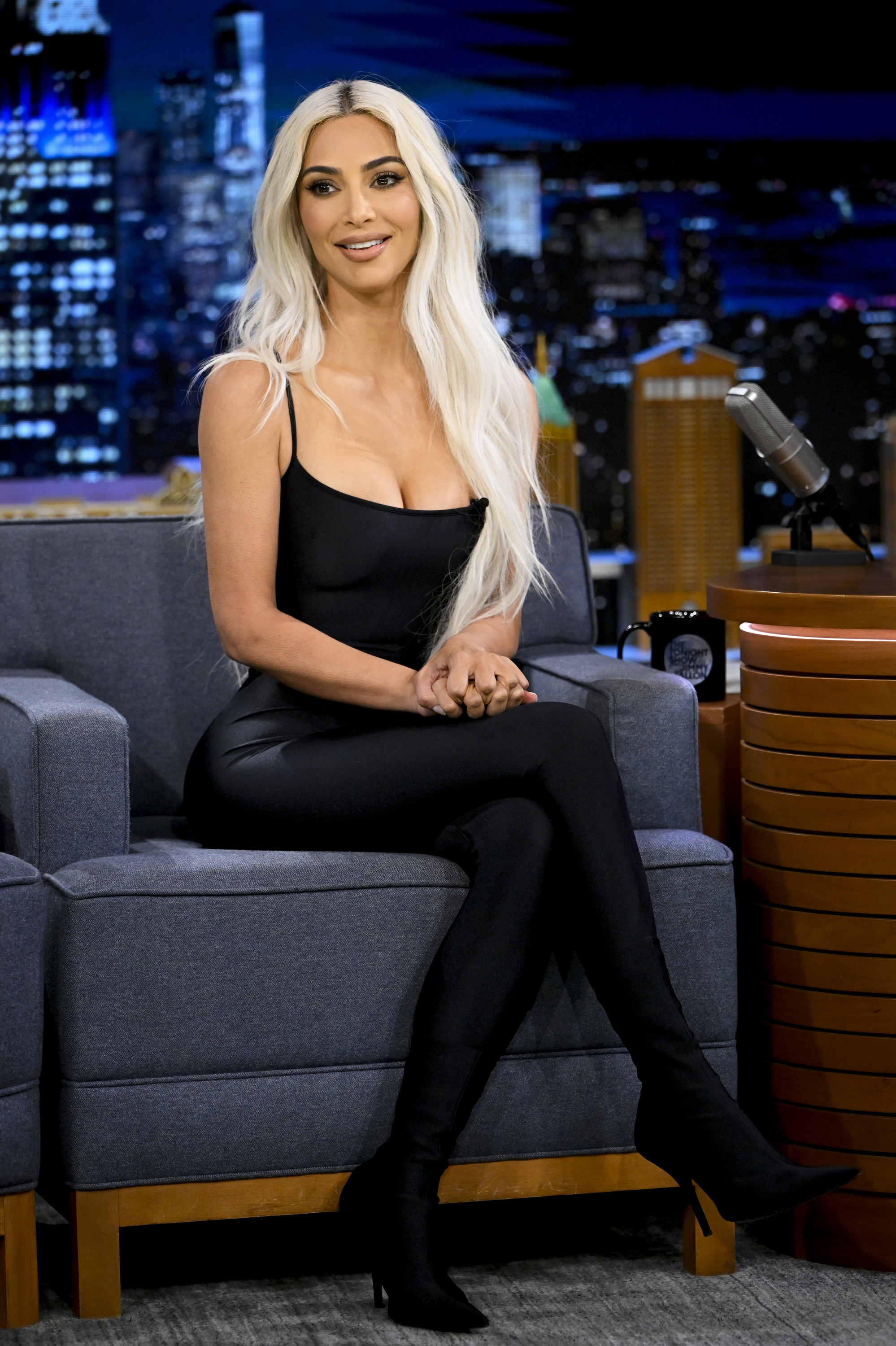 "No! No pictures," said North, to which Kim responded, "Why?" as she continued to film her daughter.
And now, Kim has landed herself in hot water once more, as she shared a new Instagram video in which she's yet again recording North in spite of her discomfort.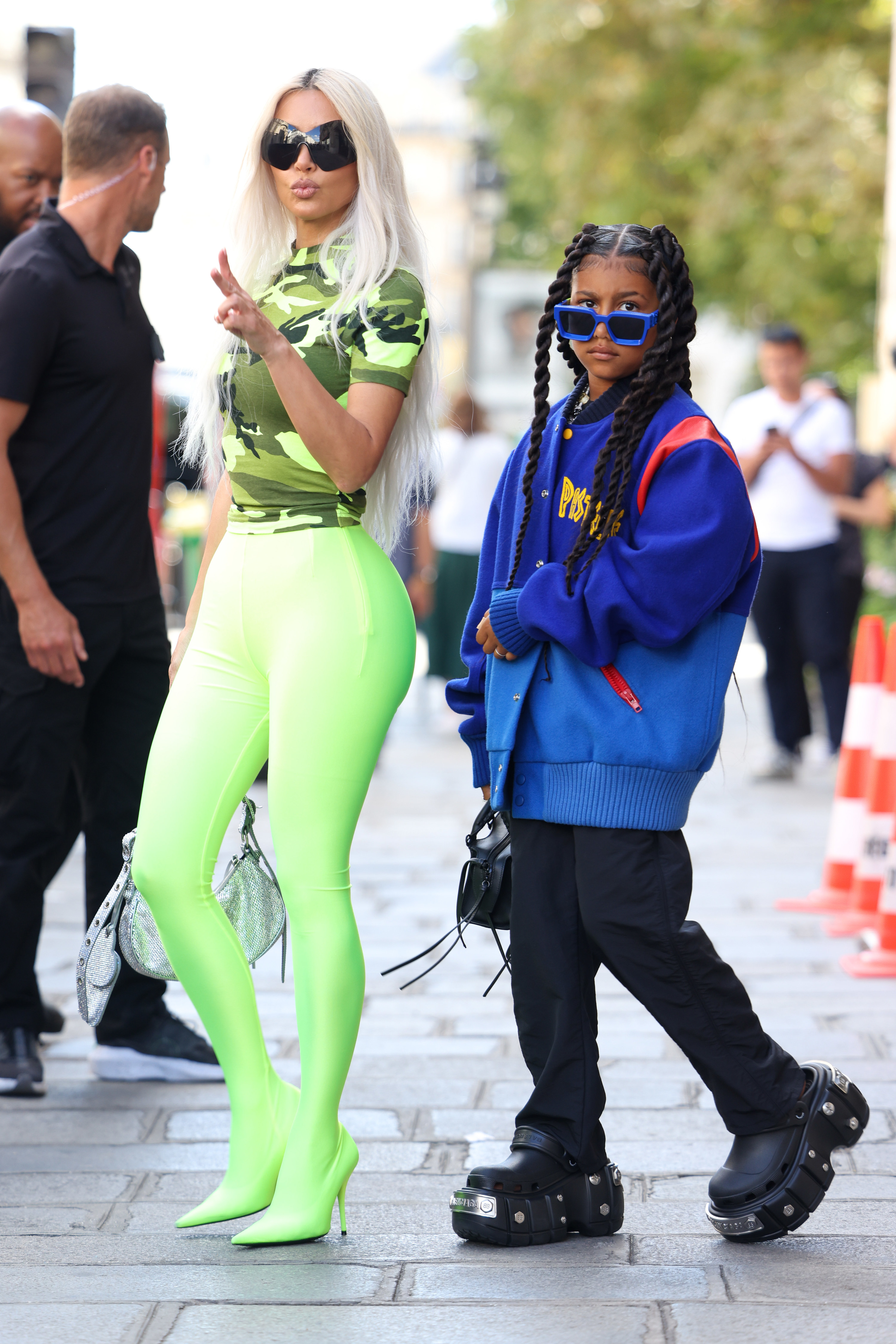 The clip, which is filmed in selfie mode with a trendy filter over it, sees Kim in the front of a car recording North and her 10-year-old cousin Penelope — daughter of Kourtney Kardashian and Scott Disick — in the back.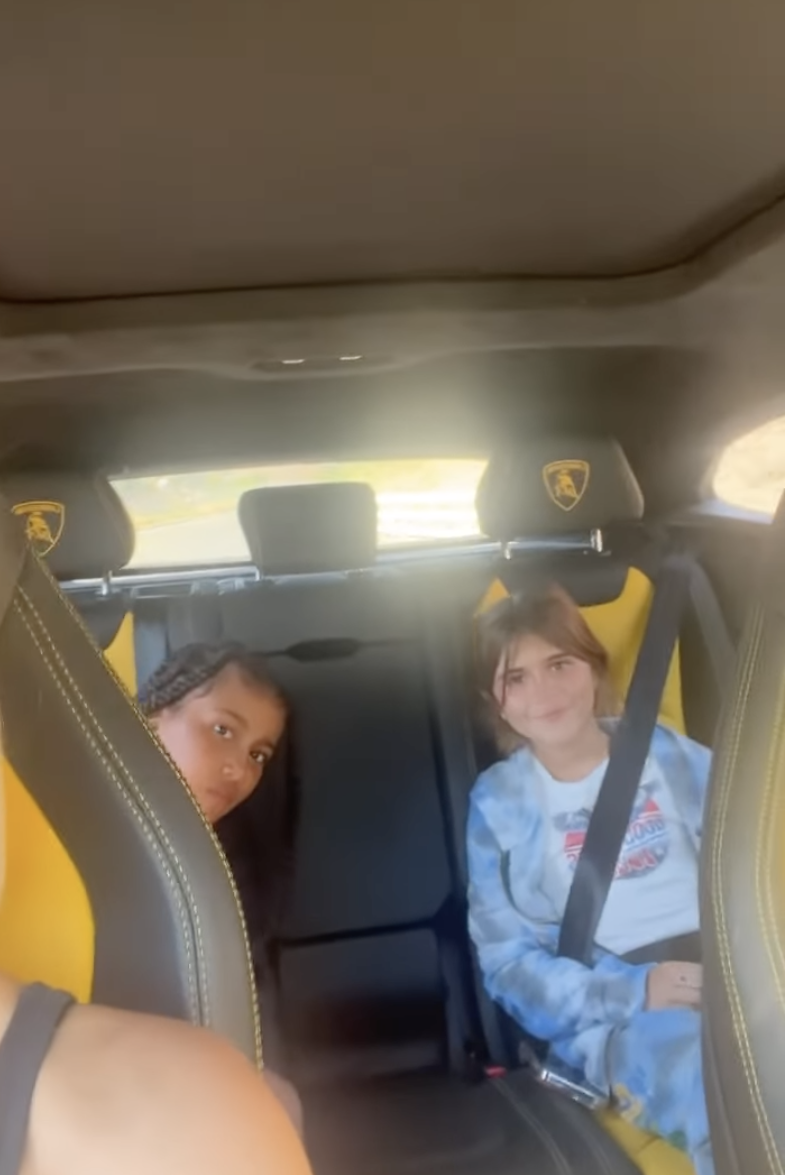 "Sing it girls," Kim tells the two kids while Bruno Mars's hit song "Versace on the Floor" plays in the background. However, neither North nor Penelope appear to be completely on board with Kim's antics. North is seen mouthing a few lyrics, but the two girls mostly sit in silence while looking somewhat awkward.
At one point, Penelope side-eyes her cousin, prompting North — who clearly looks fed up — to yell, "Stop!" at Kim.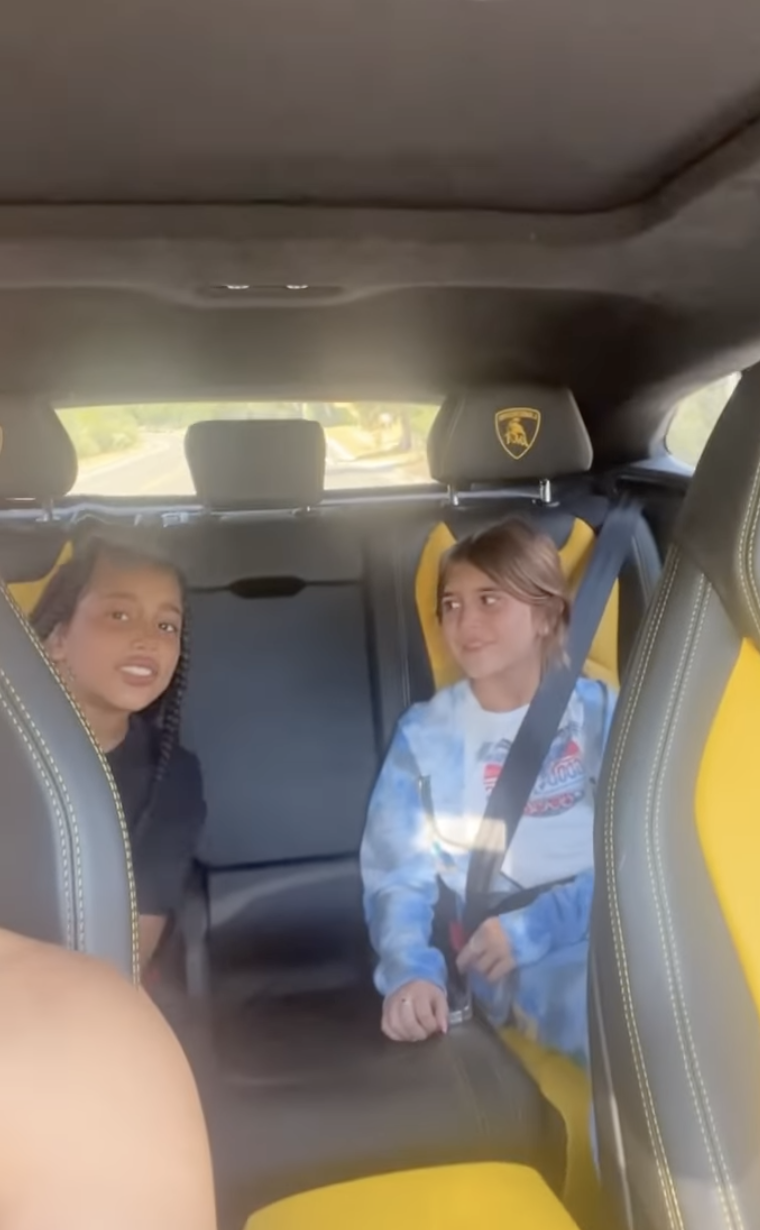 "Mom!" she shouts again. "Mom, please delete that!"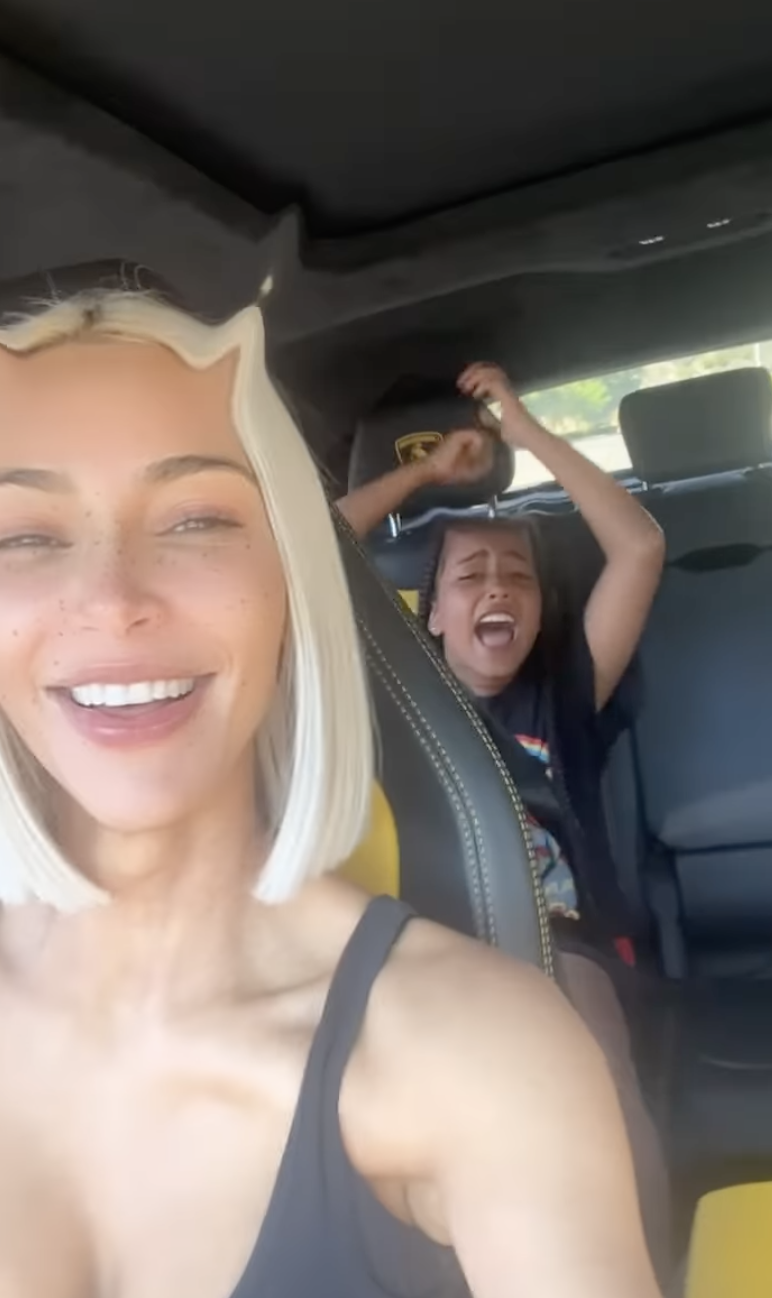 But Kim simply giggles in response, unfazed by her daughter's pleas.
As a result, several fans have voiced their frustration toward Kim for filming — and posting — the video in spite of the kids' visible discomfort.
While some argued that Kim was simply doing what moms do and embarrassing her loved ones, it was also pointed out that the reality star has a whopping 329 million followers on Instagram alone, and so her video certainly can't be compared to the average parent's Facebook post.
"Kimberly probably thinks she's just embarrassing her daughter and niece like all moms do but doesn't recognize that she has a huge audience," one Reddit user wrote. "It isn't just her classmates."

"This video is not just going to the family group chat, not just going on a Facebook page with a couple hundred friends. This is on her Instagram page for the entire world to see," another echoed. "I wonder psychologically what that does to a child."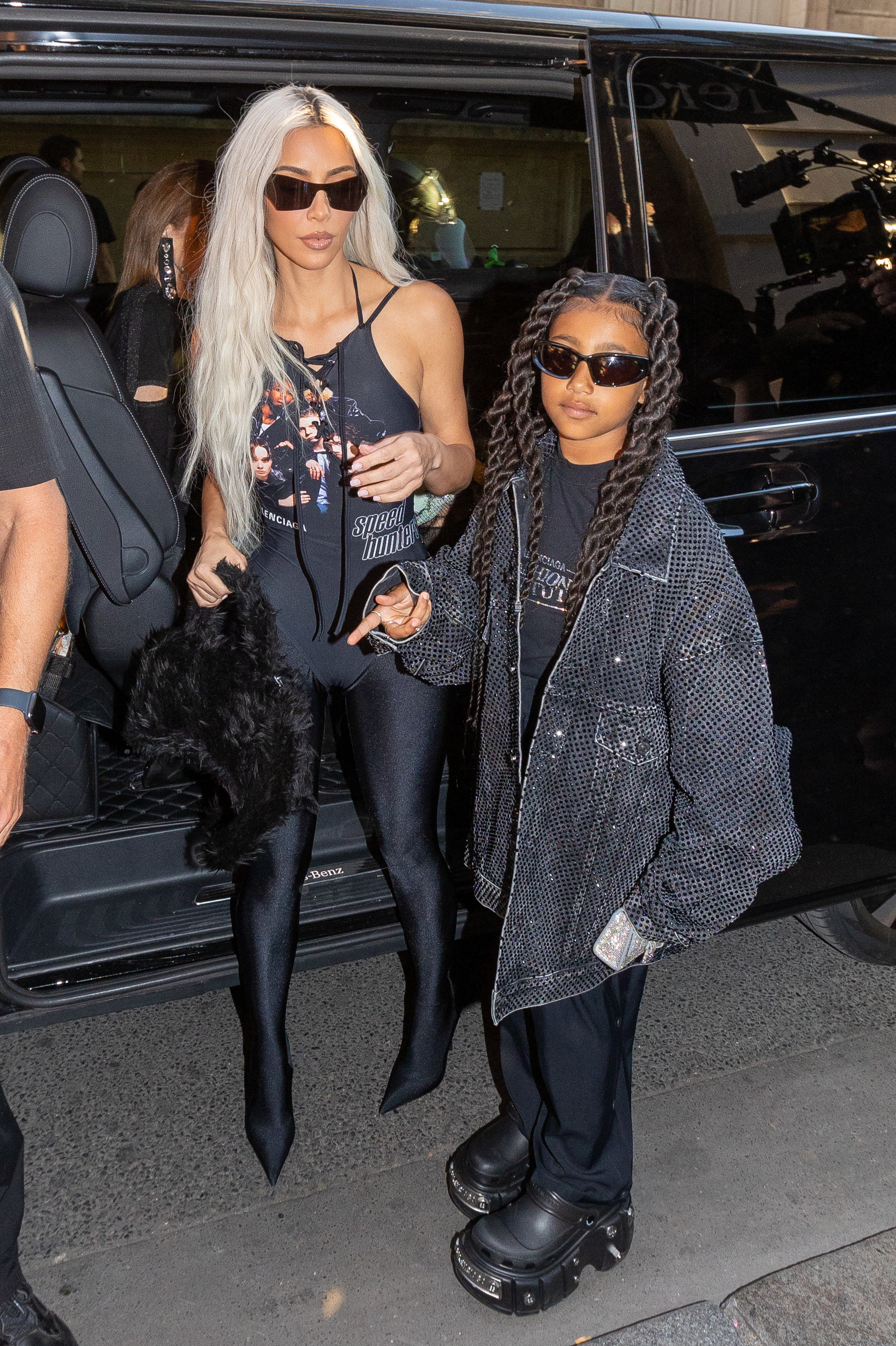 Several users went on to question why Kim was so keen to post the video in the first place, given that North and Penelope looked uncomfortable.
"Why would she post this? North is unhappy and explicitly asks her to please delete it. This feels so invasive," one person wrote. "She's only 9, she shouldn't have videos she doesn't like of herself online for millions of people to see."
"how many times does this 9 y/o girl need to say and write STOP?!?!?!?!" added another, seemingly referencing North's aforementioned "STOP" sign directed at the paparazzi.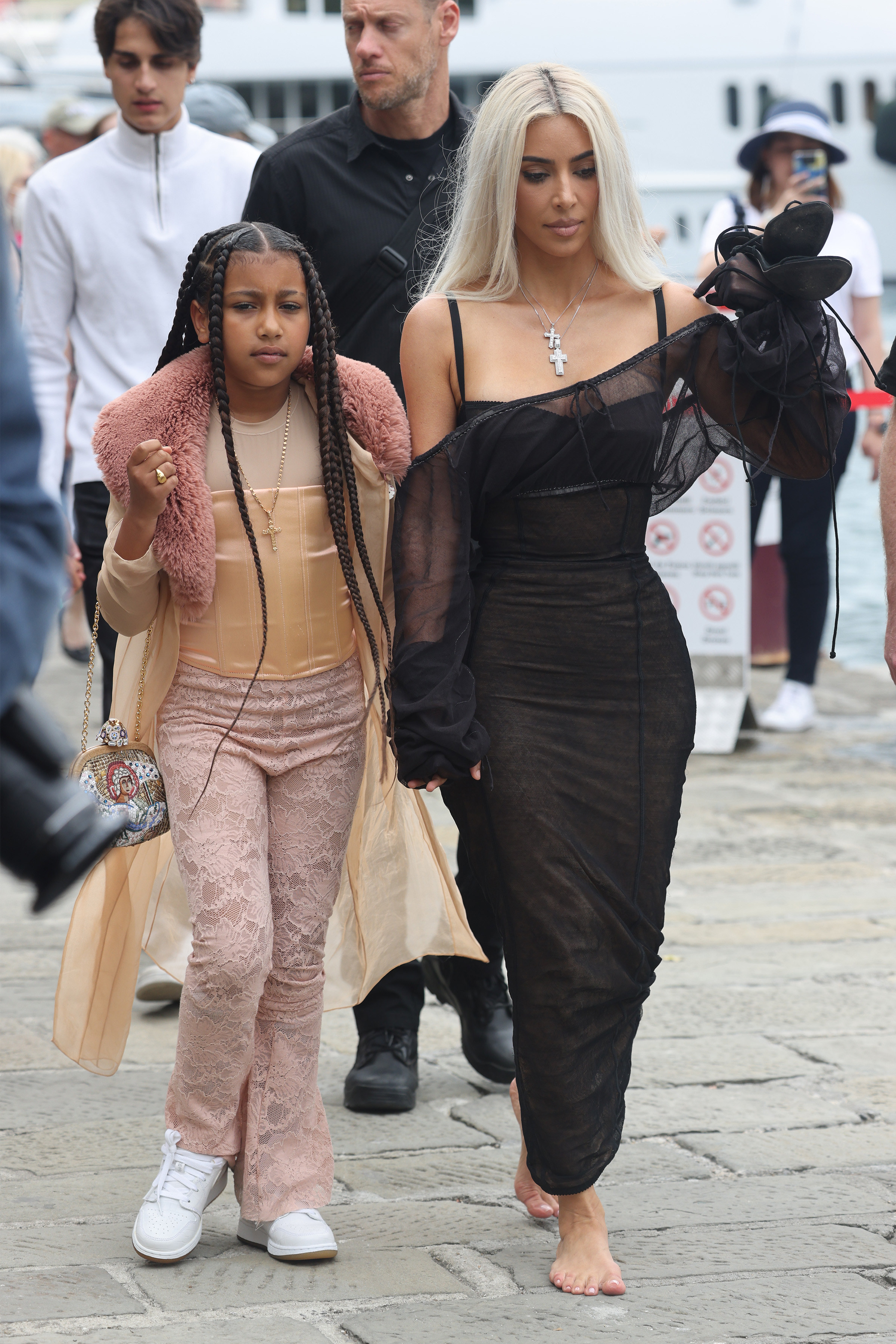 "this made me feel extremely uncomfortable," a third chimed in. "it's not just north begging but the looks north and [Penelope] give each other."

And others went on to question why Kim ignores North's wishes to not be filmed before drawing direct comparisons with the way her sister, Kourtney, protects Penelope's older brother, Mason, from the spotlight in line with his desire to live a private lifestyle.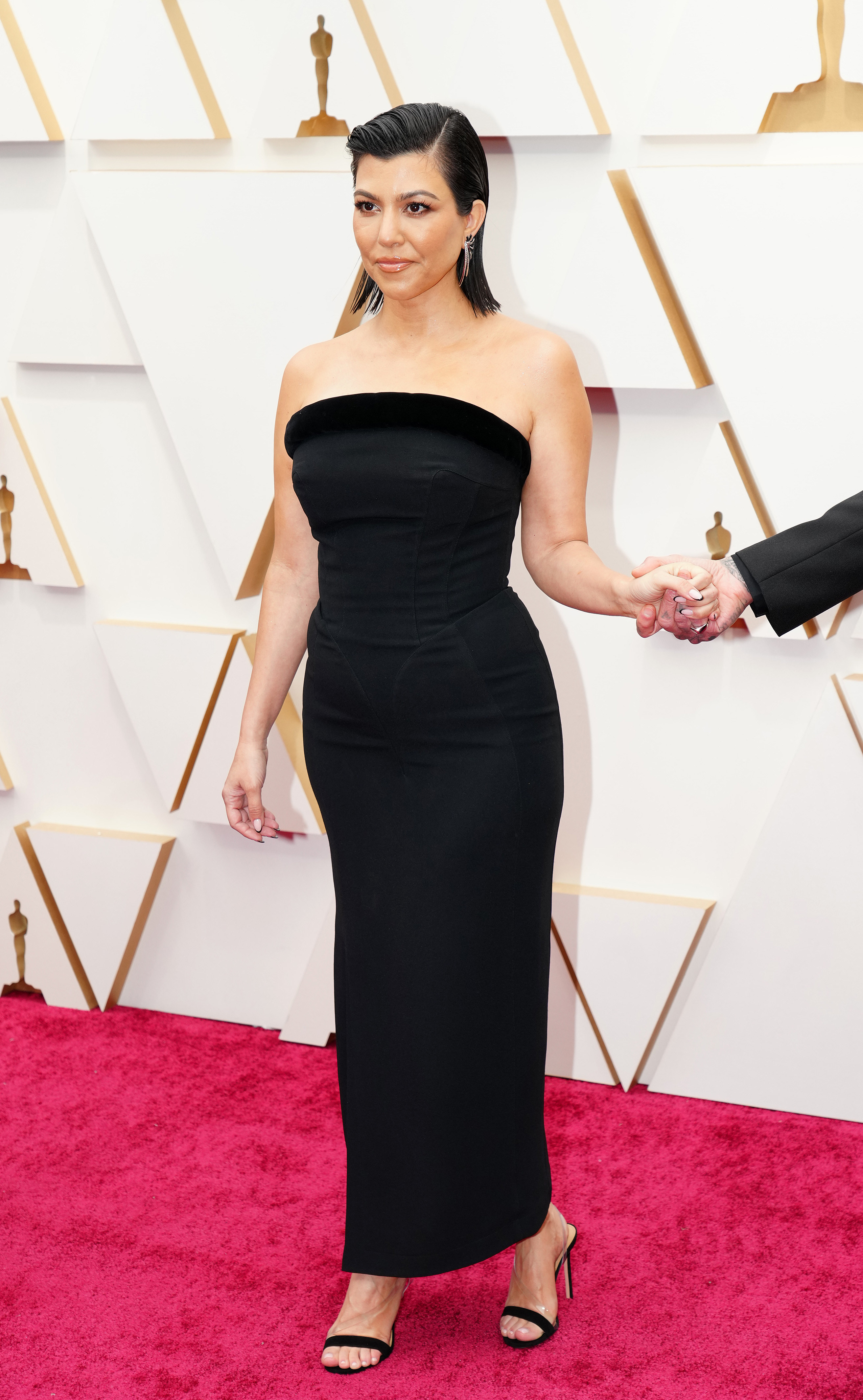 "You know how Kourtney respects Mason's privacy by not posting him? Yeah I don't think Kim would do the same if North asked," one person commented.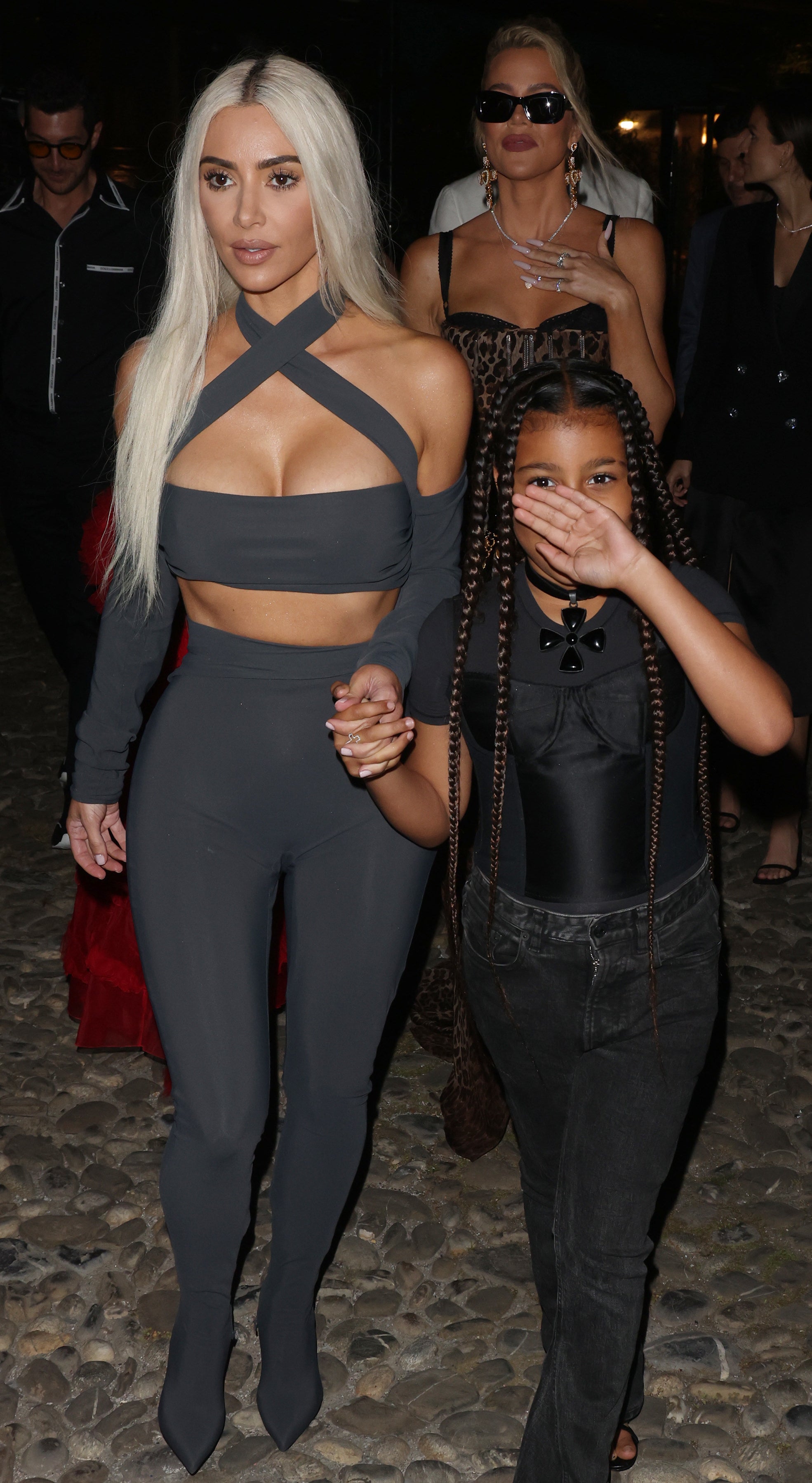 "I feel so bad for North. She is telling people to stop taking pictures of her. She's begging the person who is supposed to protect her to stop filming her," wrote another.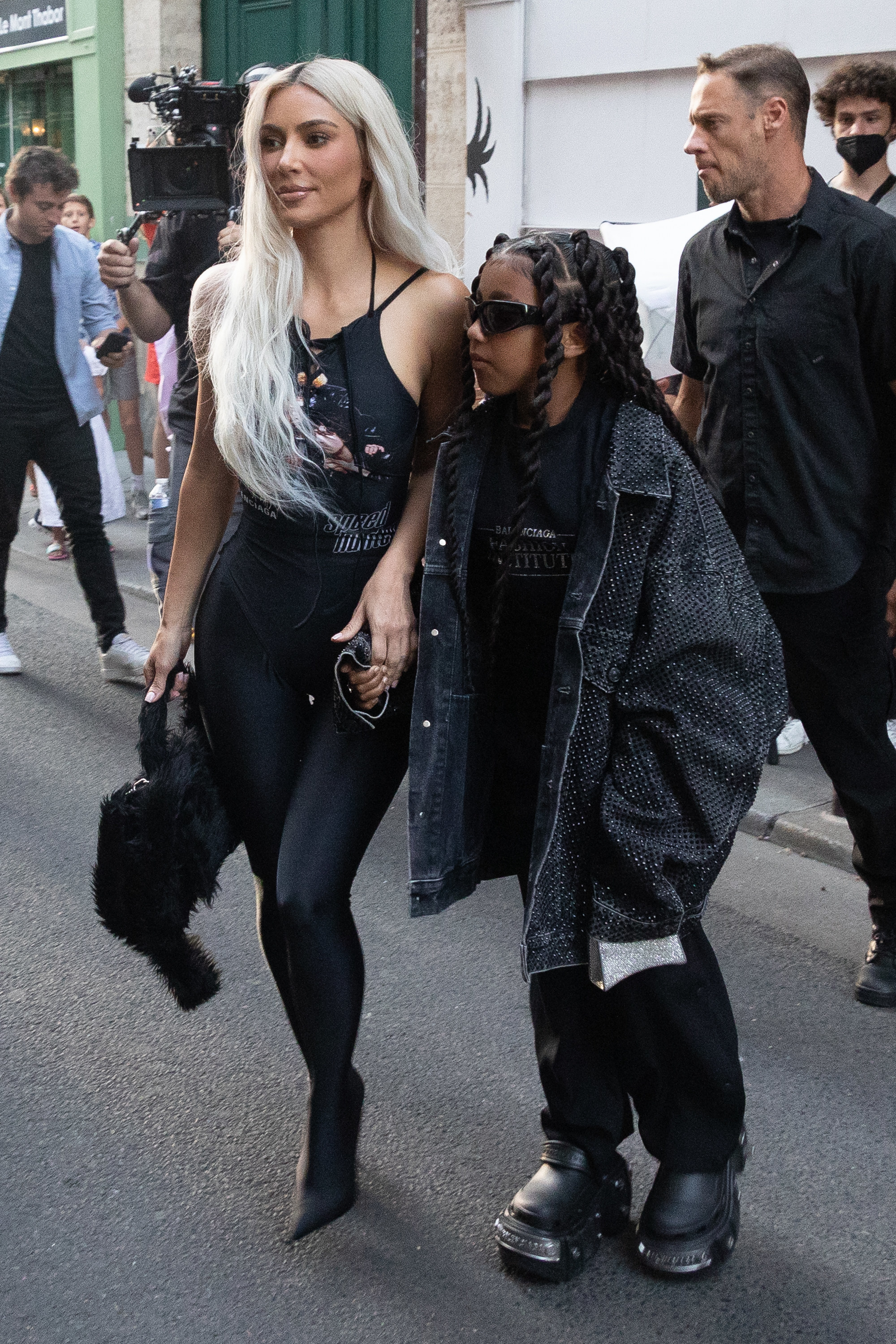 In addition to the heaps of backlash Kim is facing because of the video's content, the beauty mogul has also been met with tons more criticism over the fact that she was actually driving while filming the clip, making it all the more uncomfortable to watch.
Kim appears to be seated on the right-hand side of the car — aka the passenger side — at first glance. However, as several users pointed out, the video being taken with the front-facing camera would mean that it was inverted, with her actually being seated on the left.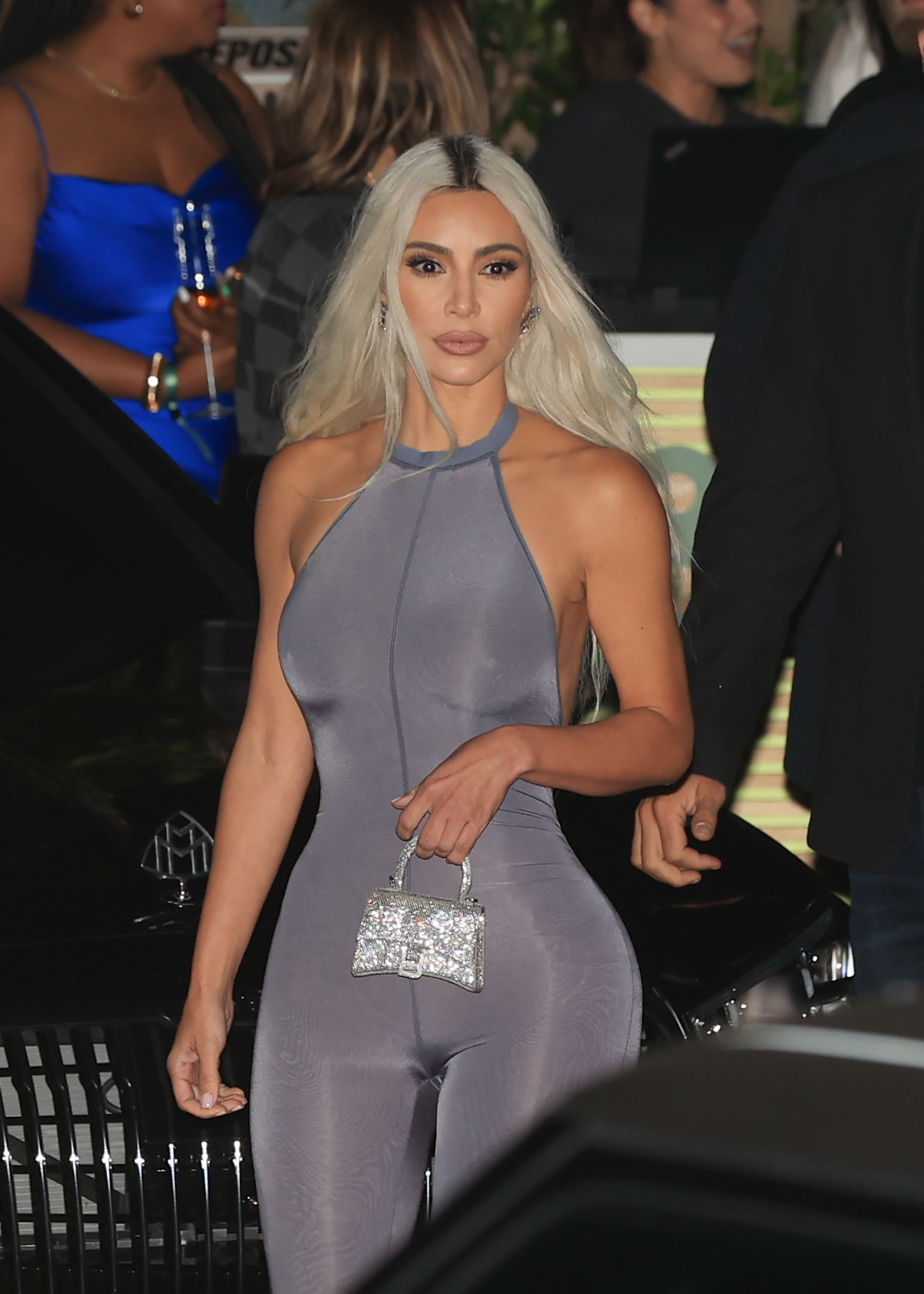 "You can tell how she keeps glancing at the road and her other arm seems to be steering the car too," someone noted, while another expressed their dismay at the fact that Kim was "barely looking at the road."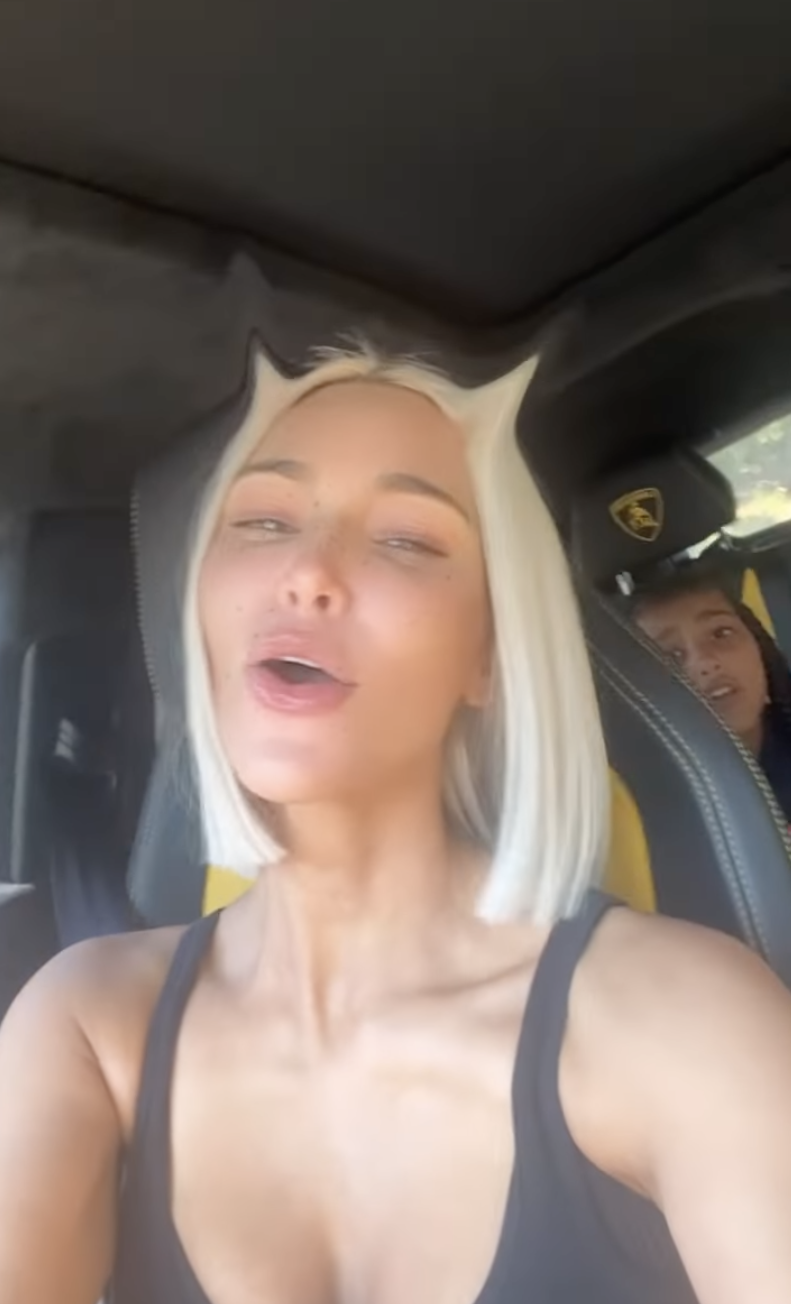 "You should never be on your phone [while] driving. Especially with kids in the car? Not cute," one user said.

"She shouldn't be recording and driving," echoed another, adding that the move was "so dangerous."