Kim Kardashian has revealed her thoughts on Kourtney Kardashian and Travis Barker's relationship and their well-known PDA.
In a new interview with Ellen DeGeneres, Kim opened up about how new relationships — like Kourtney and Travis's — have been able to "blossom" since she and her sisters have had time off from filming Keeping Up With the Kardashians.
"I love [Kourtney and Travis's] relationship," Kim began. "They've grown so much together."
"To think that they've been neighbors and friends for almost 15 years," she continued. "Neighbors for almost a decade!"
Ellen agreed before playfully joking that "all of a sudden, they can't keep their hands off each other."
The 63-year-old talk show host went on to call Kourtney and Travis's PDA "crazy" before playfully questioning "what's wrong" with the pair.
"They are, like, at each other like it's the last time they're gonna see each other all the time," Ellen quipped.
The KUWTK star simply called the PDA "so cute" in response.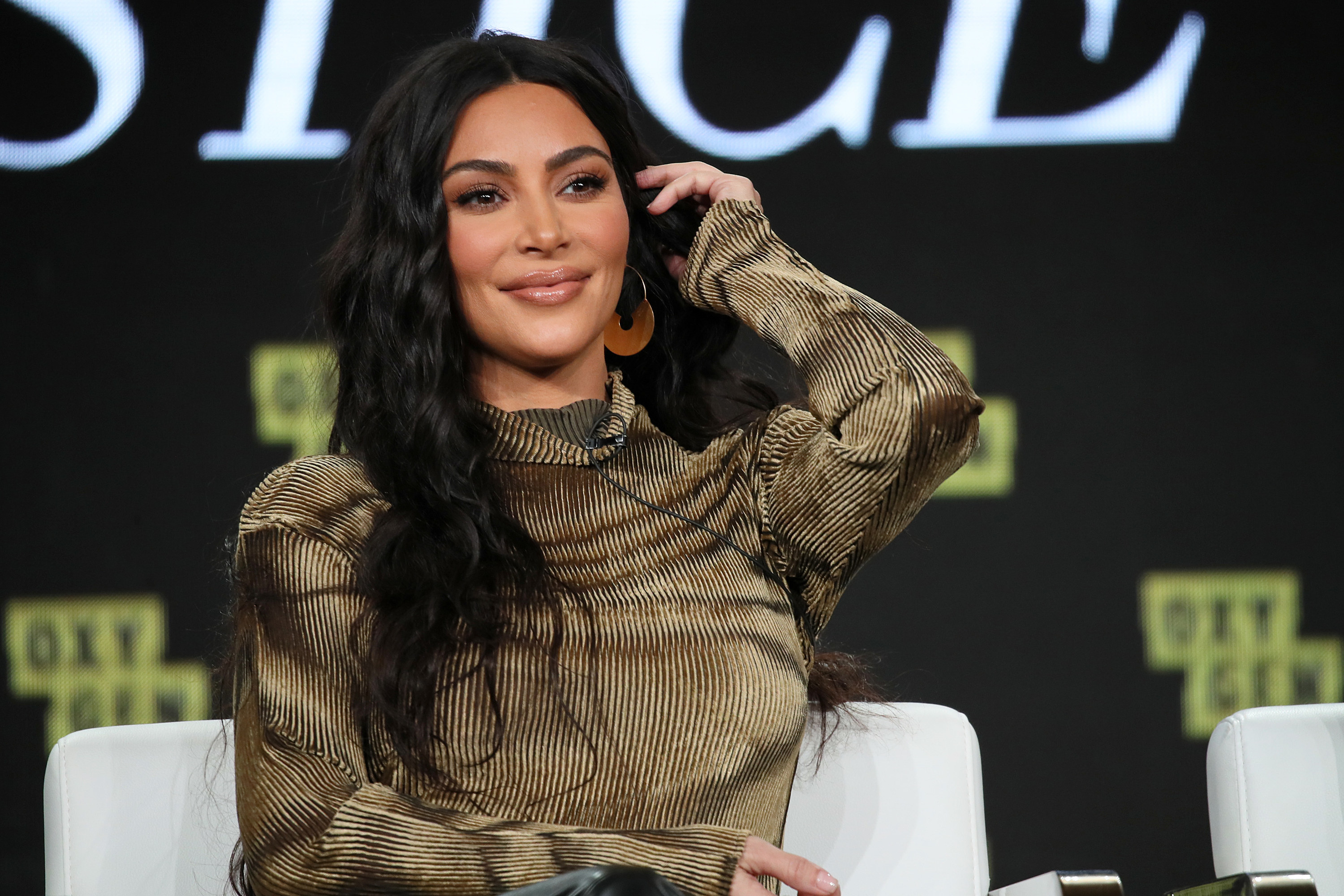 Ellen replied: "It is, but it's kind of, like, it's a lot."
Kim shut Ellen's jokes down with another short but sweet response, reiterating that she finds it all "so cute."
"It's a lot, but it's so cute," she said.

"No, it is cute! And I like both of them very much," Ellen replied. "And he's the sweetest guy...but every time you see them, they're making out."
Kim rounded things off by calling their relationship "cute" for a third time, and saying "that's what they do." She added that she loves the pair, to which Ellen nodded in agreement, saying, "I do too, I love them too."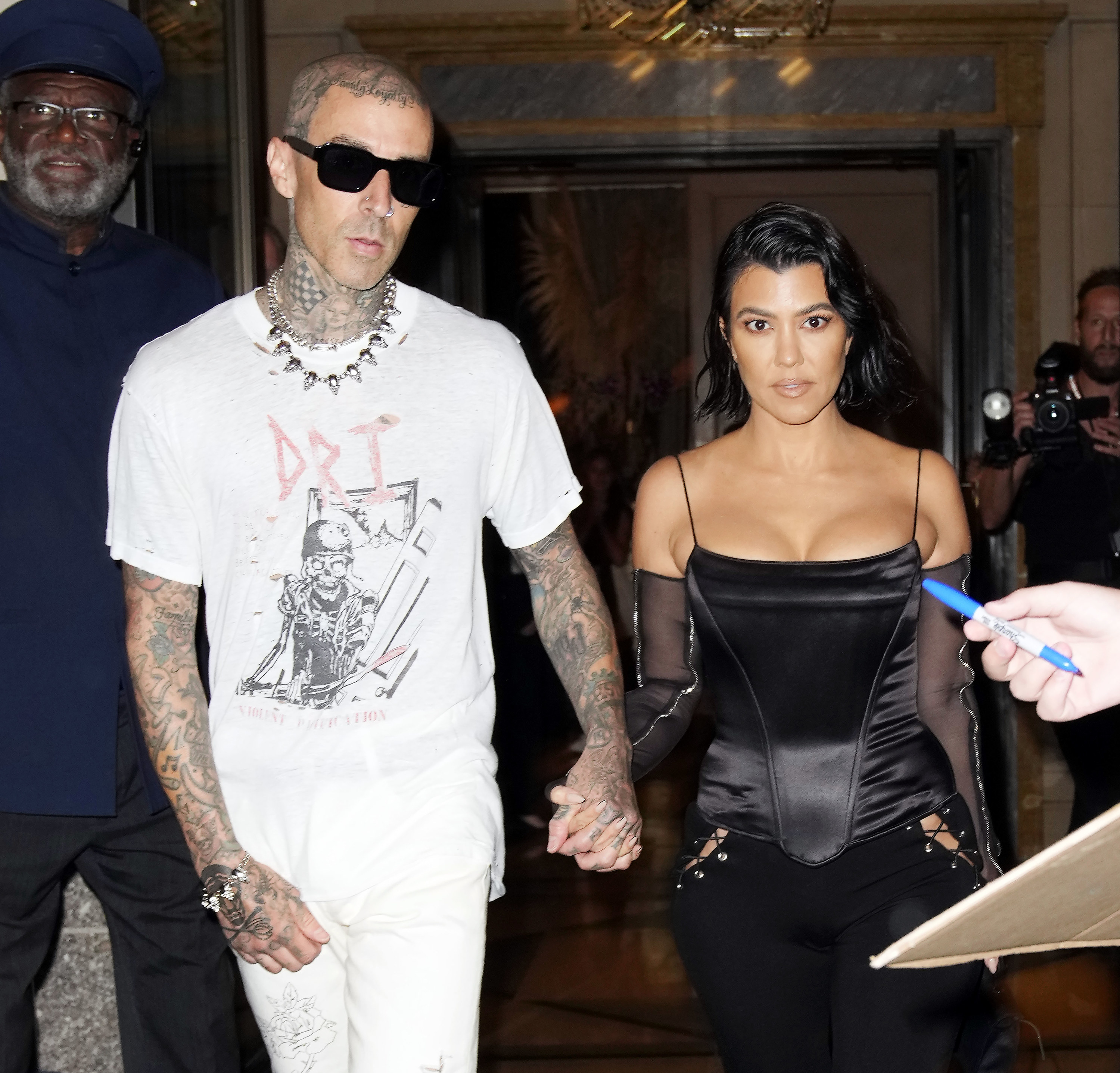 Kim also mentioned that she's "assuming" Travis will appear in the Kardashians' upcoming reality TV series, as he's "such a big part of Kourtney's life."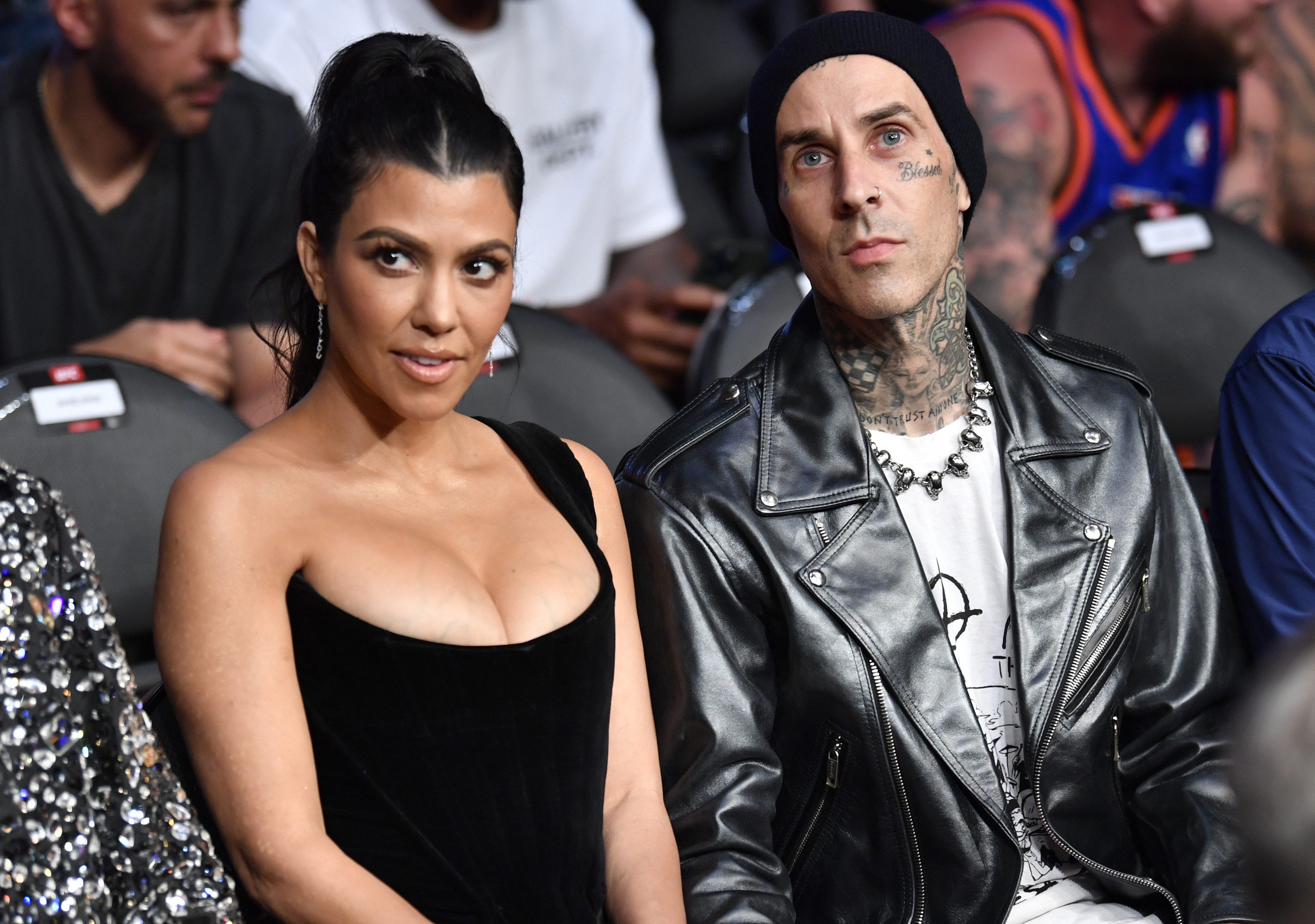 Just days ago, the two made long-awaited their red carpet debut at the VMAs, shortly before sharing risqué photos of themselves kissing on Instagram.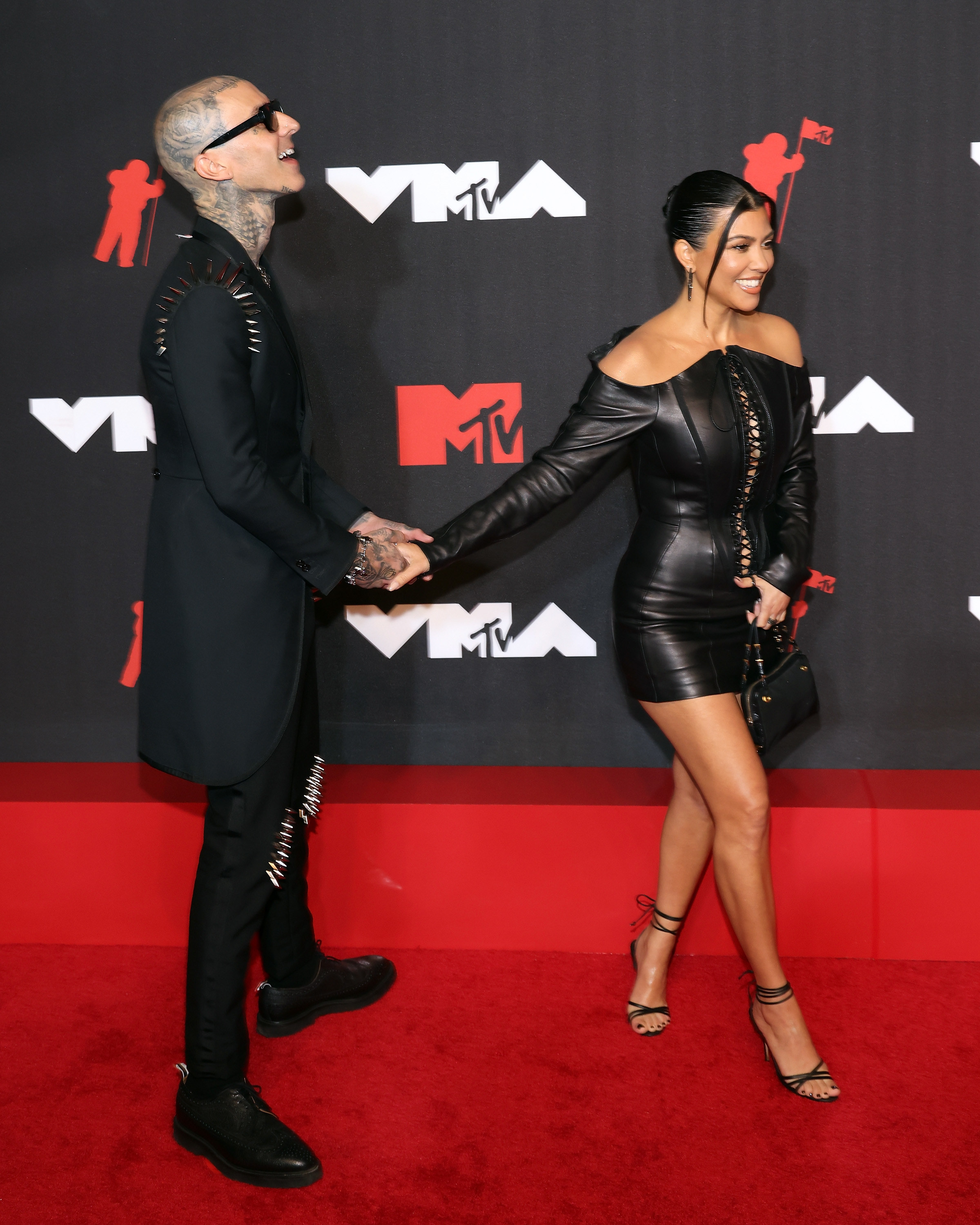 During the VMAs, fans were surprised when Kourtney and Megan Fox called Travis and Machine Gun Kelly their "future baby daddies" while introducing their live performance.
The fan-favorite relationship recently reached new heights, after Travis publicly credited Kourtney for helping him overcome his fear of flying, following his survival of a plane crash in 2008.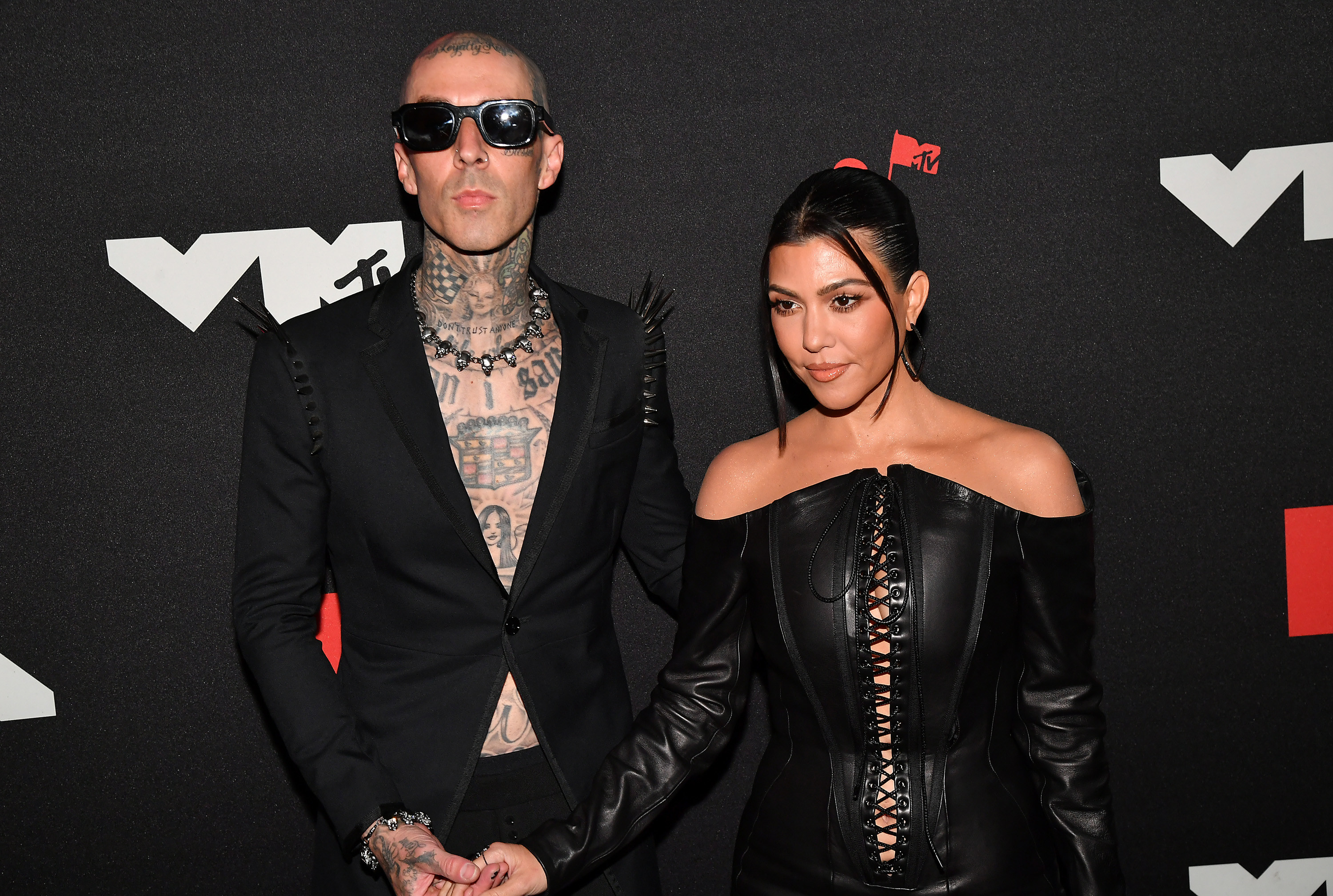 The tragic incident saw Travis's private jet crash during takeoff at an airport in South Carolina, killing four of the six passengers on board, including two of his close friends — his security guard Charles "Che" Still and assistant Chris Baker — as well as both of the pilots. Travis and his friend Adam "DJ AM" Goldstein were the only survivors.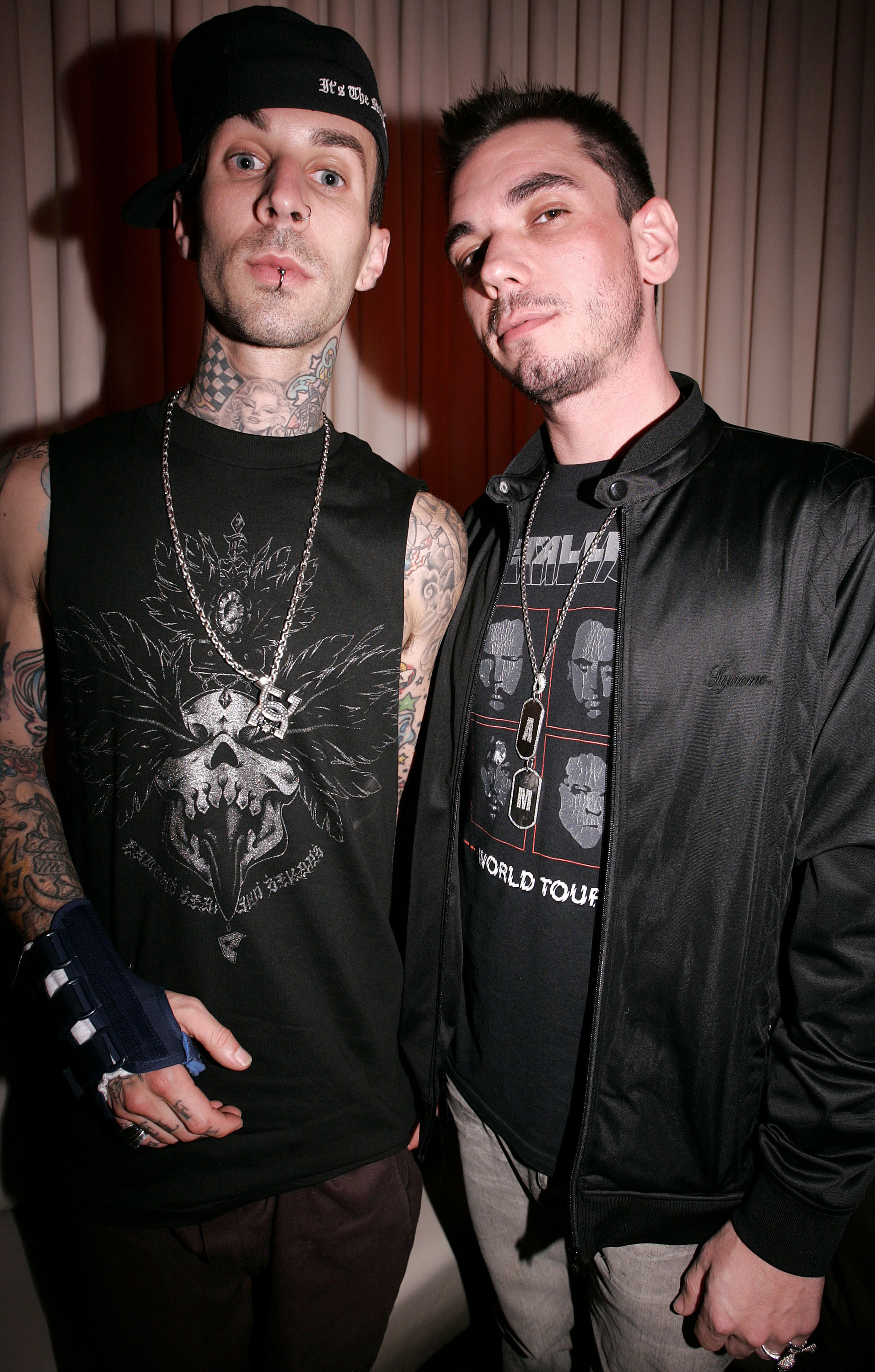 In an interview with Men's Health, Travis — who spent three months in the hospital following the crash, where he underwent 26 surgeries and multiple skin grafts — opened up about his fear of flying, and his experience with survivor's guilt and PTSD.
However, things took a turn last month when Travis was photographed boarding a private jet with Kourtney, which later landed in Cabo, Mexico — shocking his fans and followers.
Later recalling the trip to Cabo in an interview with Nylon magazine, Travis opened up about how Kourtney influenced his decision to fly again.
"I made a deal with [Kourtney] that she had just said to me, 'I would love to do so much traveling with you. I want to go to Italy with you. I want to go to Cabo with you. I want to go to Paris with you. I want to go to Bora Bora with you.' And I said, 'Well, when the day comes you want to fly, I'm telling you I'll do it with you. I would do anything with you. And just give me 24 hours' notice.' And that's what she did."
"It's still something very new to me, but having something that gives me the strength and hope to be able to overcome things that were so traumatic in my life, it just says a ton," Travis went on. "She's definitely that for me. I'm invincible when I'm with her. It's like I never dreamed, I never even considered flying again."
Travis has since traveled to Italy, France, and New York with Kourtney, tweeting just last week: "Flew 5 times in the last month" and "ANYTHING IS POSSIBLE."