If you've been following the Kardashians over the years, you'll be well aware that the three OG sisters — Kourtney, Kim, and Khloé — have been treated very differently by the public.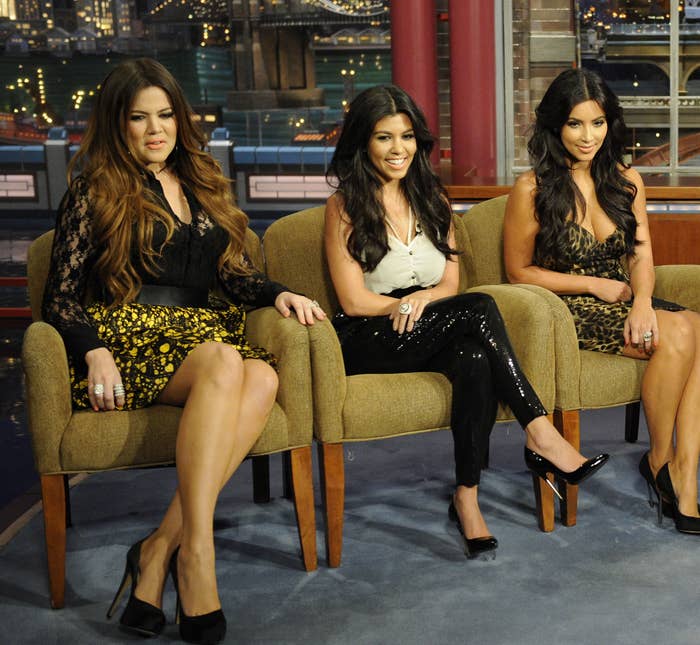 From the very moment that their reality show, Keeping Up With the Kardashians, started airing in 2007, Kim and Kourtney were branded as the most desirable of the sisters, often taking center stage for public appearances and photo shoots.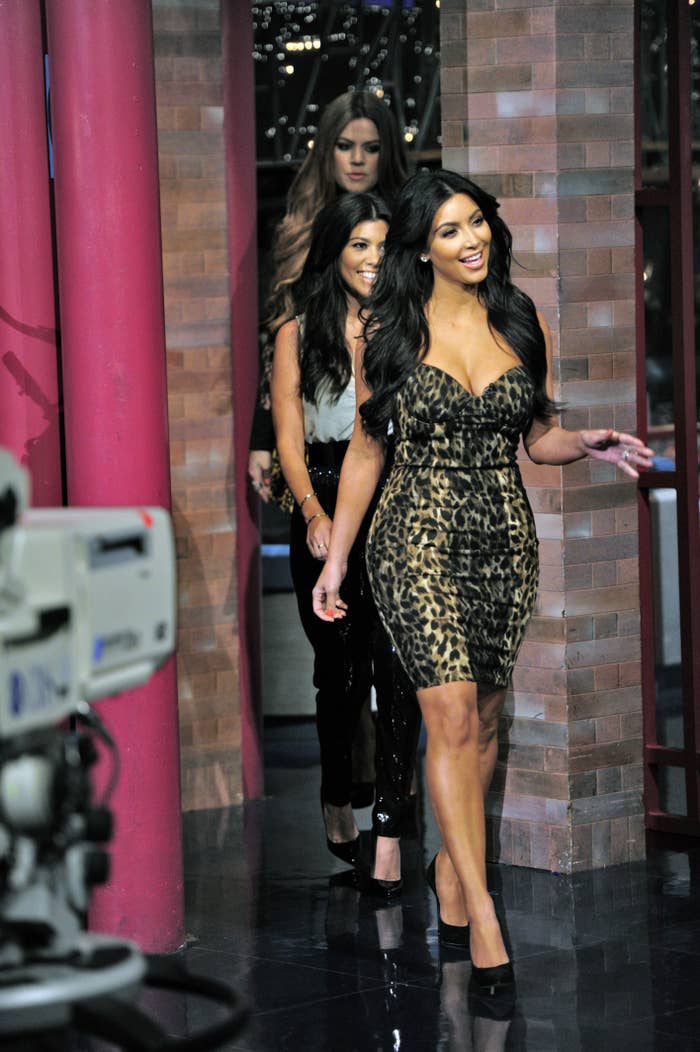 Khloé, on the other hand, was quite harshly singled out. In fact, just last year, Khloé revealed during the KUWTK reunion that she was excluded from shoots and told she'd be "in the background anyways."
"We did so many photoshoots where [Kim and Kourtney] would receive racks and racks of clothes and I was told by so many different stylists, I was given about two or three pieces of clothing but not to worry because I would be in the background anyway," Khloé said.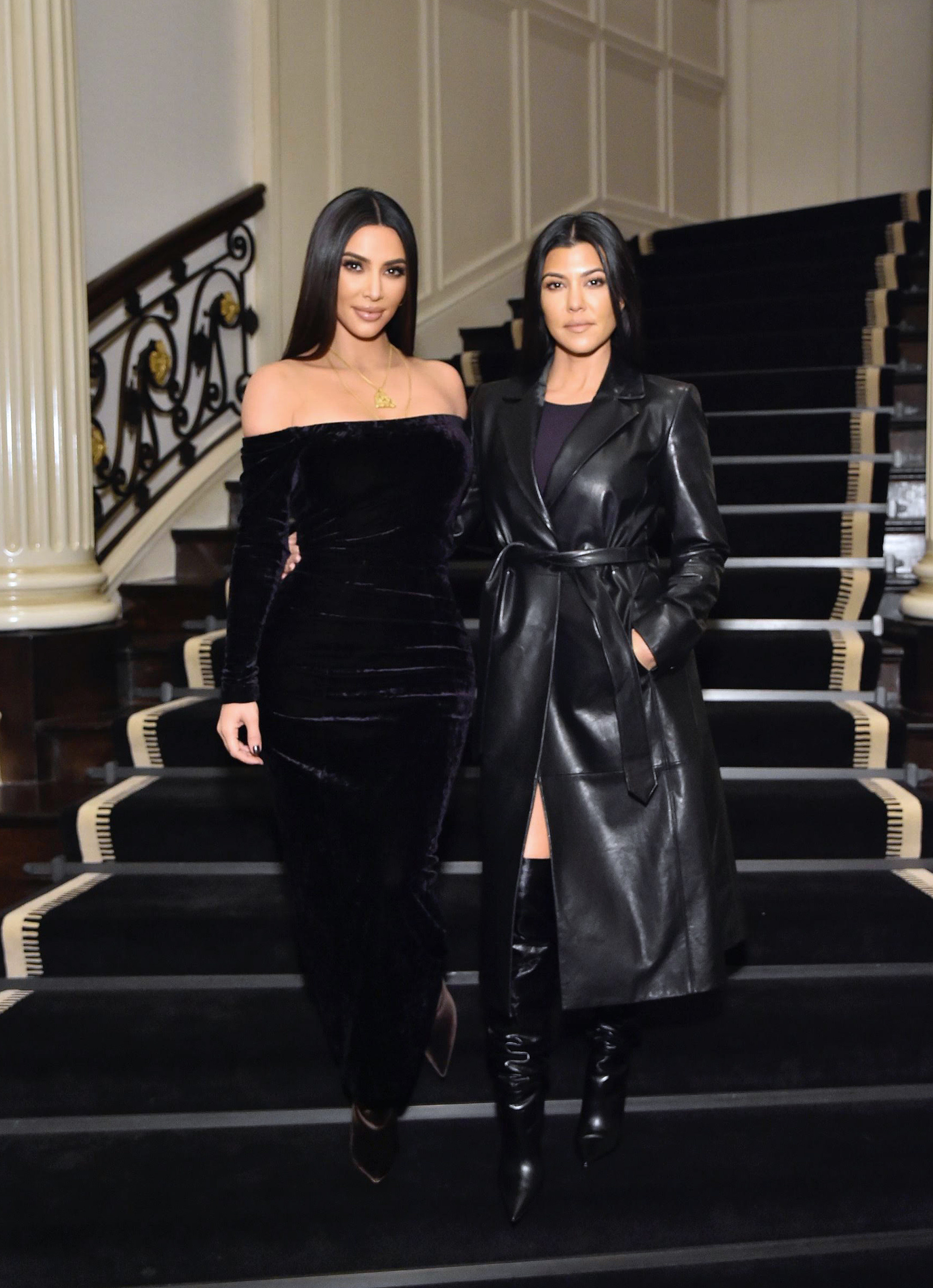 But now, a resurfaced clip from an old interview has reminded fans that this sort of treatment unfolded not just behind closed doors, but on live TV too.
The clip in question comes from Kourtney and Khloé's appearance on Joy Behar's HLN talk show, Say Anything!, back in 2011 — four years after Keeping Up first aired.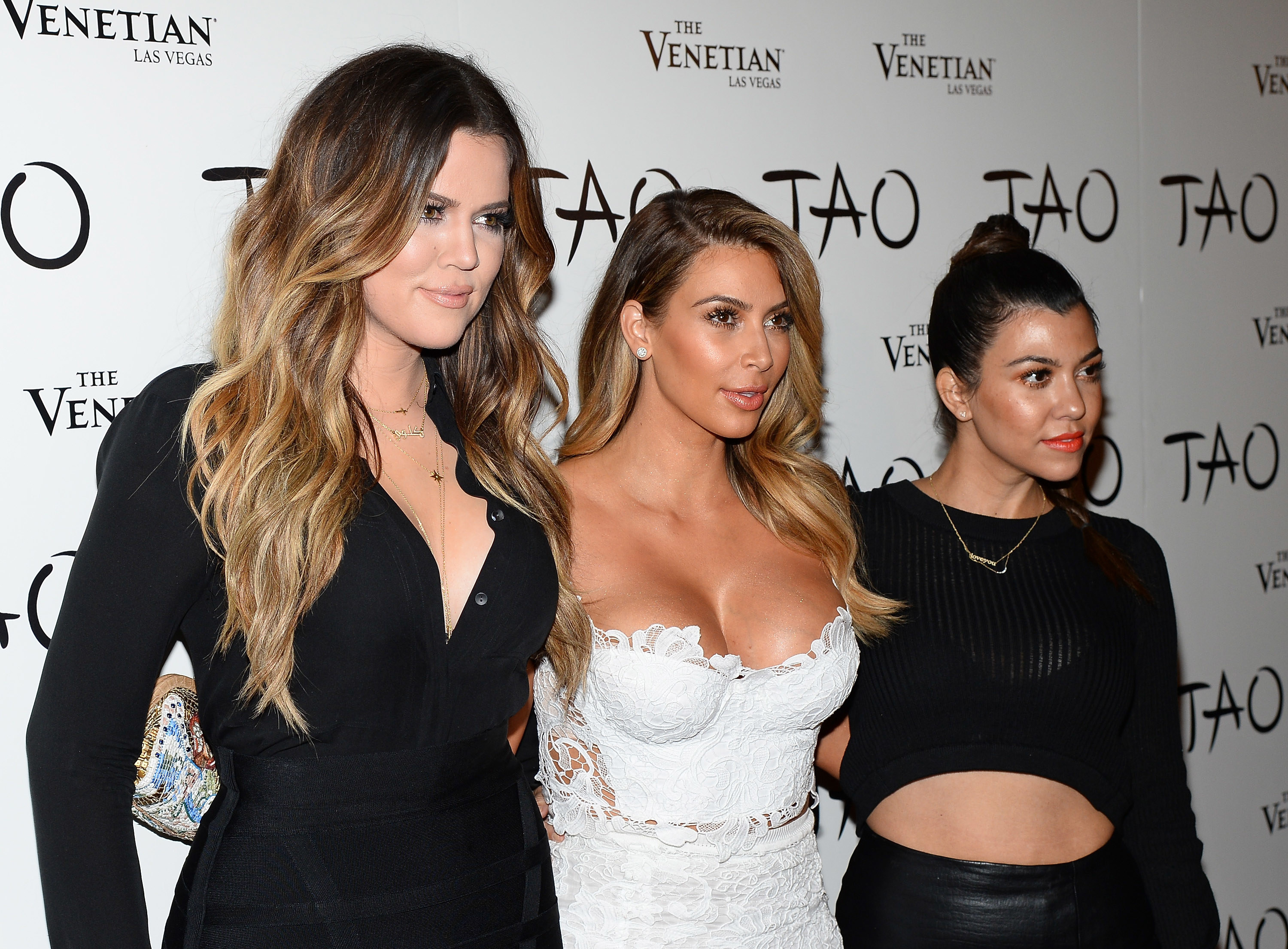 "I mean, you're all cute in different ways," Joy tells the sisters, before pointing at Kourtney and saying: "You look more like Kim."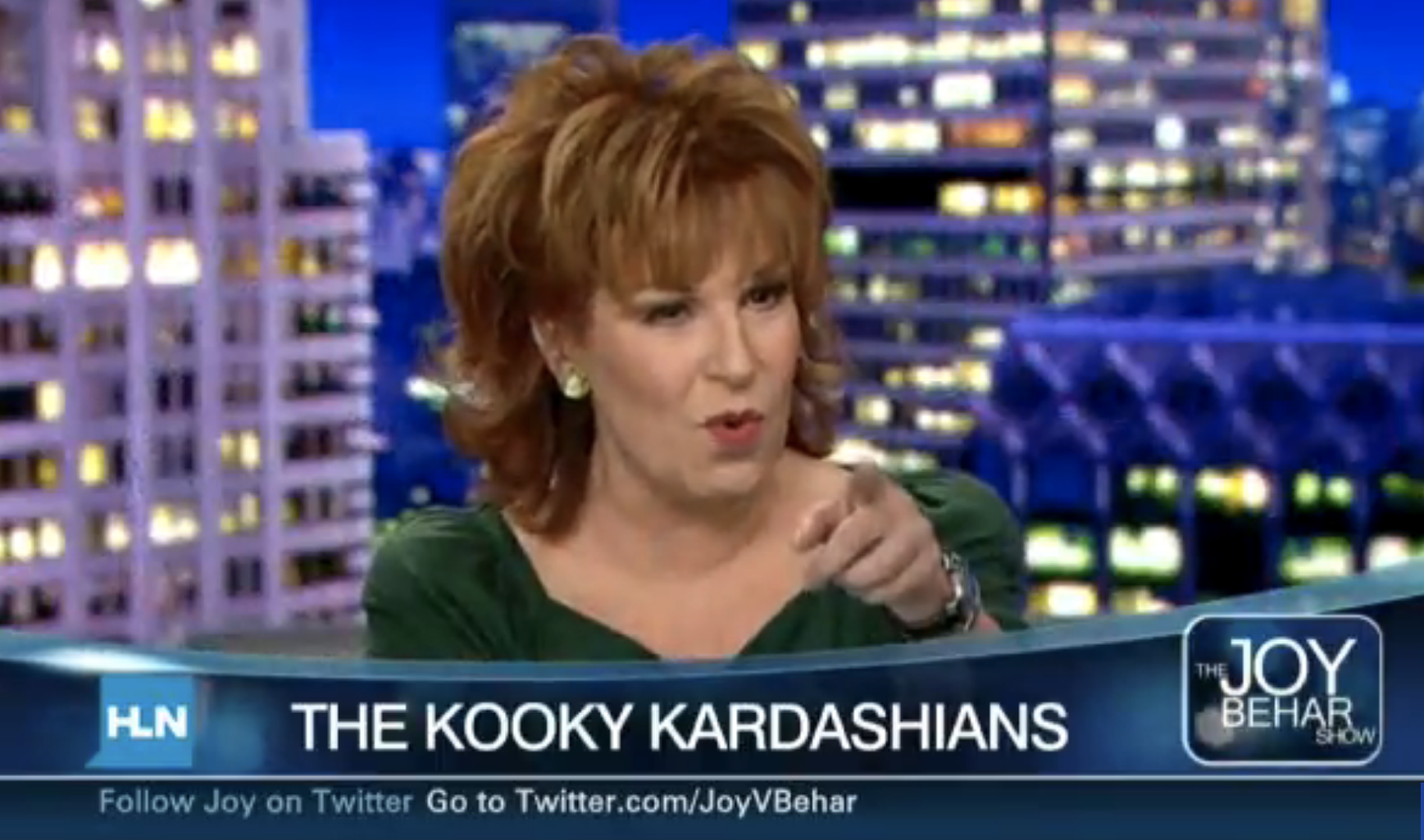 Seemingly anticipating where Joy was headed, Khloé then interjects and asks, "What does that mean for me? I look like a dog?"
Joy replies, "No, you're pretty, but you look different pretty," to which Khloé lets out an exaggerated laugh. Kourtney looks uncomfortable at first, before giggling along once she's seen Khloé's reaction.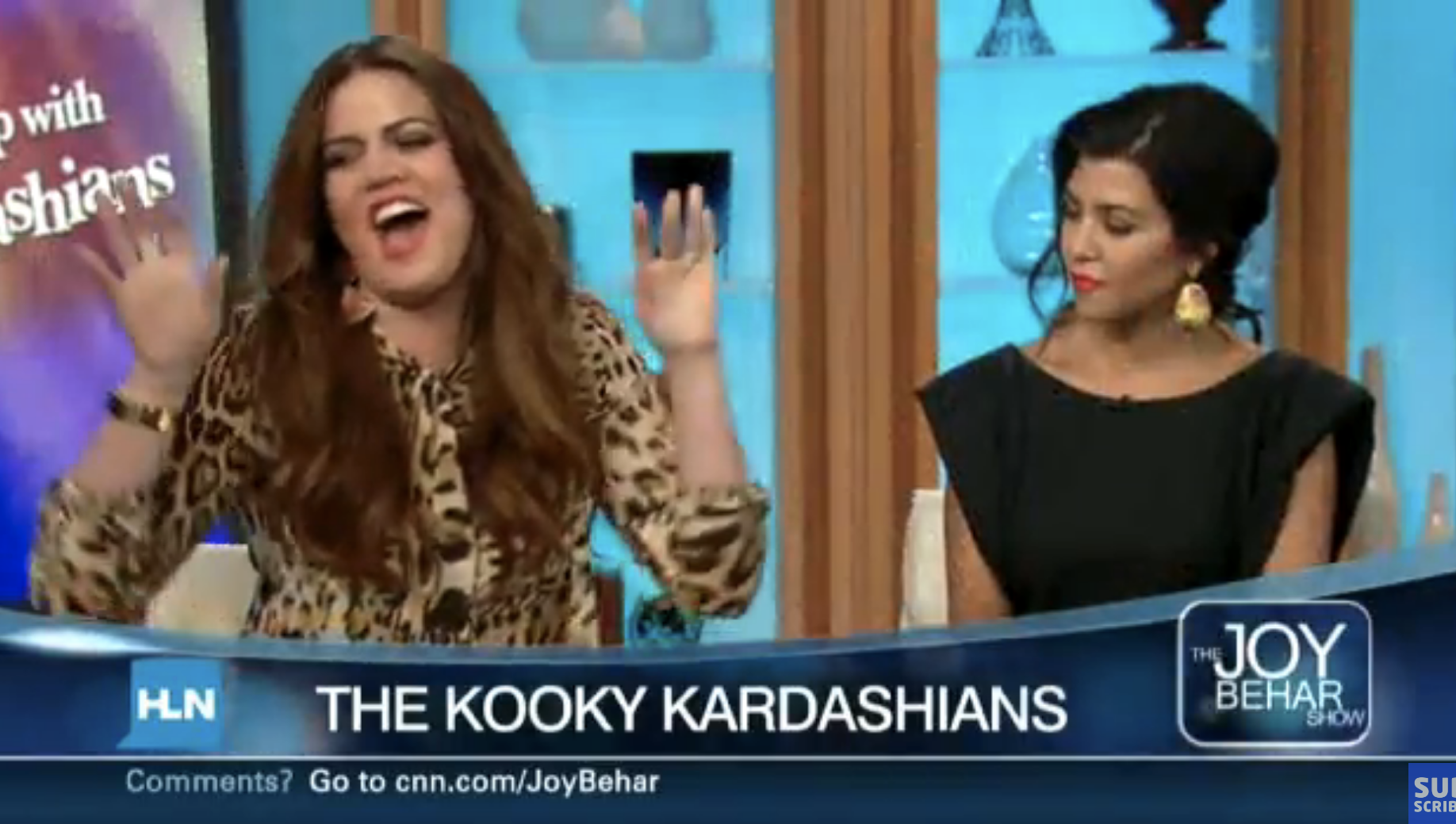 But Khloé's following comment is what really caught viewers off guard. "Spoken like a real mother," she says, referencing her own mom, Kris Jenner.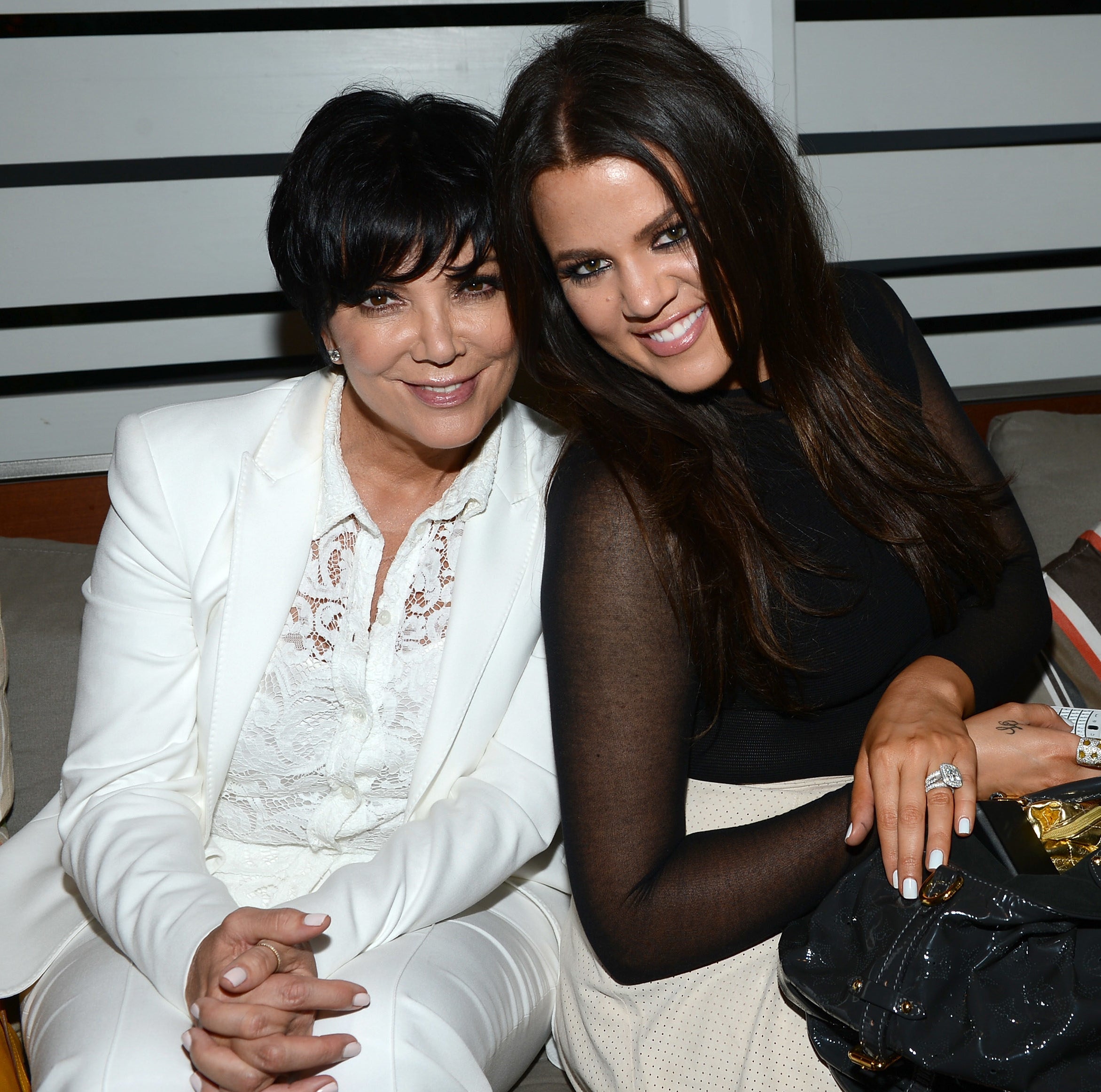 In turn, Khloé's response quickly reminded fans of the harsh comments she's endured about her appearance over the years not only from the media, but from her closest family members.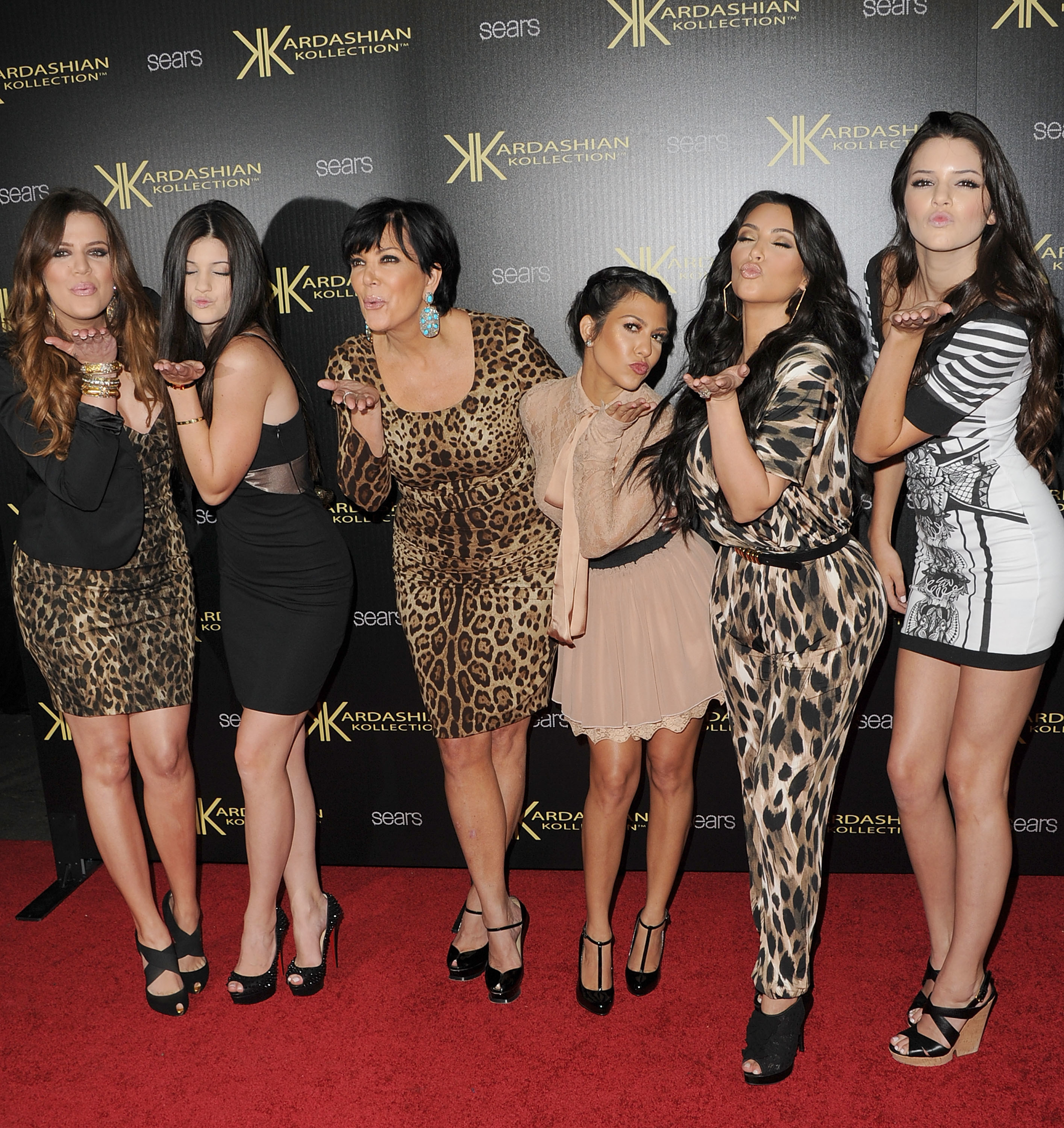 Perhaps one of the most memorable examples was displayed during an early episode of KUWTK, when Khloé was left devastated by Kris's then-partner, Caitlyn Jenner, telling her that she should "lose a few pounds."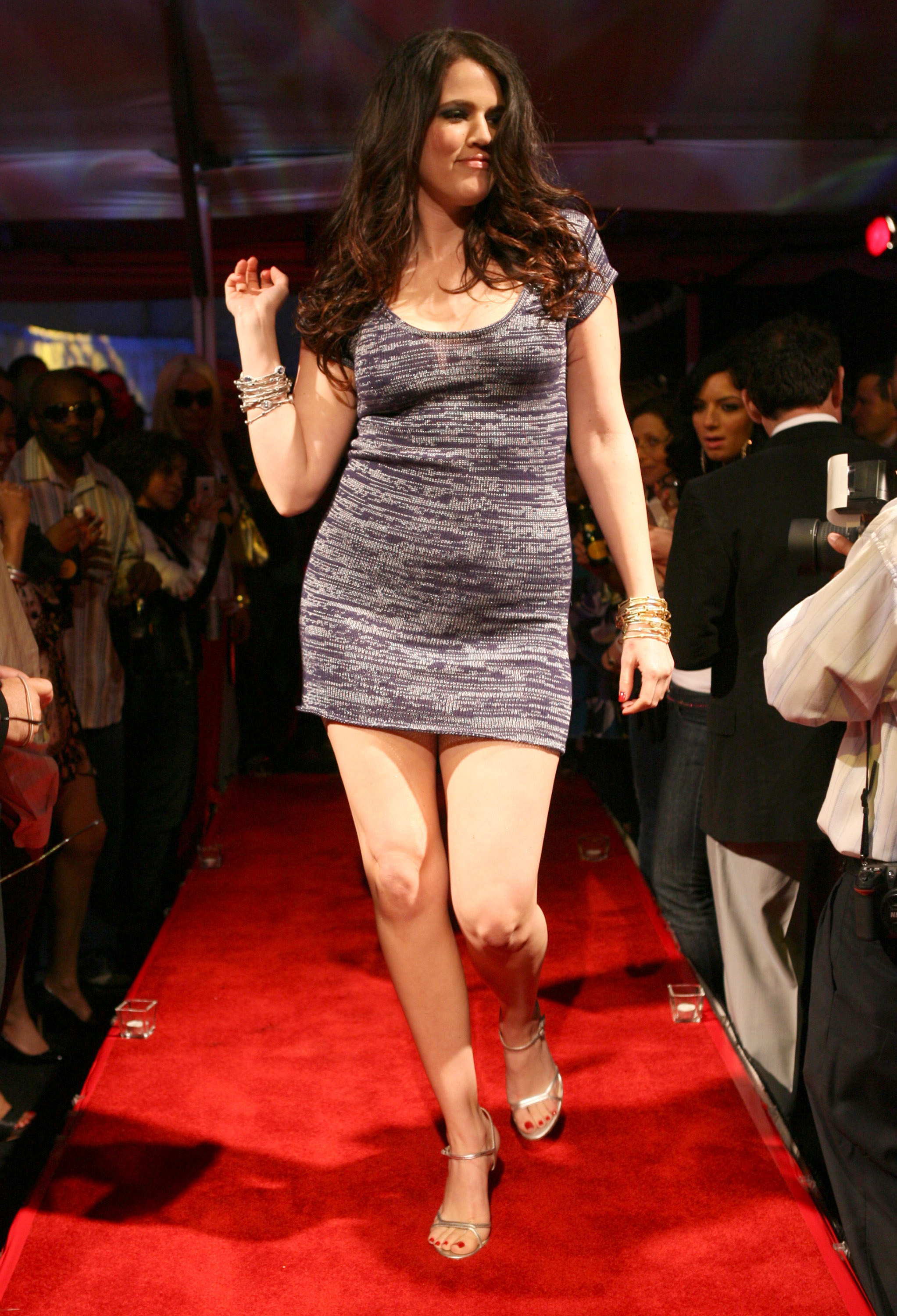 "I have a rock-hard body, I'm just a bigger individual," Khloé said in response to Caitlyn, who replied, "You are a bigger individual, but you could lose a few pounds," before telling her not to "walk away" because it was nothing "major."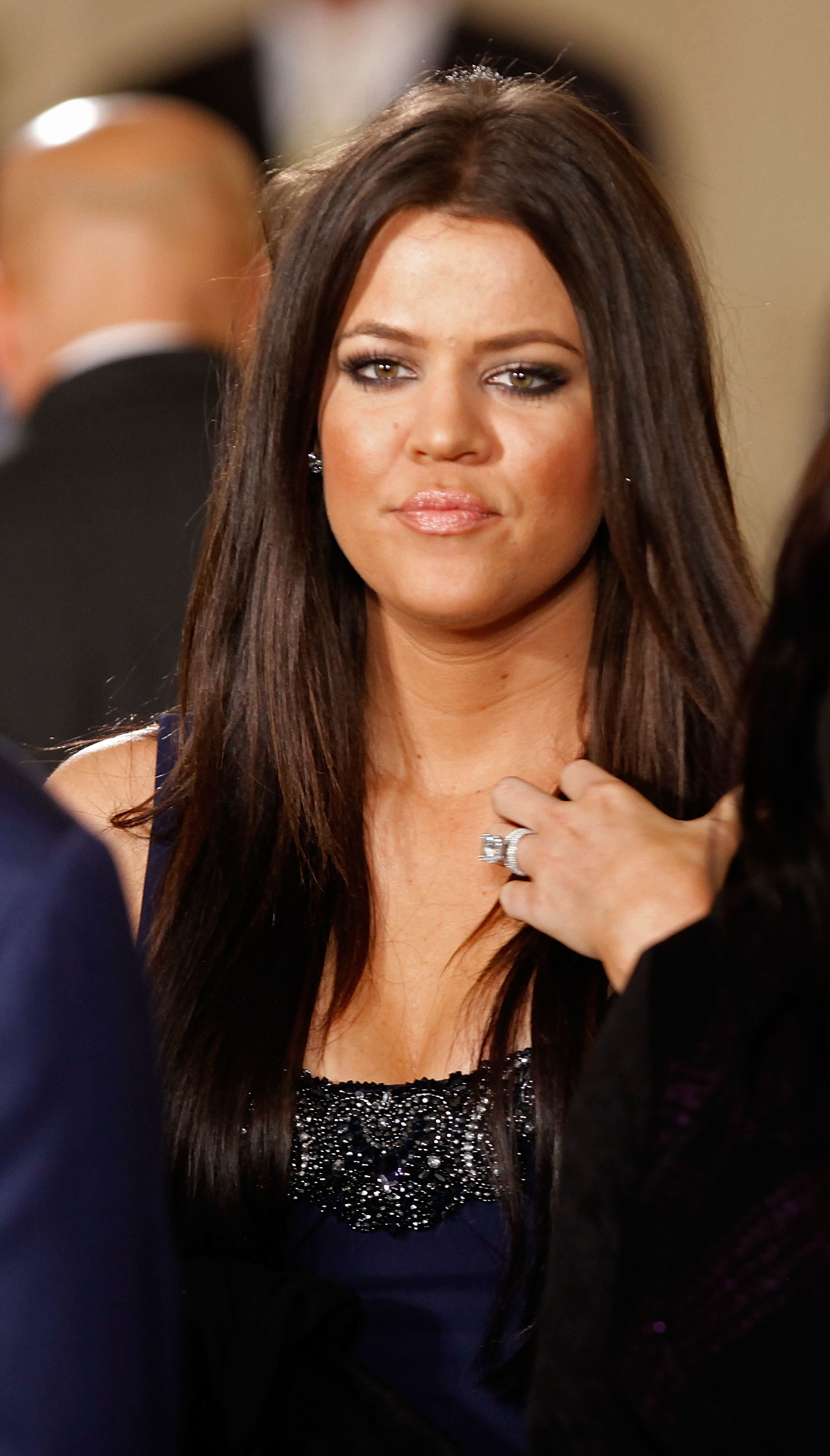 Years later, Khloé revealed that her family urged her to "lose weight" because she was "hurting the brand." She said, "I understood that was coming from my management side of my family, but it does hurt and there's a way to say things."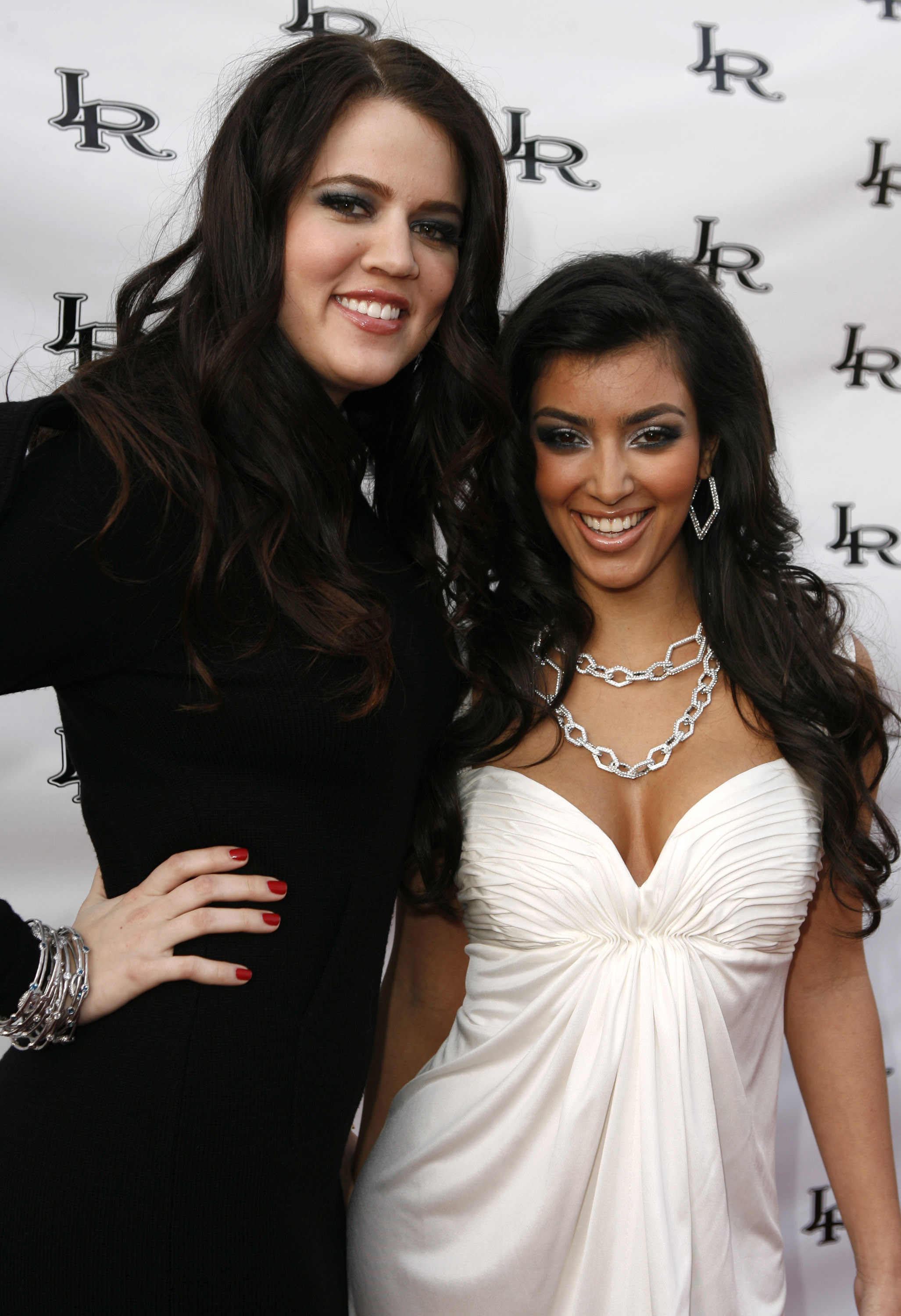 But what's more, Khloé once accidentally overheard Kris saying she "needed a nose job" when she was just nine years old.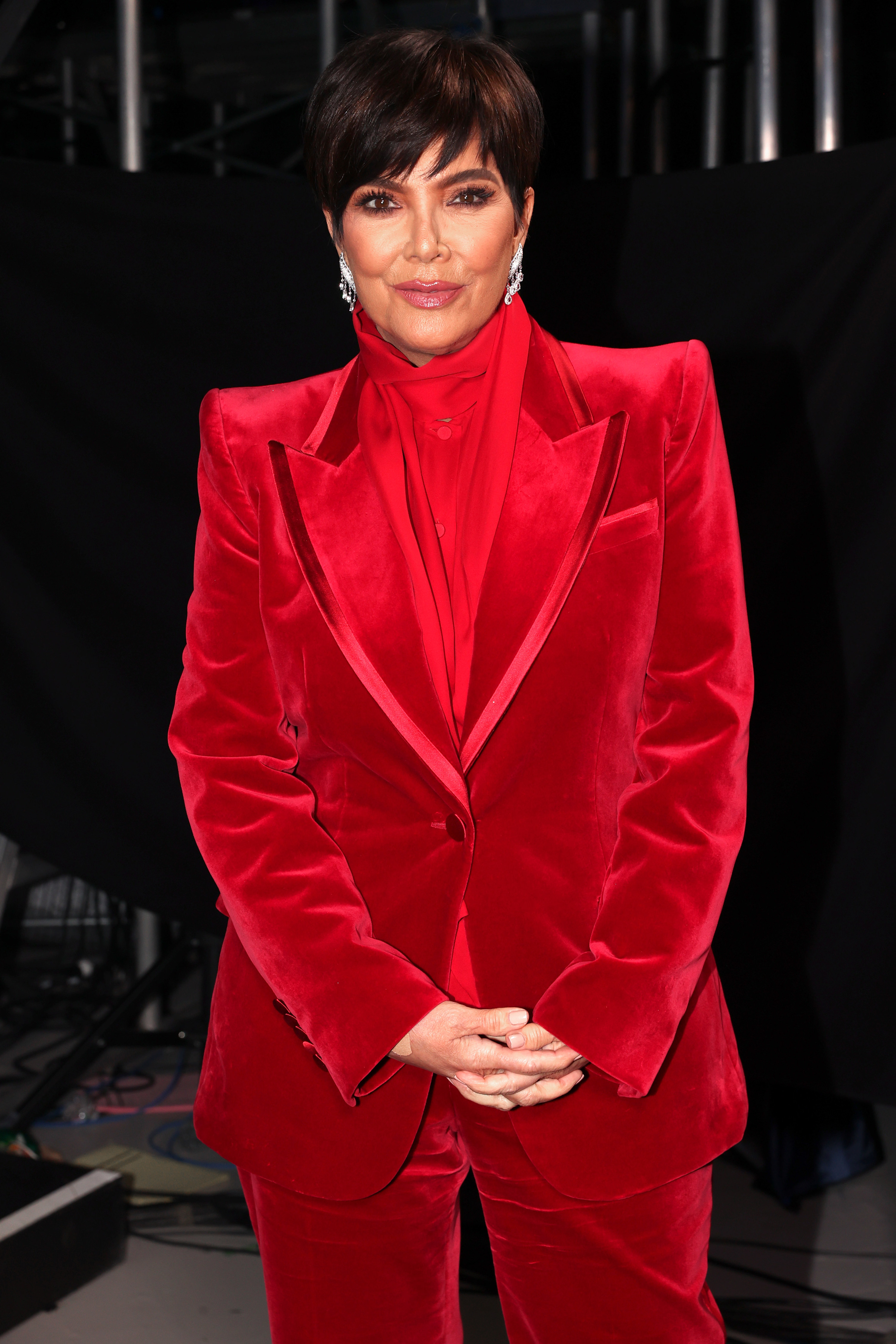 Recalling the heartbreaking moment during a 2013 interview, Khloé, then 29, said: "She didn't mean harm, but when I was around nine I overheard my mom telling her friend I needed a nose job."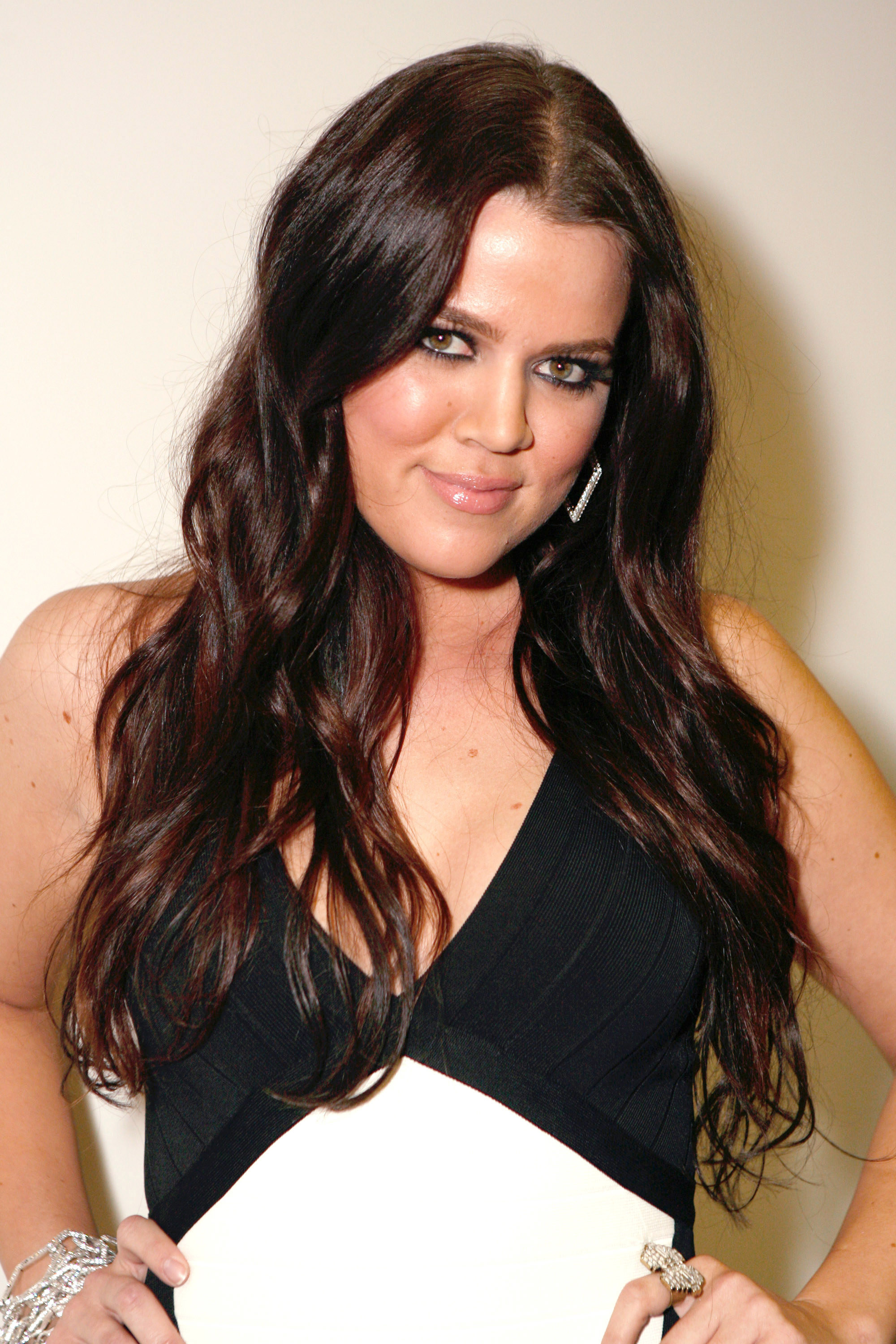 "I was shocked. I hadn't even thought about it. I've grown into my face but I've had makeup artists tell me, 'You should get a nose job,'" she said, adding that "words are the most powerful weapon" because they "leave scars forever."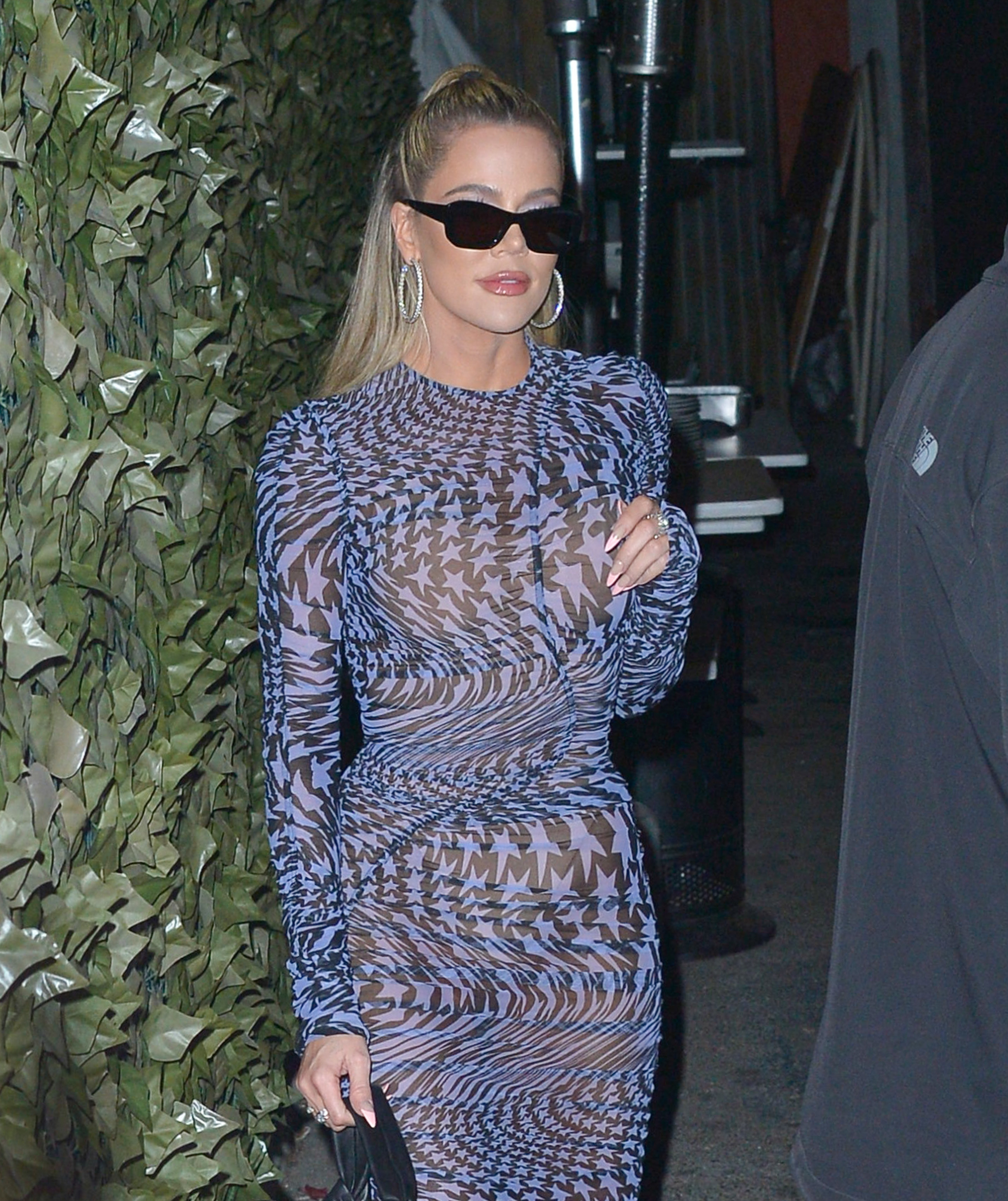 Khloé went on to say she was "so happy" that she "never" decided to get a nose job. However, fast-forward six years, and the reality star did end up going under the knife for rhinoplasty. "My only regret is that I didn't do it sooner," she later tweeted.
With all this in mind, fans were quick to suggest that Khloé describing Joy's comments as something "spoken like a true mother" is proof that her family's remarks about her appearance caused some serious damage.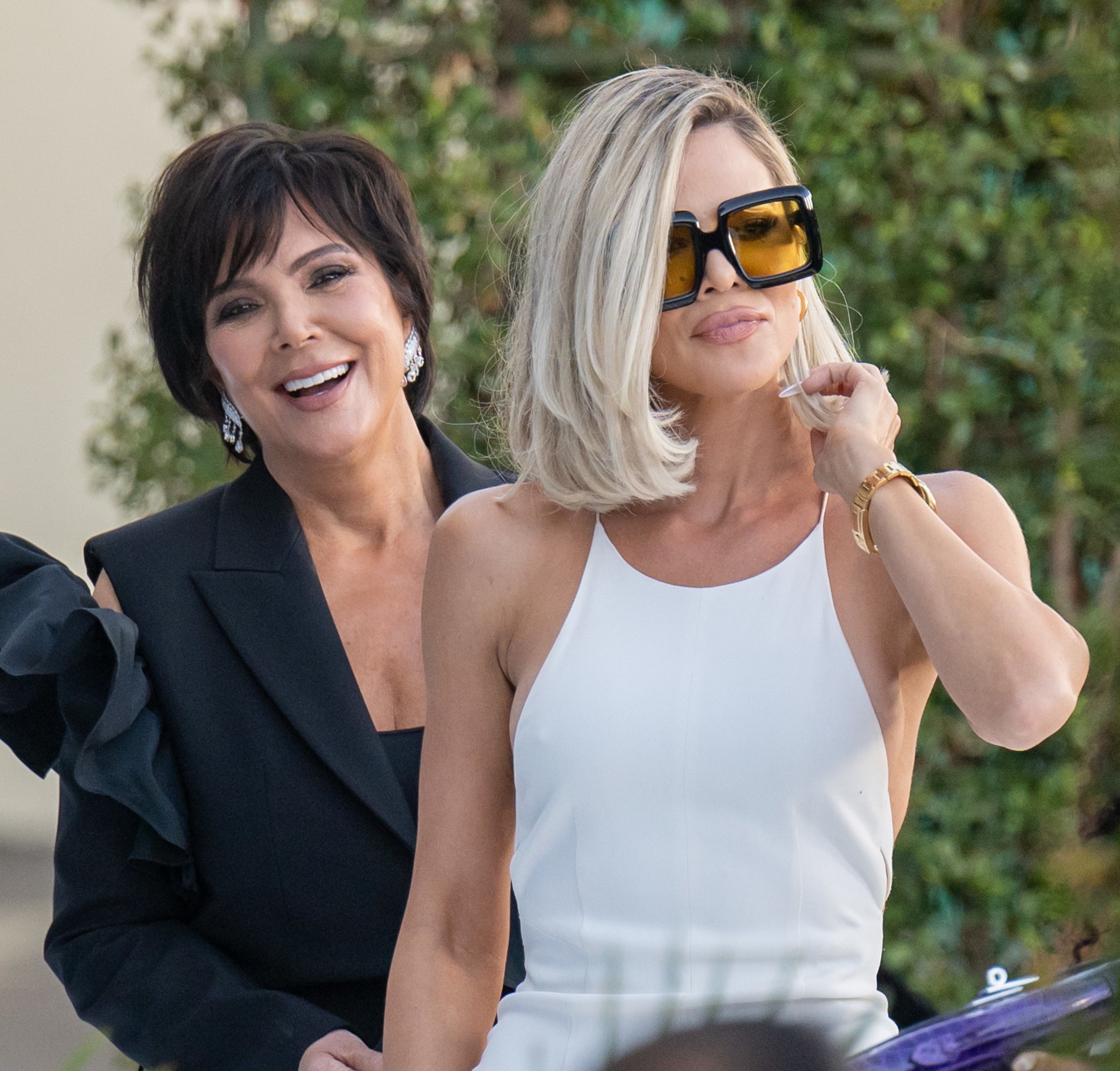 "khloe saying 'spoken like a true mother' just speaks to the fact that she grew up hearing Kris tell her she wasnt as pretty as her sisters," one person wrote, describing the whole thing as "heartbreaking."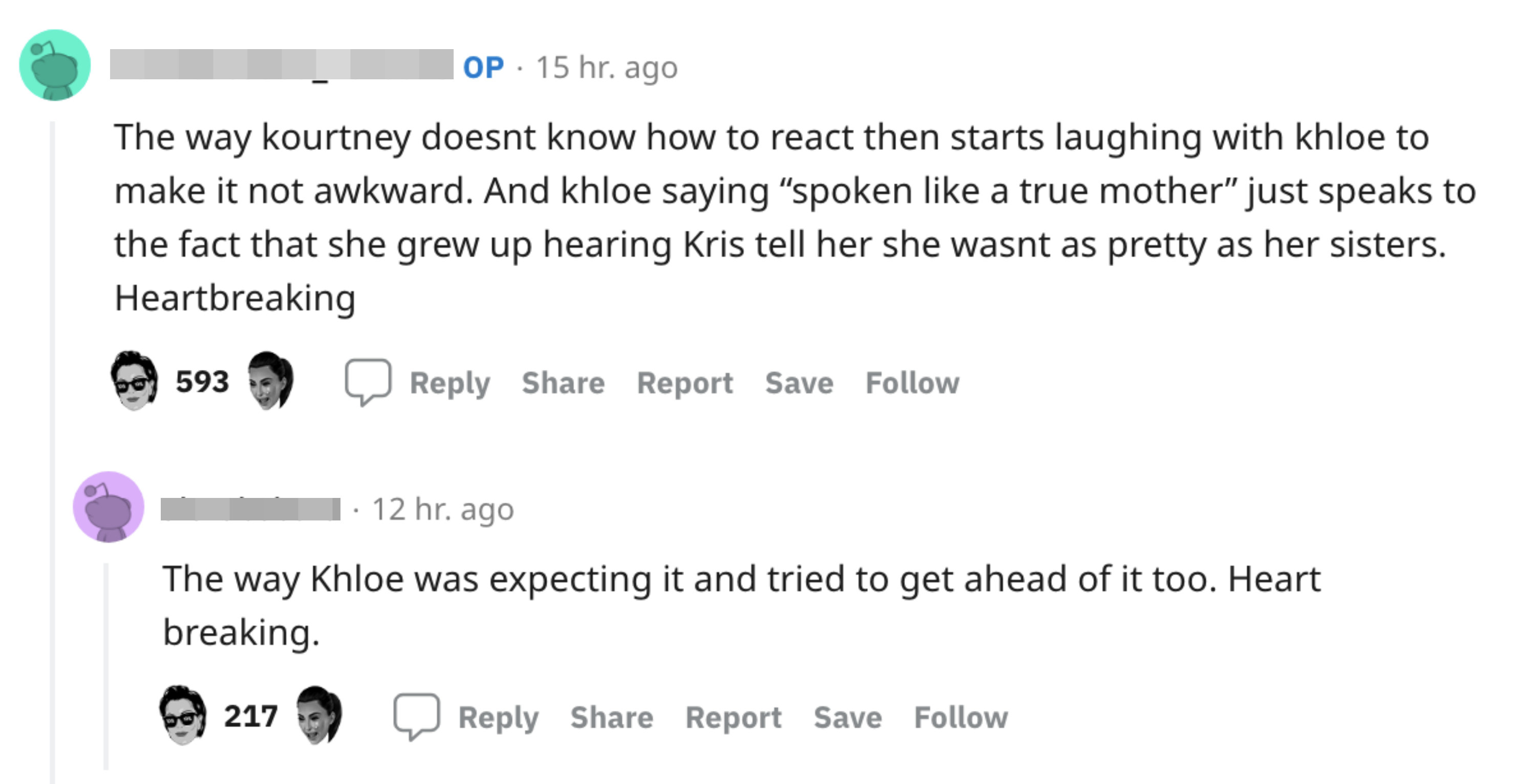 "The way Khloe was expecting it and tried to get ahead of it too," another said.
Fans went on to point out that Kris's very different descriptions of her daughters from the very moment they were born also might have contributed to Khloé's insecurities, with several people accusing the momager of "putting Kim on a pedestal."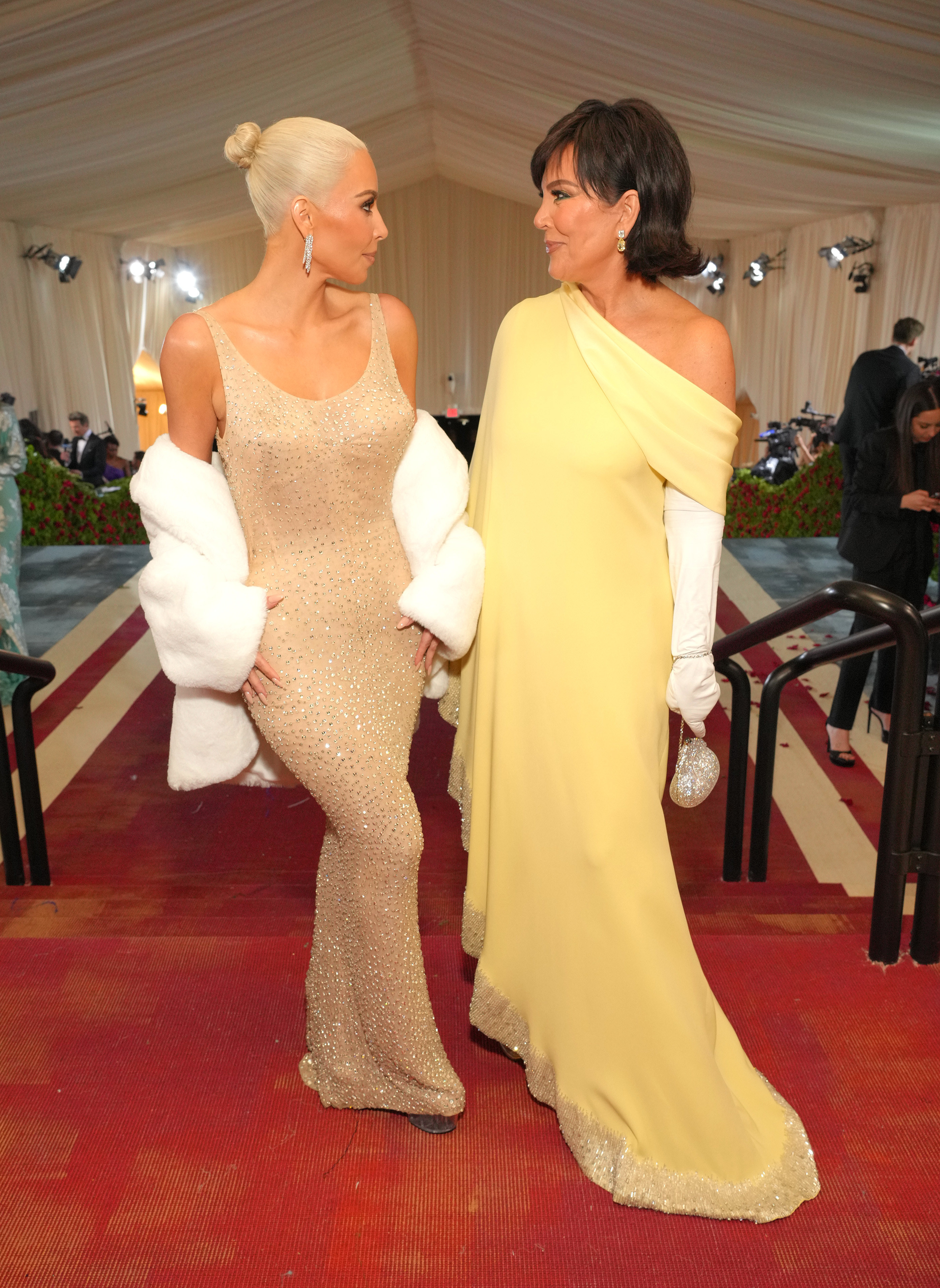 In Kris's 2011 memoir, titled Kris Jenner... and All Things Kardashian, she recounts her first reactions to Kourtney, Kim, and Khloé after giving birth.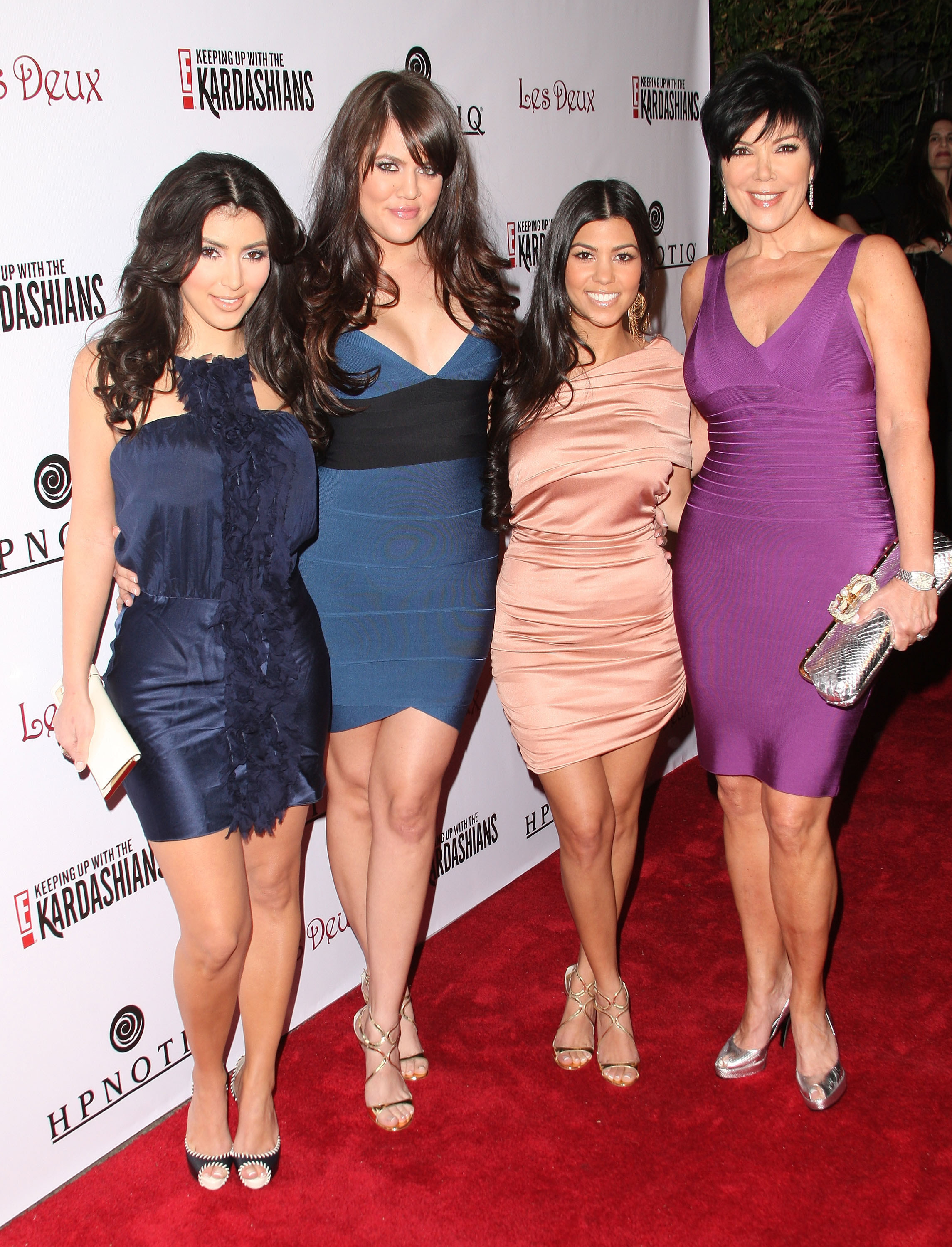 Kris details being "smitten" with Kourtney from the moment she was born, describing her as "so little and petite and cute." And with Kim, she writes that it was "love at first sight," saying, "From the moment she was born, Kimberly Kardashian was breathtakingly beautiful... She was just stunning from the beginning and had the most adorable personality."
However, with Khloé, Kris doesn't seem so enthusiastic. She writes, "From the moment I saw her, Khloé just looked like a Khloé. Like her name, Khloé looked different. Different from everyone else in the family, from the moment she was born."
"She had blond hair and these greenish eyes... Kourtney and Kimberly came out dark and Armenian looking, and Khloé arrived looking nothing like them," she adds.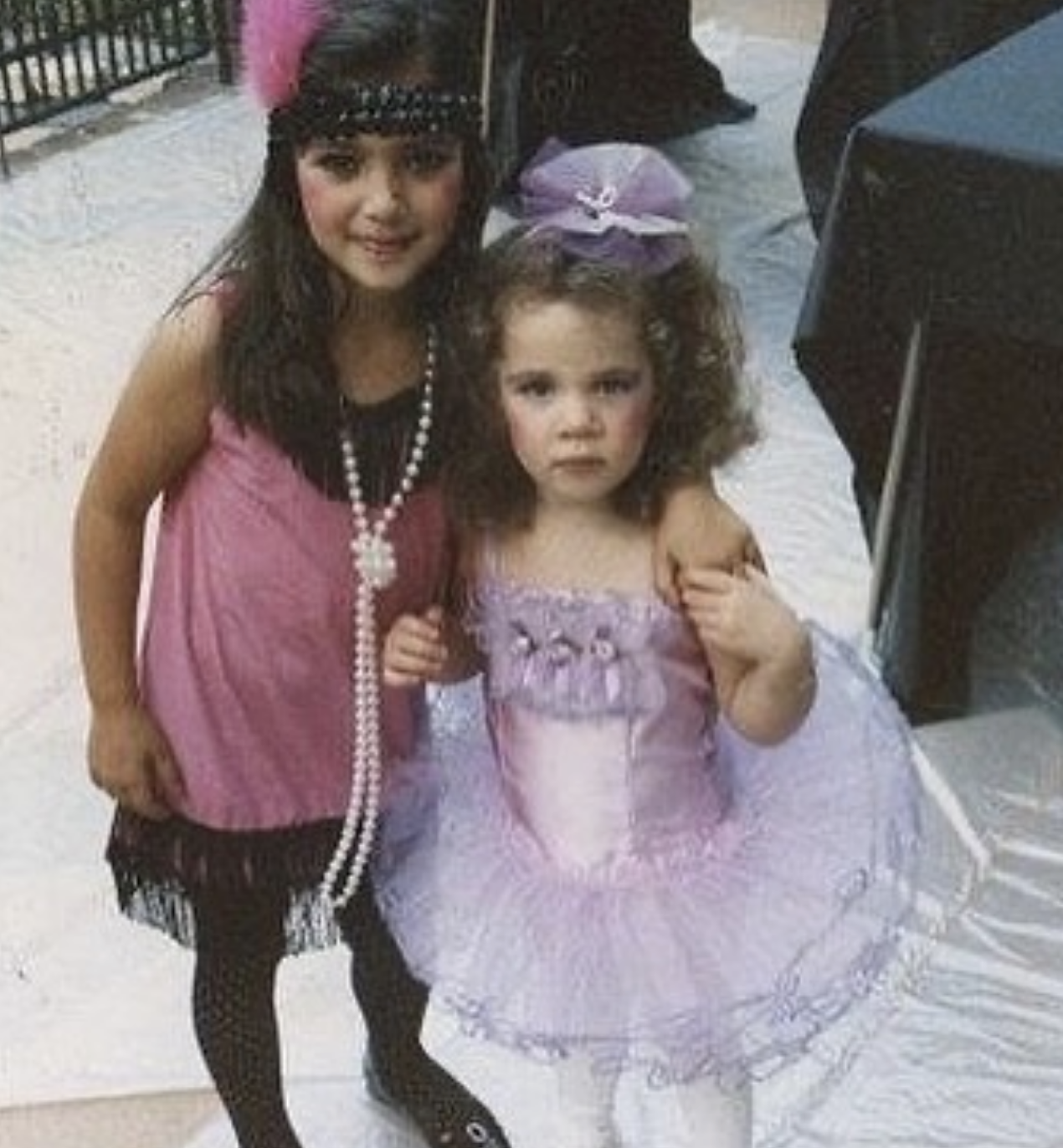 Discussing the harsh comparison on Reddit, fans agreed that Khloé being singled out from day one must've taken a toll on her confidence.
"In her memoirs Kris literally wrote « From the moment I saw her, Khloé just looked like a Khloé.Like her name, Khloé looked different. » when she just talked about Kim being « breathtakingly beautiful » as a baby a few pages ago. So that must have been a pretty touchy subject for her," one user said.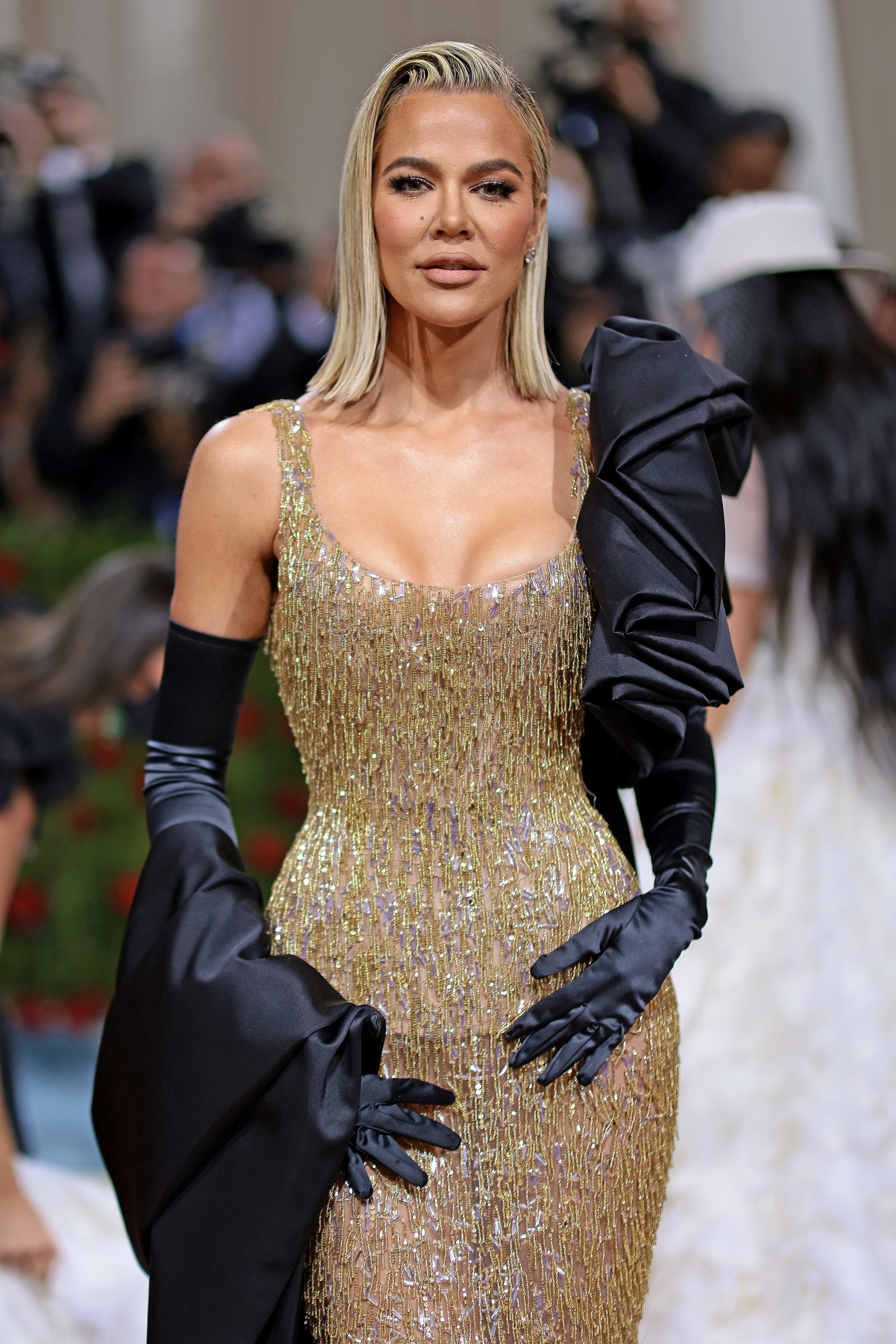 And several people went on to note that this kind of treatment might explain Khloé's deep-seated insecurities today, with the star admitting to manipulating photos of herself as a result of facing "constant ridicule and judgment."
Khloé previously admitted that she loves "a good filter, good lighting and an edit here and there" on pictures of herself, and memorably freaked out when one of her unedited bikini photos went viral online.
And she went on to reveal that she's now completely "afraid" of sharing pictures of herself thanks to all the scrutiny she's faced over her appearance.
Reflecting on Khloé's insecurities, one fan wrote, "When you look at how she's been treated by not only her own family, but the entire entertainment media for years, it would fuck with my head, too."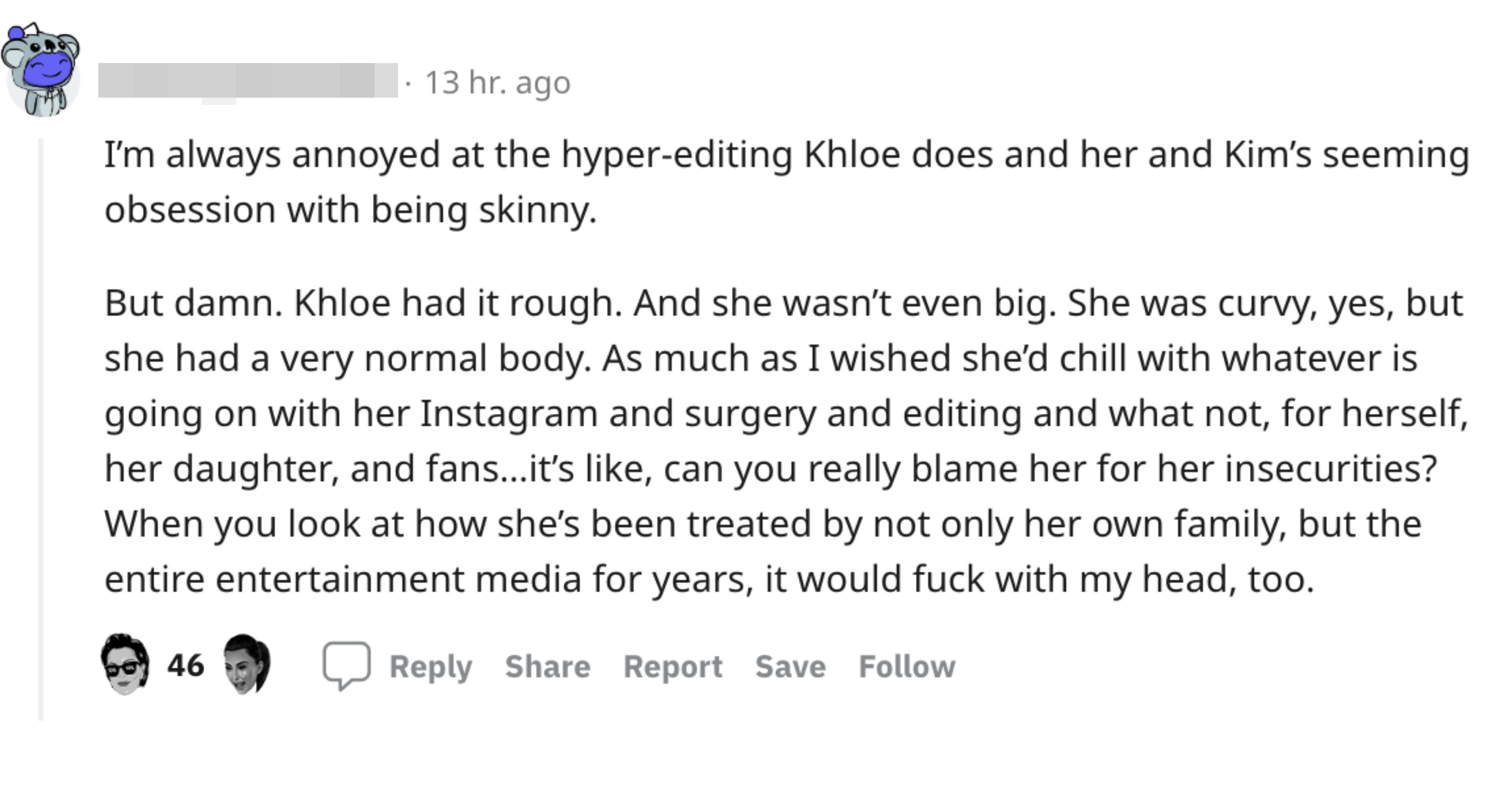 "The way she said I look like the dog so immediately was really sad, these women/the media did a number on Khloe's self-esteem, and so she (and her sisters) paid it forward for women everywhere," said another.

Meanwhile, Reddit users also discussed how the resurfaced Joy Behar clip was super uncomfortable to watch, with the apparent theme of embarrassing young women being a recurring one in that era of daytime TV.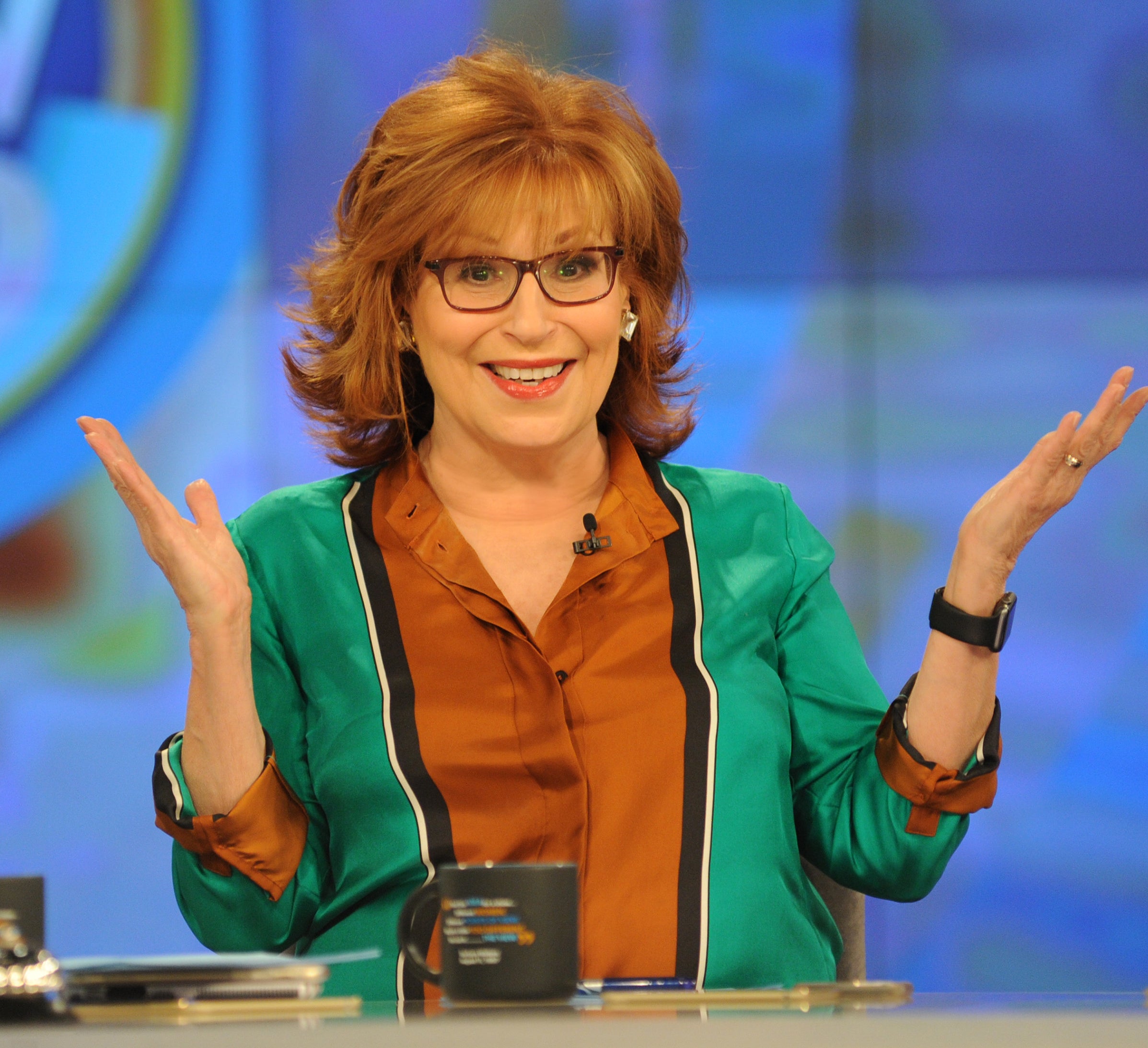 "y'all notice how out of pocket these female talk show hosts were to younger female actresses/singers/ tv personalities back then?" one person wrote. "it's so gross how they would try to pick at anything they could to try to demean them. during this time, khloe was seen as 'the ugly sister' the most, so I cannot imagine how she must've felt being told or insinuated to be that constantly."
Moving the discussion along to recall other instances where young women were made uncomfortable on live TV, one person reflected on the unforgettable time when Ellen DeGeneres pressured Mariah Carey into revealing her then-unannounced pregnancy to the world.
Back in 2008, Mariah appeared on The Ellen DeGeneres Show amid tons of rumors that she was expecting. And in spite of the singer's visible discomfort, Ellen gave her no choice but to confirm things when she presented her with a glass of champagne and told her to drink it.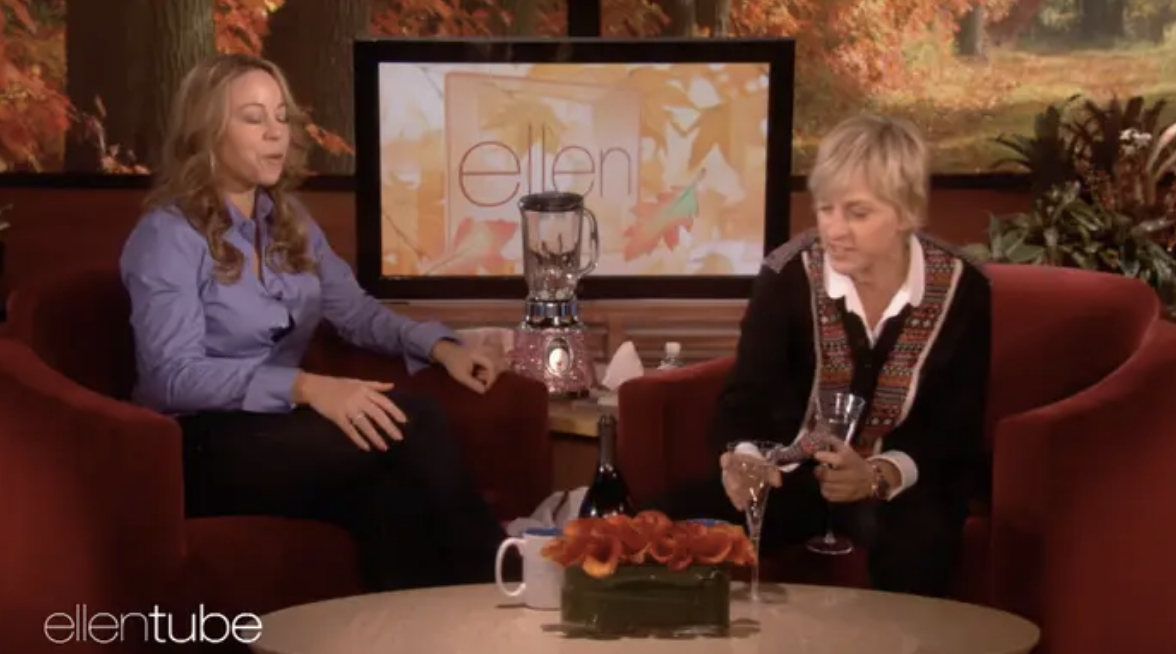 Mariah ended up having a miscarriage shortly after her appearance on Ellen and later admitted she was "extremely uncomfortable with that moment."
Recalling the moment on Reddit, one user wrote: "remember when Ellen told Mariah to drink a glass of wine to prove if she was pregnant and then Mariah miscarried shortly after?"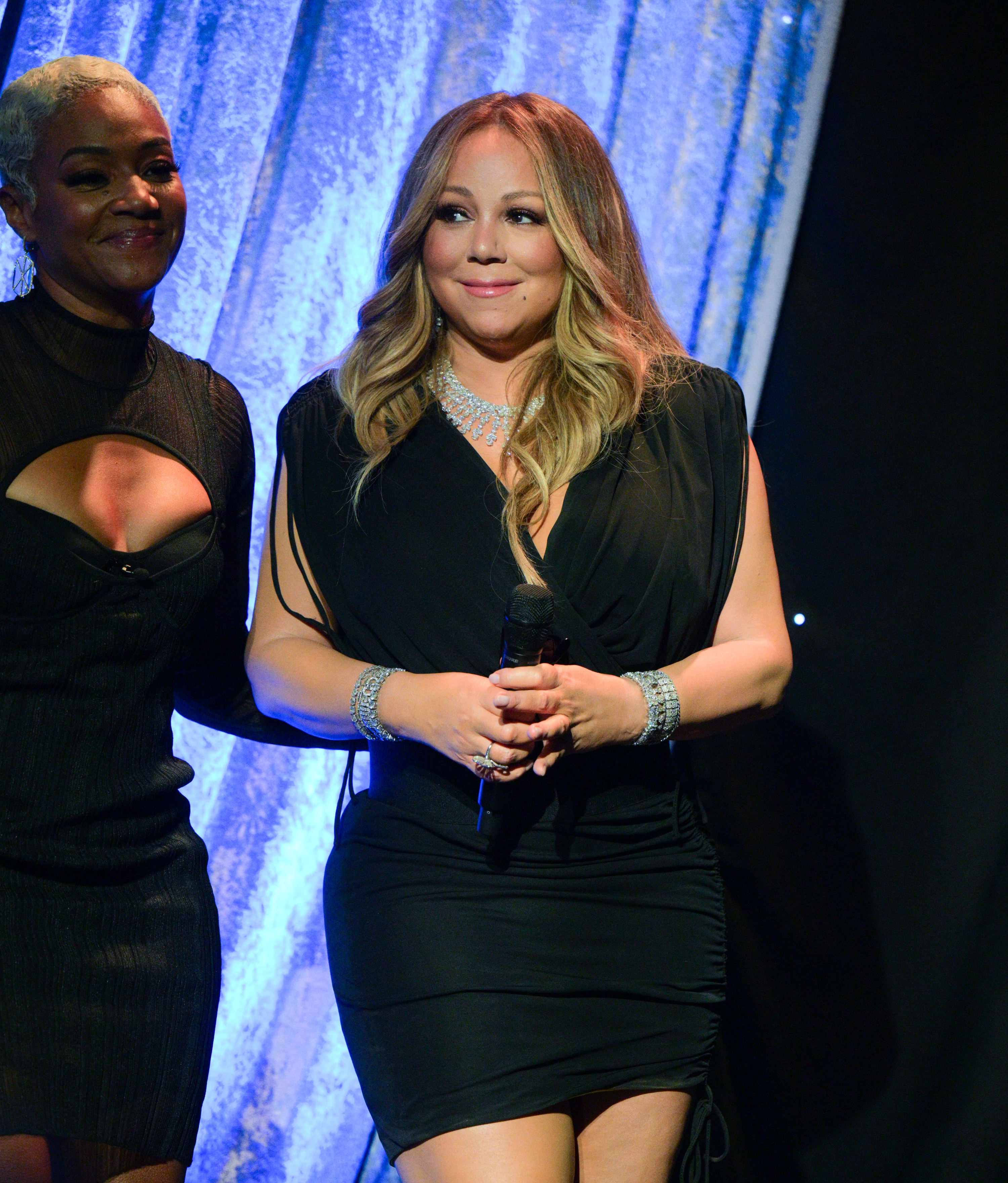 Another person replied, "that was beyond messed up to even put her in a position like that for the sake of being right + some laughs."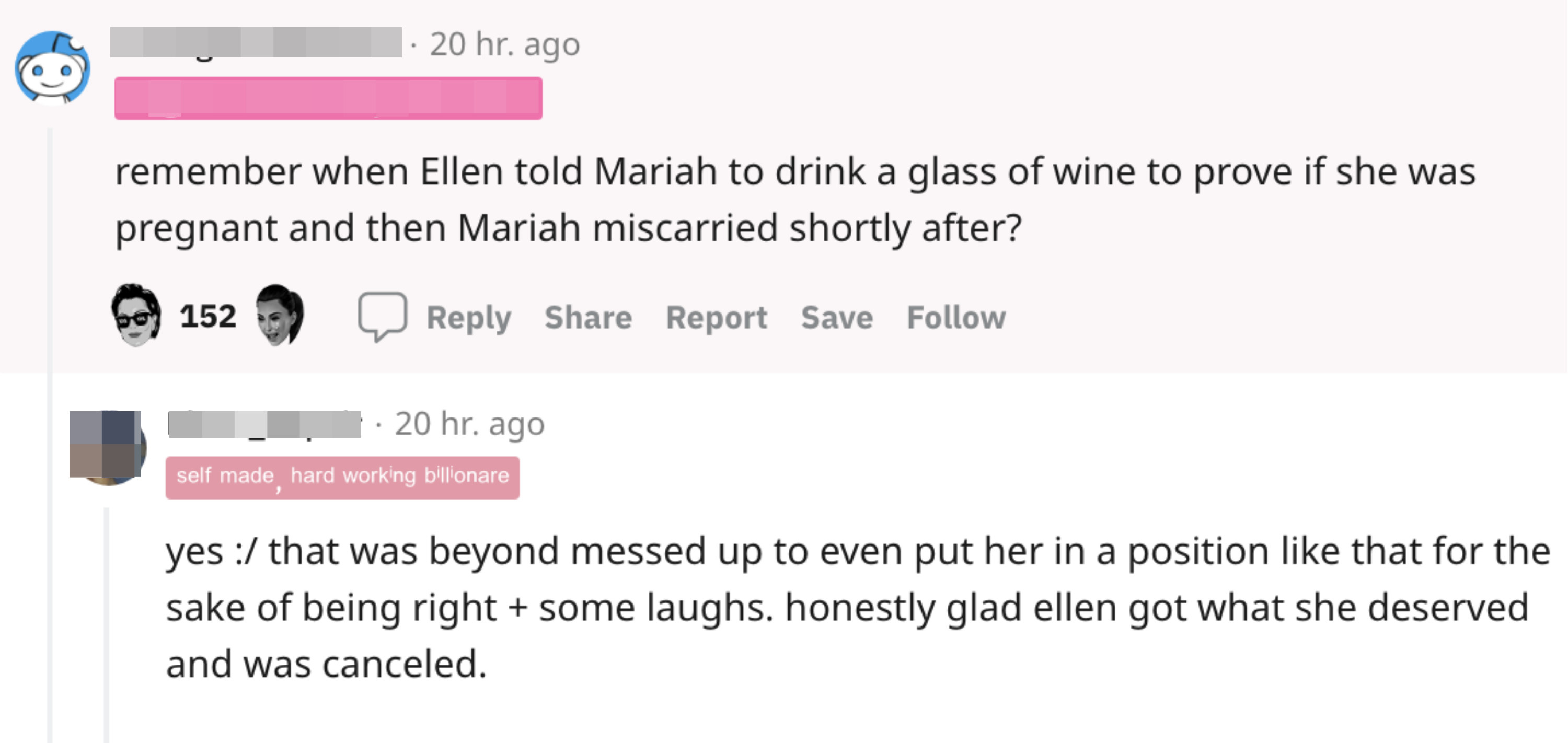 And fans also went on to note that Britney Spears being scrutinized by Diane Sawyer during that infamous 2003 interview was equally super unfair to the young star.
As you might be aware, Diane reduced Britney to tears with her string of harsh questions, even blaming her for her then-recent breakup with Justin Timberlake.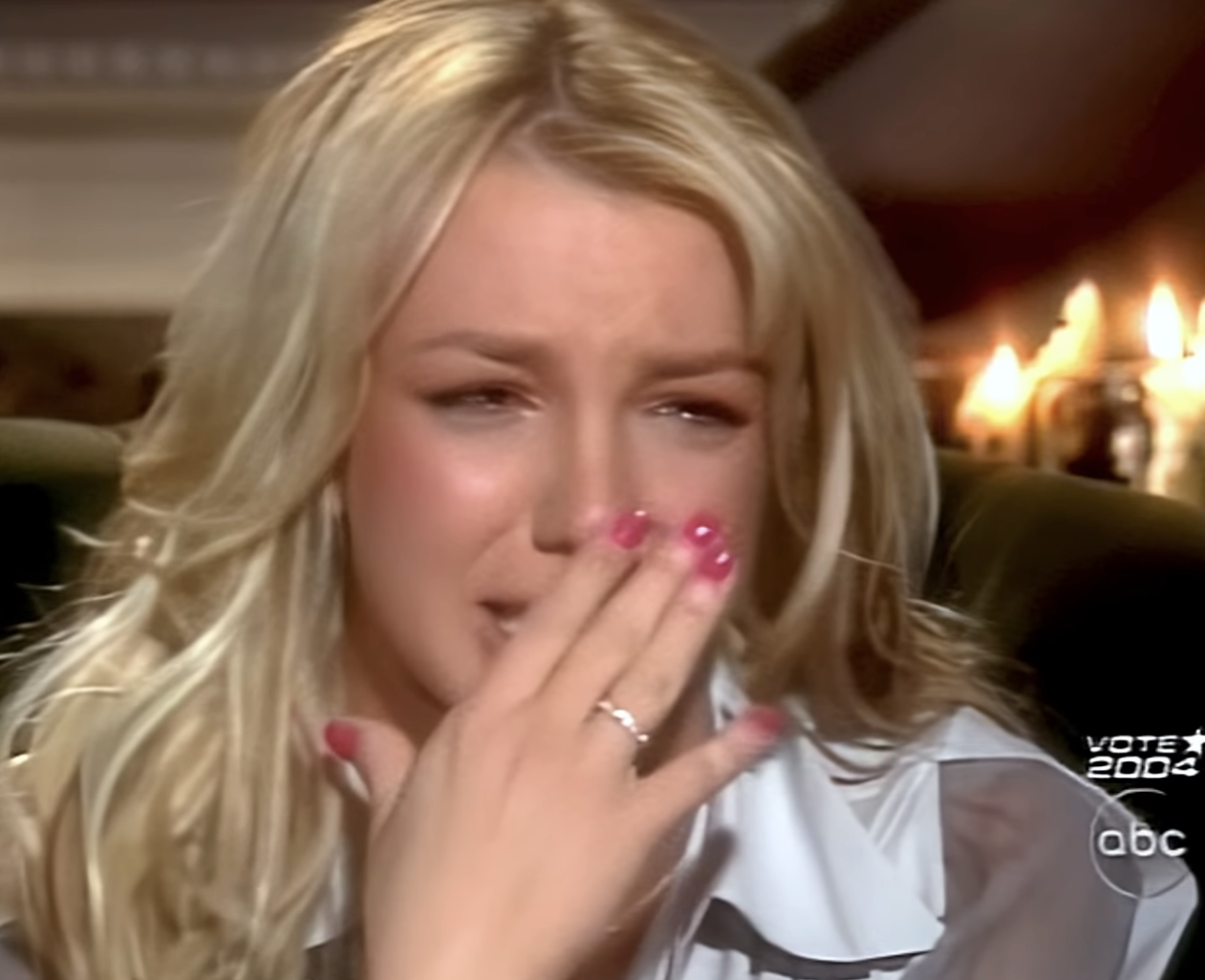 "The clips of Britney Spears with any talk show host are depressing af," one person wrote. "Tv show hosts in general have always been problematic tbh," another said.