Kanye West, who has legally changed his name to Ye, is continuing to call Pete Davidson out on Instagram and is now claiming that the comedian was a "pawn" sent solely to "antagonize" him.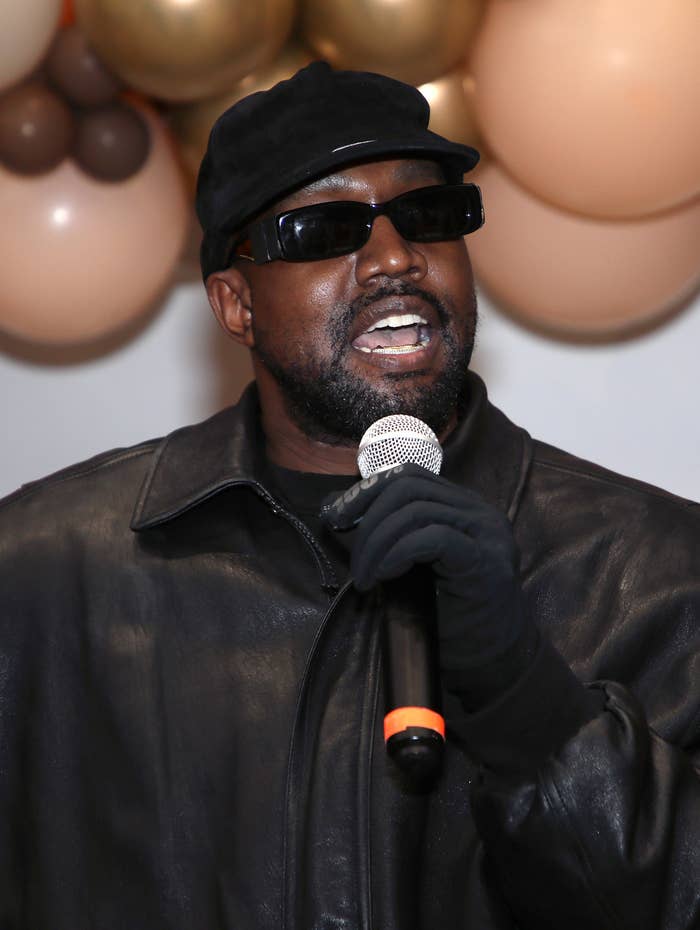 As you're likely aware, Ye made his dislike for Pete public back in January, just months after the Saturday Night Live comic began dating his ex-wife, Kim Kardashian.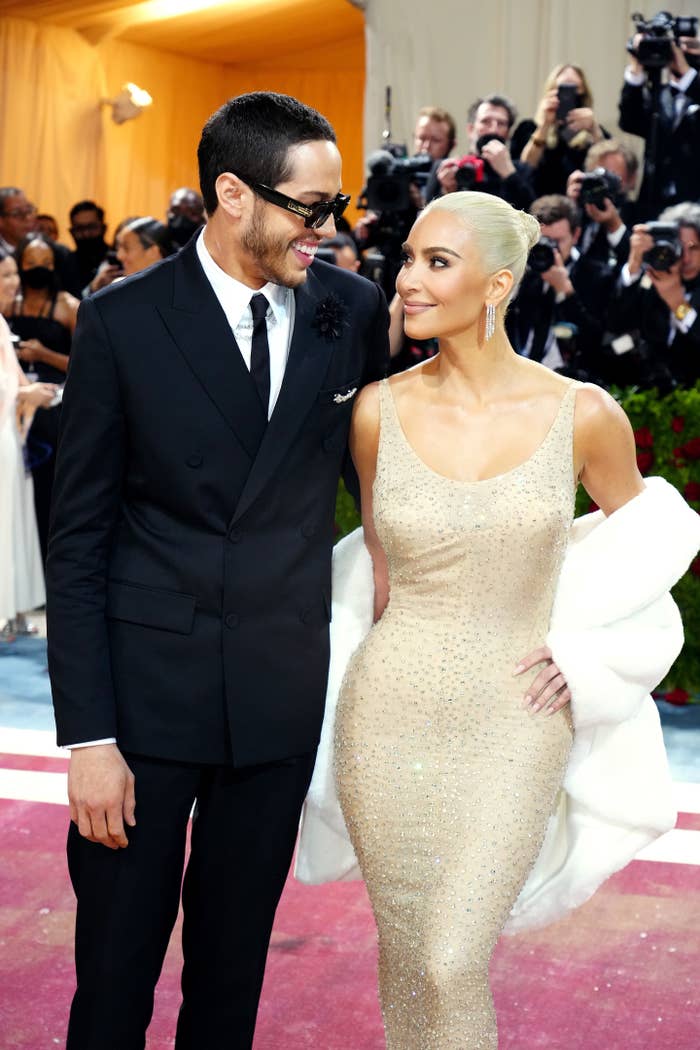 Though they ended up quietly splitting last month, Pete and Kim's relationship quickly flourished over the months that they were together, with the beauty mogul even labeling him the "best human being" she'd ever met.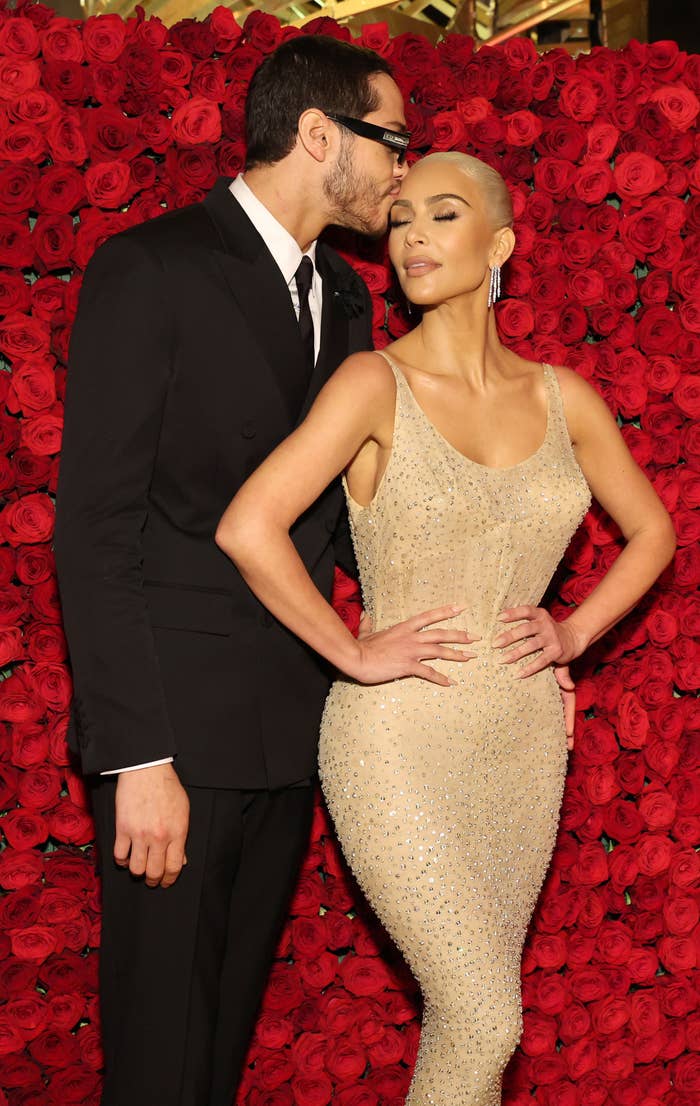 And Ye — who has unsuccessfully tried to win Kim back several times in recent months — made it clear that he wasn't too pleased with her and Pete's romance, sharing an onslaught of posts attacking the comic, whom he referred to as "Skete," earlier this year.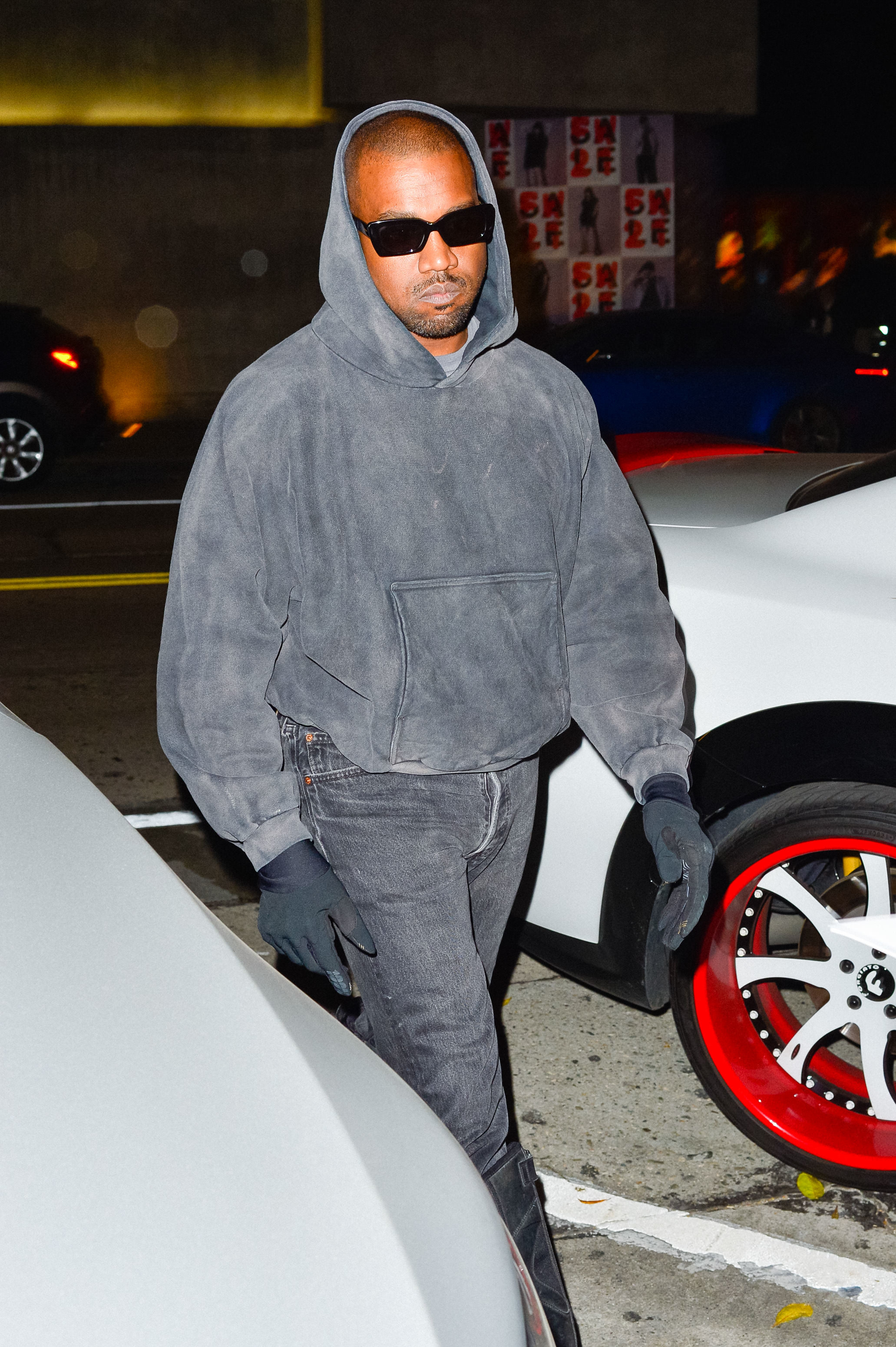 Ye publicly vowed that Pete would "never meet" Kim's and his four children — North, Saint, Chicago, and Psalm — before releasing a disturbing music video that depicted an animated version of himself kidnapping and decapitating a figure resembling the comedian.
He also took aim at Kim's parenting style, accusing the mogul of "playing games" with their children and purposely antagonizing him by allowing North, then 8, to wear makeup on TikTok.
Meanwhile, Pete ended up responding to Ye in a series of leaked messages in which he defended Kim and called her "the best mother" he'd ever met. When Ye replied, asking where Pete was at that very moment, the comic snidely quipped, "In bed with your wife."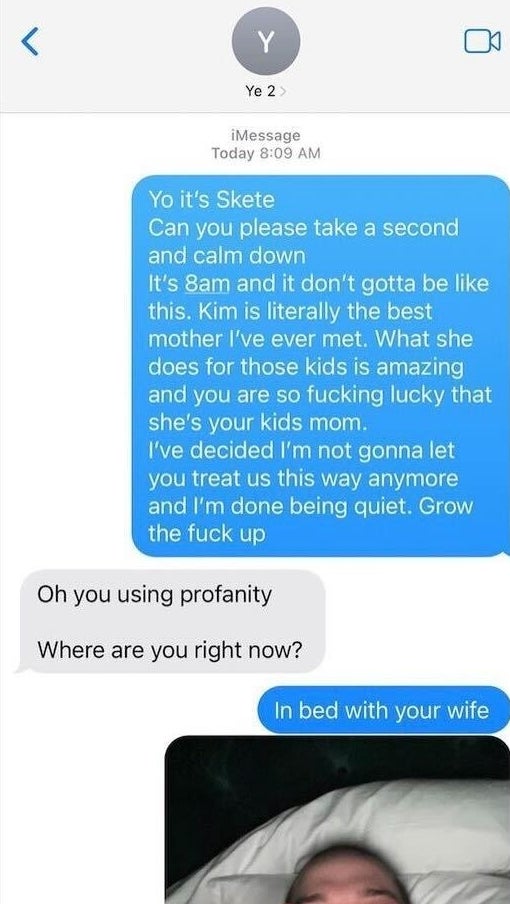 Just a few days later, Ye wound up being suspended from Instagram for "violating policies on hate speech, bullying, and harassment" after he called Trevor Noah, host of The Daily Show, a racial slur. However, after remaining silent on the site for months, Ye returned last week to fire back at both Pete and Kim once again.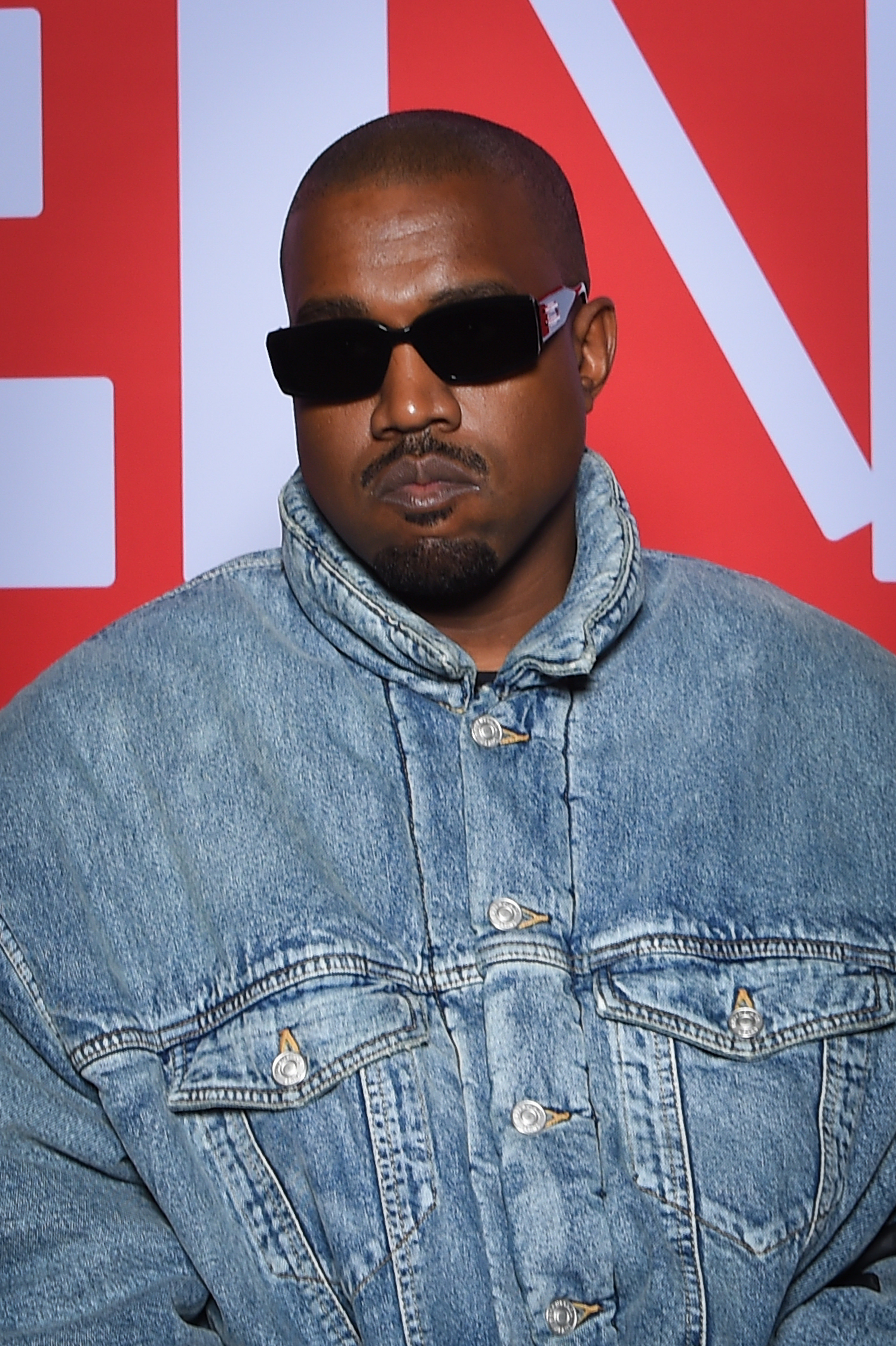 While many of his posts have now been deleted, the Donda artist briefly called Pete out last week for getting tattoos of his kids' initials. The comedian, who is inked all over his body, got the letters "KNSCP" tatted while he was dating Kim, which fans guessed stood for Kim, North, Saint, Chicago, and Psalm. He also got the words "My girl is a lawyer" printed near his collarbone, as well as the literal branding of Kim's name on his chest.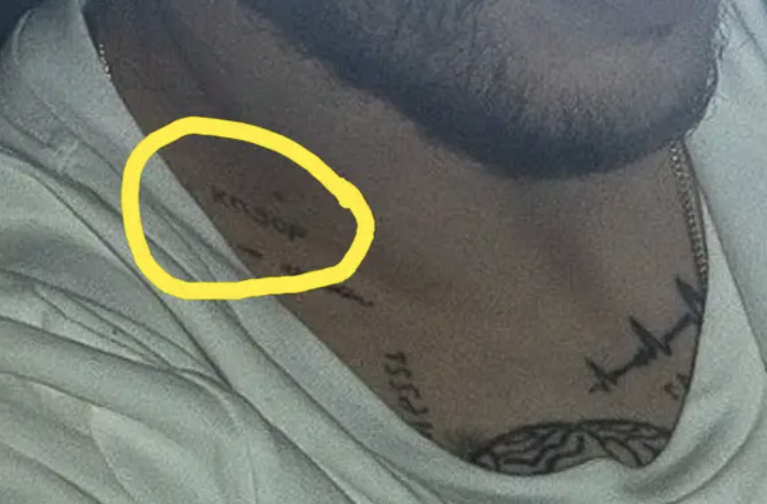 "Ask Pete how those tattoos of my kids doing in the trauma unit," Ye wrote, seemingly referring to the recent rumors that Pete has been undergoing trauma therapy in order to help deal with the rapper's flurry of negative social media posts.
Now, over the weekend, Ye has slammed Pete once again, suggesting that the comic was sent to "antagonize" him.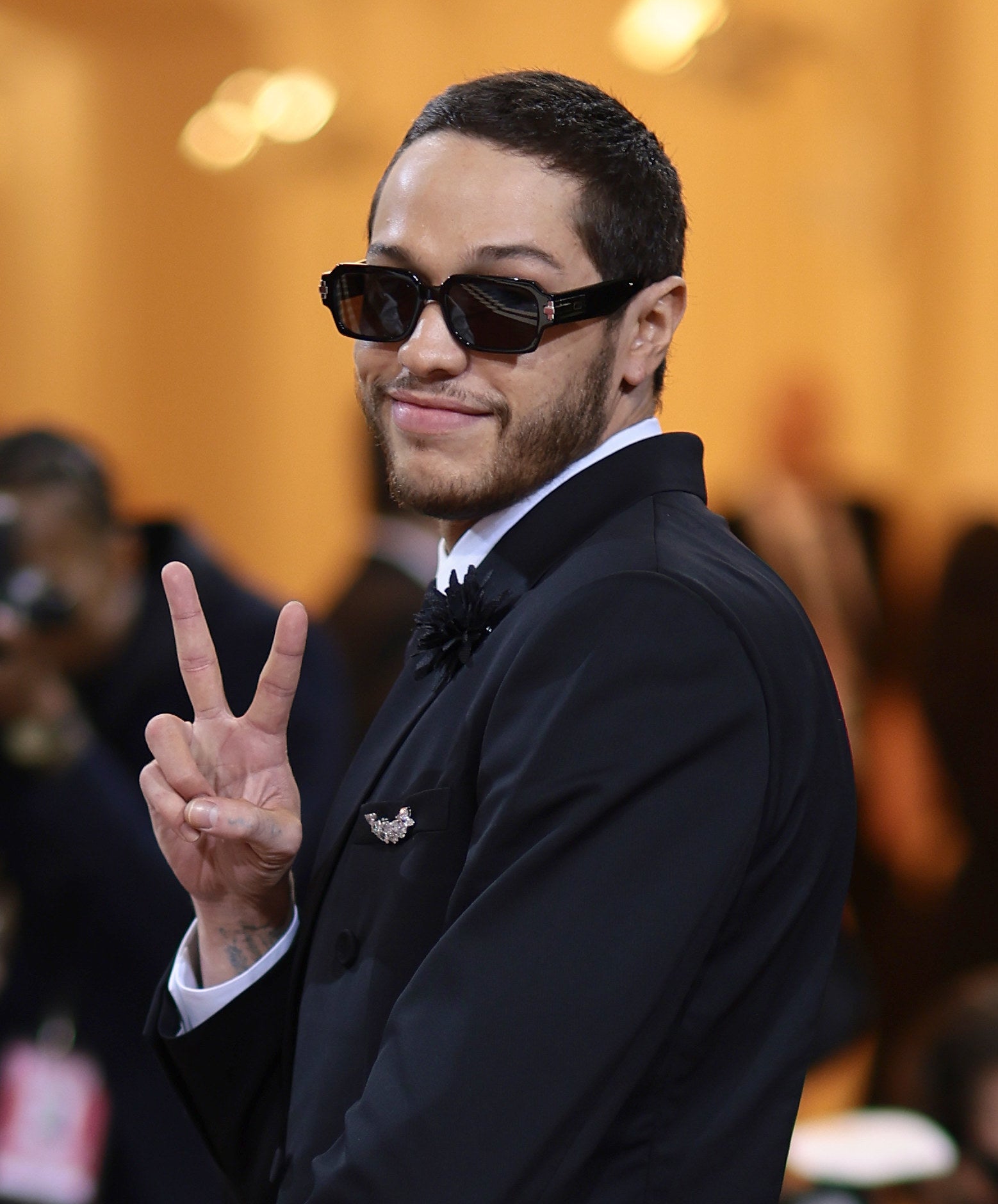 Sharing a screenshot of one of his other posts that NFL star Tom Brady had commented on, Ye wrote, "Tom Brady in the comments it's up, he must hate Skete tooooo."
He went on to mockingly imitate Pete as he bashed the comedian's relationship with his kids. "Hi North I'm Skete Look at my tattooooos," he wrote. "I'm a pawn sent here to antagonize your dad in hopes that he does something illegal so we can take him out of your life."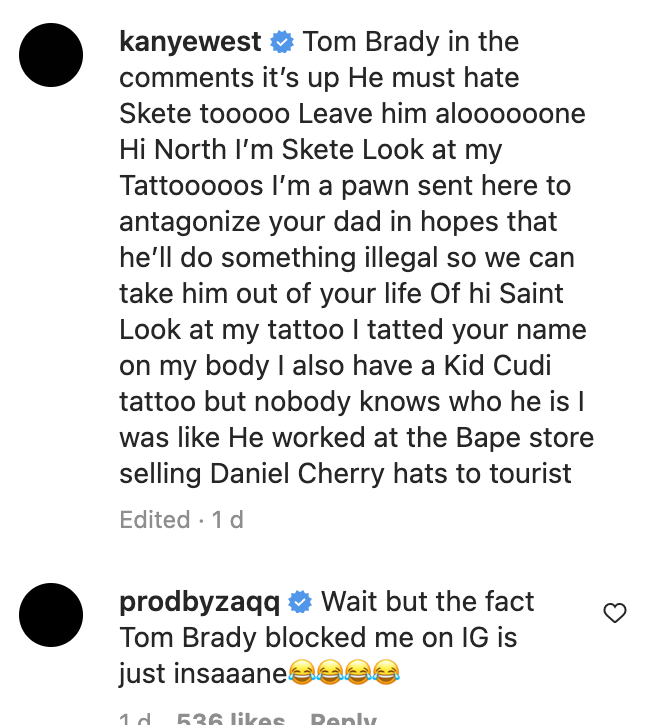 Ye continued to mimic the comic as he wrote, "[H]i Saint Look at my tattoo I tatted your name on my body."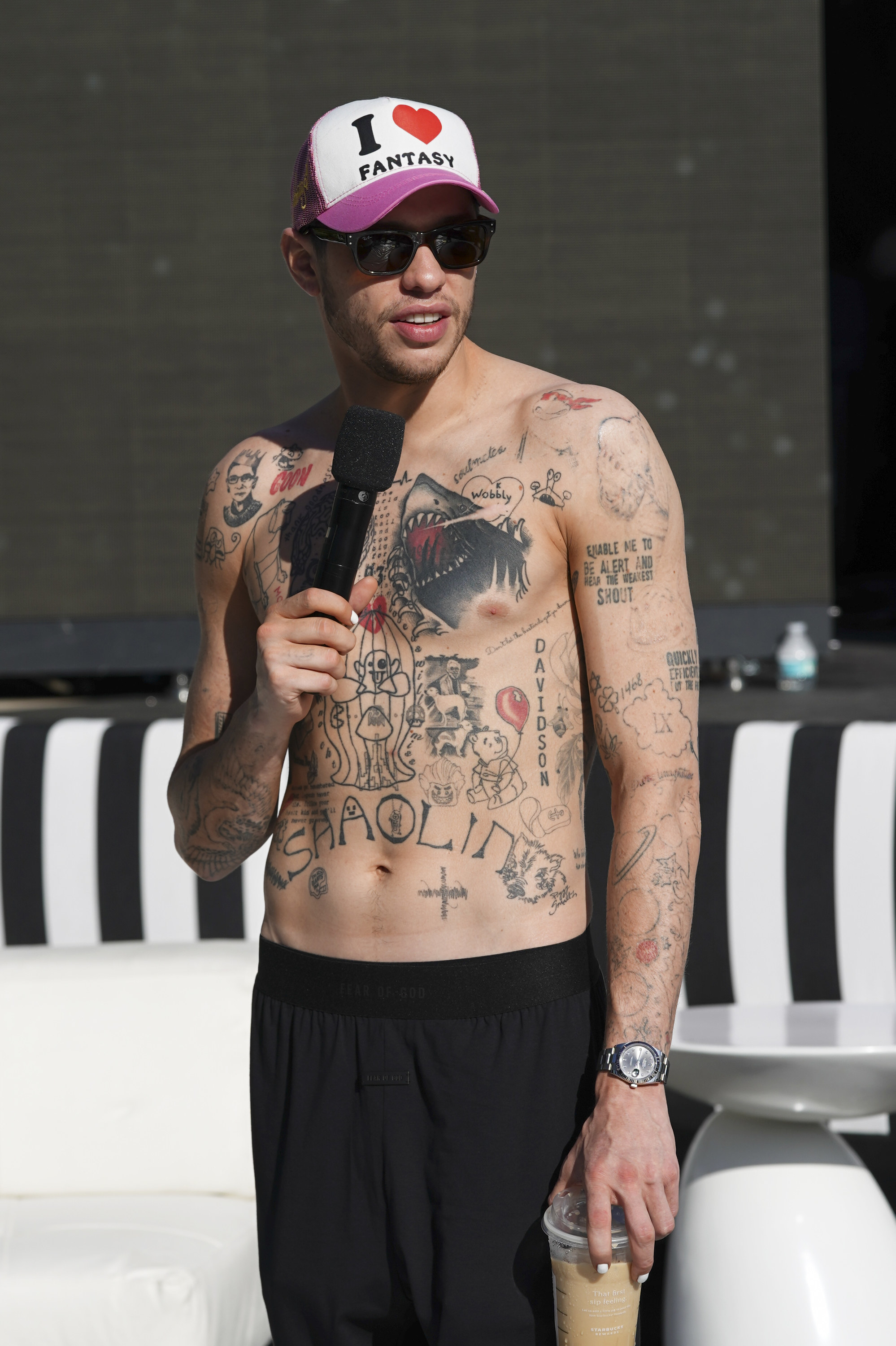 Ye's message came just days after he leaked several texts between him and Kim in which the beauty mogul begged him to "please stop" sporadically posting on Instagram.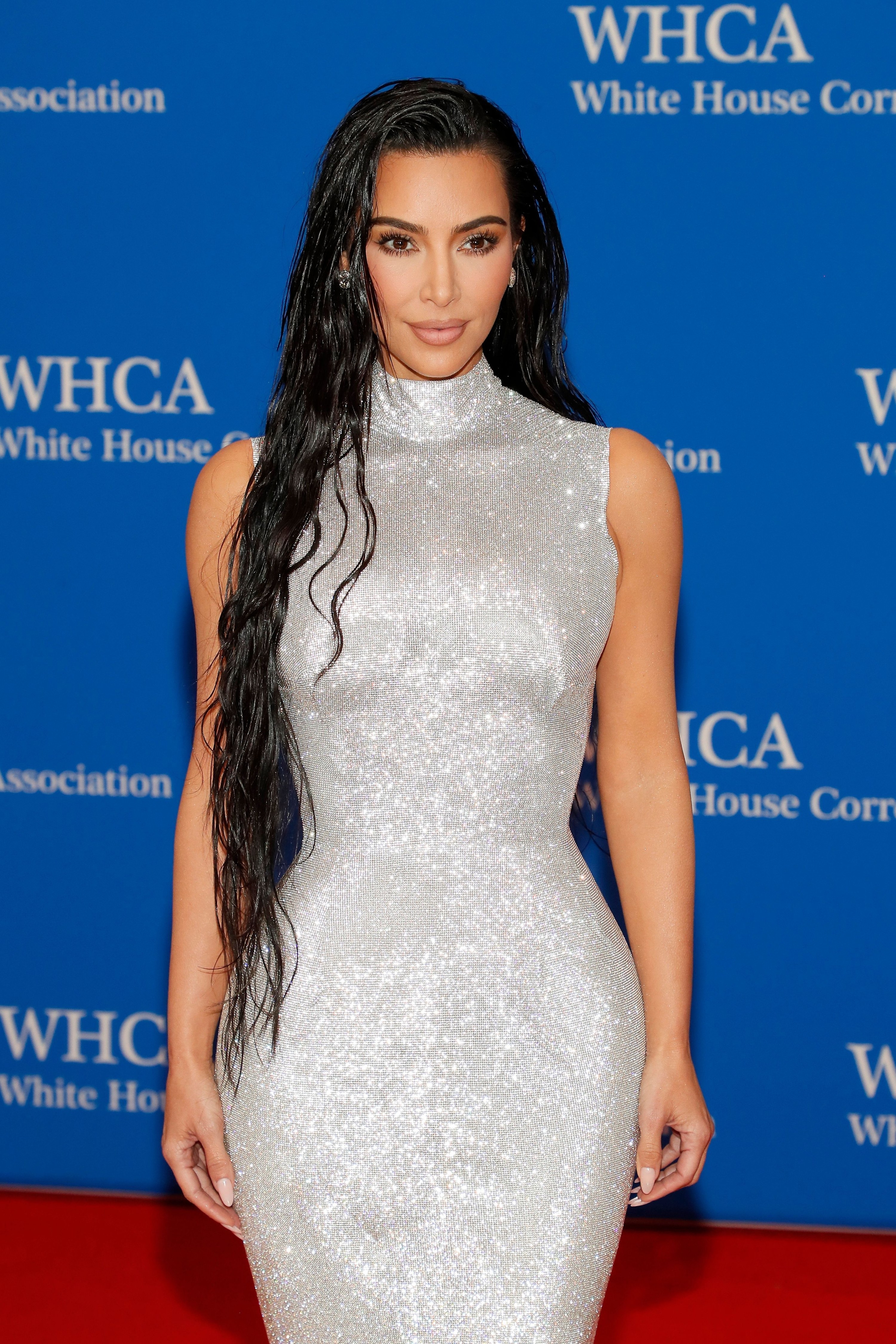 Revealing that the coparents had clashed over their kids' school choices, Ye shared a post that read, "My kids going to Donda [Academy, his self-owned Christian private school]. They not going to Sierra Canyon. Charlemagne the God and Kris. Get your motherfucking popcorn."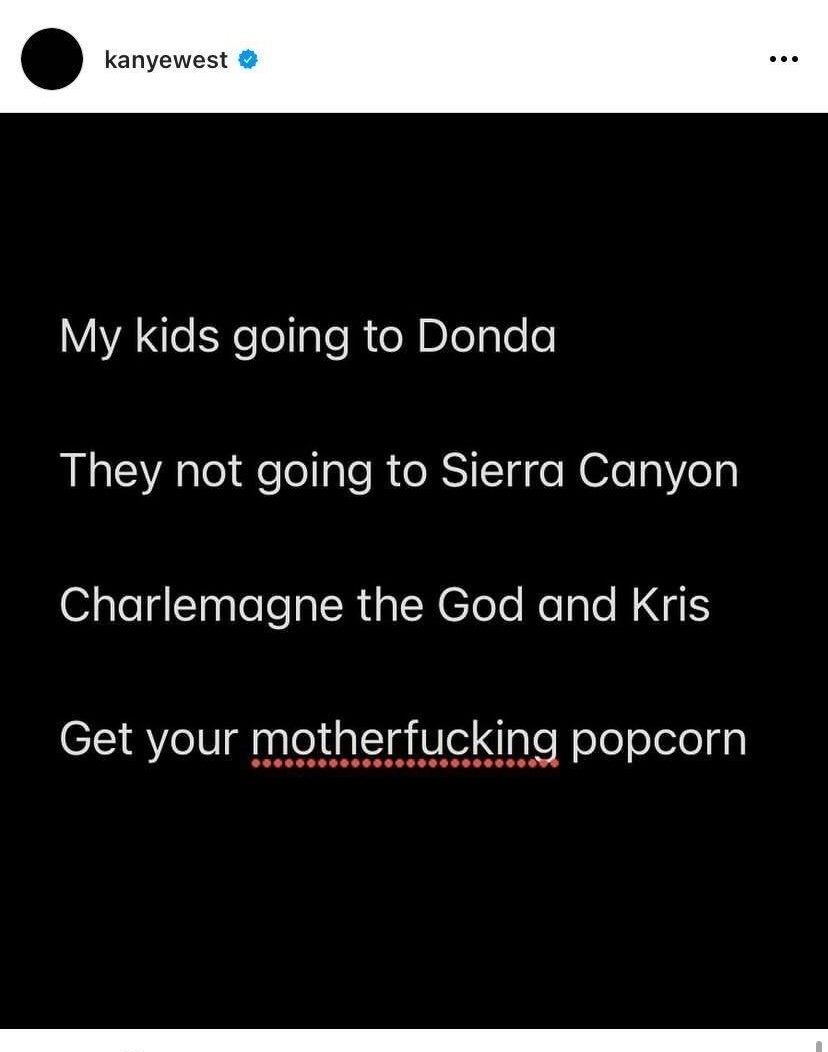 "Can u please stop," Kim appeared to tell Ye in the messages. He responded, "No. We need to talk in person. You don't have say so of where the kids go to school. Why you get say say. Cause you half white?"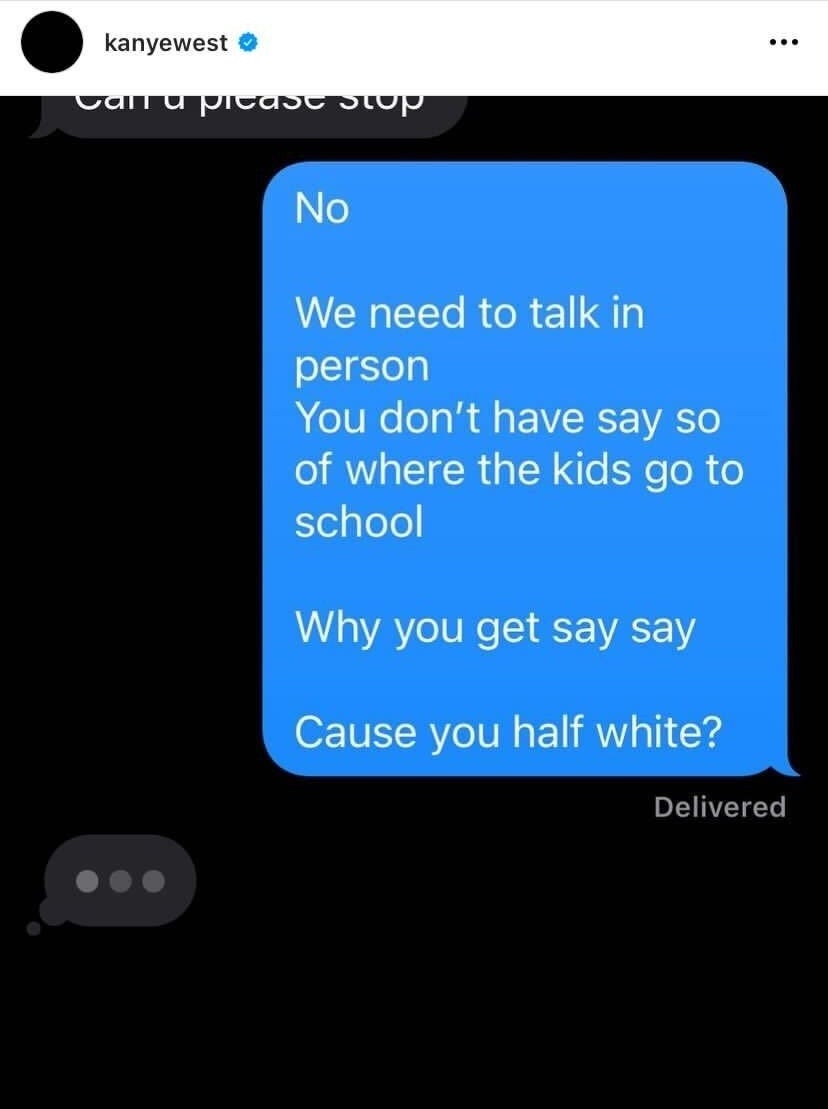 Ye then went on to note that he didn't want his 9- and 4-year-old daughters, North and Chicago, to be pushed into "playboy and sex tapes" by Kim's mom, Kris Jenner, given that Kim and her sister Kylie Jenner have posed for the renowned magazine in the past.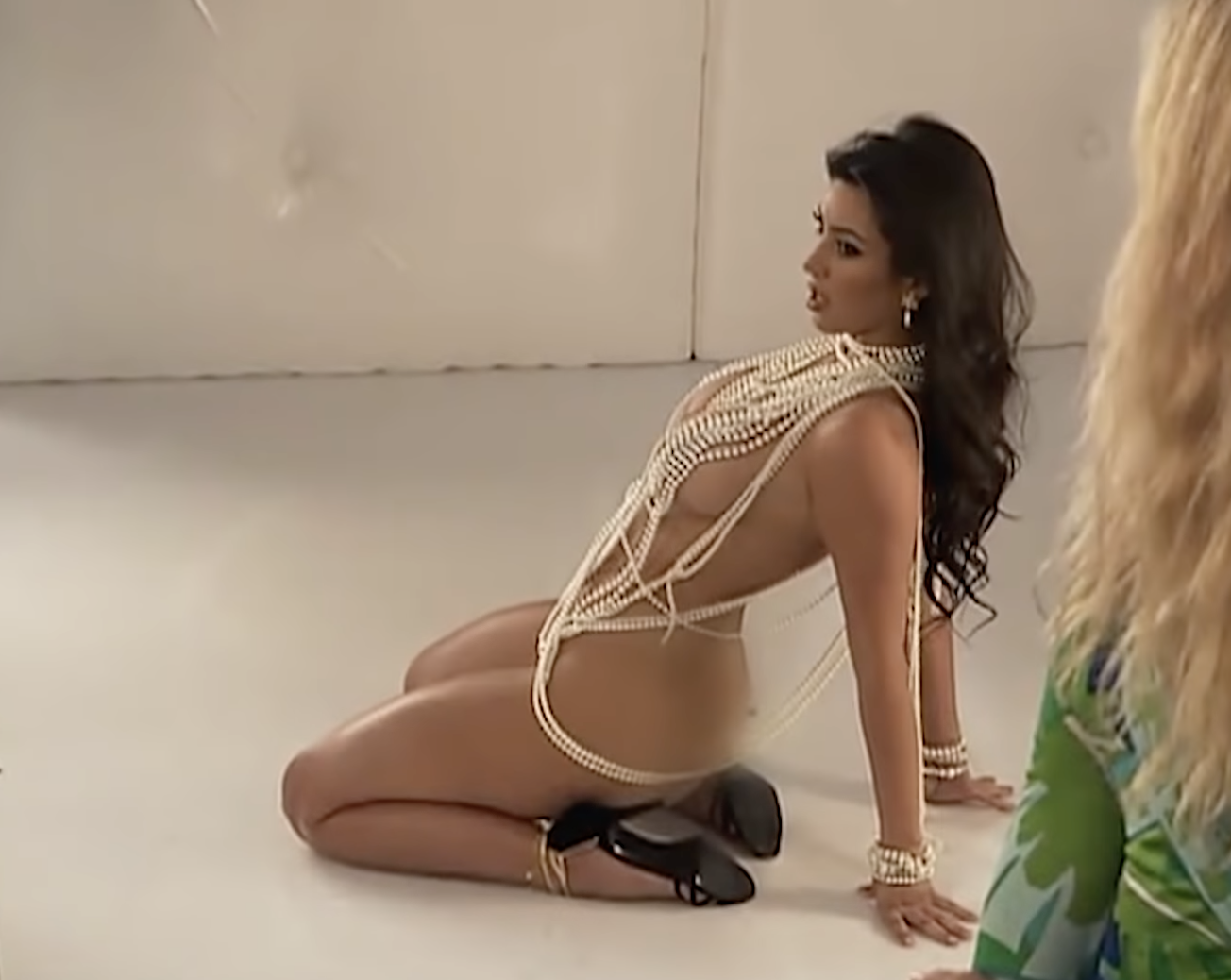 "Don't let Kris make you do playboy like she made Kyle [Kylie Jenner] and Kim do," he wrote. "Hollywood is a giant brothel. Pornography destroyed my family. I deal with the addiction. Instagram promotes it. Not gonna let it happen to Northy and Chicago."
Ye then went on to leak another text from Kim that was written on Kris's behalf, in which the 66-year-old begged him to "stop mentioning" her name. "PLEASE, Tell him to please stop mentioning my name," Kris said via Kim. "I'm almost 67 years old and I don't always feel great and this stresses me to no end."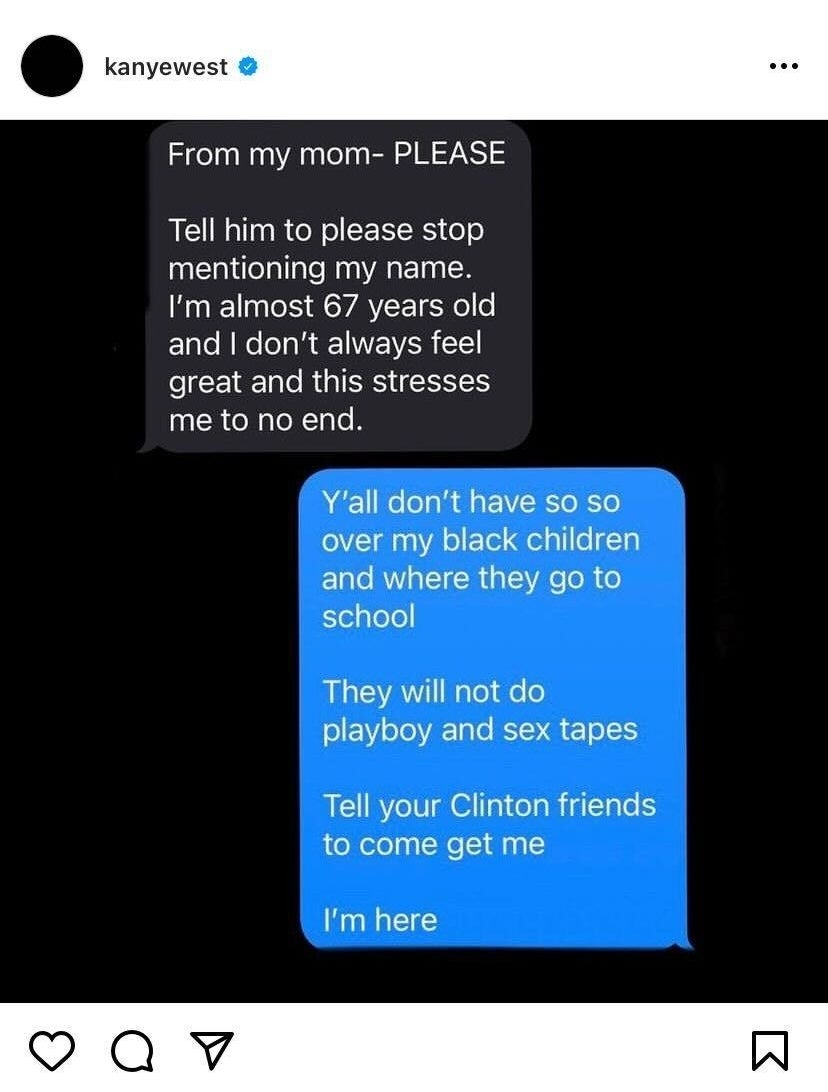 In response, Ye messaged: "Y'all don't have so so over my black children and where they go to school. They will not do playboy and sex tapes. Tell your Clinton friends to come get me. I'm here."
Neither Kim nor Kris has publicly addressed the drama with Ye, though recent reports claim that the momager is really "bothered" by the continual posts.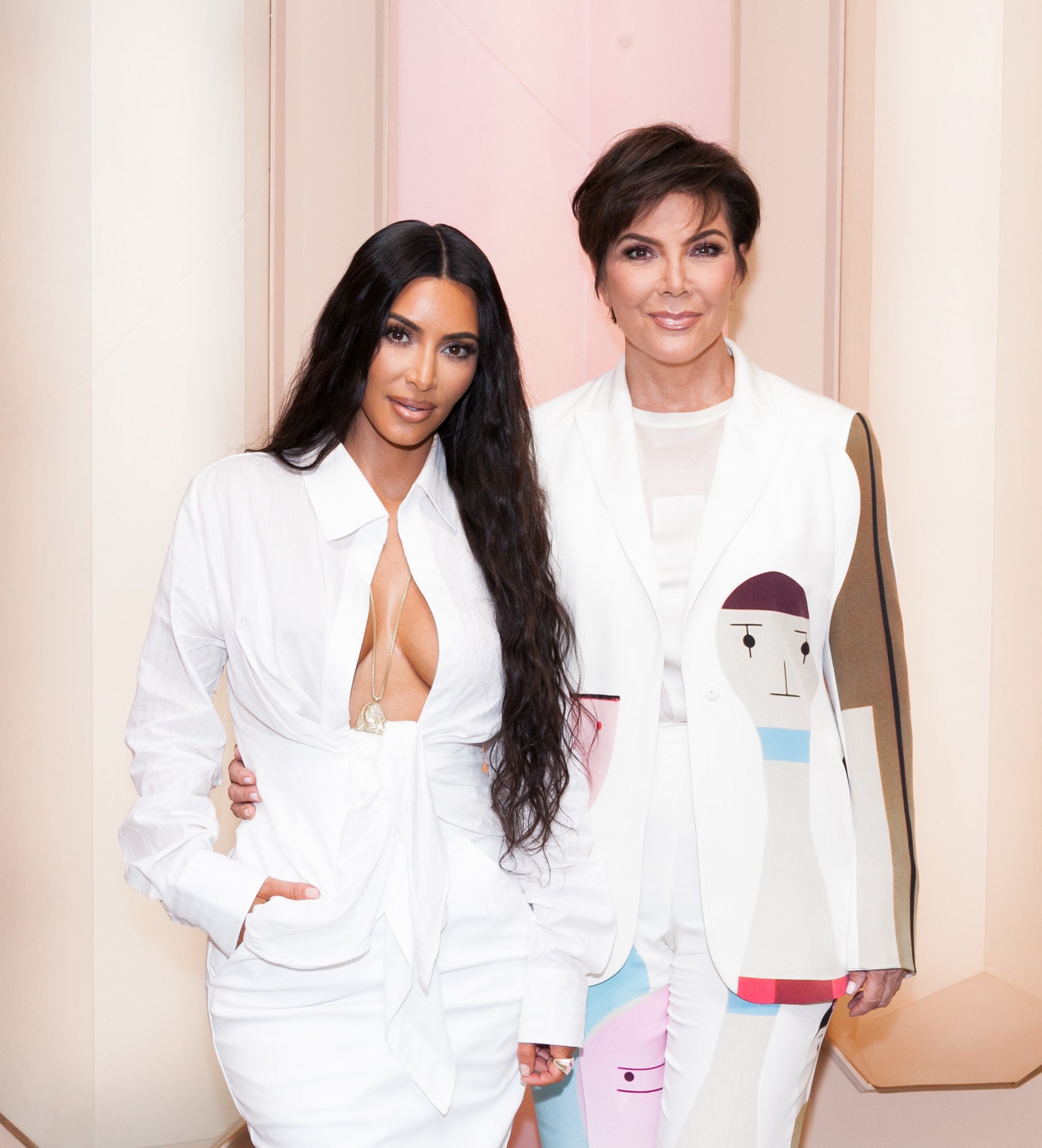 According to Hollywood Life, which heard from sources close to the family, Kris was "bothered" by Ye's comments and found them to be "way out of line."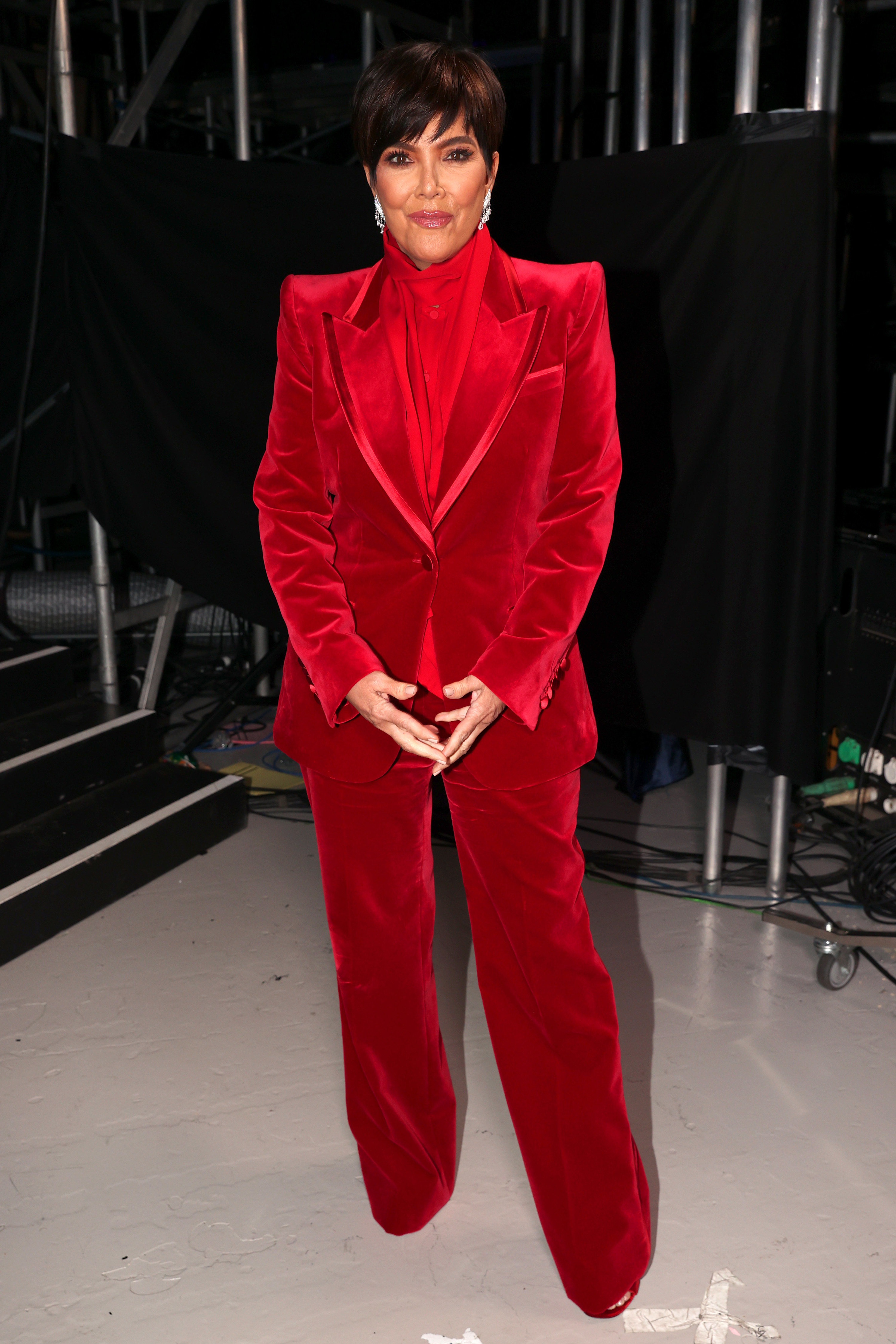 "Kris has done nothing but try to help Kanye and mediate the tension between him and Kim," the insider claimed. "Kris is really hurt by his comments, and she let him know this."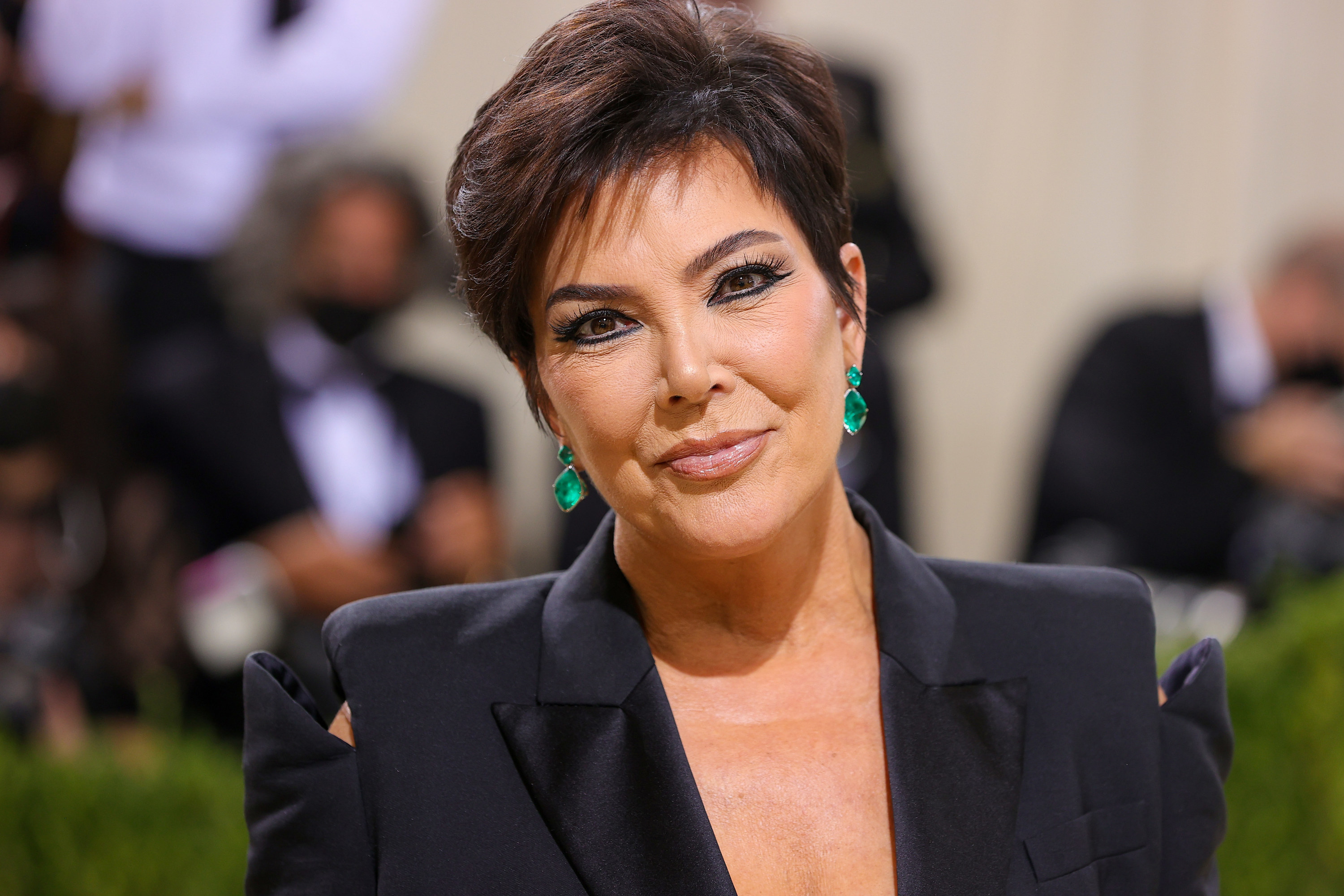 "Although Kris was completely shocked by what Kanye said, she isn't all that surprised he's taken to social media to bash them, just because he's done it so many times before," a second source alleged. "She is bothered that he's not only humiliating Kim and himself, but bringing the children into it is unacceptable."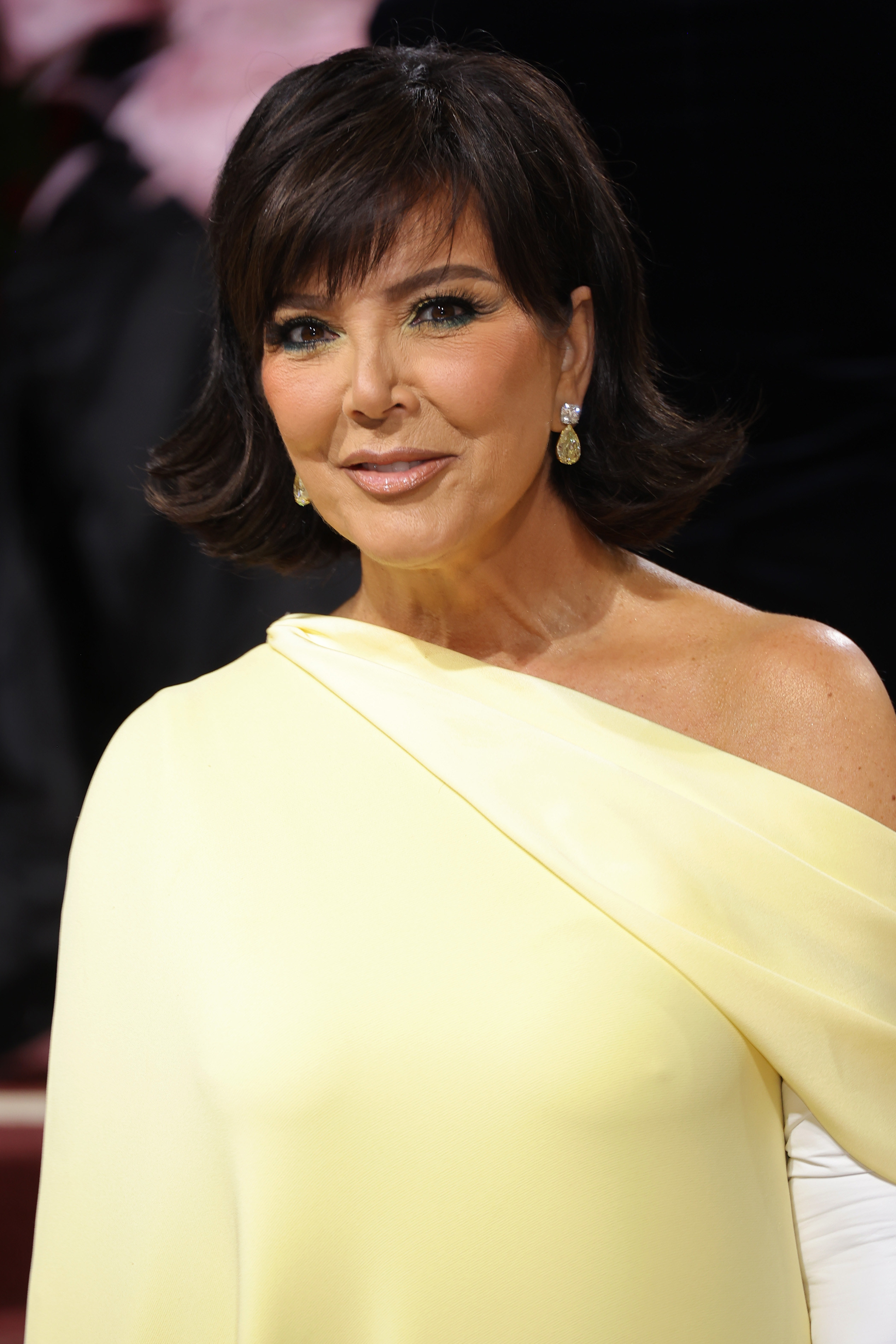 They added, "Kris knows Kanye loves his kids, but she doesn't think this is the way to show it. If he had something to discuss with Kim about the kids, it should have been done in private. She's sick and tired of his public attacks on the family, and she won't stand for it."