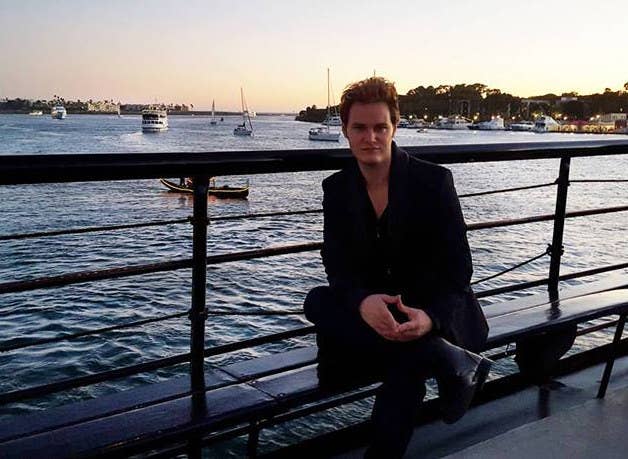 Devin Rose was browsing the Zara store at Westfield Fashion Square in Sherman Oaks, California when he found a few T-shirts that seemed like a good deal: €9.95 each, according to their euro-denominated price tags.
But when he paid at the register, the U.S. dollar price was much higher than he expected — $17.90 per shirt, when the euro-dollar exchange rate would have priced the shirts at $11.26 each, according to a lawsuit filed on Friday in California. Zara is owned by the Spanish clothing giant Inditex, which is the world's largest fashion retailer.
Rose, who works in business finance, told the cashier that he was overcharged. He said the cashier explained the store bases its price conversion on exchange rates at the time that the merchandise is manufactured, not sold.
"I laughed because the conversion rates don't hike around that much," he said.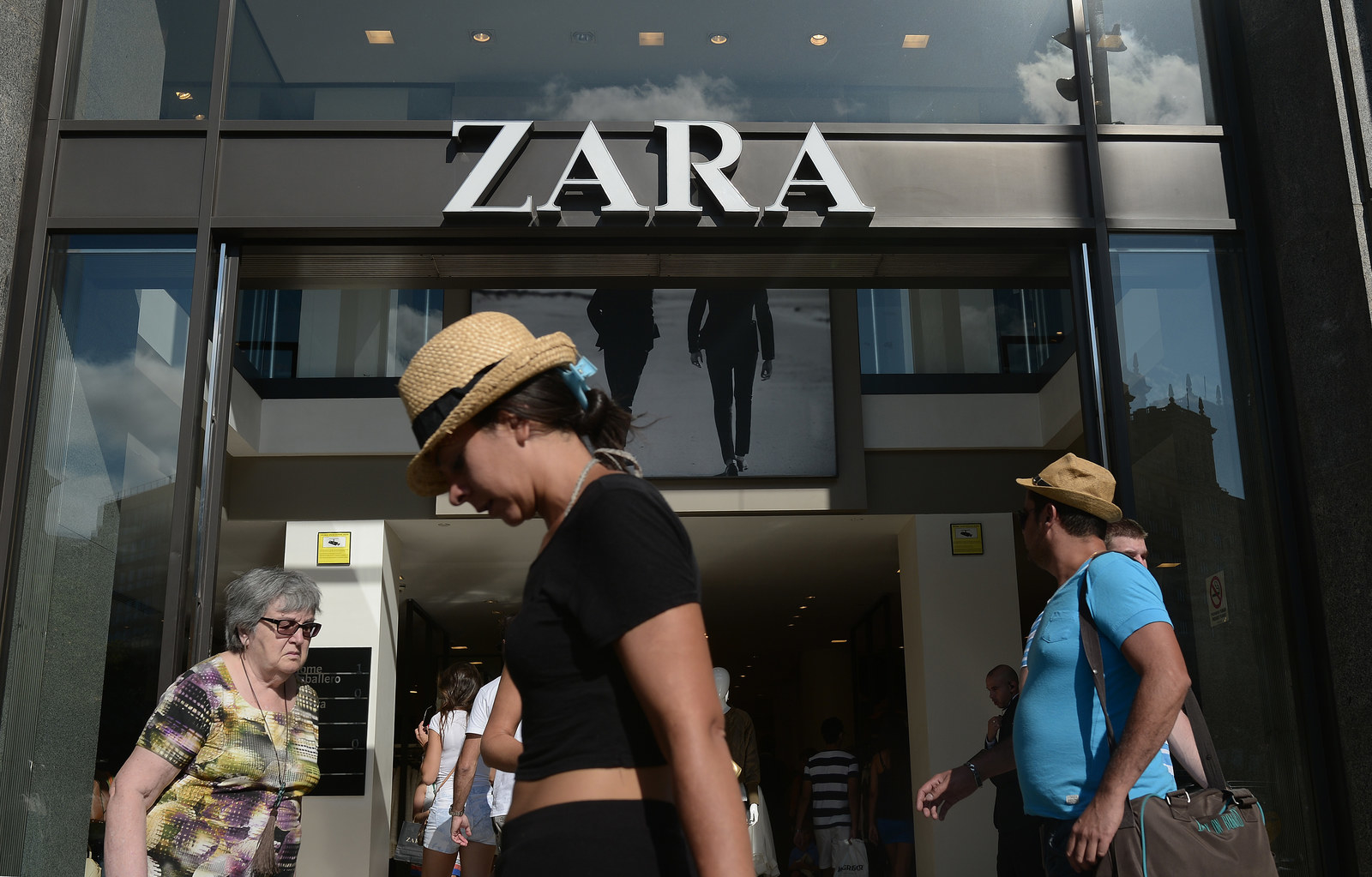 Ben Meiselas, an attorney with Geragos & Geragos law firm who is representing Rose, called this a "bait and switch" which violates California and federal law.
Federal law prohibits "bait advertising" which misrepresents or gives a false impression of the value of a product. California, along with several other states including Michigan, Kansas and Virginia, has made it a criminal offense for retailers to charge a higher price than the lowest tag price.
"Maybe you go to one of these stores in Southampton which is a European boutique and keeps the Euro label," said Meiselas. "But here you're talking about a multinational corporation, the single largest retailer in the world, and their practice is clearly deceptive and clearly isn't following American law."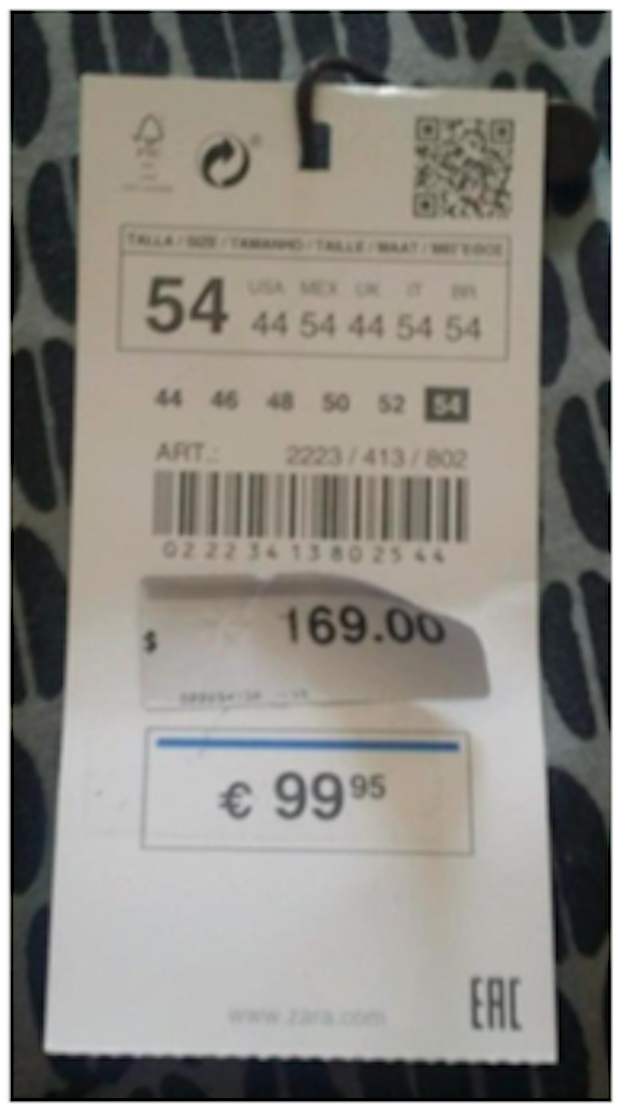 A spokesperson for Zara USA told BuzzFeed News that it "vehemently denies any allegations that the company engages in deceptive pricing practices in the United States."
"We pride ourselves in our fundamental commitment to transparency and honest, ethical conduct with our valued customers," they said. "We remain focused on providing excellent customer service and high-quality fashion products at great value for our customers."
Zara USA declined to provide BuzzFeed News additional details about its Euro-US dollar exchange calculations.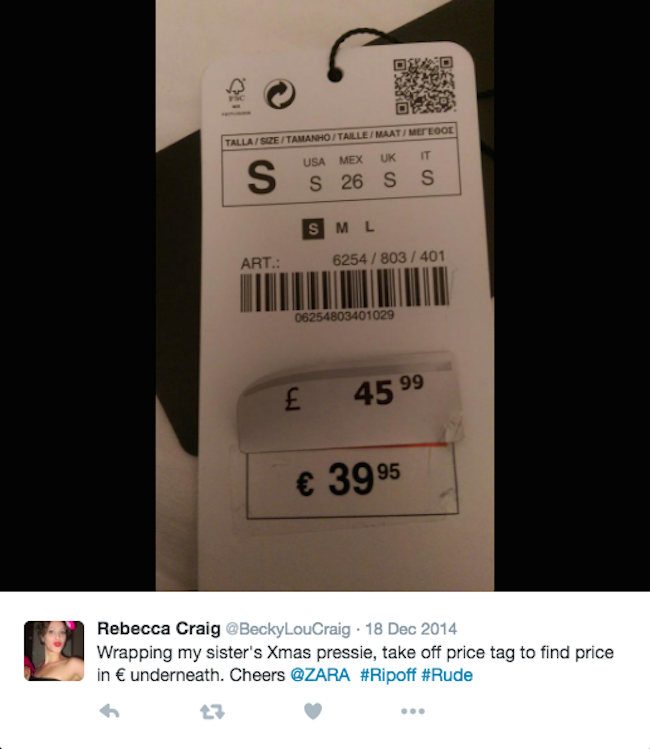 In the U.K., a number of people have complained about Zara slapping a higher British-pound sticker price directly on top of its euro-based price tages. One Twitter user shared her lament with #Ripoff.
The lawsuit filed on Friday claimed Zara's California stores have been doing the same.

"Rather than converting an original euro price to an equivalent American dollar price," the suit alleges, "Zara simply chooses a higher dollar amount that bears no relation to the relevant conversion rate, prints it on a label, and affixes that label over the original euro price actually printed on the garment tag."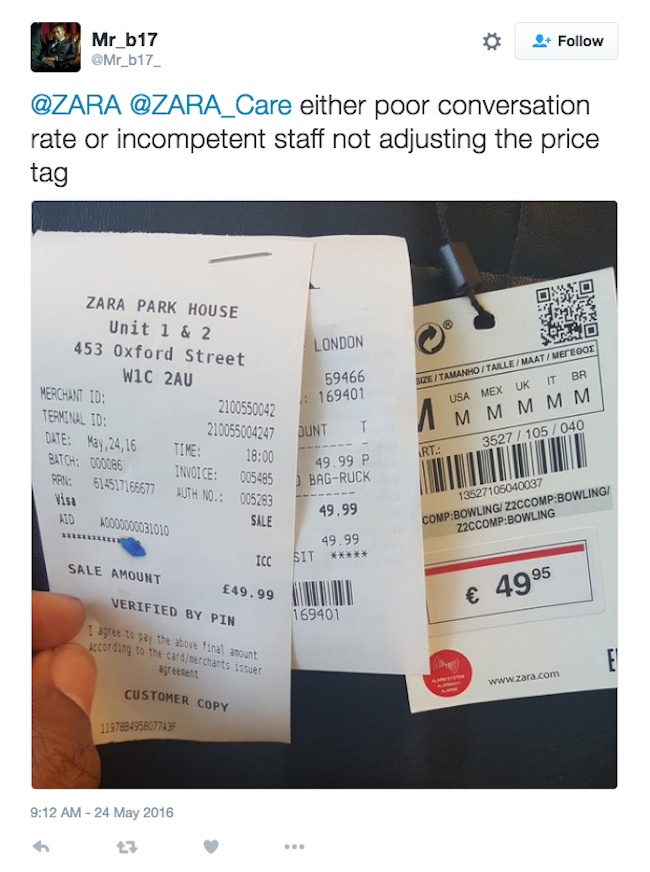 Retail prices for global brand-name goods differ across countries for multiple reasons, with sellers adjusting local prices based on everything from competitor's prices to the cost of doing business and their perceived position in the market. Western luxury goods makers have long charged higher prices in China than they do at home, while an Australian government inquiry into prices for electronics and software found local consumers were frequently paying up to 50% more than they would in the U.S.
But while such international price discrepancies are widespread, Meiselas said "that's not what this lawsuit is about."
"For good reason, the U.S. has developed a legal doctrine that the lowest tag price prevails," he said. "Here you have a billion-dollar corporation ignoring that principle and coming up with a price at the register that has nothing to do with the real conversion price."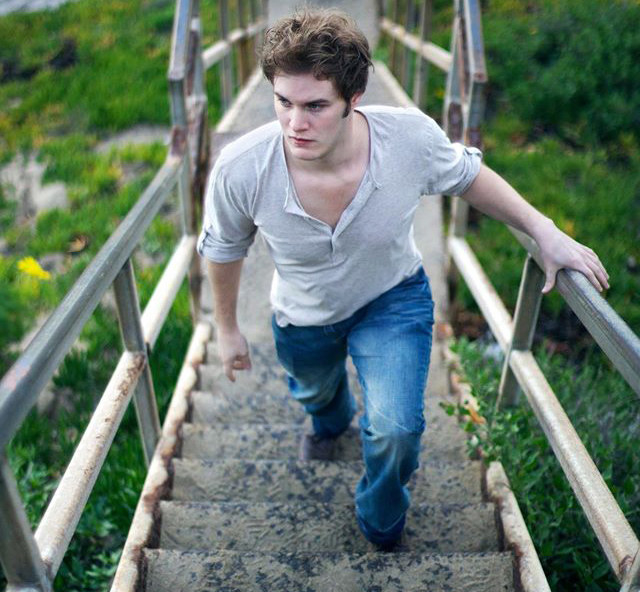 Rose said he has not shopped at Zara since May and does not plan to shop there any time soon.
"I try not to support brands or companies that are dishonest," he said. "Now that I know Zara is so deliberately dishonest of a company, I am not supporting them. No."