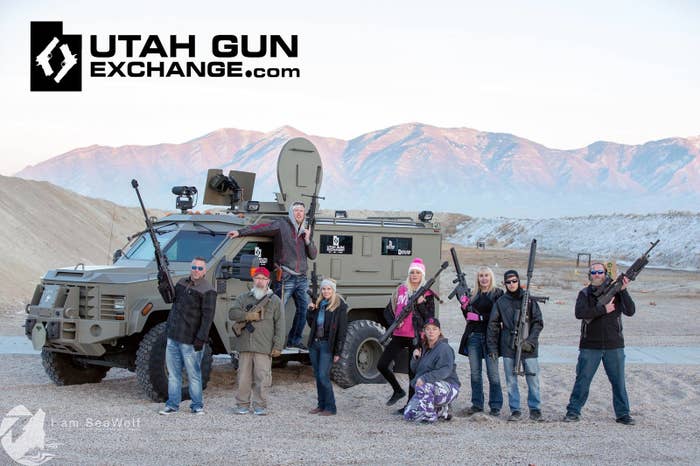 YouTube's effort to limit the proliferation of gun videos on its platform has inspired firearms enthusiasts to create gun-friendly video platforms of their own.
Back in March, the world's largest video site, a division of Alphabet's Google, said it would ban any content that promotes the sale of guns and gun accessories, or modifications to make them deadlier. It also banned videos about how to make firearms. For guntubers already peeved with YouTube over an April 2017 policy change that restricted and thus demonetized many of their videos, the move was too much. Some simply migrated their videos to more welcoming platforms like PornHub, Patreon, Twitch, or Full30. Others built platforms of their own.
The Utah Gun Exchange, whose 4-year-old YouTube channel has about 2,300 subscribers, launched its gun-friendly video site UGETube in early April with ambitions to attract firearms enthusiasts fleeing YouTube. It's aggressively recruiting popular guntubers with a commission program and the promise of an "Amazon-type marketplace" where visitors can buy guns and tactical gear. Some of UGETube's firearms videos are collecting around 20,000 views, with its introductory video topping 400,000. It's already courting advertisers.
"Anybody, any content creator, that has experienced demonization or some unfair treatment from YouTube, is going to be able to come over to our home and exercise their first amendment rights," Utah Gun Exchange co-owner Bryan Melchior told BuzzFeed News. "It's going to be a lot of fun. We're going to be stirring up trouble."
YouTube declined to answer questions about how gun rights advocates are responding to its crackdown on gun content, and instead provided BuzzFeed News with a previously issued statement about routine updates to enforcement guidelines.
Melchior is hardly alone in seeing opportunity in YouTube's tightening of gun video restrictions. Theguntube.com, created by brothers Josh and Jonathan Vidana in response to YouTube "silencing the gun community," debuted its beta version in February; so far, it has 1,500 users and about 800 unique viewer hits a day, the Vidanas told BuzzFeed News.
Austin Roberts rushed out his Gunstreamer video platform in late March after hearing of YouTube's latest policy update. "If we ramp up quickly and we're able to build a platform that really has everything the community needs, then we can help it from being all fragmented and broken into all these subsections of the market," Roberts told BuzzFeed News.
Video streaming platform freedomtv.com launched in December 2017, well before YouTube announced its latest gun content policy. Its founder Todd Underwood, who is also president of the United Gun Group, said the premise for the site is "individual liberty." (Underwood attracted attention in 2016 when he allowed George Zimmerman to sell the Kel-Tec PF9 used to kill 17-year-old Trayvon Martin on United Gun Group's site.)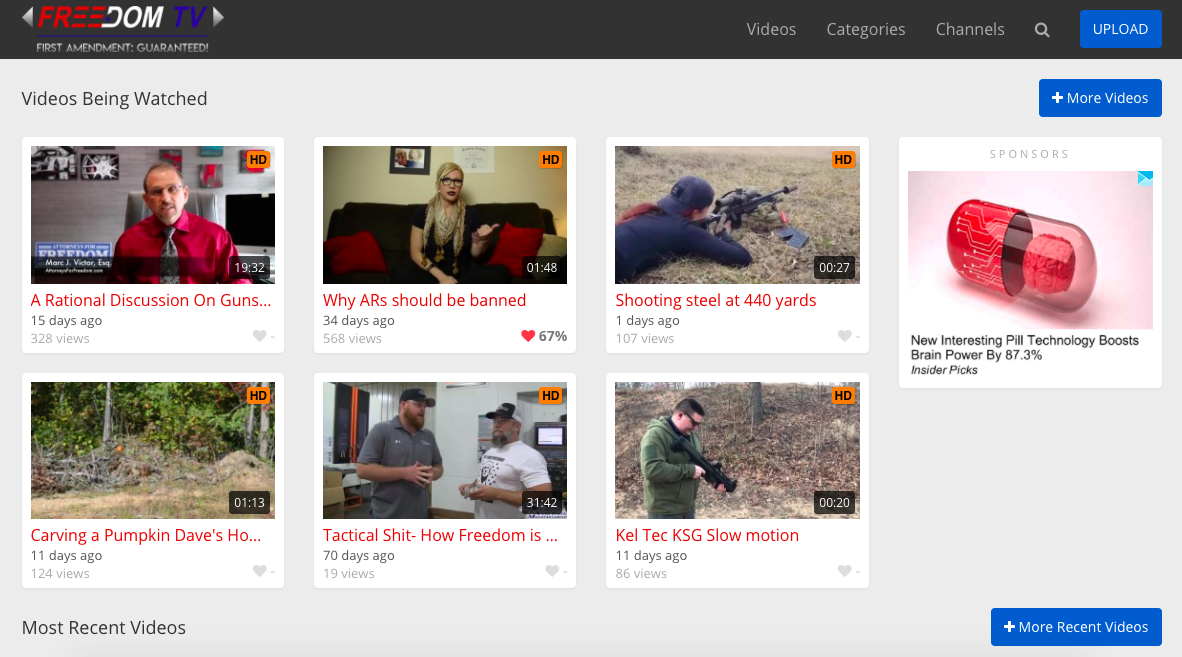 Underwood said freedomtv.com has about 500,000 viewers a month, adding that it's "growing daily." Its advertising business is only a month old, but Underwood said it is already making money and has 2,000 advertisers.
"It's no secret that YouTube is very anti-conservative and anti-speech," Underwood told BuzzFeed News. "You can promote jihad and talk about Islam and recruit radical Islamists all day long, but you can't talk about two Christians not wanting to bake a cake for two gay people. If you talk about putting together an AR-15, that's not ok according to YouTube." (In fact, YouTube does police content that promotes violent extremist ideologies.) "If you're a grown adult in the US, you should be able to voice your opinion without the hindrance of Silicon Valley liberal elitists," Underwood said.

Underwood's comments reflect a sentiment among some conservatives that YouTube and other Silicon Valley companies are suppressing conservative viewpoints in their efforts to crack down more aggressively on hate speech, explicit content, and misinformation on their platforms. In response, new platforms like these gun-friendly alternatives to YouTube, as well as the Twitter alternatives Gab, and "censorship-free" crowdfunding sites like Rootbocks, have started cropping up.
"We're seeing this from the likes of Facebook and Twitter and other outlets, which means we've got to fire back," Grant Stinchfield, a host on NRATV, said in March after YouTube announced its stricter firearms content policy. "You keep putting your videos up on YouTube. Let them try to censor it. … Overwhelm these leftists in California."
The tension between gun rights enthusiasts and YouTube is so heightened that when news of a shooter at YouTube's headquarters broke early this month, some observers wrongly speculated the event was related to the platform's stricter firearms content policy.

And rather than rivaling each other, some of the new alternative YouTube platforms share a sense of camaraderie.
"We've been working very hard every day to save the guntubing community," said theguntube.com's Josh Vidana. "Whether it's us or Gunstreamer or Full30, we really want one of the new websites to come up top … Whoever it is, we'll be very happy."
A few years ago, the prospect of several small, gun-focused video platforms competing with YouTube seemed a nonstarter. Now, against a backdrop of volatile national politics and contentious gun debate stoked by the Parkland shooting, it seems a not entirely unrealistic possibility. But these burgeoning platforms will face real technical and audience-building challenges before they can be considered contenders to YouTube.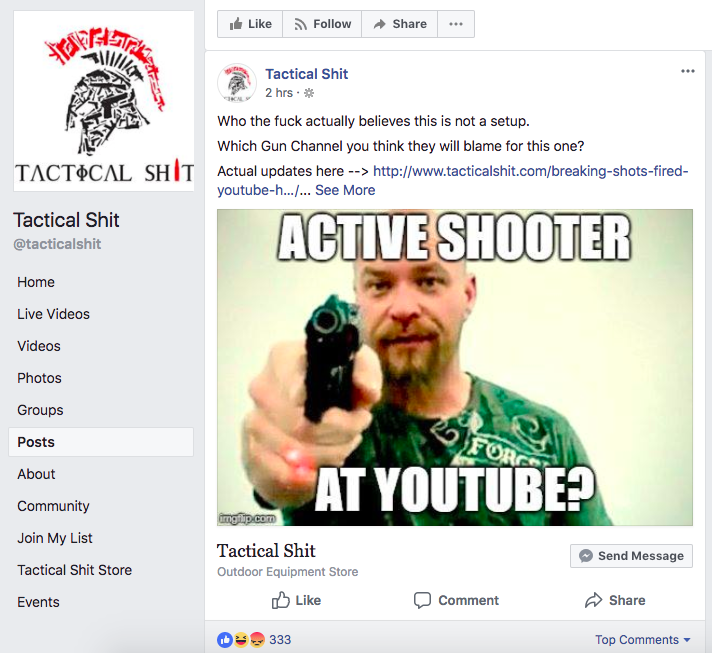 TJ Kirgin, CEO of Tactical Shit and Danger Close Weapons Media Group, a content marketing company focused on the firearms industry that works with guntubers and gun retailers, told BuzzFeed News that his group reaches 77 million viewers every month across Facebook, Instagram, and YouTube. Kirgin believes "all social media — YouTube, Facebook, Instagram — they're all owned by über liberal conglomerates that don't hide that and they are essentially silencing conservative news, pro-gun websites, and influencers."
Kirgin thinks it is unlikely channels with large followings will ditch YouTube entirely. "In reality there are no other large [platforms] to go to where you have all these people to reach," he said.
Even so, some alternative platforms are gaining steam and attracting guntubers with established followings.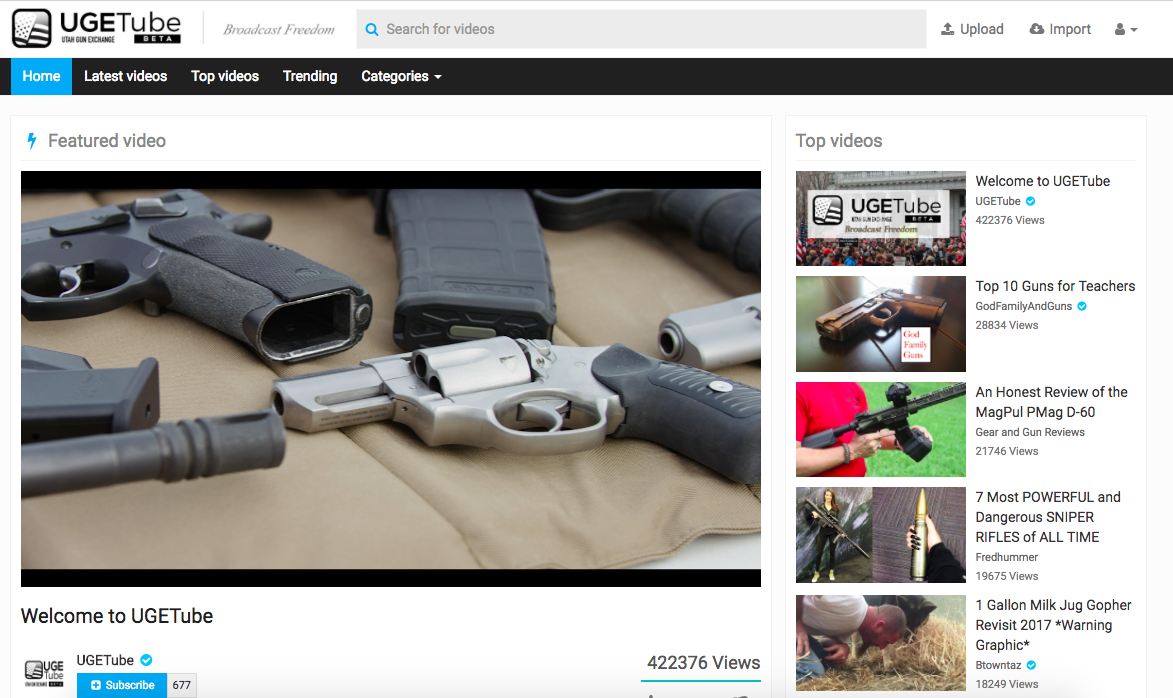 Heather Bartocci and her husband, Chris, started a gun-themed YouTube channel 18 months ago called Chris Bartocci that had roughly 32,000 subscribers. But after YouTube suspended the channel Monday, for a third strike over a video telling subscribers that the site's new firearms policies wouldn't change their content, Bartocci said they're moving to Gunstreamer. "If YouTube is kicking out gun channels, we have to go to these places," Bartocci said.

The Bartoccis' channel had previously received and appealed two strikes — one for a video featuring a gun made by a company based in the UAE, which YouTube said promoted terrorism, and another for a video about the Glock 19x the company felt promoted violence. But even before those strikes, the Bartoccis' channel had seen its ad revenue drop from $900 a month to $175 after being demonetized.
"My goal is that it's a new place for us to build," she said. "If YouTube is kicking out gun channels, we have to go to these places."
YouTube was a haven for guntubers for years. But thrust into an increasingly contentious national gun control debate that's only been amplified by the Parkland, Florida high school shooting, YouTube, along with other US businesses, is under growing pressure to stem the sales and promotion of firearms. While YouTube still allows people to upload gun-related content, the tweaks it's made to its policies have created a demand for alternatives — something that gun rights advocates like Underwood and Melchior are happy to supply.
"If they want to get on their political high horse then fine go ahead," said Underwood. "There are millions of people who are going to exercise their constitutional rights. YouTube be damned."
CORRECTION
Bryan Melchior's name was misspelled in an earlier version of this post. Also, TJ Kirgin said "über liberal conglomerates," which was misquoted due to a transcription error.