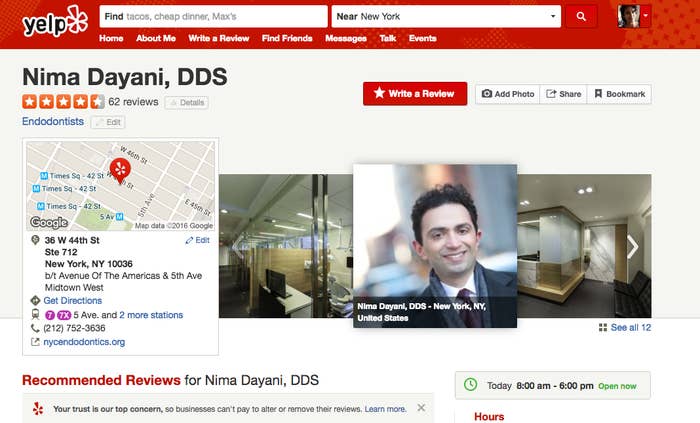 After suffering through tooth pain for some time, Mary Rohs decided to see a dentist. Rohs, a New York resident, scheduled an appointment at Advanced NYC Endodontics with Dr. Nima Dayani on July 16, 2015, to treat the pain.
More than a year later, the fallout from that routine appointment — a negative Yelp review by Rohs, and a lawsuit by Dayani claiming the review was defamatory — continues. And today, Yelp itself got involved, placing a new "consumer alert" on Dr. Dayani's Yelp page, warning that his business may be "issuing questionable legal threats against reviewers."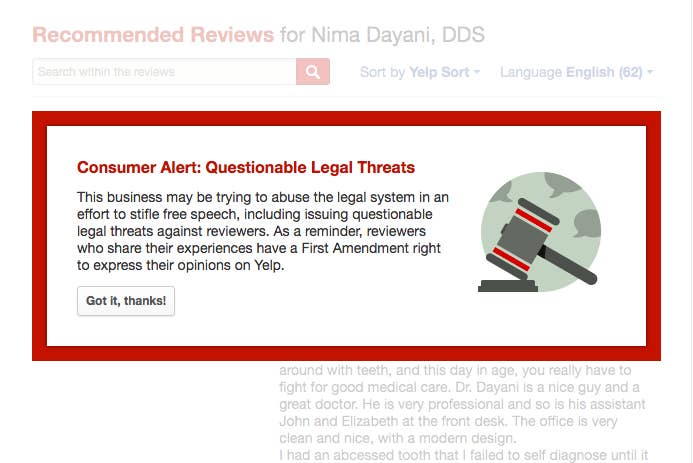 "Consumers have the right to share their opinions about their experiences with businesses," Yelp said in a blog post announcing the new alerts. "But there will always be a small handful of businesses who mistakenly think it's a good idea to threaten consumers who exercise their free speech rights."
Court records say Rohs showed up to Dayani's office around 11 a.m., filled out intake forms, and was shown into an exam room about 20 minutes later, where she had additional X-rays taken of her mouth.
According to Dayani's timeline of her visit, Rohs spent about two hours at the office. He argues that he was treating other patients while Rohs sat in the exam room, but he made sure to discuss her dental history in length and take additional X-rays to check out her complaints about cold sensitivity.
"By the end of her visit, she had two concurrent definitive diagnoses," said Dayani in an affidavit. "They were discussed with her and a plan of treatment was formulated."
But in a Yelp review dated July 27, 2015, Rohs described a frustrating experience. She complained about the "absurdly long wait" at the end of which she said Dayani couldn't come to some clear diagnosis.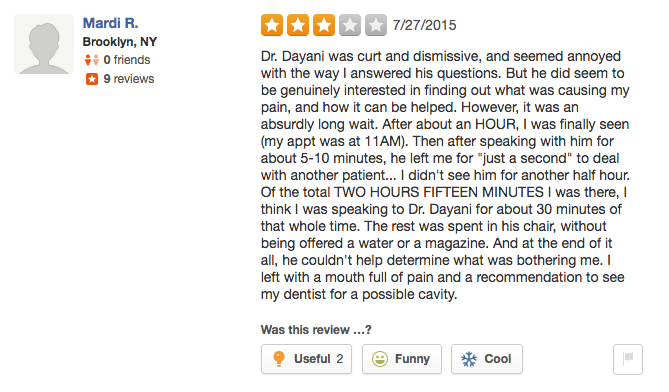 "Of the total TWO HOURS FIFTEEN MINUTES I was there, I think I was speaking to Dr. Dayani for about 30 minutes of that whole time," she wrote. "The rest was spent in his chair, without being offered a water or a magazine."

To make matters worse, she adds, "he couldn't help determine what was bothering me. I left with a mouth full of pain and a recommendation to see my dentist for a possible cavity."
Dayani, who says he gets plenty of positive and negative feedback on Yelp and is comfortable with both, says the claims by Rohs weren't simply a negative review. He alleges her comments amount to defamation, and he sued Rohs two days after the review was posted. It's an accusation the dentist has levied against at least four previous patients who have written negative reviews about his practice, according to a BuzzFeed News review of court records.
Dayani said false negative reviews like Rohs' have harmed his practice over time. He said he laid off one part-time staff member because of a drop in business.

"[Rohs] accsued me of malpractice by saying I didn't diagnose her," he said. "When you are publicly accusing someone of malpractice, you are damaging their reputation."
Rohs declined to comment to BuzzFeed News because the lawsuit is ongoing.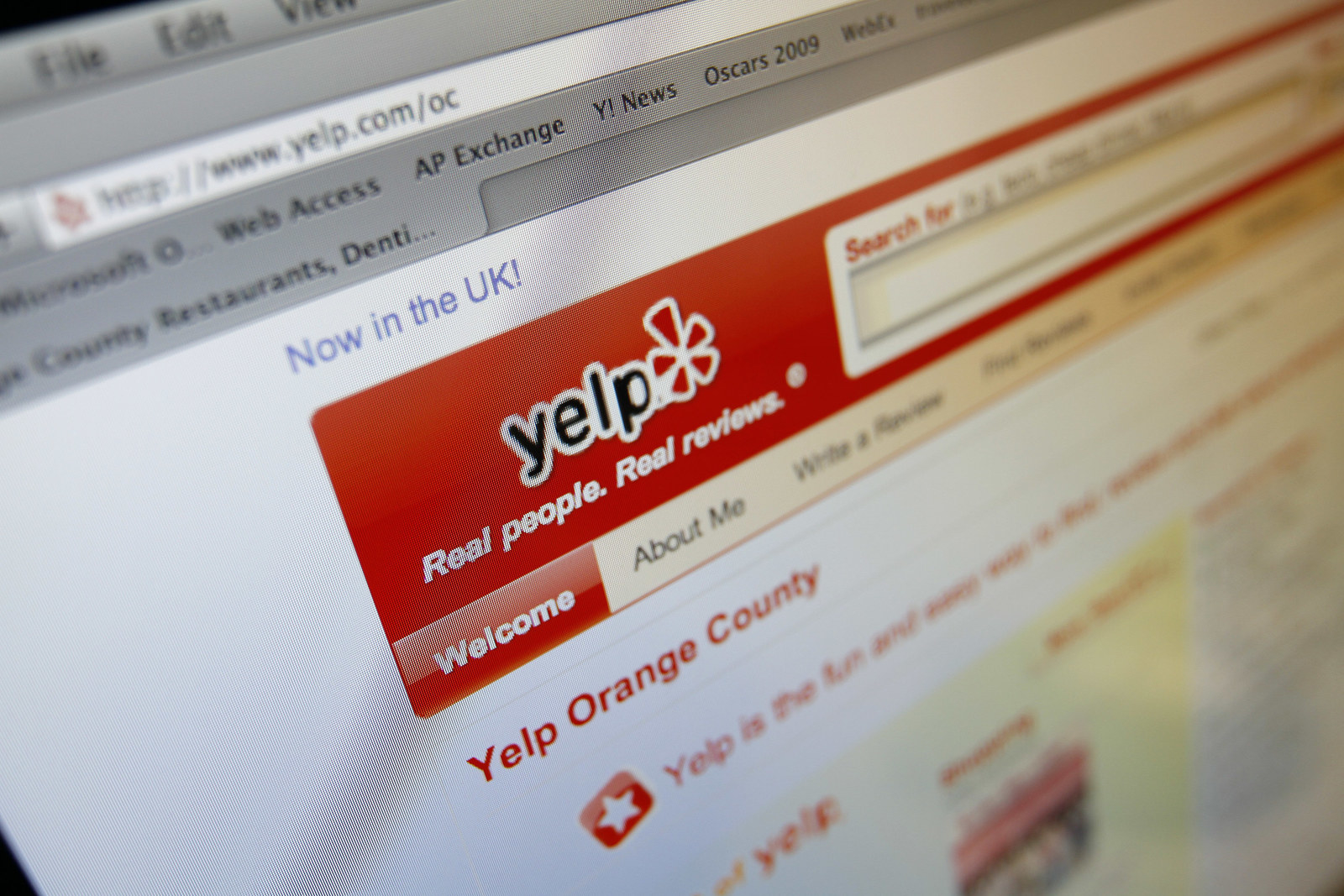 It's likely that Rohs, like millions of Yelp users, had no idea that a negative review could land her in court. But as online reviews become more critical to companies looking for new business, people have become increasingly vulnerable to such lawsuits, which can chill free speech, consumer advocates told BuzzFeed News.

"When you as a consumer share your honest opinion in some type of public way on Yelp or otherwise, it can mean negative reviews," Yelp's vice president of public policy, Luther Lowe, told BuzzFeed News. "Businesses, rather than responding diplomatically or using feedback to improve operations, go out and hire a lawyer waging that the consumer who wrote this review is more likely to pull the review off than hire a defense attorney and defend themselves. By merely threatening, it doesn't take going to court to bully the person in order for that business to censor the user."
The consumer alert Yelp put on Dayani's page Monday is the third time the company has placed such a warning, Yelp spokesperson Hannah Cheesman told BuzzFeed News.
The company placed its first legal alert on a Texas pet sitting business called Prestigious Pets in May. The pet sitting company sued a customer for violating the company's nondisparagement, or "gag," clause when she posted a negative review about the company's care for her fish. Superior Moving & Storage in Florida was hit with a a legal alert on its page in June after it sued one of its previous customers for defamation. Both cases are ongoing.
Lowe said that businesses sometimes include so-called gag clauses into their terms of service contracts. When the contract is signed, the consumer gives up their ability to publicly criticize the company. Other companies include contract clauses that prohibit consumers from saying anything publicly at all about the company, while others, like Dr. Dayani, may allege defamation and libel in court based on the negative review.

Yelp's rollout of the consumer alerts comes as Congress considers two bills designed to protect consumers from being sued for posting negative reviews online. California and Maryland are currently the only two states that prohibit the inclusion of gag clauses in contracts.
The "Right to Yelp Bill," also called the Consumer Review Fairness Act, would ban gag clauses from business contracts, while the SPEAK FREE Act would allow consumers slapped with a lawsuit over an online review to dismiss the claims early on in court. But as the two bills, which have received bipartisan support, make their way through Congress, individual consumers are left to fend for themselves, with few legal precedents for such cases.
"We don't have a lot of cases to point to so we don't know how judges view them," said Paul Levy, an attorney with Public Citizen and defense counsel in the Prestigious Pets case, told BuzzFeed News. "The question becomes did the person who signed the contract understand what they were giving away and did they understand they were giving away free speech? The second point is that it's so unfair that it's not able to be enforced."
In two such cases, the suing companies never appeared in court to back up their claims. A Utah couple sued KlearGear in 2012, claiming they did not owe a debt for violating its terms of service by writing a negative review, but the company never appeared in court and couple received a default judgement including over $300,000 in damages. In 2014, a Wisconsin woman filed a lawsuit against Accessory Outlet after they demanded she pay $250 for violating its terms of sale. The company never appeared in court to defend its claims.
In one case, a dentist, who faced a class-action lawsuit by former patients who signed a gag clause to receive care, moved abroad before she could defend her breach of contract claims in court in 2012.
"The harms generally aren't harms that are enforced in court," Scott Michelman, a senior staff attorney with the American Civil Liberties Union who has previously defended consumers in four gag-clause cases, told BuzzFeed News. "Instead they are the harms of the consumers that are bullied by corporations in taking down critical reviews and also the harms of consumers who are chilled by these clauses from expressing their opinions."
Yelp has found itself at the center of a similar lawsuit in California where a personal injury law firm sued a former client after she posted three reviews criticizing the company. Hassell Law Group accused Ava Bird of defamation after she refused to remove "factual inaccuracies and defamatory remarks" from Yelp reviews she posted in January, February and April 2013.
A lower court sided with the law firm in 2014 and required Bird to take down the comments. When she refused, the court held Yelp responsible for removing the comments. In June, an appeals court agreed that Yelp must remove the comments, but the company has yet to comply, arguing it is a third party in the case.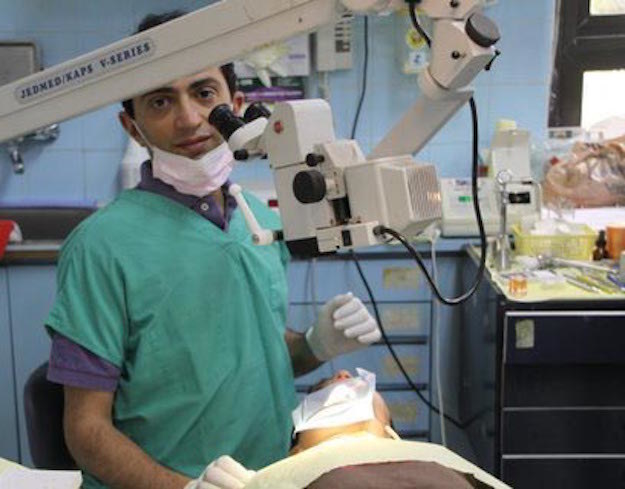 Dayani has sued at least four previous patients over online reviews, according to a BuzzFeed review of New York County Civil court records through 2012. He sued a patient in 2012 for defamation and $75,000 in damages for writing a negative review on Yelp. The man removed the review after he was slapped with the lawsuit. Neither the patient nor Dayani appeared in court and the case was dismissed.
In June 2013, Dayani sued another patient claiming $50,000 in damages after he posted a review on Yelp complaining that the dentist had overcharged him for a root canal. The patient and Dayani settled the claim in August 2013.
Dayani sued a Yelp reviewer in November 2012 who he said used a fake name to post a negative review about her experience where she called him "rude, callous, abhorrent." Dayani claimed the review amounted to $25,000 in damages. The defendant, "Jane Doe," never responded to his complaint.
In June 2015, Dayani sued a woman who wrote a Google review claiming that he suggested she should undergo two root canals during a visit. She said she sought out a second opinion from another dentist who gave her a cavity filling and replaced a crown, which treated her tooth pain.
"I am so happy that I didn't get treated in this place," she wrote. "If I did, I would have paid more than three thousand dollars for the treatment that I didn't need at all."
Dayani is seeking a total of $100,000 from the woman for damages, according to court records.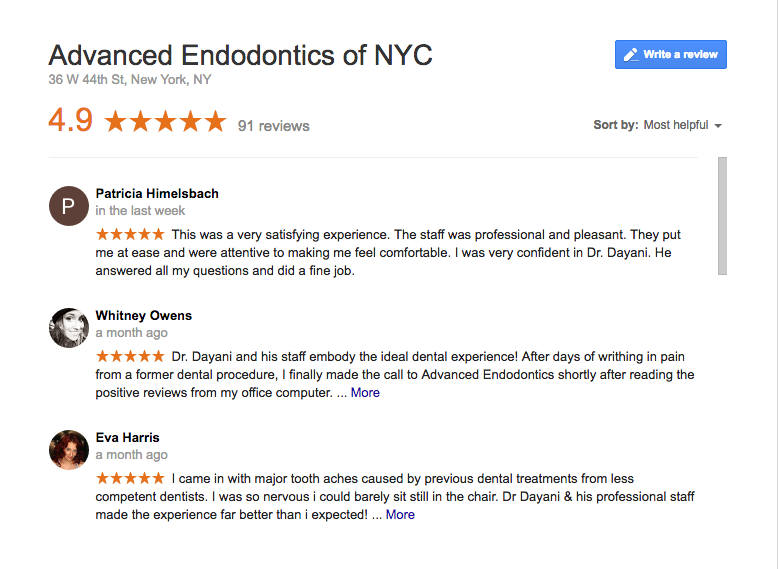 The Manhattan endodontist, who has been licensed to practice dentistry in New York since 1999, does have a number of good reviews online from people who have described him as "thorough and knowledgeable."

"After doing a lot of research I chose Dr. Dayani," said one Yelp reviewer called Eva H. "I couldn't be happier. He is gentle, thorough, and highly professional. His staff is excellent. He is the best and I felt as relaxed as I will ever be at a dental appointment."
Dayani insists that he only goes after online reviewers who post false information. He offered BuzzFeed News the opportunity to visit his office and review records related to the cases where he has sued patients to prove their allegations are false. BuzzFeed News declined.
He said he has adjusted his practice and opened a larger office after reading a number of negative reviews, including an emergency patient who complained in a one-star Google review about a long wait time at his office. However, the review does not appear to be online anymore.
When asked if he believes the lawsuits escalate a situation that could be resolved through other means than litigation, he insisted that he believes in free speech but draws the line at falsehoods.
"When somebody writes lies about you with intent to deliver a damage to you and livelihood, that is defamatory," he said. "I'm not Halliburton. A lie can do tremendous damage and can come at the expense of doctors and staff."

"If there are people out there doing it out of spite and not willing to correct a known lie, let an impartial judge decide," he added. "I'm encouraging anyone to write a comment they think is correct and justifiable."
Dayani and Rohs are scheduled to appear in court on Nov. 30.
CORRECTION
In 2012 a Utah couple sued KlearGear. An earlier version of this article said KlearGear sued the couple.