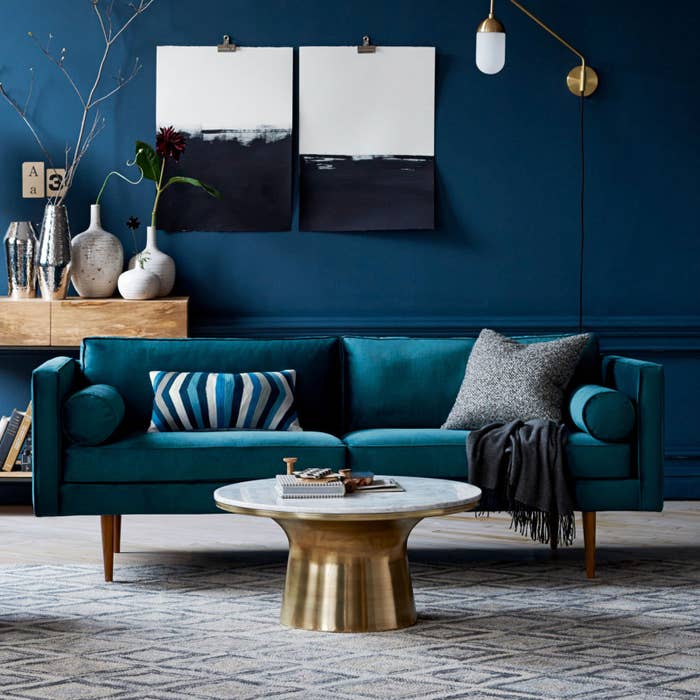 West Elm's issues seem to go well beyond #PeggyGate, the recent guffaw in which the now infamous Peggy couch was pulled from sale after a viral essay lamented its poor quality.
Consumers have forked out for the brand's glossy, midcentury modern aesthetic — the kind of middle-class professional look that screams, "I've graduated from Ikea" — but beneath the surface is a product that offers more in elegance than endurance, according to former employees and unhappy customers.
"I think people in general, they think it's high quality because it's so good-looking," former West Elm store employee Lee Hamby told BuzzFeed News. "But let's face the facts: It's not a high-end furniture brand."

The Peggy sofa is "a piece of shit," Alex Fawcett, a former visual merchandiser for West Elm in Tysons Corner, Virginia, told BuzzFeed News. The company's product quality "isn't fantastic, but they're producing on-point design that is basically beautiful and trendy and affordable, considering most people can't afford to go to some haute couture Brooklynite store that will cost several thousand dollars."
A West Elm spokesperson told BuzzFeed News in a statement on Tuesday that it follows "industry-best standards with commitment to quality materials and manufacturing and rigorous third-party testing."
"We also take customer feedback seriously and strive to be as responsive as possible," it added.
But the prices are high enough that plenty of customers expect better. The furniture retailer, which is owned by pricey kitchenware chain Williams-Sonoma, isn't a stranger to quality complaints. Take, for instance the case of the $300 leather dining chair.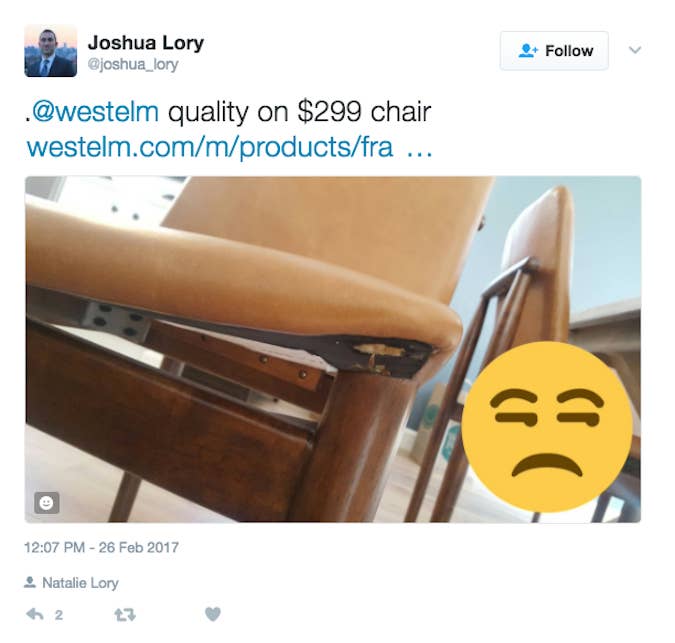 When Joshua Lory, 32, and his wife moved to San Jose, California, from New York City, they were won over by a set of West Elm framework leather dining chairs with a dark walnut finish, priced at $300 per chair. Yet when the chairs were delivered in February, Lory noticed a problem almost immediately.
"Out of the six chairs we received, three were damaged in shipping or not put together correctly," he said. "You can also put them in a line and they're not all even. Some are higher than the others."
The chair is now listed as "no longer available" online. Lory said a customer service representative told him the whole line had been discontinued because of "production issues" and offered to replace the chairs once the issues are fixed.
"They're not charging Ikea prices," Lory said. "West Elm has a lot of pressure on them to put out new styles and be a little higher quality, but they're charging a lot of money for these chairs."

Consider Exhibit B: the Reeve marble dining table.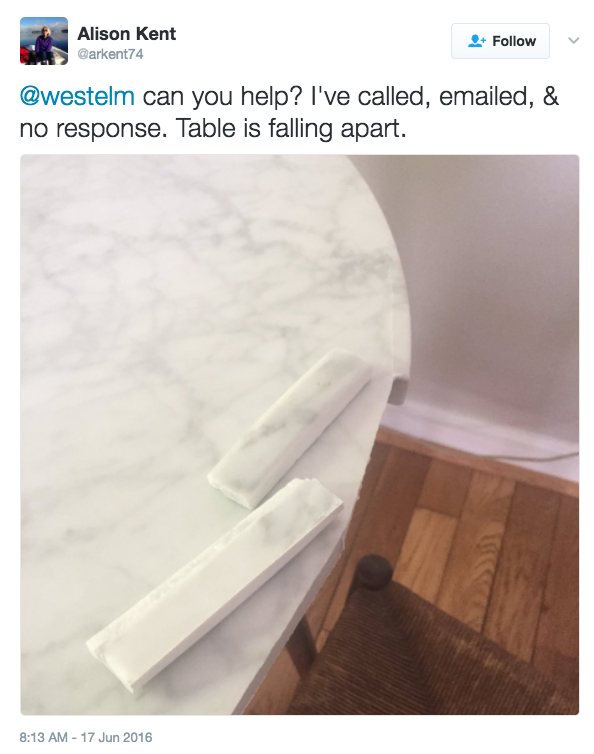 Alison Kent, 42, told BuzzFeed News she was happy with all of her West Elm purchases until she bought a $600 Reeve marble dining table that started chipping, revealing a marble veneer.
"It wasn't cheap," she said. "I don't really use the table a lot. I had probably eaten at it all of three times."
West Elm's customer service department told Kent they weren't able to refund or replace the table because it was not "technically an in-store purchase," she said. During another call, they offered a 20%-off coupon. In one final attempt, she spoke to a store worker, who told her the line had been discontinued because other customers had complained about the marble chipping.
"I was just really disappointed in their level of customer service and their inaction in caring about the quality of the work they put together and the inability to follow through," she said.

The company did not respond to requests for comment from BuzzFeed News.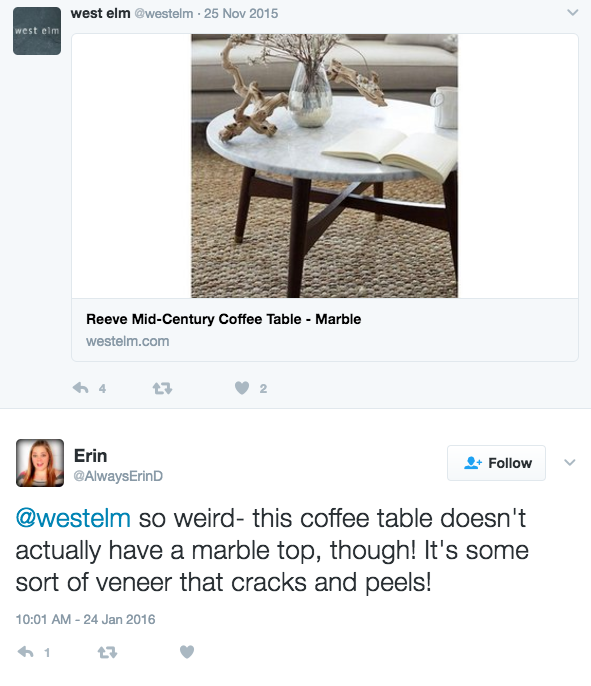 A number of unnamed employee reviews on jobs site Glassdoor.com include complaints that West Elm's furniture is not up to par," that "the product might be attractive but the quality is terrible," and that the "products are vastly over-priced compared to quality and craftsmanship."
Consumers think West Elm is "better quality than it really is," said Hamby, who worked in visual merchandising for West Elm from 2007 to 2011.
Its slick design and branding has allowed the company to command prices above other starter furniture brands like Ikea. West Elm's Peggy sofa, which was upholstered in fabric, retailed for $1,199; Ikea's Landskrona leather sofa retails for $799 and comes with a 10-year warranty.
"It's probably a couple steps up from Ikea," said Hamby. But "it's not something you're going to pass on for generations."
Fawcett, the former store staffer in Virginia, said: "When you come to a brand like Ikea, they may have a sturdier product because they don't put out a whole lot of pieces throughout the year. West Elm has an assortment of sofas and key pieces which changes every year. There is not a lot of lead time to test these products full-on like Ikea would."
The flaws get noticed by customers. When Cassandra Berger decided to "be a grown up and invest in a good bed," she bought West Elm's mod upholstered platform bed for about $1,000. About nine months later, she noticed three out of the four legs had cracked and splayed out and discovered the joint that connects the bed frame to the legs had cracked. The company has offered to replace the legs, although it did not address the cracked joint.
"I've ranted enough times about this," she said.