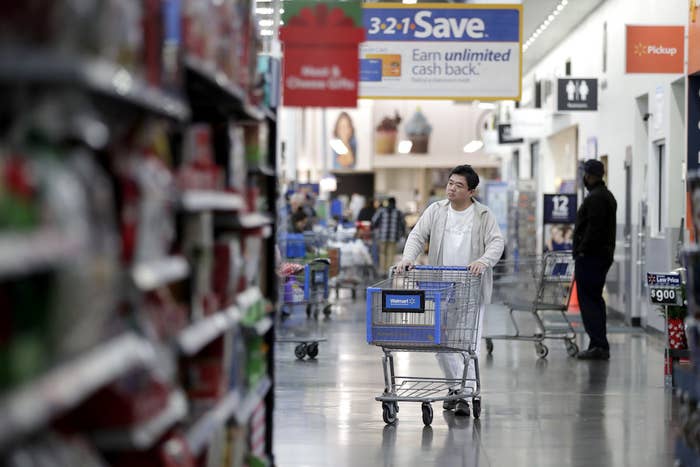 Walmart is having trouble keeping up with its e-commerce competition. The company's online sales grew by 23% during the holiday season quarter, but its biggest competitor, Amazon, outpaced it by increasing sales at the same time by 38%.
Walmart's e-commerce growth has actually slowed — in the previous quarter, online sales had increased by 50%, the company reported on Tuesday. Still, it's making progress. Its e-commerce sales for the whole year increased by 44%, which is more than what it had forecasted at the outset of the year. Amazon, which already has a firm hold on the market, grew its sales by 31% in 2017.
Doug McMillon, Walmart's CEO, said the e-commerce sales slip was a result of "operational challenges" over the holiday season.
"Non-food e-commerce has not been our historic competency over the last few decades and the history of the company, and so we're learning something new," McMillon told investors on a call Tuesday morning. He explained that Walmart is trying to reverse these declines by attracting more brands and by better preparing to fulfill orders during busy shopping seasons.
He also said a warehouse stocking issue over the busy holiday season contributed to the slipping growth numbers. Walmart prepared for the holidays by stocking up on items it predicted would be big sellers, such as electronics, toys, and gifts — but that "harmed our basic in-stock on more everyday items, and our basic in-stock for e-commerce suffered as a result," said McMillon.
The slow growth over the holiday season comes more than a year after Walmart acquired Jet.com for $3 billion as a part of its expansion into e-commerce and a refined strategy to appeal to higher-income, urban consumers. McMillon said the company has expected a lower growth rate in sales from Jet.com as the company refocuses its marketing strategy toward Walmart.com.
"I think what you'll see is Jet will go through a period of adjustment, and then it'll start to grow again in the future — but focused on specific markets and opportunities — whereas Walmart will be the broad-based, big part of the business, and growing it will be a priority," said McMillon.

The company is betting on online grocery delivery to help it reach 40% sales growth again in e-commerce for the 2019 fiscal year. Walmart already offers online grocery shopping and delivery from 1,100 stores across the US. But it plans to expand to double that number this year, Randy Hargrove, a Walmart spokesperson, told BuzzFeed News.

"We've got this tremendous advantage of having the stores and the supply chain that put us within 90% of US customers within 10 miles," said McMillon. "So you can build on that to build a strong food e-commerce business, and that's what we're doing."
The company also plans a website redesign that will give shoppers a more "personalized experience," said Hargrove. It intends to integrate a "smart cart" on Walmart.com, which gives shoppers cheaper prices if they save Walmart operational costs by doing things like putting more items together into one shipment box, using a debit card to pay for purchases, or opting out of returns.
"I think part of what we're doing now is just letting the business mature and learning how to become stronger operationally in e-commerce," said McMillon.