Delaware and Florida are home to the highest rates of attempted credit card fraud, while Alaskans are the most likely to have their card details used fraudsters, according to a new report.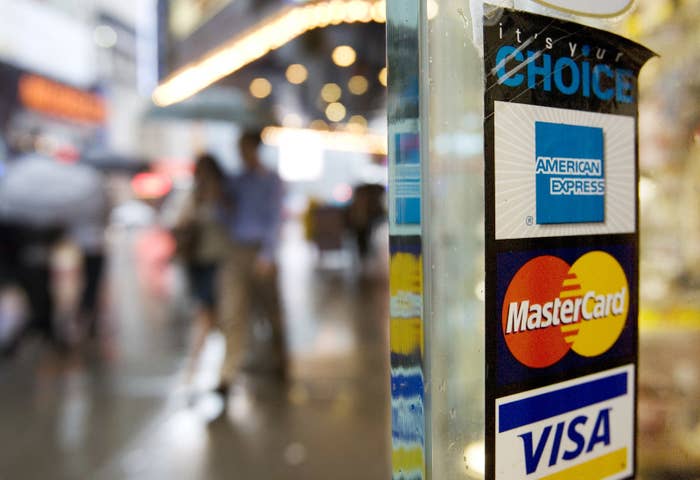 Sift Science, a San Francisco-based company that provides anti-fraud software to online businesses including Airbnb, Wayfair and Kickstarter, analyzed 1.3 million card transactions on more than 6,000 sites to determine where fraud is most common.

"Online fraud is a widespread problem that impacts every single state in the U.S.," Sift Science CEO Jason Tan, told BuzzFeed News. "But the maps also indicate there's more to the story. Fraud rates differ from state to state, and when we dig into the data, we can uncover important patterns about exactly where and how fraud occurs."

The company's software scores transactions based on their likelihood of being fraudulent, providing the data to clients who then decide whether to approve or deny them. On average, about 10% of transactions are typically flagged for potential fraud, said the company.
Based on the shipping address listed by the buyer, and the billing address of the cards being used, the company says these are the states where scammers — and their victims — are most concentrated.
The South — with Florida in the lead — dominates as the region home to the highest rates of fraud attempts.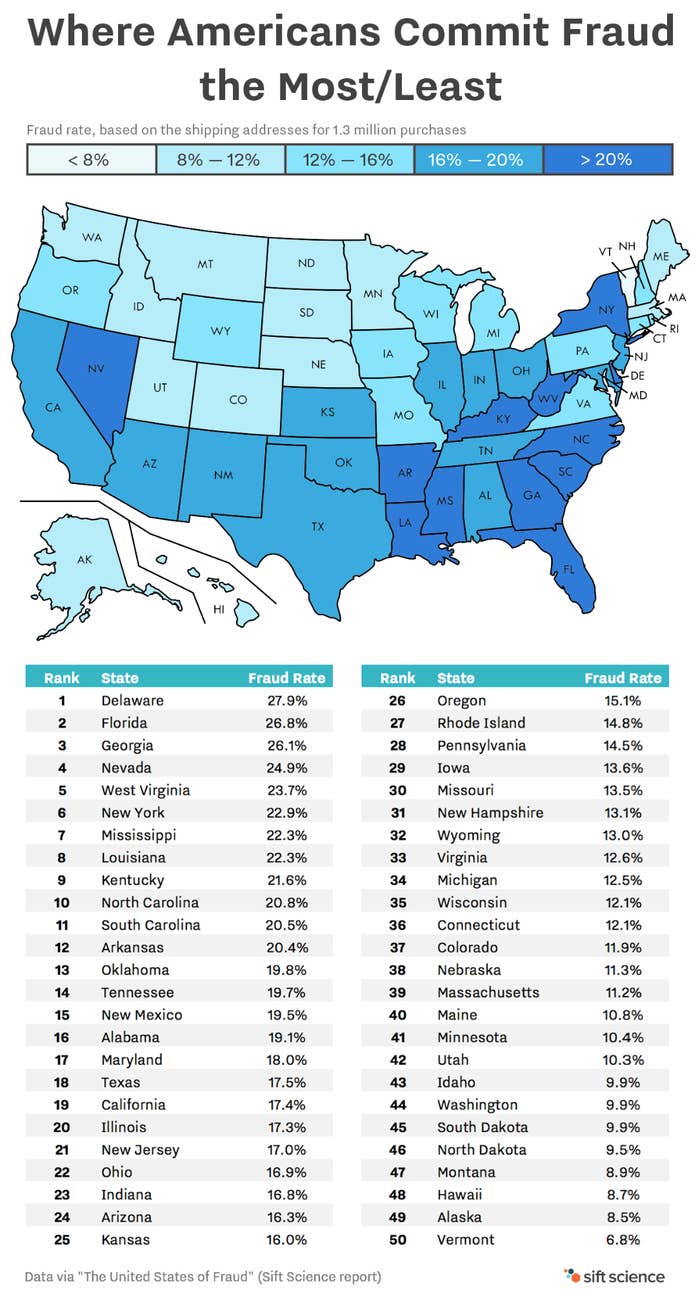 Every southern state made it to the company's top 20 list. The northern outliers were Delaware and New York with 19.2% and 15.2% rates, respectively.
"Delaware is both famous for and notorious for its kind of business-friendly laws," said Tan. "There is potential incentive to set up fake businesses that look like they are coming from Delaware."
Florida may be popular with credit card scammers because it is a "great reshipping state," said Tan. Many use stolen credit cards to buy electronics that will be reshipped to a foreign country.
Alaska, however, leads the country with the highest rate of people whose stolen card details are used in fraud attempts, according to the report.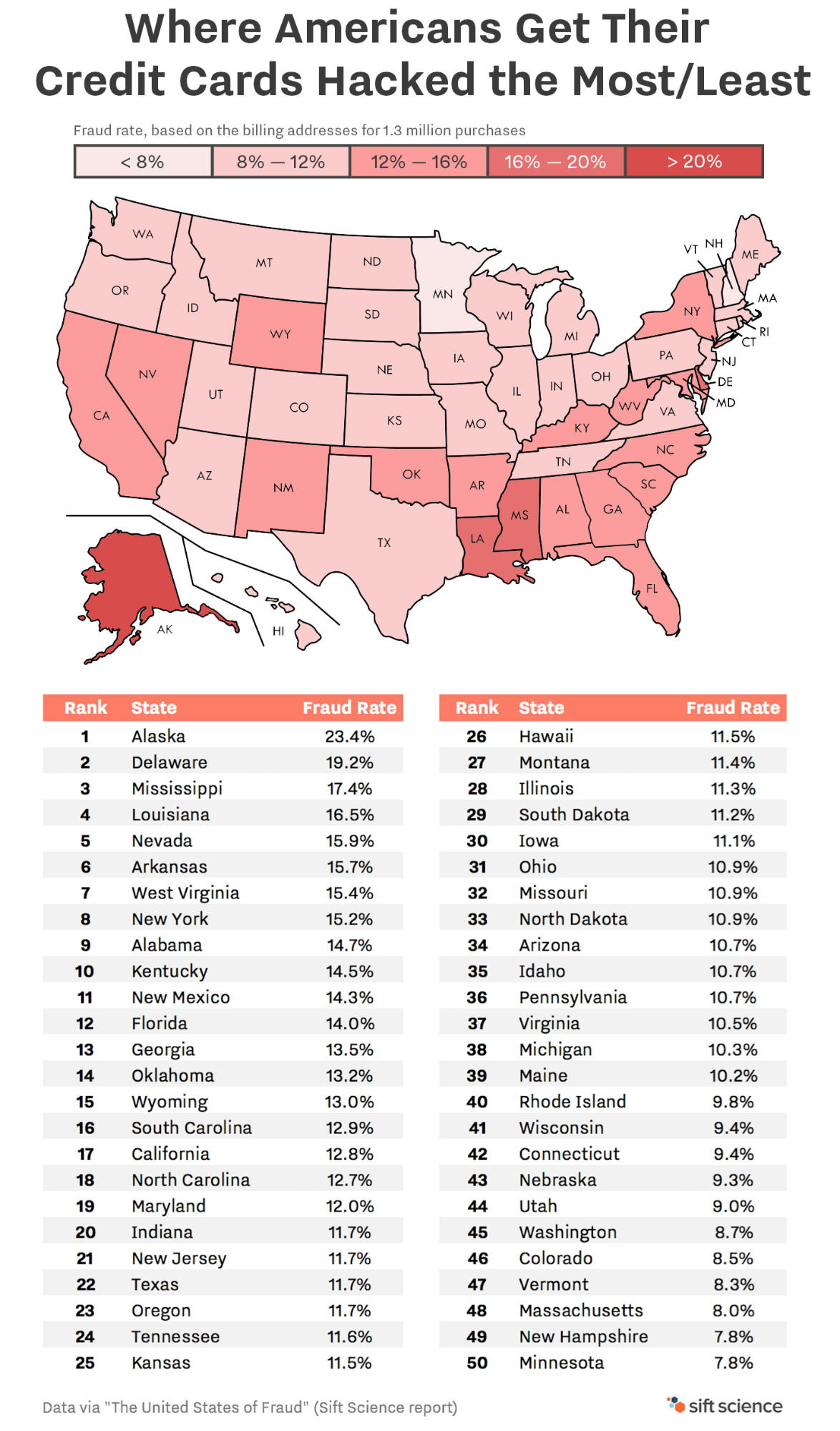 The high rate doesn't mean Alaskans are more gullible to fraud: scammers could be targeting them due to Alaska's criminal code, which doesn't class fraudulent transactions of less than $750 as criminal theft, Sift Science said.
New York state, which made the top ten list, was also home to huge regional differences. When zooming in closer than the state level, the report found people living in the New York City borough of the Bronx had the highest rate of hacked credit cards in the country. Those in the town of Westbury, located just 20 miles away on Long Island, had the country's lowest rate.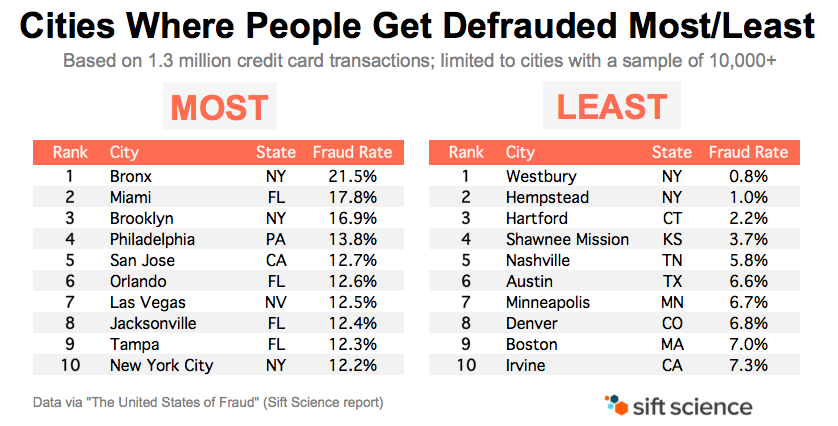 Sift Science said in a blog post that the high rate in the Bronx shows how fraudsters often target people in tight, concentrated groups.
"We've seen networks of fraudsters (fraud rings) cluster in small geographical areas. We've also seen single fraudsters attack multiple sites – multiple times – using the same stolen credit card information," the company wrote. "In other words, a small number of fraudsters could be responsible for a large, concentrated volume of bad transactions. That's why pooling data from across a large and diverse network is key to successfully stopping fraud."
The Federal Trade Commission received more than 1.2 millions reports of fraud in 2015, 16% of which were related to identity theft and credit card fraud, according to an agency report.
So what can credit card holders do to protect themselves from being defrauded? Don't be afraid, but be vigilant, said Tan.
Credit card holders should regularly check their credit card statements and credit reports to make sure their information has not been compromised.

"Data breaches are facts of everyday life," Tan said. "Everyone should expect at some point, if it hasn't happened already, your social security number or other identifying information is going to be on the black market by someone trying to take advantage of you."