EgyptAir Flight MS804 crashed in the Mediterranean Sea on Thursday, leaving relatives of the plane's 56 passengers and 10 crew members desperate for answers.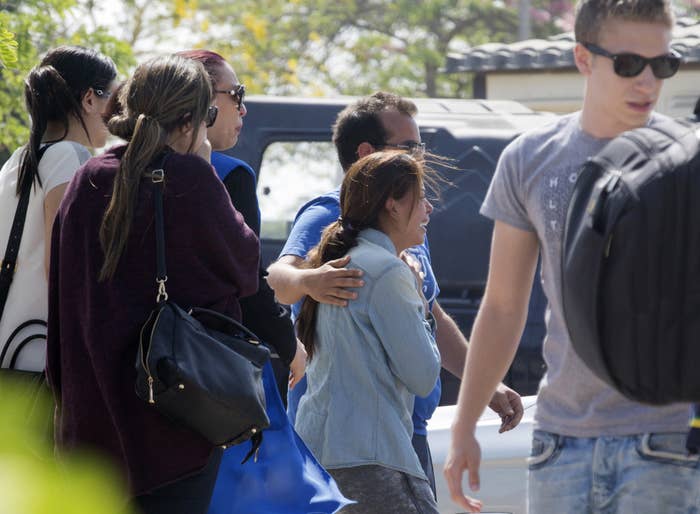 In the social media rush following the crash, a number of people have been trolling EgyptAir's Twitter account, posting tweets seeking information about "missing" loved ones.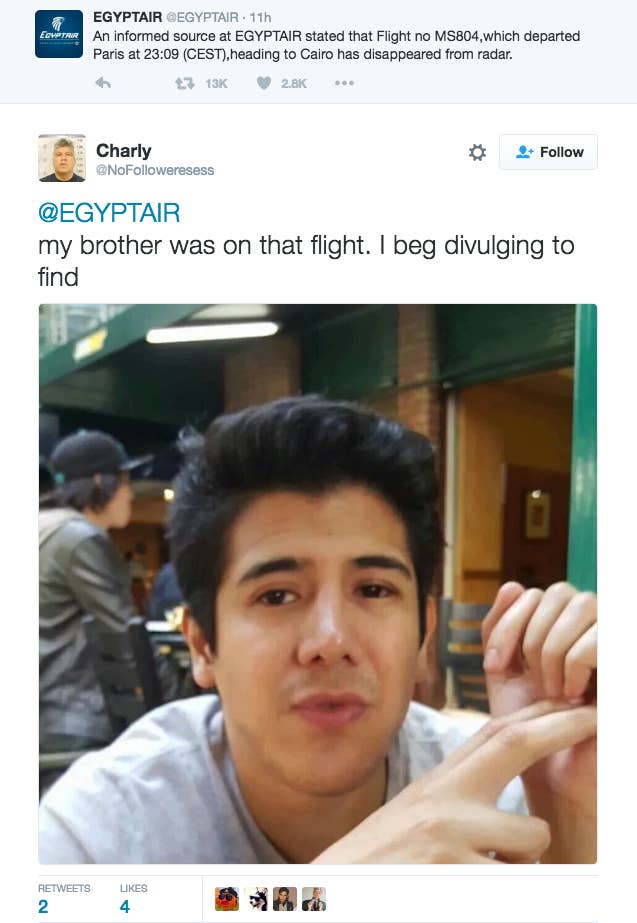 But after a quick search through this user's account, @NoFolloweresess, it appears that he's just pretending to be someone named "Charly" concerned about his brother, Alfonso.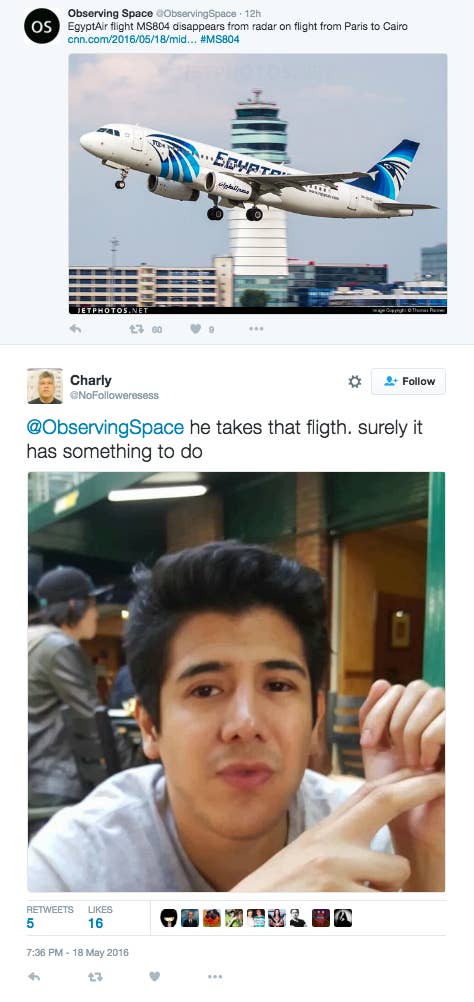 A reverse Google image search for the photo used in the tweets leads to a number of other social media posts using the same photo.
Another user tweeting under @sidaxmejicano seems to be doing the same thing, begging the airline for help in finding information about their missing brother.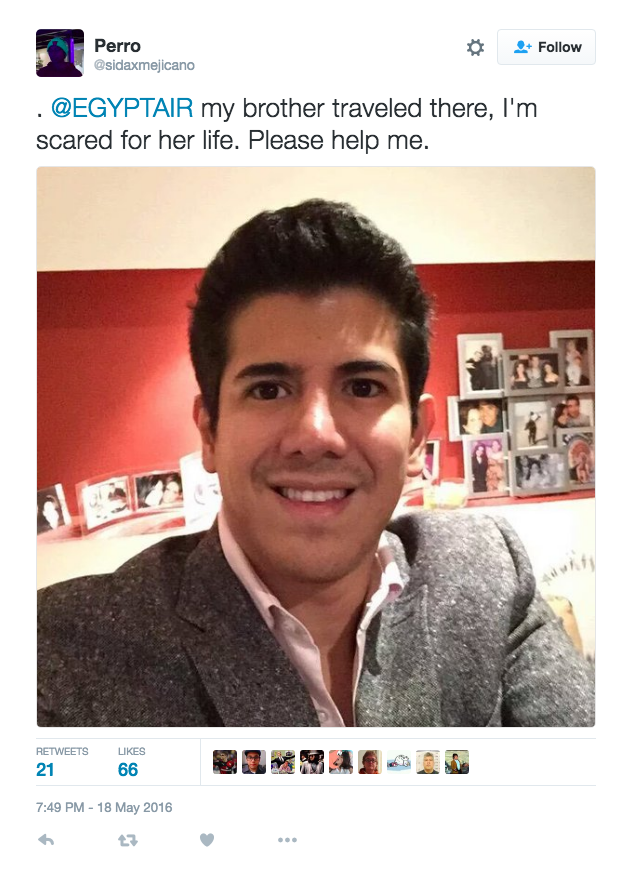 People saw the user's tweet and offered words of consolation.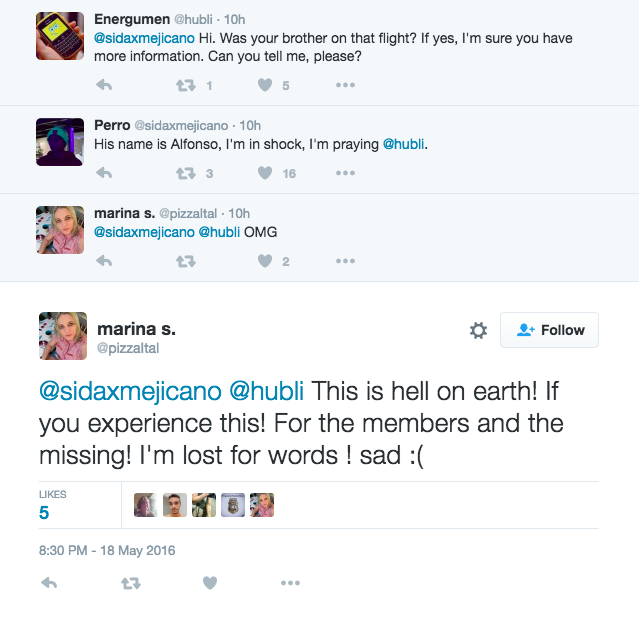 But turns out, this photo was also used as the Twitter profile picture of another account, @ApuestoEstil. He tweeted to EgyptAir for information about what he claimed were his missing parents and son.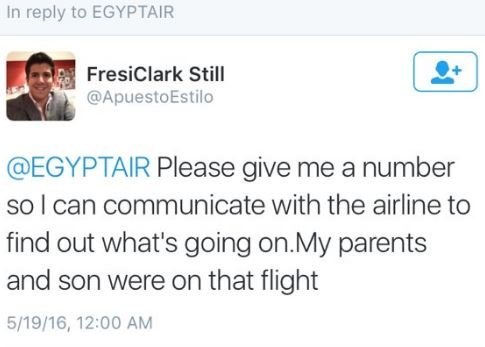 The photo has since been replaced as @ApuestoEstilo's profile picture.
People flooded the airline's Twitter mentions with prayers for @ApuestoEstilo and screenshots of EgyptAir's contact information.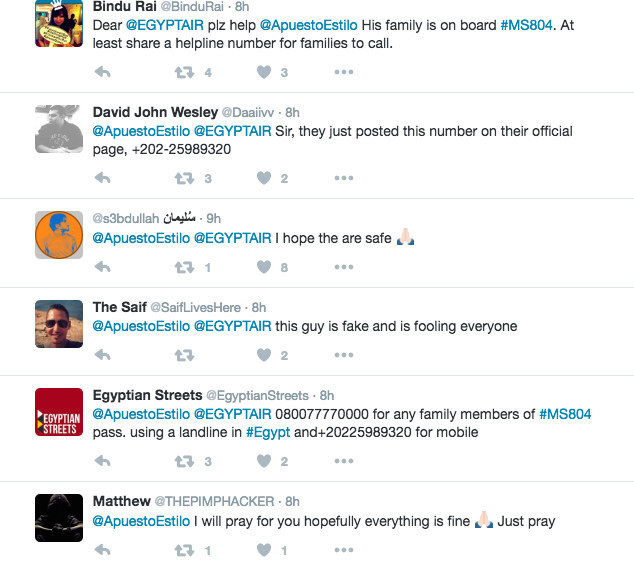 Some verified Twitter users also fell prey to @ApuestoEstilo's hoax.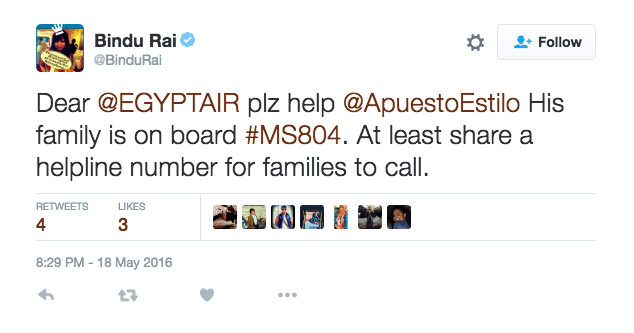 All the people trolling EgyptAir appear to be a part of a network of mainly Spanish-speaking Twitter users alleging they have missing family members on the flight.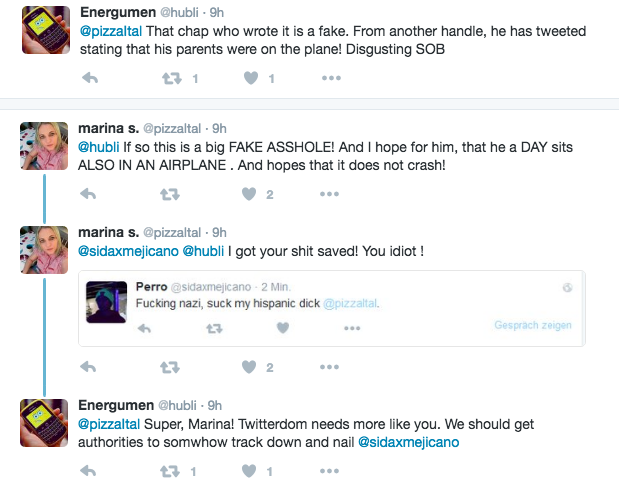 Charly, tweeting from @NoFolloweresess, even appeared amused by all the misleading information posted by the other trolls.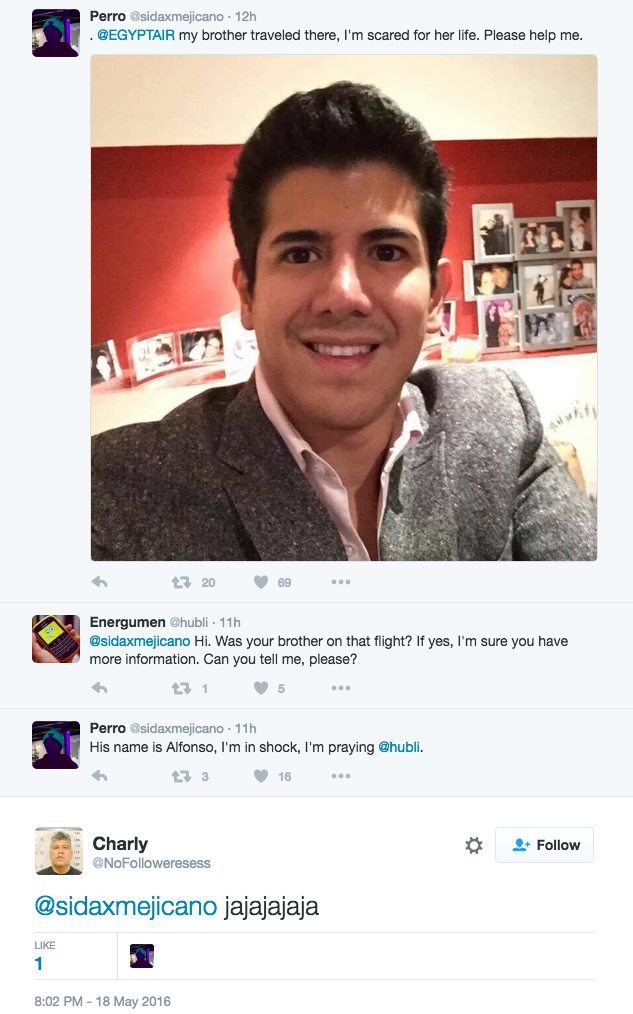 It's not clear from a Google image search where Perro, tweeting from @sidaxmejicano, found the photo, but it has been featured in multiple other social media posts.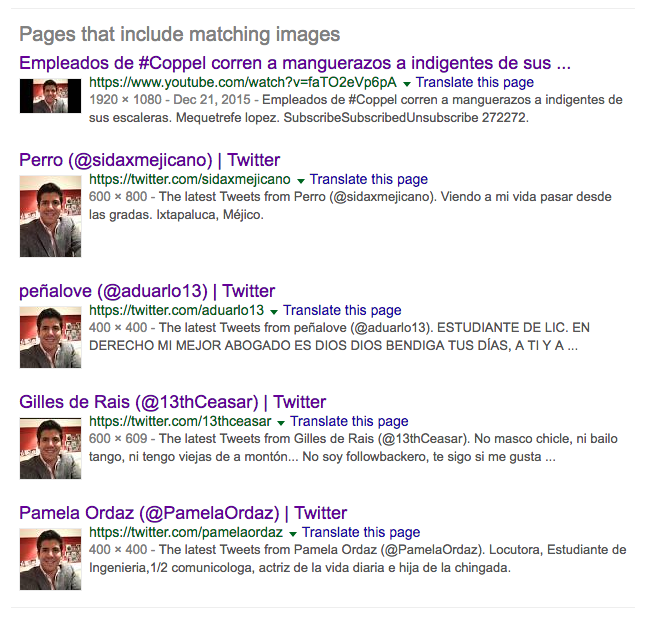 Two other accounts tweeted the last known photo of Jenni Rivera, a famous Mexican singer and songwriter who died in a plane crash in December 2012.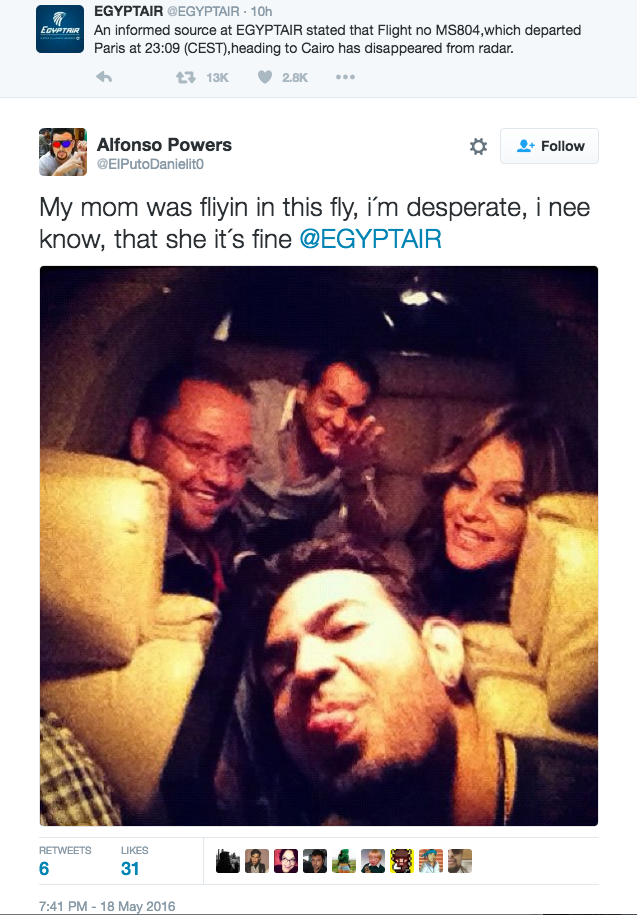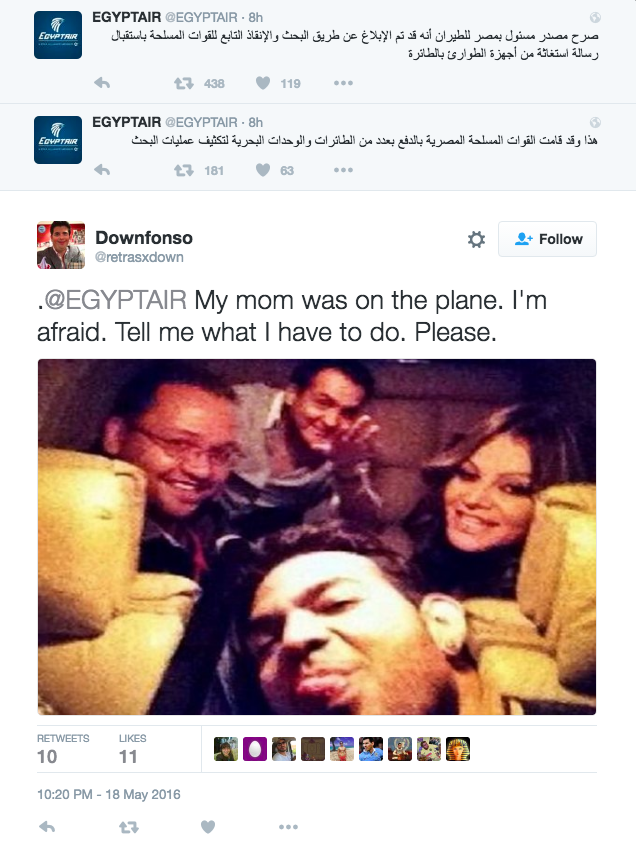 Alfonso Powers' account has been suspended.
It's likely that these accounts are run by one person.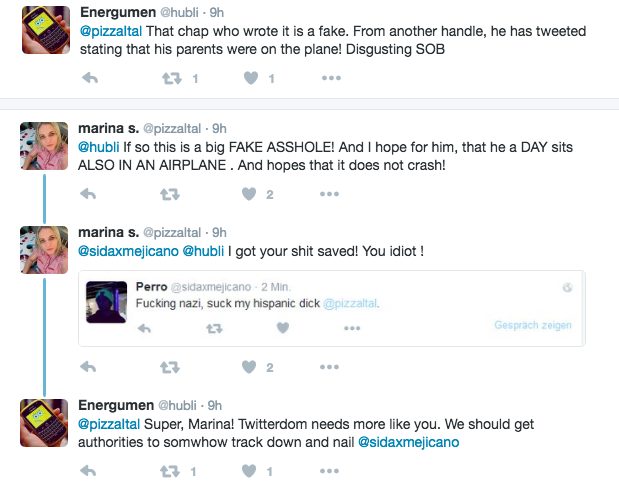 Twitter bots are incredibly common on Twitter in Mexico. During the country's 2015 election, Twitter bots were used en masse to trigger trending topics. Many Twitter trolls try to use them for stunts to get popular enough to make money from it.
People seem to be catching on though.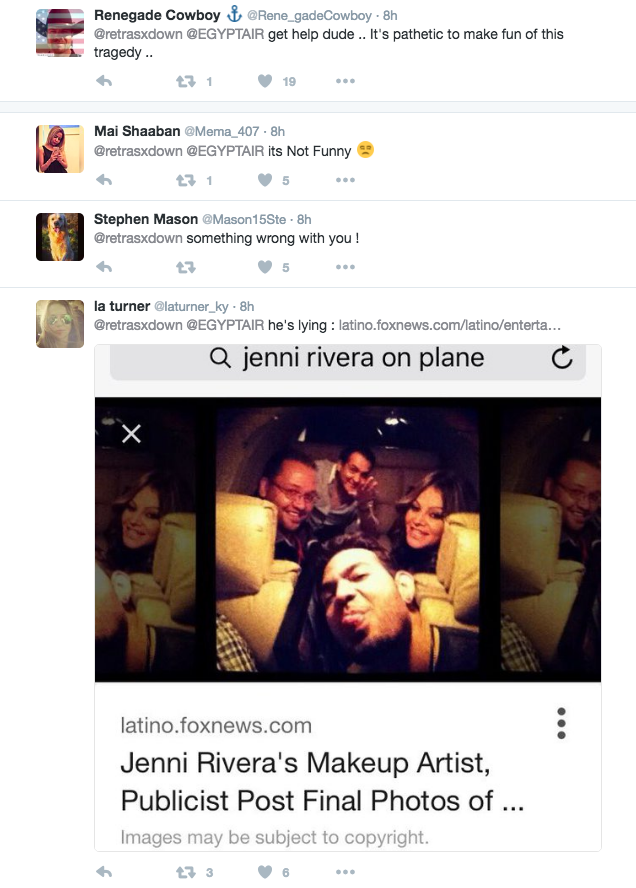 But this all goes to show, you can't trust anyone.