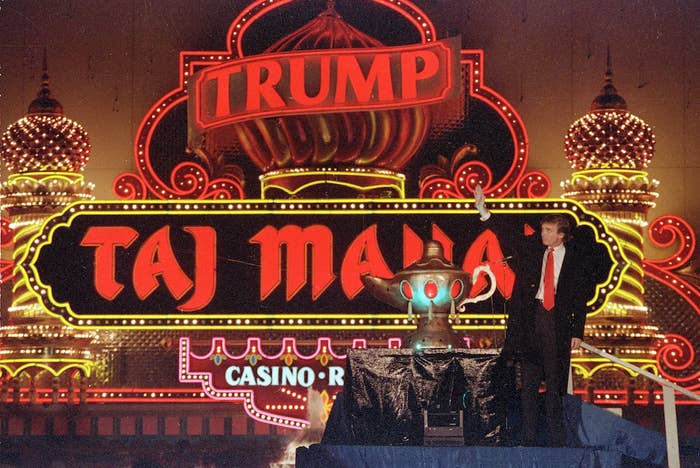 The reputation of the Trump Taj Mahal casino plunged this summer, according to polling firm YouGov BrandIndex, falling faster than almost any of the 1,5000 companies whose public perceptions are tracked daily by the polling firm. Trump Taj Mahal was among the five worst performers of all the companies being tracked.
The Atlantic City hotel and casino complex faced extensive scrutiny this summer, thanks both to Donald Trump's presidential campaign and a long-running strike that led its owners to announce plans to shutter the facility.
Through daily polling of positive and negative sentiments toward businesses, YouGov BrandIndex produces a company's "buzz score", which can range from +100 to -100. A score of zero implies a neutral reputation, while +30 means respondents are 30% more likely to report favorable sentiments than unfavorable.
"Casinos generally don't have high buzz scores at all — the average casino buzz score is around a score of 2," a YouGov BrandIndex spokesperson told BuzzFeed News. "Trump Taj Mahal has consistently been below that mark, usually with more negative perception than positive."

But even by the standards of the casino industry, it was a very rough summer for the Trump Taj Mahal.

In early June, the casino served as a backdrop for the Clinton campaign, when the Democratic nominee met with its striking workers and held up Donald Trump's failed properties in Atlantic City as examples of his patchy business record.
Trump lost control over the hotel and casino complex years ago, and it is now owned by billionaire investor Carl Icahn, himself a vocal Trump backer. Icahn has said the ongoing strike by its workers has made the property impossible to operate profitably, and has asked state regulators for permission to close it down.

The Trump Taj Mahal plans to wind down its table games, disconnect slot machines, store unused liquor and destroy cards, dice and gambling chips beginning Sept. 26, according to the AP. It plans to completely close at 6 a.m. on Oct. 10. Icahn said he had lost almost $100 million due to his investment in the company.
Revenue from January through July slipped from $107.5 million in 2015 to $102.7 million during the same period this year, according to the New Jersey Division of Gaming Enforcement.