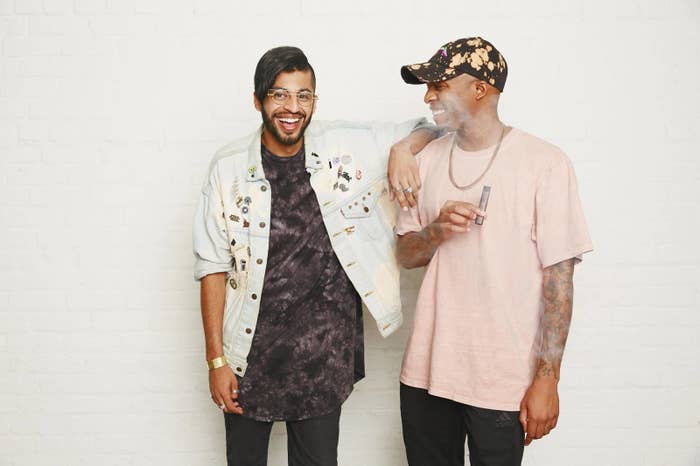 Vape makers in the US, whose industry is on its way to being worth $5.5 billion, are worried the Trump administration's proposed Chinese import tariffs will crush their business. That's because an estimated 91% of vaping devices in the US are imported from China.
On Tuesday, vape companies and trade associations argued against the tariffs during a public hearing at the Office of the United States Trade Representative.
"The imposition of the proposed tariffs would simply eliminate a growing and job-producing market for vapor products, dismantling the growing import, distribution, and retail network that has been created in the last few years in the US and has generated tens of thousands of jobs, and tens of millions of dollars of taxes for the national and state economies," Brittani Cushman, vice president of external affairs for the vapor company Turning Point Brands, said during hearings Tuesday.
The Trump administration proposed a 25% tax on imported vaping devices in July as part of a new round of tariffs targeting $16 billion in Chinese imports. Trump's first round of tariffs was aimed at high-tech and industrial products and went into effect earlier this month. The tariffs are all part of an attempt to retaliate against China for allegedly stealing intellectual property belonging to US companies.
"We think tariffs on Chinese imports on this particular industry aren't going to yield any benefits the administration is looking for," Cushman told BuzzFeed News. "Instead it's going to increase prices for the consumer."
Currently, vape devices from popular brands like Juul, Vuse, and MyBlu cost between $12 and $50, with flavor cartridge packs selling for less than $20.
Seth Coblentz, general counsel for the e-cigarette design company VMR Products, told BuzzFeed News that vapes are different from products like Whirlpool appliances, which already have manufacturing facilities in the US. If the tariffs on vapes were to pass, he said industry players would have to build new facilities to make the products.
"The notion that manufacturing plants for these highly specific devices will pop up is a miracle," said Coblentz. "They won't."
The Food and Drug Administration's requirements for certain new products, including tobacco goods, create a barrier to building vape manufacturing plants, Tony Abboud, executive director of the Vapor Technology Association, a trade association representing the vape industry, told BuzzFeed News.
"Any company outside of China wishing to enter this market would be unable to do so," Abboud told BuzzFeed News. A company would have to meet currently undefined premarket authorization requirements set by the agency.
The FDA declined to comment to BuzzFeed News on its premarket review process. Instead, it pointed to information on its site that outlines what information companies must include in their applications. The agency's new e-cigarette rules, passed in 2016, allow companies to continue selling their products if they were on the market in 2016, but they must submit an application for review by 2022. And any new products must be reviewed before they hit the US market.
"Companies would have to spend millions of dollars just to see if they get approval," said Abboud. "No rational business anywhere in the world will set up in the US today because they have no idea if they can get their product approved by FDA."
The Trump administration's aim at vape devices comes as the industry has dramatically expanded. E-cigarette sales hit roughly $860 million last year and are expected to grow about 25% in 2018, according to a March equity research report from Wells Fargo.
Some vape companies, including Mistic and White Cloud, have already moved some of their manufacturing of the devices to the US ahead of the FDA's new premarket review requirements aimed at regulating ingredients, additives, and chemical properties in the devices.

Chinese imports of vaping devices to the US amounted to $300 million in 2017, a 274% increase from the year before, when imports came in at $80 million, according to a BuzzFeed News analysis of USTR data.

The growing popularity of e-cigarettes has coincided with increased scrutiny over the tobacco products' health effects and appeal to minors.

Lawmakers like Republican Sen. Ron Wyden of Oregon, who was not involved with the tariff hearing Tuesday, have raised concerns around the lack of safety data on e-cigarette products imported from China. "The continued lack of standards means the health effects are unknown at best," Wyden said in May 2017.
Vapes have also been known to explode unexpectedly, and in one case this year, a man died after his vape exploded. In April, the FDA cited 40 retailers for selling vape products to minors, and in May it issued warning letters to 11 companies that sold e-liquids containing nicotine in packaging designed like kid-friendly food products, such as candies and cookies.
States across the country, including Alaska, Vermont, and Massachusetts, have raised taxes and imposed regulations on the sale of vape products. San Francisco banned the sale of flavored tobacco products in June.
Reply comments to the testimonies heard at the US Trade Representative Office on Tuesday are due July 31. After the USTR reviews the comments, it will announce whether it plans to proceed with the tariffs on vape products imported from China.