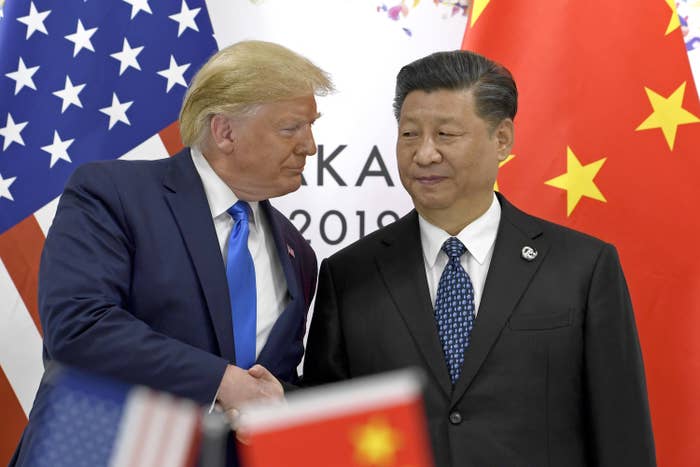 In a further escalation of the ongoing trade war, President Donald Trump on Friday "ordered" American companies to find alternatives to manufacturing in China, including "bringing your companies HOME," following that country's announcement of tariffs on imports of $75 billion of American goods.
But President Trump has a major problem — companies aren't planning on relocating their production to the United States. Nor does the president currently have the authority to order them. And the US companies that are leaving China aren't headed for the Rust Belt, but for countries like Vietnam.
"The idea that companies will just come back to the US is unrealistic," Bethany Aronhalt, a spokesperson for the National Retail Federation, a retail industry lobby group, told BuzzFeed News. "Retailers and other importers could not easily or quickly switch to domestic sources, because they do not exist on the scale that would be needed. Even if there were to be an eventual switch to US sourcing, it would take years to build up a base to support it."
Beijing's most recent tariffs are the latest action in a game of tit for tat begun by President Trump last year when he announced taxes on Chinese imports as punishment for allegedly stealing intellectual property from US companies. This month, the Trump administration announced it would impose a 10% tax on $300 billion worth of Chinese imports, which include iPhones, toys, footwear, and apparel. After China retaliated, Trump announced Friday evening he would increase the tariffs by an additional 5%.
"The vast amounts of money made and stolen by China from the United States, year after year, for decades, will and must STOP," tweeted Trump on Friday. "Our great American companies are hereby ordered to immediately start looking for an alternative to China, including bringing your companies HOME and making your products in the USA."
Business analysts dismissed the president's tweets as bluster. "They're not coming to the United States," John D. Morris, a senior research analyst at D.A. Davidson, told BuzzFeed News. "Let me just bottom line it for you."
Even if US companies that have located their factories overseas could be forced to repatriate, the US doesn't have the workforce or manufacturing capacity that China has built over the last 15 to 20 years — which means it would take years to bring production to the US, said Morris, if not longer.
"You'd have to build an entire industry from scratch," he said. "We're talking about factories, workers, training — a large long-term commitment which would take decades."
Although several companies with headquarters in the US — including Hasbro, Crocs, and several Walmart suppliers — have been abandoning manufacturing in China, they have been doing so in favor of production in countries like Vietnam.
Furniture retailer Lovesac, which has a headquarters in Connecticut and sources 40% of its products from China, is leaving, CEO Shawn Nelson told investors in June. The company is "on a straight path to exit China as a manufacturing source almost completely over the next 18 months," he said, identifying Vietnam as a prime candidate for relocated factories.
"Apples for apples, product cost[s] less there than it does in China," Nelson told investors. "It's not [a] dramatic or crazy gap in margin, but it certainly is positive to the business."
Toy and game manufacturer Hasbro, which is headquartered in Rhode Island and makes products like Magic: The Gathering, G.I Joe, Monopoly, and Twister, has been moving production out of China over the last year. CEO Brian Goldner told investors in July that the company sources "just under two-thirds" of its products from China and expects by the end of 2020 it will decrease to around 50%. (About 20% of its production for the US takes place in the US, he said.)
"We're increasingly spreading our footprint and adding new geographies for production globally," he added. "That includes new production in India and Vietnam. So we feel very good about where we're going. And having said all that, we also want to reaffirm that China continues to be a high-quality, low-cost place to make toys and games, and it will continue to be part of our global network in a major way."
As its labor costs rise, the manufacturing exodus from China has been a long time coming. Minimum monthly wages in the major factory hubs of Guangdong province rose from 755 yuan in 2008 to about 2,200 yuan last year, according to CEIC data. As a result, manufacturers have sought cheaper labor in countries like Vietnam and Malaysia. Nike began making shoes in Vietnam in the 1990s, and Canon began producing printers there in 2012.
"The tariffs, really what they're doing are accelerating a move that has already been under way as the Chinese standard of living and pay has increased," Mike Zuccaro, a senior analyst with Moody's, told BuzzFeed News. "Apparel and footwear companies have already moved footwear to Bangladesh, India, and Cambodia."
Some manufacturers are developing complicated sourcing chains to avoid Chinese import taxes. Spencer Fung, CEO of Li & Fung Limited, an intermediary between suppliers and retailers like Walmart and Abercrombie & Fitch, told investors on Wednesday that it is working with Chinese vendors to set up operations in countries like Pakistan. Fung said the company is working with the commerce ministries in Pakistan and China to help Chinese factories open up or buy factories in Pakistan.
"A lot of the raw material is actually still sourced from China," he said. "But our global network ... is really helping our customer to quickly neutralize the tariff, and this is also helping us to attract new customers."
China was still the US's largest supplier of goods imported in 2018 — but imports from countries like Vietnam and India have been growing at a faster rate than those from China. Vietnamese and Indian goods imported to the US increased roughly 282% and 112%, respectively, from 2008 to 2018. By contrast, Chinese imports rose 60% over the same period.
Although US companies have already started the move out of China, Zuccaro said that many firms are still bracing for whatever twist may come next.
"You don't know when the next piece of news is coming out on this, what direction is it going," he said. "That's the challenging part — being able to predict. So we have to react when things happen."