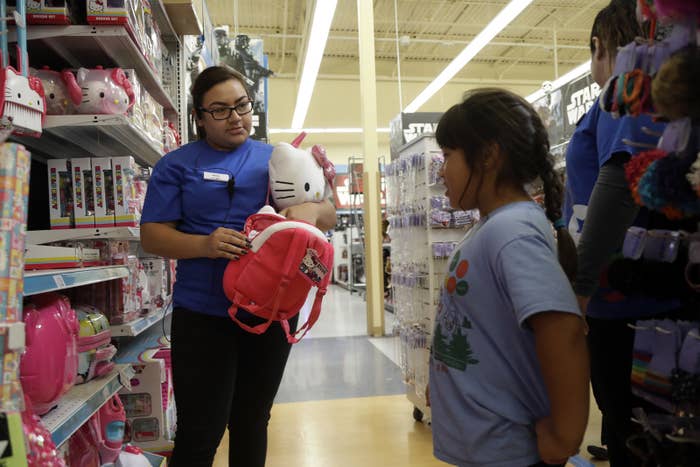 Employees who worked for at least a year at Toys 'R' Us, the beloved retailer that shuttered its US stores this year, will be eligible for severance pay through a newly proposed $20 million fund created by two of the store's private equity owners, KKR and Bain Capital.
KKR and Bain Capital, which took over Toys 'R' Us along with Vornado Realty Trust in a 2005 leveraged buyout, have each committed $10 million to the fund. The fund has the flexibility to allow other interested parties to contribute. Vornado Realty Trust did not immediately respond to BuzzFeed News' request for comment about whether it plans to contribute to the trust.
Roughly 32,000 employees lost their jobs when Toys 'R' Us liquidated its stores earlier this year, leaving many unemployed and without severance. To be eligible for the employee fund, Toys 'R' Us employees must have worked for the company for at least one year, and they must have between $5,000 and $110,000 in annual income.
The fund falls well below the $75 million that workers calculate they are owed based on Toys 'R' Us's severance schedule. The fund protocol proposes paying former employees a minimum of $200, which could increase to as much as $12,000, depending on the employee's tenure. For example, a worker who worked at the company for 20 years and made between $50,000 and $55,000 annually would be eligible for $4,810.
The deal comes after months of advocacy from Toys 'R' Us workers, who met with congressional leaders in Washington, DC, protested outside of the private equity firms' headquarters in New York, and lobbied directly with the firms' investors.
The two private equity firms said in a statement on Tuesday that the toy retailer buckled because it could not survive competition from Amazon and other online retailers. As the company flailed, Toys 'R' Us's owners searched for new investors. But a group of secured lenders that Toys 'R' Us owed money to because of its bankruptcy determined that the company would generate higher returns if it liquidated the inventory in all 735 remaining US stores and wound down the company's US operations, the companies said in a press statement.
When Toys 'R' Us filed for bankruptcy in September 2017, it reported $5 billion in debt, much of which it said was a result of the buyout.
Toys 'R' Us's demise has prompted scrutiny over a string of leveraged buyouts that permeated the retail industry in the mid-aughts. Earlier this year, 19 members of Congress who sent a letter to the firms raising concerns about their role in the retailer's struggles. In October, Democratic Sen. Elizabeth Warren sent a letter to Vornado Realty Trust and the hedge funds that have not contributed to the employee fund, questioning why they decided to liquidate the company instead of restructuring its debt and pressing them to contribute to the employee fund.
Sarah Woodhams, who worked for a Toys 'R' Us store in Pennsylvania for seven years, told BuzzFeed News she still has not found a job since she was laid off in June. She learned that the company was liquidating on Facebook as she was recovering from a miscarriage and facing thousands of dollars in medical bills.
"I was hoping to go back into office work, but even that's hard to find around the holidays — and especially with my experience and trying to get a reasonable wage that I'll be able to live off," she said. "A lot of us are scared to go back into retail because of what happened to us. These companies own multiple other retailers. ... We're afraid this is going to happen again."
The Toys 'R' Us severance fund administrators will hold several conference calls over a two-week comment period for workers to give their input on the terms and conditions of the payout.
"This is an unprecedented move to launch this kind of fund to offer assistance to families," Carrie Gleason, policy director with United for Respect, told BuzzFeed News. "We're really glad KKR and Bain have stepped up to do the right thing and we also recognize need for Vornado to contribute."
The claims process is expected to launch Dec. 15. All distributions will be completed by April 30, 2019.