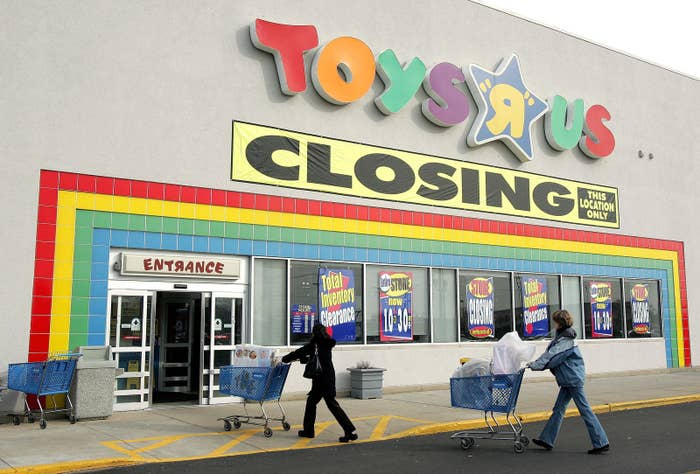 When Toys 'R' Us announced in March that it was closing all 800 of its US stores, other retailers saw an opportunity in its demise. Now, big-box stores like Target and Walmart and local specialty stores are circling Toys 'R' Us's carcass to tear off their own piece of the $7.1 billion in US toy sales the liquidated retailer made in 2016, when it last reported full-year earnings.
While Walmart, Target, and Amazon have never inspired the same devotion as Toys 'R' Us did for generations of kids who grew up reading its catalogues and buying its toys, there's a small upside to Toys 'R' Us's closing: Retailers competing for the chain's customers are going to slash toy prices.
"The nature of competition is that there are going to be price opportunities," Steve Pasierb, president and CEO of the toy trade group the Toy Association, told BuzzFeed News. "The toy mass marketers who are doing a good job are going to be having a good holiday."
Target plans to remodel more than 300 stores by the end of this year, and more than 100 of those stores will have an updated toy department, Joshua Thomas, a Target spokesperson, told BuzzFeed News. More than 500 of the company's roughly 1,800 stores will also have expanded space for toys this holiday season, including wider aisles, he said.
"The retail environment looks different this year, and that will present an opportunity for us to get our guests to shop us more or to get those shoppers who previously shopped at other locations, particularly during the holidays for toys, to come to Target," said Thomas.
Along with expanding their toy sections, Target plans to begin stocking larger toys that Toys 'R' Us used to carry, like battery-powered rideable Jeep cars and dollhouses, in its collection year-round instead of just during the holiday season.
"There are going to be billions of dollars of retail market share up for grabs, and we're going to position ourselves to take more than our fair share of that," Target CEO Brian Cornell told investors Wednesday. "As companies like Toys 'R' Us and Babies 'R' Us exit the market, as others close stores, we're picking up market share in those important categories, in those key geographic catchments, and we'll expect to continue to do that in 2019 and beyond."
Toys 'R' Us had held a substantial part of the toy market, at 13.6%, but it still trailed its competitors — Walmart held 29.4% and Amazon held 16.3% in 2016, according to a 2016 IBISWorld report. Now, retailers are aiming to consolidate more of the market.
A Credit Suisse analyst report in March estimates that Target is poised to capture about 15% of sales from Toys 'R' Us stores, 5% of sales from Babies 'R' Us stores, and 5% of the chain's online sales. That amounts to a potential $600 million in sales, according to the bank.
Even though Toys 'R' Us didn't survive, the toy business is booming. US toy sales are up 7%, at $7.9 billion, from this time last year, according to the market research company the NPD Group. The company reported overall US toy sales last year grew 2% from 2016, to roughly $21 billion.
Amazon made a significant portion of those sales. The company pulled in an estimated $4.5 billion in US toy sales during 2017, which is a 12% increase from 2016, according to One Click Retail.
Amazon declined to comment to BuzzFeed News on its holiday toy strategy. But the online retail giant is reportedly considering distributing a printed holiday gift guide at its Whole Foods stores, which rips a page out of Toys 'R' Us's old playbook, according to Bloomberg.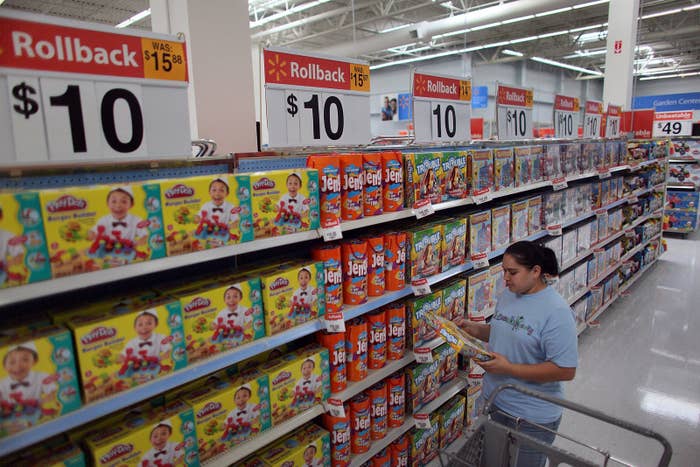 Walmart, which is about three times larger than Amazon in total toy sales revenue, declined to share its holiday toy plans but said it "recognize[s] that we have a big opportunity to be there for toy-loving customers."
While Amazon and the top big-box stores compete for the lion's share of Toys 'R' Us sales up for grabs, smaller retailers are also trying to get their own share. Party City is hosting 50 new "Toy City" pop-up stores across the country this year and expanding its toy assortment online. Kohl's CEO Michelle D. Gass told investors Tuesday that "while we're not the biggest player in toy," the company is adding Lego and FAO Schwarz brands to its stock that it hopes "will give us a real boost to our toy business."
JCPenney rolled out toy shops inside its stores in July of last year that include dolls, action figures, board games, and learning sets. It also doubled the selection of toys available on its website.

Even regional specialty stores like Geppetto's Toys, with 10 locations across Southern California, are doubling down on efforts to cash in on up-for-grabs toy dollars.
Brian Miller, owner of Geppetto's Toys, told BuzzFeed News he is opening a store kiosk at a local mall and doubling his marketing budget to attract customers who had previously gone to the three local Toys 'R' Us stores in the area.
"Those customers have to go somewhere," he said. "I'm pretty optimistic. Even a small portion of Toys 'R' Us business is a big portion for a store like ours. Even just picking up a few percentage[s] of their business would be a double-digit increase for us in sales."