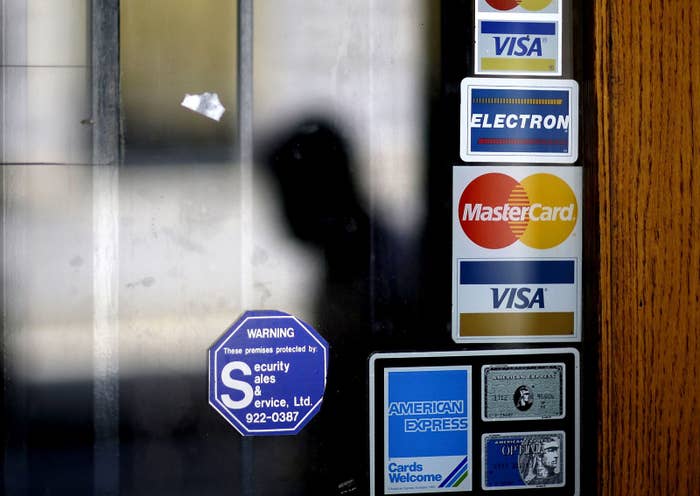 Banks, credit cards, and other financial service companies will no longer be able to block consumers from filing or joining class-action lawsuits by making them sign contracts that force them to give up their right to take their grievances to court, a government consumer-protection agency announced on Monday.
The Consumer Financial Protection Bureau released a rule that would prohibit financial service companies from inserting so-called mandatory arbitration clauses into consumer contracts — which are designed to keep disgruntled consumers from filing or joining a class-action lawsuit.
"Private companies have been able to override Congress's decisions and sidestep accountability under the law, and millions of consumers have found the courtroom doors locked through mandatory arbitration clauses," the agency's director, Richard Cordray, told reporters in a call on Monday. "This rule throws open those doors and allows harmed consumers to band together and seek justice for themselves."
Under the new rule, financial companies would be compelled to hand over documentation related to individual arbitration disputes to the agency, which will make this information available to the public in July 2019.
The US Chamber of Commerce slammed the rule as "brazen" and as a "prime example of an agency gone rogue."
The trade organization, which represents 3 million businesses, criticized the agency's comprehensive 2015 study of arbitration rules as "controversial and flawed," because it ignored how courts may not be best equipped to handle consumer issues.
The rule to limit arbitration clauses comes as the agency faces aggressive opposition from the Trump Administration and conservative groups who have argued that it has been heavy-handed in its regulatory power. Meanwhile the agency has filed an appeal of a D.C. Circuit Court ruling in October which found the agency "is unconstitutionally structured."
UPDATE (July 20)
A week after the CFPB announced its rule, House Financial Services Committee Chairman Jeb Hensarling, who is ushering through a bill that would dismantle key Dodd-Frank rules, introduced a resolution to repeal the rule on Thursday, July 20, calling it a "mistaken and damaging piece of legislation that regrettably has made us less free, less stable, less prosperous."
Rep. Hensarling (R-TX) told reporters that the agency's rule takes away a consumers' right to arbitration, which has shown to lead to higher payouts to grieved customers, and was introduced by "the most powerful, unaccountable agency in the history of our republic."
When asked by a reporter if Hensarling will continue to challenge rules issued by the agency, he said "unequivocally yes."
"If they offer rules that are ultimately are going to hurt consumers, the answer is yes," he said. "We will act judiciously. We will act expeditiously to protect consumers from the Consumer Financial Protection Bureau."
The new rule, which was noticed in the Federal Register Monday, July 17, is expected to go into effect in about eight months.
"It is outrageous that Republicans are trying to nullify the rule to the detriment of consumers," Rep. Maxine Waters (D-CA), the Ranking Member of the Committee on Financial Services, told BuzzFeed News in a statement. "Republicans should think twice before taking away consumers' rights to be heard in a court of law."