A Mom Noticed Something Strange In Her Baby's Photos That Led To A Cancer Diagnosis
"I thought it was just a bad camera phone."
For the first few months of her son Ryder's life, Andrea Temarantz took a ton of photos of him.
During her pregnancy, Andrea and her husband Joseph were told Ryder, their second child, would be born with Down Syndrome.
The family educated themselves on the genetic disorder, which causes certain intellectual and developmental delays.
But since Ryder was born on Sept. 3, he had not had any health issues related to Down Syndrome, Temarantz told BuzzFeed News.
As she took photos, the mom noticed a strange glow in one of her child's eyes in some of the snaps. But, she said she chalked it up to a bad camera phone.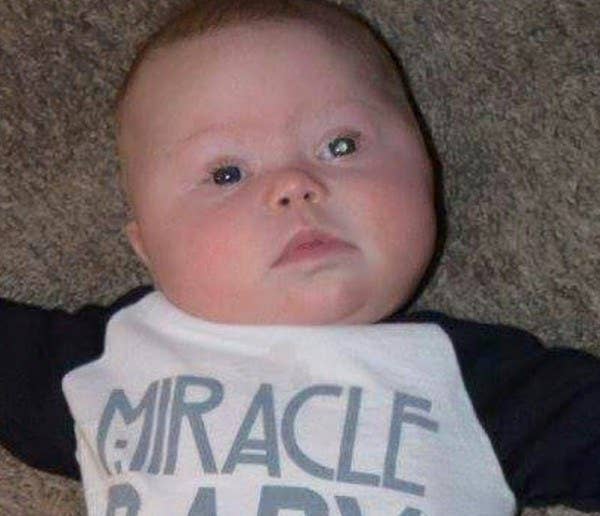 She kept snapping photos with her phone until Christmas, when her husband bought her a semi-professional Nikon camera.
She shot a few pictures of Ryder with the camera, and noticed the glow persisted.
"I didn't know what it was at first," she told BuzzFeed News. "I thought it was just a bad camera phone...Once I got the good camera I was like, 'Eek!'"
Temarantz took Ryder to a check-up on Jan. 5. At the end of the appointment, she asked the doctor about the glow in his eye.
The doctor looked into the baby's left eye and then his right eye. The doctor quietly stepped out of the room.
As she left, Temarantz asked, "Does he need shots?"
She said she knew the news could not have been good. The doctor came back into the room and referred her to a specialist in retinoblastoma, which is a rare form of eye cancer.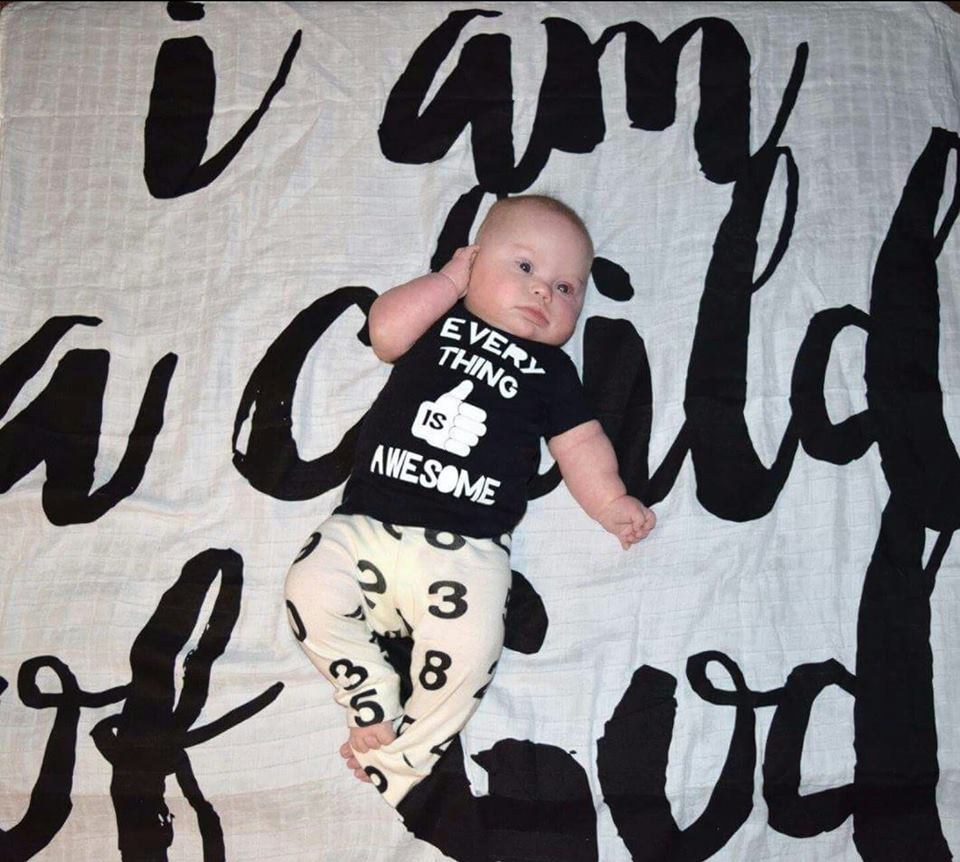 The next day, the specialist confirmed that Ryder had the disease.
"Of course, I was crying," said Temarantz.
Retinoblastoma is a rare form of cancer typically found in children. The average age of diagnosis is about 1.5 years old, Dr. Jonathan Kim, director of the retinoblastoma program at Children's Hospital Los Angeles, told BuzzFeed News.
"The glow develops when the tumor reaches a big enough size when it starts to cause abnormal light reflexes," Kim said. "Occasionally the tumor develops in the womb so if it's big enough you can see it at birth. But that is rare."
Between 200 to 300 children are diagnosed with retinoblastoma each year in the U.S., according to the American Cancer Society.
More commonly, a whitish glow found in an infant's eye may be due to some other type of eye abnormality like an infection, cataract, or a retinal detachment in the eye, said Kim.
Temarantz and her family barely had a moment to process the news, she said. Soon they were on their way to meet with Dr. David Abramson, the chief of ophthalmic oncology services at Memorial Sloan Kettering Cancer Center in New York.
Abramson was part of a team that developed a treatment for retinoblastoma that targets the tumor with chemotherapy.
In the past, this form of cancer was treated by removing the eye or with systemic chemotherapy, where the chemotherapy travels through the patient's bloodstream. "The eye is less than one percent of the body," Abramson told BuzzFeed News. "So you're giving drugs to 99 percent of the body where you don't want it to go to."
But Abramson's method, introduced in 2007 and now commonly used in most major centers, uses a six-foot long catheter about the width of angel hair pasta that travels through the body to the artery feeding the tumor. Then a teaspoon of chemotherapy is injected directly into the artery while the patient is under anesthesia.
The method has risks, including loss of vision, but it has a 70-80% success rate compared to the latest studies of systemic chemotherapy in treating retinoblastoma, said Kim.
Ryder's Down Syndrome does put him at a higher risk of leukemia and cardiac issues even without chemotherapy, said Abramson. That may make it harder for Ryder to handle the complications that come with chemo.
But Abramson said he is "fully confident he won't be slowed down by the treatment and will retain the eye and have useful vision although it may not have normal vision."
The Temarantz family is adjusting to Ryder's upcoming health needs with this new diagnosis. He'll have to undergo three monthly one-hour treatments in New York over the next few months, said Abramson.
The treatment has a promising success rate, but if it fails, doctors may resort to treating Ryder with systemic chemotherapy or removing his eye.
"We're starting to settle into reality," said Temarantz. "Ryder's been so great. It's been rough but you can't let yourself fall apart."
Kim told BuzzFeed News that if a parent or caretaker notices a white glow in an infant's eye, they should call an ophthalmologist