Republican presidential candidate Ted Cruz has found himself at the center of another conspiracy theory during this election season. People believe that he may moonlight as Michael Sweet, lead singer of Stryper, all because of this Facebook post.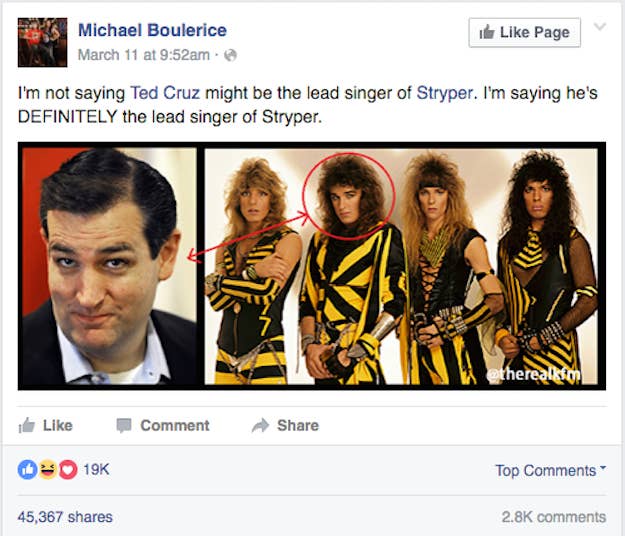 Stryper is a four-member Christian heavy metal band from Orange County, California. They formed in 1983 and have produced eleven albums in their 20-year career.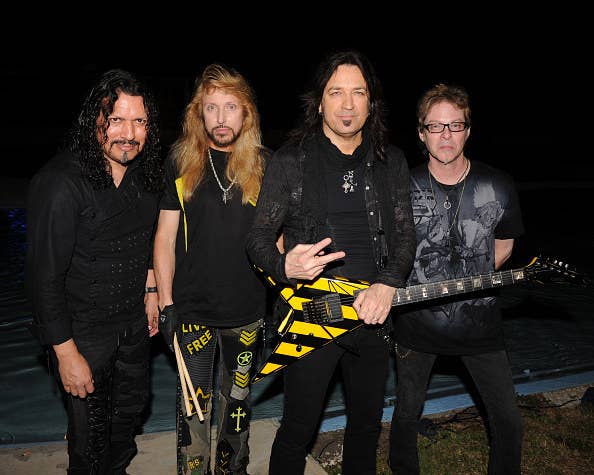 The band name is an acronym for "Salvation Through Redemption Yielding Peace, Encouragement and Righteousness."
It's drawn from a Bible verse Isaiah 53: 5, which reads, "he was wounded for our transgressions, he was bruised for our iniquities: the chastisement of our peace was upon him; and with his stripes we are healed."
Michael Boulerice, a 35-year-old author based in New Hampshire, saw the uncanny resemblance between a young Michael Sweet and Ted Cruz while driving back from a snowboarding trip with a friend.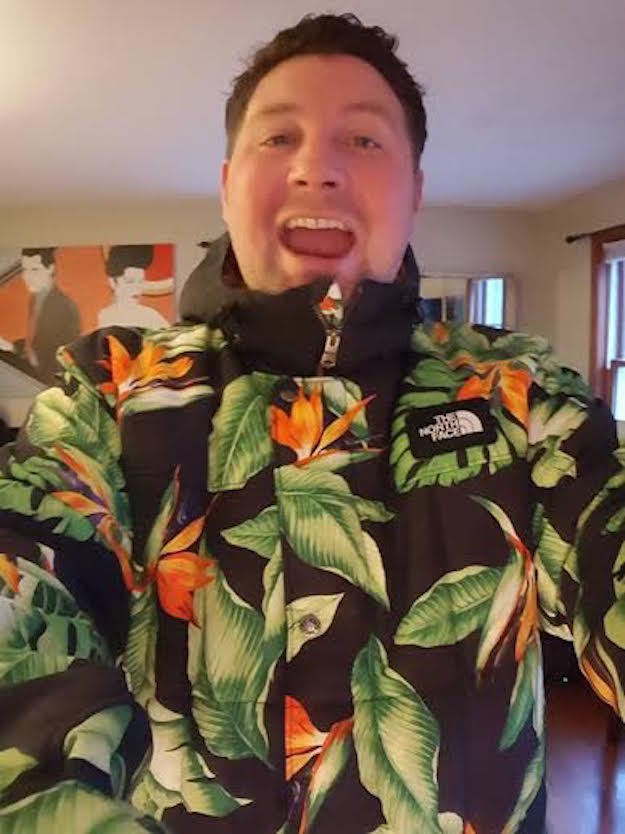 Boulerice was driving while his friend, Jamie, played DJ to keep the two entertained on their way home.
"He was like, 'Oh man you're going to like this blast from the past," he told Boulerice.
Then he played Stryper's 1986 album, "To Hell With the Devil."
Boulerice came home and sat down to edit GoPro footage of the two friends snowboarding. He thought his friend would get a kick out of seeing the footage paired with music from Stryper's "To Hell With the Devil."
He was clicking around online to download the song when he noticed the uncanny resemblance between Sweet and Cruz.
"I was like, 'Holy shit! They could be twin brothers," he said. He slapped the photos together and posted it to Facebook thinking just his friends would laugh about it.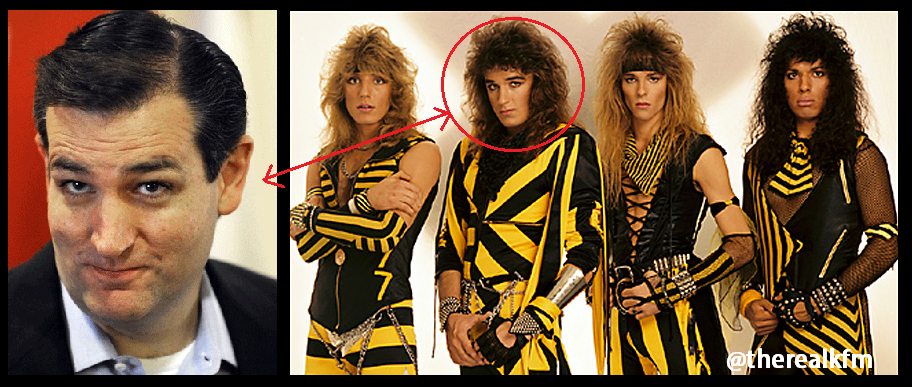 Cruz does have a pretty uncanny resemblance to a young Sweet.
But Boulerice said, "In no way shape or form did I think that Ted Cruz was actually Michael Sweet."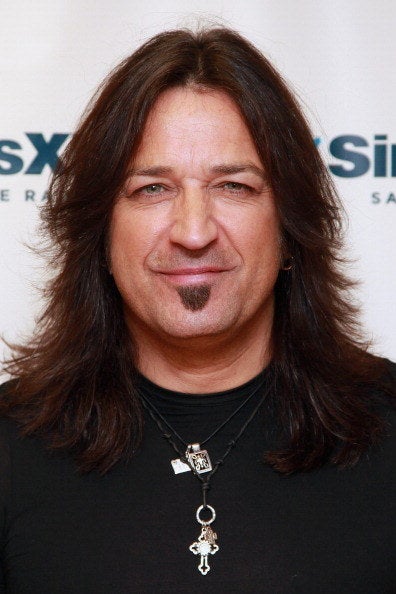 "That would make me a crazy person," he said.
Though he said "it would be hilarious if he was. It would probably earn him some points."
The photo spread like wildfire across Facebook. Boulerice's post has been shared over 45,000 times and has racked up over 2,800 comments from people.

Some people took Boulerice's joke as an actual statement of fact.

Other people came to defend Stryper.

"Do not do that to this band!"

Cruz also got at least one more passionate voter.

He also got some campaign advice.

Sweet himself responded to the controversy on Sunday saying he "better cancel the Stryper tour so I can focus on my campaign."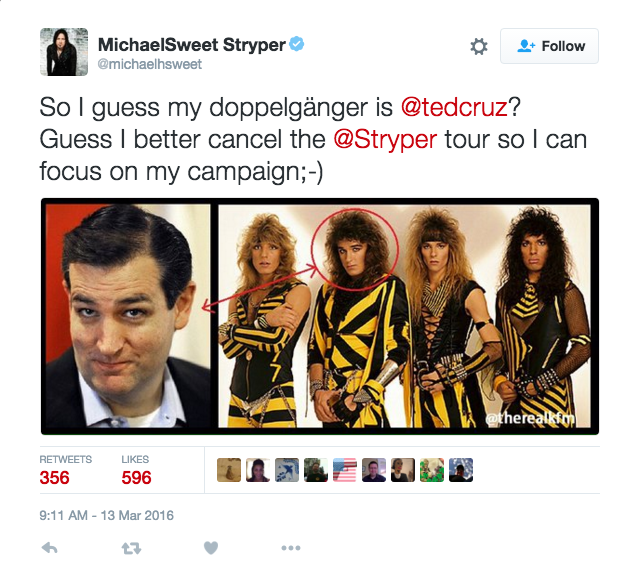 The Cruz campaign has remained mum on the theory. But Sweet tweeted again on Wednesday apologizing to Cruz over the "silly blow up."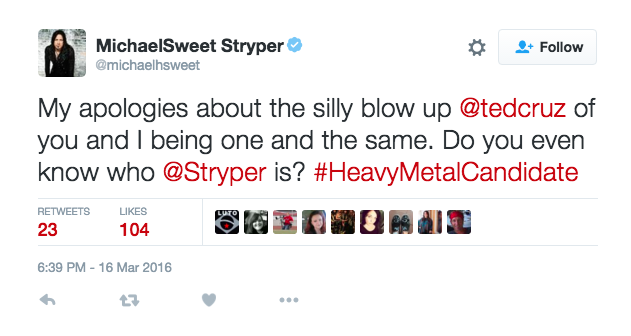 Boulerice said the post wasn't "meant to be serious or harmful."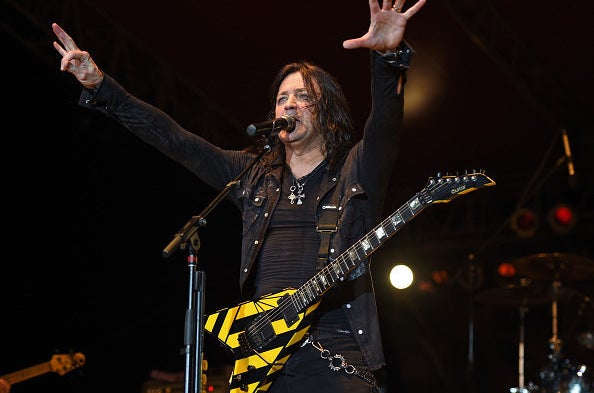 "I'm just lampooning other things out there that are just as nuts if not worse," he said, referring to other conspiracy theories circulating around the campaign.
"I just really hope during his next event, he comes out in spandex," he added.
Who knows? Maybe Cruz has a pair of spandex under his pant suit.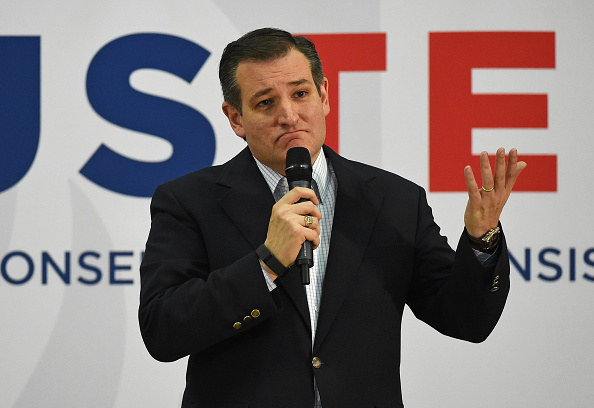 The Ted Cruz campaign did not immediately respond to BuzzFeed News' request for comment.