A homeopathic teething tablets that were sold at stores like CVS and Walgreens contain a toxic plant called belladonna in amounts "sometimes far exceeding" what is claimed on the label, a Food and Drug Administration lab analysis shows.
As part of an ongoing investigation into several medical incidents involving homeopathic teething gels, the FDA tested Hyland's homeopathic teething tablet products for belladonna.
The administration announced that its laboratory analysis found "inconsistent amounts" of belladonna, which can cause blurred vision, fever, rapid heartbeat, an inability to urinate or sweat, hallucinations, spasms, mental problems, convulsions, and comas in adults.
"The body's response to belladonna in children under two years of age is unpredictable and puts them at unnecessary risk," said Janet Woodcock, director of the FDA's Center for Drug Evaluation and Research, in a statement. "We recommend that parents and caregivers not give these homeopathic teething tablets to children and seek advice from their health care professional for safe alternatives."

The lab analysis comes after the agency examined more than 400 reports of seizures, fever and vomiting, as well as 10 deaths, FDA spokesperson Lyndsay Meyer told BuzzFeed News.
The FDA does not know whether these deaths and illnesses — which happened over a six-year period — were caused by the products in question, but it is investigating the possibility.
Hyland's refutes claims that there are scientific links between belladonna and seizures and has refused to recall its product, according to a statement on its website.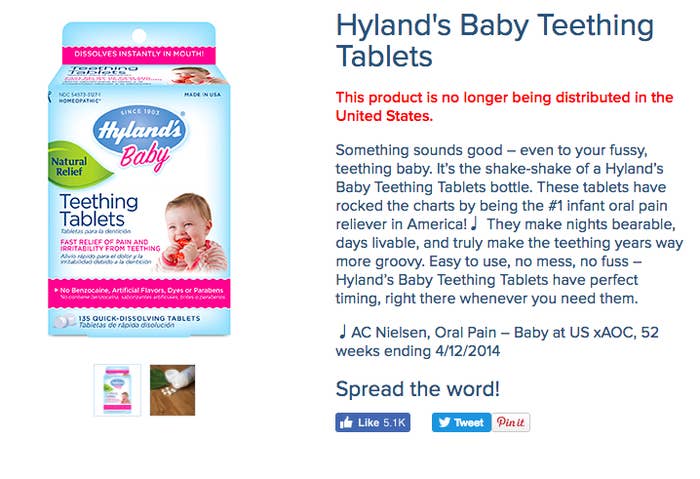 "Hyland's Baby Teething Tablets have safely treated the pain associated with teething for more than 85 years," the company said in a statement published in October. "There is NO scientific link between homeopathically-prepared belladonna, or Hyland's Baby Teething Tablets, and seizures."

It warns parents that "as with any new medication, certain allergies may exist and we suggest close monitoring any time a new medicine or food is introduced to a child."

The company discontinued distribution of its teething products in the US in October.
After the FDA's warning about Hyland's and two other homeopathic teething medicines, CVS voluntarily removed all homeopathic teething products from their stores.
The FDA previously warned consumers about Hyland's in 2010 after analysis and testing showed some of its teething products contained varying amounts of belladonna, a potentially toxic ingredient.
A preliminary review of the homeopathic teething tablets currently under warning "shows that these adverse events are similar to those observed in 2010," said Meyer.

The FDA and the American Academy of Pediatrics suggest gently rubbing or massaging a teething child's gums to relieve pain or use a cool compress or teething ring.