Police in Seattle, Washington, managed to coax a 28-year-old man down from an 80-foot Sequoia tree in the city's downtown area after a 24-hour standoff, officials announced.
It is unclear why the man scaled the tree, which is believed to have been in place since the 1970s and is decorated every year for Christmas.
Police said the man was taken into custody and will receive a medical evaluation.
"It is quite a spectacle, honestly," police spokesman Patrick Michaud told The Seattle Times on Tuesday as the man clung to the tree's branches and trunk.
Michaud said police did not want to rush rescue efforts because it could make the situation dangerous.
KOMO News in Seattle livestreamed the entire event.
Seattle police received reports shortly after 11 a.m. PT on Tuesday that a man had climbed the tree, according to police.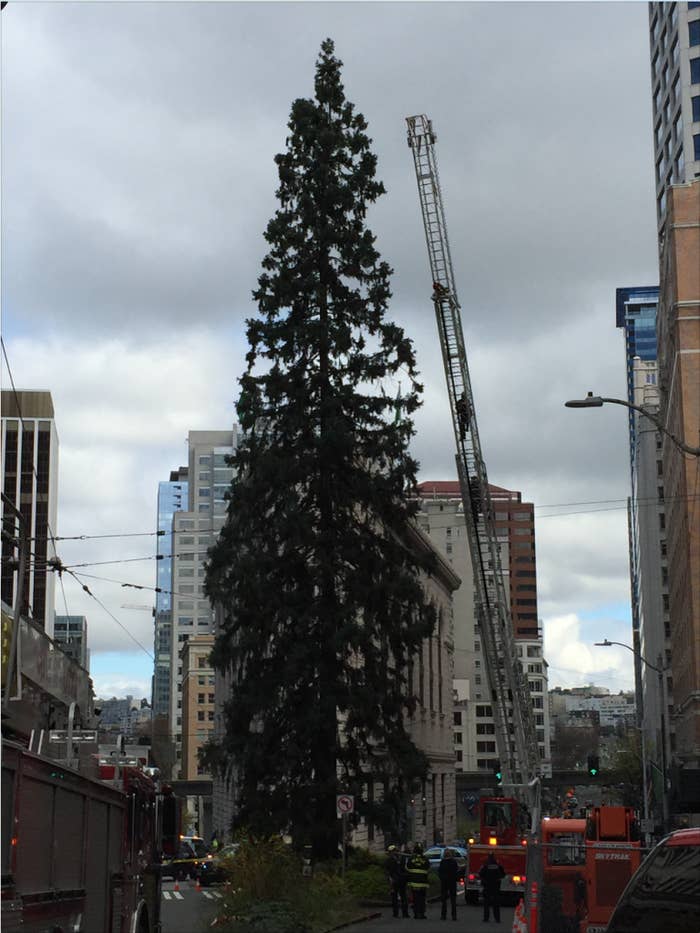 Police negotiators and crisis intervention specialists climbed a Seattle fire truck ladder to make face-to-face contact with the man, who they believe is in the midst of a crisis. But their early rescue efforts were unsuccessful.
Police said the man threw an apple, branches, and pine cones at officers on the street below and claimed to be armed with a knife.
"Due to his violent behavior and threats, and the man's precarious position high above the ground, police are taking extreme caution to ensure the safety of everyone involved," said the police department.
After early rescue efforts failed, Seattle's "super hero" Phoenix Jones rushed to the scene claiming to know the man and said he may leave the tree for a sandwich and cigarettes.
But police thwarted his attempts.
"I hope they can do it themselves," said Jones. "Because clearly the SPD doesn't want the help from someone who clearly knows the freaking guy. It's ridiculous."
The man in the tree quickly attracted a group of people who were rooting for him.
Some people were amazed that he went out on a limb and stuck to it for so long.
He's even inspired a Twitter account.
Other people hoped that the man in the tree gets the assistance he needs.