Teen Arrested For Bringing Homemade Clock To School Has No Regrets
"Don't let people change who you are, even if you get consequences for it," Ahmed Mohamed said Wednesday.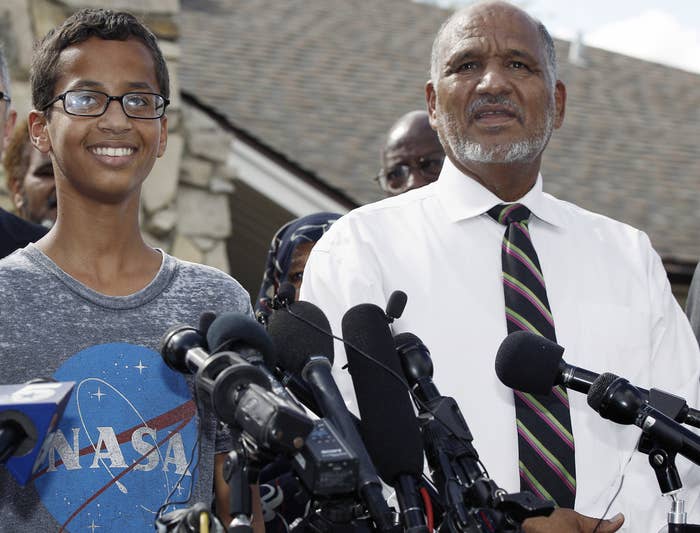 Ahmed Mohamed, the 14-year old Texas teen arrested for bringing a homemade clock to school, thanked supporters at a news conference Wednesday outside of his Irving home.
"Without you, I wouldn't have gotten this far," he said in front of a throng of reporters.
The MacArthur High School freshman was handcuffed, arrested, and suspended on Tuesday after his English teacher suspected a digital clock he made was a fake bomb. The Irving Police Department ended its investigation on Wednesday, determining that Mohamed "did not have the intent to cause alarm and, therefore, will not be pressing any charges."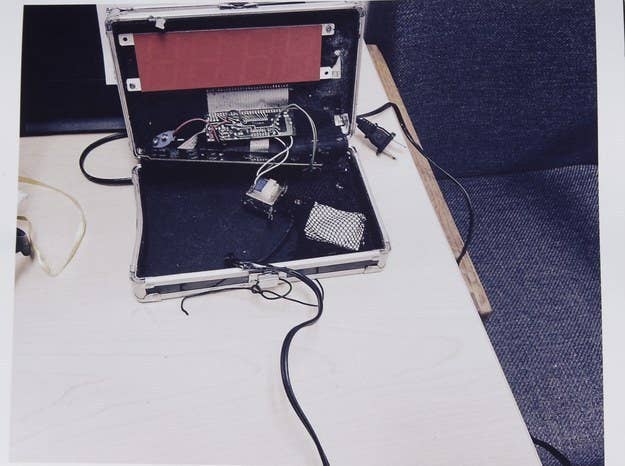 Still, Ahmed said he remained suspended from school until Thursday, but is looking to transfer to "any other high school."
Ahmed's arrest and suspension incited national outcry and support across social media that reached tech entrepreneurs and politicians, including Facebook CEO Mark Zuckerberg and President Obama. Tweets emerged under the hashtag #IStandWithAhmed and the family created a Twitter profile under the handle, @IStandWithAhmed, that has already gained more than 40,000 followers.
"I built a clock to impress my teacher, but when I showed it to her, she thought it was threat to her," Ahmed said. "It was really sad she took the wrong impression of it."
Ahmed's arrest also reignited concerns over persistent Islamophobia in the U.S. Halil Hamida, a spokesperson for Irving's Muslim community, said that the teen's arrest was a result of "manufactured fear in our community" and urged elected officials and politicians to "be careful not to paint people with a broad brush."
In an interview on MSNBC's All In With Chris Hayes, Ahmed said his treatment by the school made him feel like a criminal.
"I felt like I was a terrorist. I felt like all the names I was called," he told Hayes.
Asked what names he was called, Ahmed said that in middle school he was called a "terrorist" and a "bomb maker" by other students because of his race.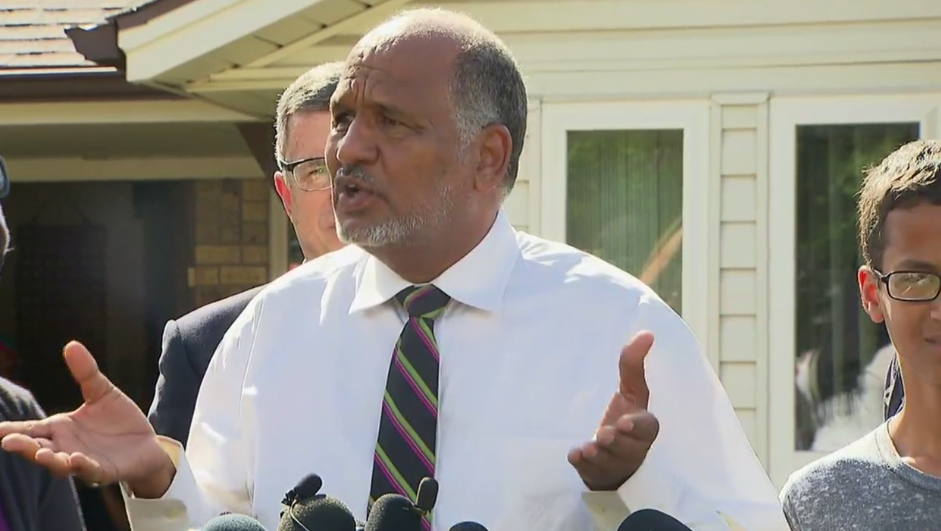 Ahmed's father, Mohamed Elhassan Mohamed, a more than 30-year resident of Irving, called for reforms that could prevent the same type of incident from reoccurring.
"My kid was hurt and arrested and mistreated in front of his friends and teacher inside of the school," he said. "That is not America. That is not like us."
Irving Police Chief Larry Boyd said Wednesday that he plans to meet with Ahmed "to answer his questions and to help him understand more about how this process evolved."
Ahmed, however, said he would not meet with Boyd without his attorney.
Despite Tuesday's arrest and suspension, Ahmed said that he felt "really outstanding."
"I didn't think I'd get this far, but since I got this far, I want to not just help me, but help any other kid who has a problem like this," he told reporters.
Ahmed added that he hopes to attend MIT, and that his favorite invention is a device that harnesses power through magnets. Already by Wednesday, several scientists with NASA and the Jet Propulsion Laboratory had expressed support on Twitter for the budding young mind to pursue his endeavors.
Support for the young teen continued Wednesday evening. During an interview with MSNBC's All In With Chris Hayes, Cosmologist Chanda Prescod-Weinstein of MIT extended an invitation to Ahmed, telling him he was "my ideal student, a creative, independent thinker."
She said Harvard's astrophysics department would also welcome him to visit.
"It would be fantastic to have you," she said.
Ahmed seemed undeterred despite his suspension.
His advice to other people facing discouragement for their passions was to "go for it."
"Don't let people change who you are, even if you get consequences for it," he said. "You need to just show your talent."