Tamir Rice's Mother Says "No Justice," Calls For Independent Review Of Son's Death
Samaria Rice on Friday called for the Cuyahoga County prosecutor to step aside and allow an independent investigation into the fatal Cleveland police shooting of her 12-year-old son.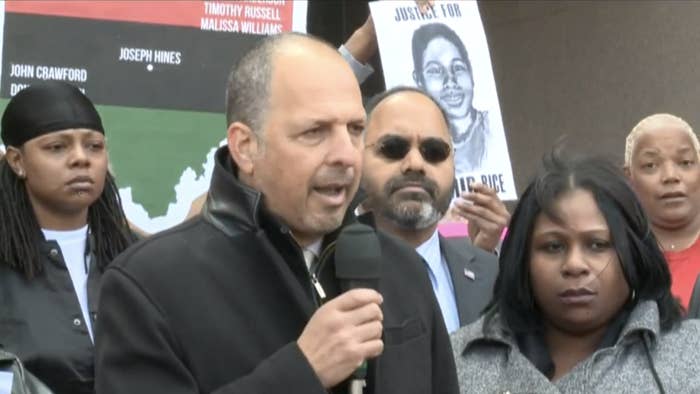 The mother of Tamir Rice, the 12-year-old who was fatally shot by a Cleveland police officer last year while holding a toy gun in a park, is calling for an independent prosecutor to take over the investigation into his death.
"Since the senseless shooting of my son I have had many sleepless nights and days," Samaria Rice told reporters at a news conference Friday. "Almost a year now, no justice, no peace."
Last week, the Cuyahoga County Prosecutor's Office released findings from two outside experts in the case who concluded that the shooting was "reasonable." Those findings will part of a presentation to a grand jury, which will decide whether criminal charges are warranted in Tamir's death.
Samaria Rice said she was "very disappointed" in how Cuyahoga County Prosecutor Timothy McGinty handled the investigation, and asked that he step aside to allow an independent prosecutor to review the case.
"Do you all think the killing of my child was constitutionally justified?" she said. "I am praying the public continues to ask questions and seeks the truth. I want to thank everyone for their prayers and support. Please continue to support us in getting justice for Tamir."
Rice family attorney Jonathan Abady accused McGinty of mishandling the case, saying on Friday that "the flaws and inefficiencies are too numerous to cite at a press conference."
In a letter he sent to McGinty on Friday, Abady said that the prosecutor's office has delayed the grand jury process and shown bias in selecting pro-police experts who argued that the officer was justified in shooting Tamir because he "posed a threat of serious physical harm or death."
"It now appears that the grand jury presentation will be nothing short of a charade aimed at whitewashing this police killing of a 12-year-old child," Abady stated in his letter.
However, a spokesperson for Cuyahoga Prosecutor's Office told BuzzFeed News on Friday that McGinty "has no intention of stepping aside on this case."
In a statement, McGinty said that "no stone will be left unturned in our search for truth and justice."
"Some parties may be displeased with evidence or reports as they are disclosed," he said. "But by making them public before conclusion, there is an opportunity to correct errors. We have confidence in the integrity of the grand jury and believe that justice can be achieved."
In January, Rice's family filed a federal civil rights lawsuit against the city of Cleveland and police officers Frank Garmback and Timothy Loehmann, who fatally shot Tamir.
The city also signed a consent decree with the Department of Justice in May that includes reforms to its use of force policy based on findings that police officers engaged in a pattern of reckless behavior.