Veterans Blast Sarah Palin For Linking Her Son's Alleged Domestic Abuse To PTSD
"I am a veteran with severe PTSD and I know not to beat my family."
During an endorsement speech for Donald Trump on Wednesday, former Alaska governor Sarah Palin suggested her son Track had allegedly struck his girlfriend because of post-tramautic stress disorder (PTSD) that he developed after serving in Iraq.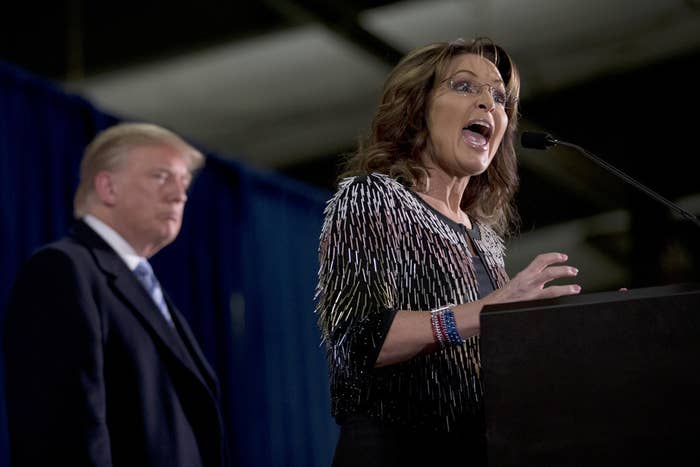 Track, Palin's oldest son who served one year in Iraq in 2008, was arrested Monday in Wasilla, Alaska on domestic assault charges. Police allege he hit his girlfriend with a closed fist and handled a gun while drunk.
Palin addressed the charges on Wednesday saying her son, like many war veterans, came back "different" and "hardened."
"So when my own son is going through what he goes through coming back," she continued. "I can certainly relate with other families who kind of feel these ramifications of some PTSD and some of the woundedness that our soldiers do return with."
But after her speech, veterans quickly blasted Palin for suggesting that her son's post-traumatic stress disorder may be at the heart of his alleged abuse.
Some people argued that Palin's comments undermined the experiences of veterans with post-traumatic stress.
And family members of veterans with PTSD defended their loved ones against her suggestions.
"I am a veteran with severe PTSD and I know not to beat my family," one woman wrote.
Some people said blaming Track's charges on his military service was a "convenient excuse."
"In @SarahPalinUSA'a desperate scramble to relieve her son of any personal responsibility for his crime, she gives us all bad names," one veteran wrote.
Other people argued that Palin linking PTSD to domestic abuse distracts people from the root issues of such violence.
One man, Nate Bethea, gave his own powerful account of dealing with PTSD, but said it doesn't excuse awful behavior.
Bethea went into detail about how PTSD changed him, saying he felt "hostile" constantly.
But, he said how he felt was no excuse for lashing out at anyone.
"It would have confirmed my suspicions of being defective," he wrote.
Palin has not addressed the criticism of her speech on social media.
BuzzFeed News has contacted representatives for Palin for comment.