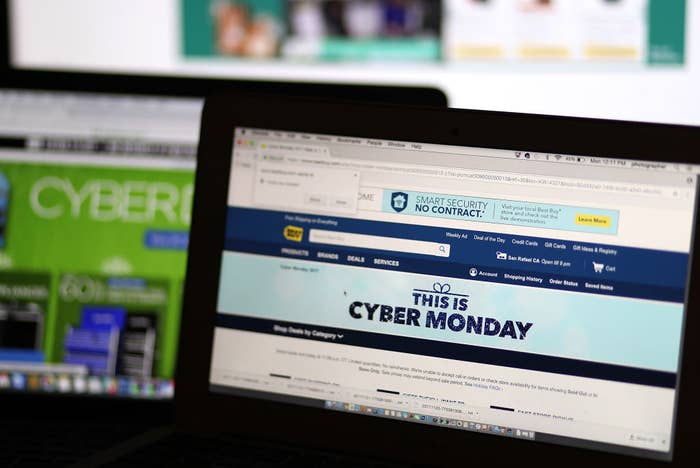 While Best Buy, Target, and Walmart competed heavily to offer an avalanche of shopping deals over the post-Thanksgiving weekend, the biggest winners to emerge from the fray are small online businesses.
The boost in small-business growth over Black Friday weekend underscores the rise of digitally native small businesses that have the same elements as traditional local brick-and-mortar businesses — smaller teams, unique products, relatively modest annual revenues — but that are built entirely online and are now competing with the Targets of the world for holiday shopping market share.

Smaller retailers grew faster in both revenue and mobile usage over this year's peak holiday shopping weekend, compared to large retailers, according to Adobe Analytics data, which measures 80% of transactions at the largest 100 US online retailers. Small businesses with less than $10 million in annual revenue have seen profits grow twice as quickly as companies 10 times their size year over year for the period between Thanksgiving and Cyber Monday, the company added. They also turned mobile visits into purchases at a 30% higher rate than large retailers.
It was also a big win for Shopify, which plays host to many of these small retailers. More than 500,000 Shopify merchants sold over $1 billion in merchandise during the Black Friday and Cyber Monday weekend, Shopify told BuzzFeed News. At its peak, Shopify merchants generated more than $1 million of transactions in just one minute.
Meanwhile, small businesses on Amazon's marketplace sold nearly 140 million items to shoppers over the weekend. Jeff Wilke, CEO of Amazon Worldwide Consumer, tweeted that Cyber Monday "was the biggest day ever for sellers on Amazon."
"This is just the beginning of the holiday season," Wilke added in a press statement. "We'll continue to offer incredible deals and a vast selection of unique products, with fast and free shipping options all season long, and every day."

Taylor Schreiner, director of Adobe Digital Insights, told BuzzFeed News that the accessibility of new technologies to design and optimize business websites has helped "level the playing field" so small retailers can better compete with bigger companies online.

"On top of that, smaller retailers tend to have shoppers that are looking for very specific items and have high intent to buy," Schreiner added. "By delivering better digital experiences, that tie back to the in-store one, it is allowing customers to close the deal more quickly."
Small and midsize online retailers may also have a leg up when it comes to consumers' love for discovery, with more consumers turning to their search bars for product suggestions instead of searching for a particular brand.
"The types of independent brands that people used to have to only find in small neighborhoods in their city, they can now find all over the world," Satish Kanwar, vice president of product at Shopify, told BuzzFeed News. "Brands are found through Google, Facebook, Instagram — this is where they're being discovered."
Based on Adobe Analytics data, a record $6.59 billion was spent online by the end of Cyber Monday, an increase of 16.8% from 2016, which makes it the largest online shopping day in history. The holiday season to date (Nov. 1–Nov. 27) has brought in $50 billion in online shopping revenue, according to Adobe Analytics.
These record numbers were in part fueled by small online businesses like Emily Ley's paper goods store. Ley, the creative director of Emily Ley Paper, told BuzzFeed News that sales over the weekend increased by 30% compared to Black Friday weekend sales last year.
She said sales from the weekend will make up about 10% of her annual revenue this year. She attributes this increase in sales to her social media and email marketing strategy, which may have brought in new customers and prodded current ones to buy.
"Our audience is young women who are on the couch with a blanket, on their phone," said Ley, who added that anywhere between 70 and 80% of her sales are made on smartphones. "The whole weekend just went really great."
Up until last year, Ley's company had never participated in any holiday shopping events other than Cyber Monday. This year, however, the business offered a 40% discount all weekend, with an additional 10% discount on all products for Cyber Monday, all while the company's team of six relaxed at home with their families.
"You can automate things and set everything up in advance," she said. "It's just the convenience of selling online."