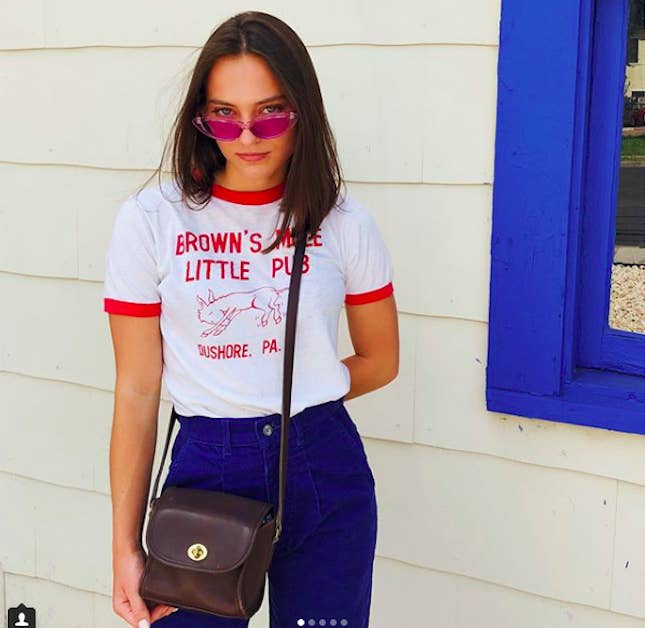 Etsy's overhaul under its new CEO encountered resistance Thursday after the company announced it would raise seller transaction fees from 3.5% of sales to 5% of sales and shipping costs — which amounts to about a 43% increase. Many Etsy sellers who have built small businesses on the online handmade and unique products marketplace say the increase in transaction fees will cut into their profits and make it difficult to grow on the platform, and some are threatening to quit the site.
"I understand what they're doing, but rarely do you walk into your boss' office and they say, 'We're cutting your pay by 1.5%. Tough cookies. And it's happening in 30 days,'" Jasanna Baumann, who has supported her family as an Etsy seller under B & B 8 Inc. since December 2015, told BuzzFeed News. "The way they went about it was not great."
Beginning July 16, the transaction fee Etsy charges sellers per sale will rise to 5% from 3.5%, and it will now apply to the total cost of the sale and shipping, the company announced Thursday. For example, for a seller's item that is $30 with $3 shipping, the transaction fee will now be 5% of $33, which amounts to $1.65, compared to the previous fee of $1.05 on just the cost of the item. Etsy will continue to collect a 20 cents-per-item fee from sellers to list items for sale. Etsy's transaction fees are still lower than those on Amazon Handmade, at 15% of a product's cost, and eBay's, which amount to 10% of a product's sale.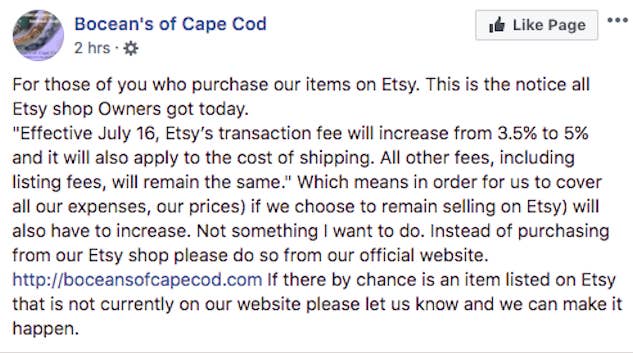 Etsy hiked up its forecast on annual revenue growth by 10% to a range of 32% to 34% Thursday after announcing the fee hikes. The company reported $441.2 million in revenue last year. The additional revenue from these fee increases will help pay for Etsy's 40% boost in spending on direct marketing in 2018, which is an attempt to bring new shoppers to the platform, the company said Thursday.
"We believe all of this will help drive near-term growth and increase buyer lifetime value," Rachel Glaser, Etsy's chief financial officer, said in a statement.
The news sent Etsy shares soaring, from $32.99 Wednesday to a peak $44.05 Thursday. Etsy's share price closed at $42.54 Friday. But while Wall Street buzzed with renewed excitement for Etsy, which has increased sales growth and revenue and staved off a private equity buyout under its new CEO Josh Silverman, Etsy's move alienated many of its sellers. Many told BuzzFeed News they plan to slow their investment in the platform, and some are threatening to quit Etsy entirely because of the fee increases.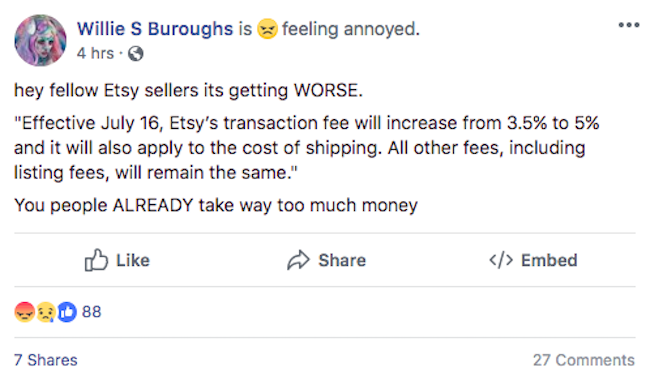 Baumann, who runs a birthday-themed apparel Etsy shop with her husband to support their family of three children, told BuzzFeed News that with the fee hike, she's expecting about $55,000 in sales by the end of the year, compared to her previously forecasted $80,000.
"We sell a lot of apparel, and we're at a point where we're not going to lower our prices," she said. "This is a business; this isn't a hobby. Because we're self-employed, I have to keep a net income at a certain amount to keep our subsidy for health insurance. If I don't hit that, we have to pay out of pocket at $1,100. We're right on the border, so a difference of $1,000 would make us lose our subsidy and we'd have to go on Medicaid."
She's now focused on expanding her online store with Shopify, a Canadian e-commerce platform, but she still plans to keep her Etsy shop because she depends on it to keep her family afloat. She calculates she will pay about 9.5% in credit card, advertising, and Etsy seller fees on each item she sells on the site.
"Etsy is only successful when our sellers are successful, and we are constantly listening to how we can better help them reach their goals," an Etsy spokesperson told BuzzFeed News. "Our revised fee structure will enable us to make meaningful investments in key areas while remaining the best overall value for creative entrepreneurs."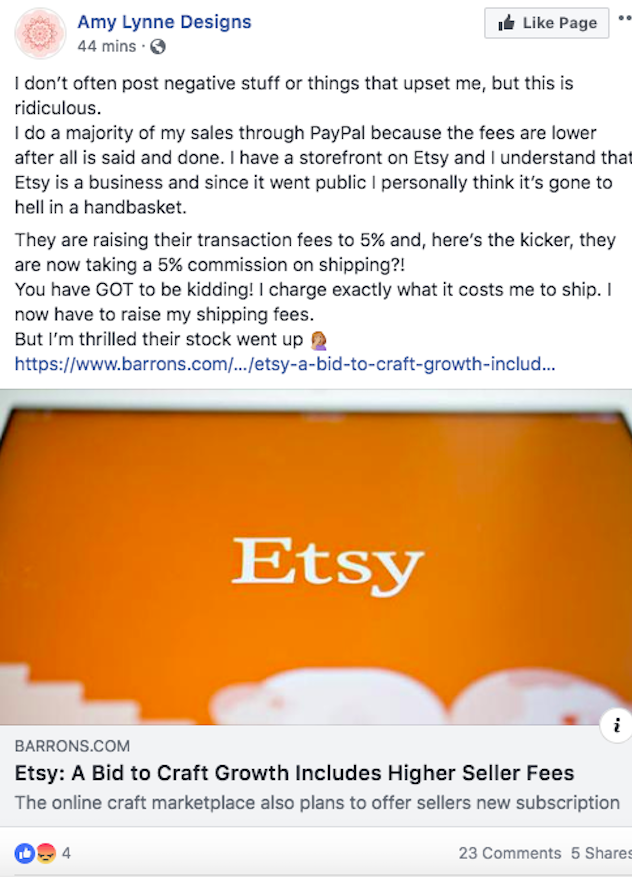 Along with the transaction fee increases, Etsy will now offer two optional monthly service packages that give sellers additional tools and features. Starting in July, for $10 a month, sellers will have access to advanced shop customization options, restock notifications to shoppers, and advertising credits they can use toward promoting their listings on the platform through the Etsy Plus package. Etsy plans to increase the fee to $20 in January and will offer a more advanced package to sellers through its Etsy Premium package. Etsy told BuzzFeed News it will announce more details about its premium package soon.
Etsy said the subscriptions will not impact search rankings, and sellers will still receive the standard package of services at no additional charge.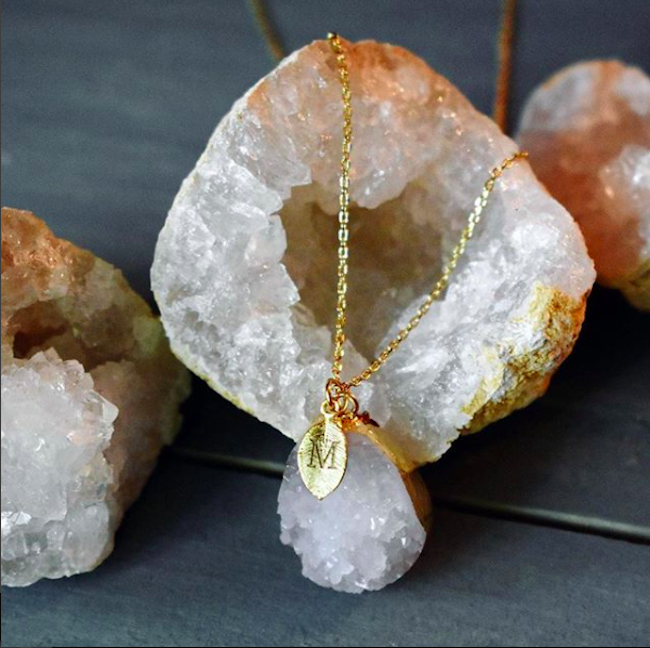 Susan Shapiro owns the custom gift shop Susabellas on Etsy and employs 12 people. She told BuzzFeed News that initially she bristled at the announcement of additional transaction fees, but when she learned that the company plans to provide seller support service packages and additional backend tools, she was sold.
"I think it's actually going to be a positive thing," she said. "They used to have a seller account management program for shops that sold a high volume, but they got rid of that last year. So it would be great to have a service like that, which I'm more than willing to pay for."
Shapiro, who has sold on Etsy since 2012, said she anticipates her orders to grow by 20% this year. Last year she had more than 15,000 orders. She declined to disclose her profits or sales in dollar amounts but said the 5% fee will not affect her business to the point she'd consider leaving Etsy.
But Etsy sellers like Maria Oliveira and Ryan Lerma, who run Passport Vintage on Etsy and a vintage brick-and-mortar store in Austin, Texas, say the fee hikes mean they can't survive anymore on the platform. They told BuzzFeed News they don't want to raise prices and lose customers, which means they'd have to eat the added transaction fee cost. Instead, they plan to grow their e-commerce business on Depop, a UK-based peer-to-peer social shopping app, and continue to focus on their brick-and-mortar store.
Etsy told BuzzFeed News that "sellers have been vocal about their desire for us to bring them more buyers and tools to run their businesses effectively. Our new subscription packages will better guide sellers through various stages of business growth."
But Oliveira and Lerma say the additional seller packages aren't relevant to shops like Passport Vintage, which specializes in rare or unique pieces, which are rarely restocked.
"There's no real value [to us] in anything they're offering," said Lerma. Passport Vintage sales have been declining over the last few years, which prompted Lerma and Oliveira to reconsider selling on the platform altogether.
Oliveira said the fee hike was the final straw.
"We love Etsy," said Oliveira, who started the business on Etsy with Lerma. "But they don't listen to their customers. ... They're wrong. We're disappointed and think they're on the wrong side of history."