Seattle Duck Boat Crash Victim Sues Company Over Vehicle Defect
Ride the Ducks International failed to warn its Seattle franchise about a defective axel housing on its vehicles, resulting in the crash that killed five people and injured dozens of others, according to a lawsuit filed Monday.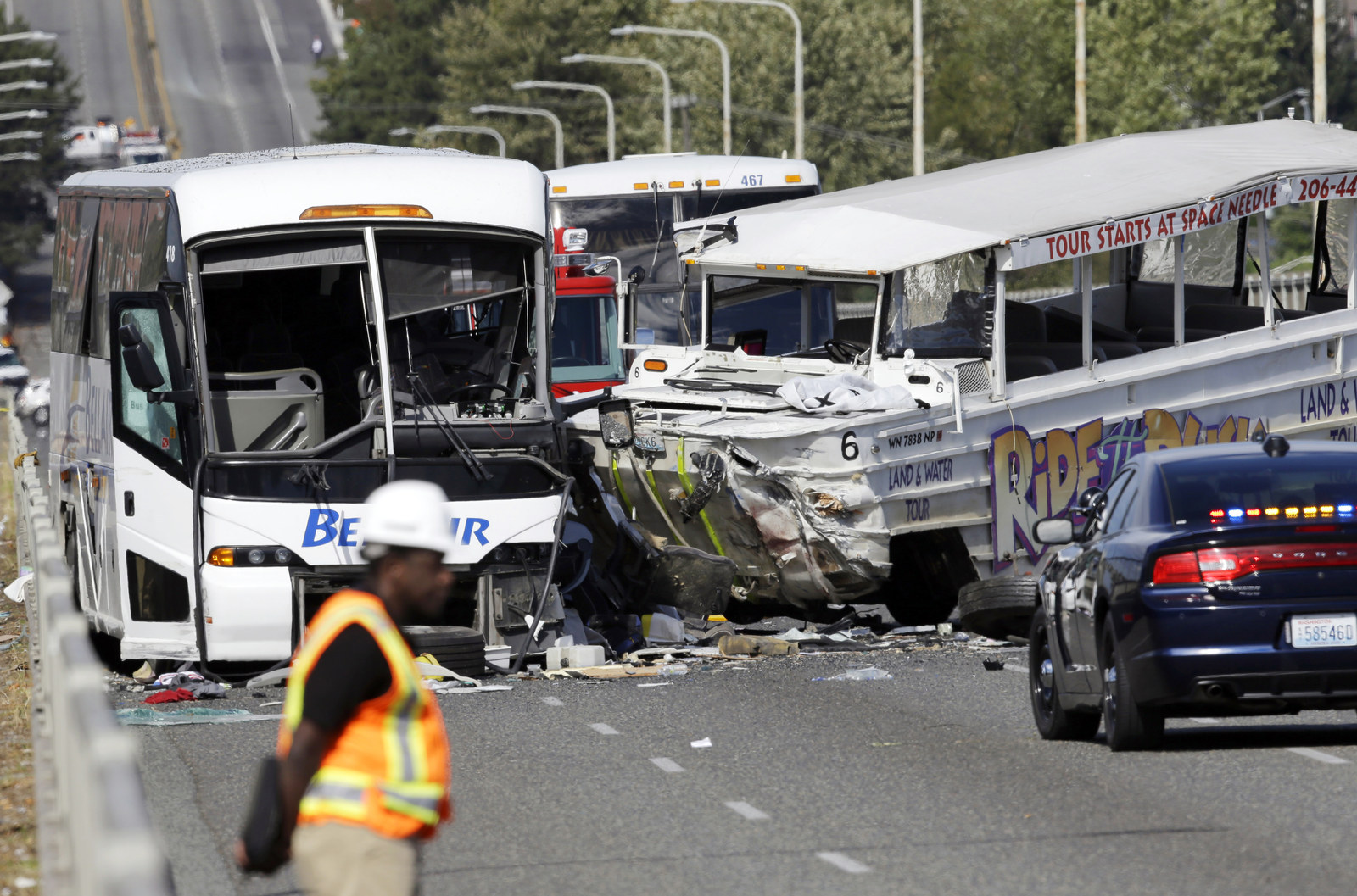 The tour company Ride the Ducks International was negligent in failing to notify its Seattle franchise of a defective axle housing in some of its vehicles, resulting in a crash in September that killed five people, according to a lawsuit filed on Monday.
The duck boat, an amphibious vehicle that can also function in water, slammed into a tour bus carrying international students and staff from North Seattle College on Sept. 25 along Seattle's 99 Highway. Four students were pronounced dead at the scene and dozens others were taken to the hospital with injuries. A fifth student was pronounced dead the next day.
The lawsuit on Monday was filed by Na Ra Yoon, a 21-year-old student from Korea at North Seattle College. She was in the tour bus en route to Safeco Field for college orientation when the duck boat slammed into the motorcoach, according to the complaint.
The next thing Yoon remembers is waking up on the concrete covered in dust and blood, her left eye and shoulder badly bruised. She was rushed to Group Health Hospital and released with her hands in a cast and splint.
The duck boat did not have an axle repair that was recommended by federal regulators for some of the amphibious vehicles, National Transportation Safety Board member Earl Weener said at a press conference last month.
Ride the Ducks International was aware of the defect, which can cause the axle housing to fail, and warned its customers in 2013, said Weener. But the particular duck boat involved in the Seattle crash had not had the recommended repair, he added.
It is unclear whether Ride the Ducks of Seattle knew about the warning, but Weener said that's something investigators will be looking into. The NTSB investigation will take about a year to complete, he added.
"It is inexcusable that when they discovered dangerous flaws in duck boat axle housings, they informed their own operations in other cities," said Yoon's attorney, Charles Herrmann. "But failed to warn and instruct the Seattle franchise concerning the dangers."
The vehicle passed three inspections by mechanics with Ride the Ducks of Seattle, but they were allegedly unaware of the service bulletin sent to the company's other franchises describing the defect, according to the lawsuit.
Ride the Ducks of Seattle could not be reached by phone Monday for comment on the lawsuit. The company's operations have been suspended as they cooperate with the investigation. However, a recorded message stated: "We are all devastated by the accident and offer deepest condolences to all involved. Our heartfelt thoughts and prayers remain with all those affected by the accident."