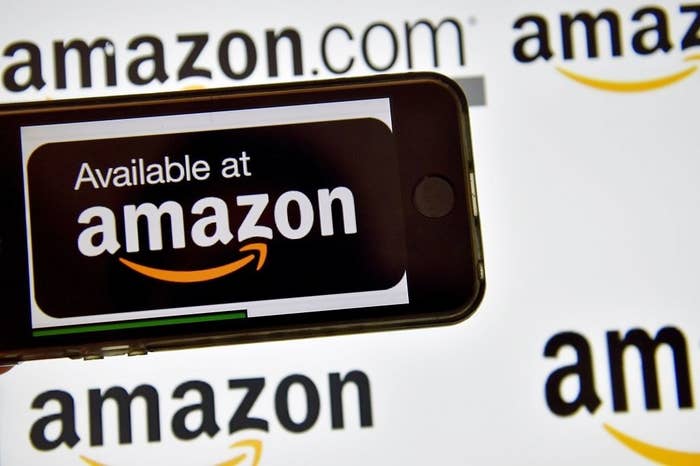 Shoppers on Amazon may find Sony headphones at 46% below retail price, or orthopedic dog beds at 50% below retail price, but as many have learned, some of those deals are too good to be true.
As the online retail giant grows, so has the number of scammers who entice customers with low prices only to deliver counterfeits or, in some cases, nothing at all. Such schemes leave customers duped, and place both sellers on Amazon and the company itself in a constant battle to rid the marketplace of scammers.
It's a well-known problem both to the company and to sellers on Amazon, which they say hasn't effectively addressed the issue. "It really is a game of cat and mouse," James Thomson, a partner with the consultancy Buy Box Experts who previously worked for Amazon, told BuzzFeed News. "As soon as Amazon sets up a way to identify these sellers, they have a way to get around it."
Typically a new seller, known in the Amazon universe as a "just launched" seller, enters Amazon and within days has hundreds to thousands of listings. The scammer offers a steep discount on products compared to current prices. But customers either are sent a counterfeit or never receive a package at all. By the time Amazon shuts down the profile, the scammer has likely already made many sales.
Rob Ridgeway, a board game seller on Amazon who estimated he's lost thousands of dollars in sales to fake sellers, said he has filed numerous reports to the company about fraudsters claiming to sell his product, but the company hasn't adequately addressed the problem. "I continue to play 'whack-a-mole,' trying to remove fake sellers," he said.
Amazon told BuzzFeed News in a statement that it "does not tolerate fraud," although it declined to provide details about what actions it is taking in order to keep bad actors from circumventing these systems. "In the event that sellers do not comply with the terms and conditions they've agreed to, we work quickly to take action on behalf of customers."
Ultimately, it's the company that absorbs the cost of fraud on the marketplace through its "A-to-z guarantee," which refunds customers who did not receive their products or who buy products that were misrepresented.
But as the marketplace grows, the company's losses to cover scammed customers increases with the risk of fraud.
Amazon said in its 2016 annual report that it "may be unable to prevent sellers from collecting payments, fraudulently or otherwise, when buyers never receive the products they ordered or when the products received are materially different from the sellers' descriptions." As its seller sales grow, "the cost of this [A-to-z] program will increase and could negatively affect our operating results," it added.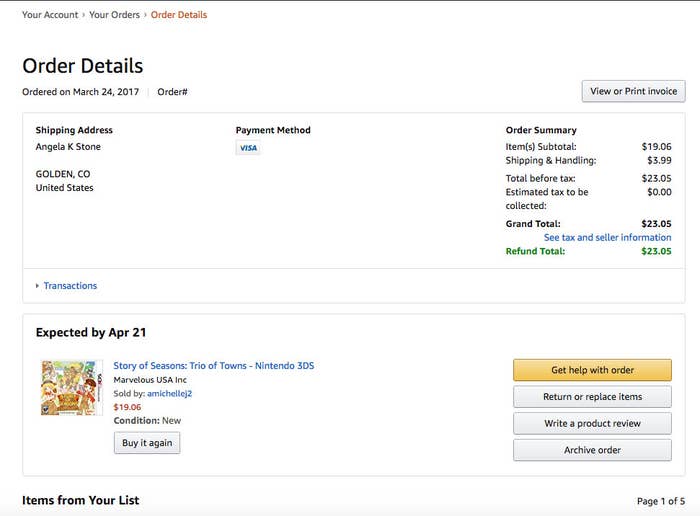 In March, Amazon customer Angela Stone was duped by a new seller when she was looking for the best deal on a Nintendo game.
Stone, a 38-year-old in Golden, Colorado, said she ordered the game from a seller called amichellej2 who was selling it for $2 less than the video game publisher's price. Two weeks later, the shipment still hadn't arrived and the seller had gained dozens of negative reviews from customers. The seller did not respond to a request for comment.
Although Amazon quickly refunded Stone under the A-to-z guarantee, Stone said, "I'm never going to order anything from a 'just launched' seller again."
"Burn me once, I'm not really going to want to do it again," she said.
Amazon told BuzzFeed News that "there have always been bad actors in the world" and it "is constantly innovating on behalf of customers and sellers to ensure they buy and sell with confidence on Amazon.com." For instance, it requires sellers to provide information including tax identity information and has tackled security loopholes in the marketplace that left third-party sellers vulnerable to hacks.
Despite Amazon's efforts, consumers tricked into making transactions off Amazon's site are not protected by the company's A-to-z guarantee.
Alexandra Garcia, a 26-year-old makeup and beauty YouTube blogger in Houston, told BuzzFeed News she saw a deal from an Amazon seller listing a used for a Canon T6i camera for $369, far less than the typical retail price of $750.
The seller posted a note telling potential buyers to email them before purchasing. Although it seemed odd to Garcia, she emailed anyway and received confirmation of her order from an email account that looked like Amazon's instructing her to buy the camera using an Amazon gift card. A few days later, the seller said they wouldn't ship the camera unless Garcia sent the code for another gift card to cover insurance on the shipment.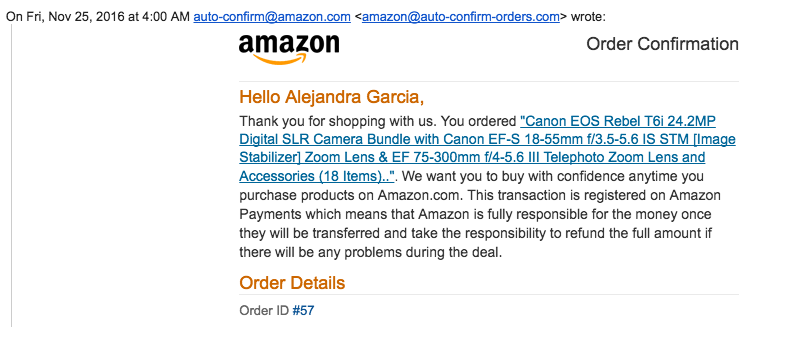 Fed up, she called Amazon customer service. A representative told her that her transaction number didn't exist and that she had fallen for a common scam that isn't covered by the company's A-to-z program because the sale didn't happen on the website.
"How are we supposed to know it's a scam when they're on your site?" said Garcia. "Anything and everyone on your site you should be responsible for and accountable for."
After working her way through the ladders of customer service, Garcia eventually was refunded for her purchase.
She hasn't bought anything from Amazon since. "I bought [the camera] through Best Buy," she said. "I actually physically went there to buy it. I was like, this isn't worth it. I ended up paying the full price...I don't want to get scammed again."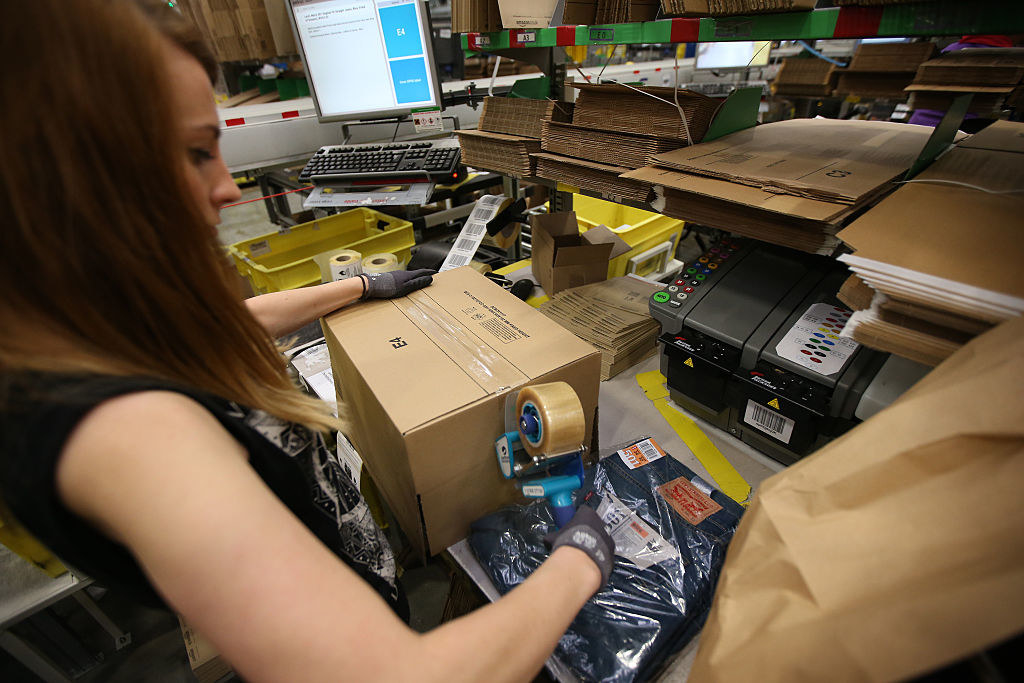 The cost of fraudsters lurking on Amazon's marketplace has a deep impact on sellers who told BuzzFeed News that they spend a lot their time swatting scammers off their listings like flies, and lose sales from defrauded customers.
Rob Ridgeway, who manufactures and sells a copyrighted board game on Amazon under Spontuneous Games, told BuzzFeed News that he noticed shady accounts on his product page purporting to sell his game after it became a number one best-selling game during the 2016 Christmas season.
Sellers say Amazon has asked them to perform "test buys" to prove violations before it takes any action against scammers. Between March and May this year, Ridgeway found 24 of the 33 test buys he did were scams, according to test buy records reviewed by BuzzFeed News. He'd receive messages that the game was delivered to the wrong address (in some cases, the postal service provided pictures of the package but the box was too small to be the game) or find no track record of the shipment at all.
"Everyone thinks, Oh, counterfeit! They're making it in China," said Ridgeway. "But this is a weird deal — they don't even have to make anything. They don't have any costs at all."
Because many of these accounts listed a much lower price than Ridgeway's, he said he would sometimes lose automatic sales that come when a customer clicks "add to cart," which favors the lower-priced vendor. He said he also was unable to participate as a vendor in limited-time lightning deal sales because Amazon privileges sellers with the lowest price, which sometimes were fake sellers.
Amazon marketplace sellers like Ridgeway are becoming a more integral part of the company's sales. They make up 51% of units sold on Amazon while third-party seller services generated about $23 billion in 2016, a 43% increase from $16 billion in 2015, according to the company's most recent annual report.
Ridgeway said he feels Amazon is most interested in having low-price sellers in its marketplace to compete with other retailers. "It's not just happening to me, and it's a huge problem," he said.