Christian College, Professor "Part Ways" Over Support For Muslims
The Wheaton College political science professor was suspended after writing on social media that Christians and Muslims worship the same God and wearing a hijab.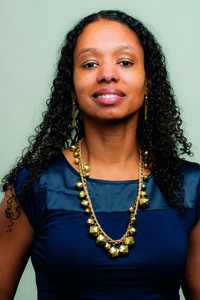 Officials at Wheaton College in Illinois say the political science professor who was suspended for writing on the similarities between Islam and Christianity and wearing a headscarf on campus to show solidarity with Muslims has agreed to "part ways" with the school.
The Christian liberal arts institution in the Chicago suburb of Wheaton said Friday that Larycia Hawkins and administrators "have come together and found a mutual place of resolution and reconciliation."
The statement added that they had come to a "confidential agreement" to "part ways."
In January, the college said they had initiated firing proceedings after reaching an impasse with Hawkins, who studies the intersection between race, religion, and politics, and had been a faculty member since 2007.
Friday's statement gave no details about how the college and Hawkins had finally come to an agreement, but a joint press conference is scheduled for Feb. 10.
On Dec. 10, Hawkins announced in a Facebook post that she would be engaging in an act of "embodied solidarity" by wearing a hijab in support of her Muslim sisters.

"I don't love my Muslim neighbor because s/he is American," she wrote. "I love my Muslim neighbor because s/he deserves love by virtue of her/his human dignity."
"I stand in religious solidarity with Muslims because they, like me, a Christian, are people of the book," she added.
Hawkins explained that she would wear the hijab to work and during her travels flying home for the holidays.
As a Christmas wish, she also invited other non-Muslim women to join in her act of solidarity.
Some women did join her in wearing a headscarf.
But on Dec. 15, Wheaton College announced that Hawkins has been put on administrative leave.
The decision was in response to "significant questions regarding the theological implications of statements" Hawkins had made "about the relationship of Christianity to Islam," according to a statement posted on the school's website.
Despite the action, Wheaton College President Philip Ryken said in a statement in January that the administration has "no stated position on the wearing of headscarves as a gesture of care and concern for those in Muslim or other religious communities that may face discrimination or persecution."

However, one day after Hawkins announced her act of solidarity with Muslim women, Ryken also said that it is essential that faculty and staff "engage in and speak about public issues in ways that faithfully represent the College's evangelical Statement of Faith."
One doctrine in the school's Statement of Faith explicitly states, "We believe in one sovereign God." Another states the "one, holy, universal Church is the body of Christ and is composed of the communities of Christ's people."
Hawkins, meanwhile, seemed unfazed by the backlash.
And Ojaala Ahmad, a spokesperson with the Council on American–Islamic Relations in Los Angeles, who also wears a hijab, called Hawkins' gesture a "beautiful act."

"We think it's a really beautiful act especially when there is so much Islamophobia where people have ignorance about Islam," she told BuzzFeed News on Monday.

Hawkins consulted with CAIR before she decided to wear the hijab.
"We welcome all non-Muslim women who have chosen to take part in the act to show solidarity," Ahmad said. "It's pretty brave of them that they are willing to do something that is not part of their practice."
BuzzFeed News has reached out to Hawkins for additional comment.