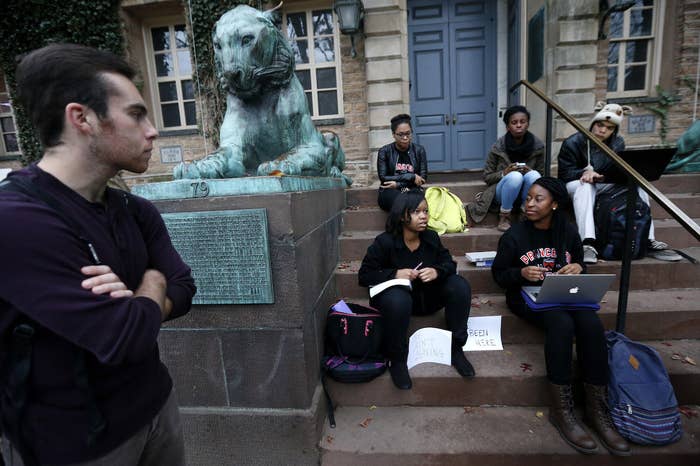 Princeton University administrators say they will consider renaming buildings on campus that are dedicated to Woodrow Wilson as part of an agreement reached with students who staged a 32-hour sit-in.
"Princeton is behind as it is typically around issues of race, ethnicity and discrimination," protester Asanni York, a 20-year-old junior at the Woodrow Wilson School of Public and International Affairs, told BuzzFeed News.
He added that while he's not sure Princeton will catch up, "I am hopeful."

Among their demands, students organized under the Black Justice League had called for the university to remove a mural commemorating Wilson — who as president supported segregation — from a dining hall at Wilson College, a residential building.
The thirteen-point agreement reached late Thursday ended a 32-hour sit-in at the university president's office in Nassau Hall.
"We appreciate the willingness of the students to work with us to find a way forward for them, for us and for our community," said Princeton President Christopher L. Eisgruber in a statement. "We were able to assure them that their concerns would be raised and considered through appropriate processes."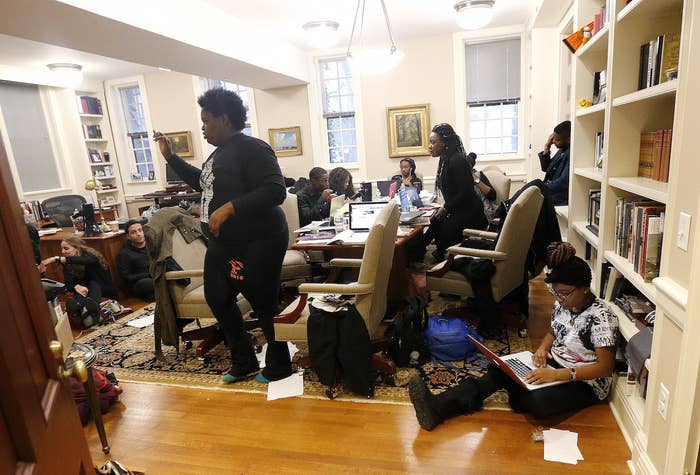 The university has also pledged to diversify its campus artwork, create a cultural space for "those interested in black culture," and enhance cultural competency among staff.
On Wednesday, Princeton University also changed the title of dorm leaders from "master" to "head."
Prior to becoming the nation's 28th president from 1913 to 1921, Wilson, a Democrat from the South, served as Princeton's president for eight years.

During his time as the nation's president from 1913 to 1921, Wilson allowed his cabinet to re-segregate federal government departments and personally replaced 15 out of 17 black supervisors with white people.

Wilson defended segregation by arguing it is "not humiliating, but a benefit, and ought to be so regarded by you gentlemen."
He was also the descendant of a Confederate soldier and a Ku Klux Klan sympathizer. A quote from his book, A History of the American People, even made it into The Birth of A Nation, the KKK's landmark propaganda film:

The white men of the South were aroused by the mere instinct of self-preservation to rid themselves, by fair means or foul, of the intolerable burden of governments sustained by the votes of ignorant negroes and conducted in the interest of adventurers.
Wilson held a special screening of the film at the White House in March 1915.
Before making a decision on removing Wilson's name, Princeton's Board of Trustees plan to hear opinions from the campus community.

The deal between Princeton and the Black Justice League comes as students across the U.S. protest racism on college campuses. University of Missouri's president recently resigned amid accusations of failing to respond to a series of racist actions on campus.
The University of North Dakota changed its nickname this week from the "Fighting Sioux" to the "Fighting Hawks." The National Collegiate Athletic Association dropped the former name in 2012 calling it "hostile and abusive."
Also on Thursday, Amherst College faculty joined students in voting to drop the school's unofficial mascot, Lord Jeffery Amherst, who led British forces in North America during the French and Indian War and who is suspected of possibly giving blankets infected with smallpox to Native Americans.
Georgetown University said it will rename two buildings dedicated to school presidents who organized the sale of slaves to settle campus debt in the 1830s.
CORRECTION
Students called for the removal of a mural at a Wilson College dining hall. This post originally misstated the mural's location.