People's Perception Of United Airlines Has Hit A 10-Year Low
Footage of a man being dragged off a flight sent United's consumer perception levels plummeting this week, according to a YouGov survey.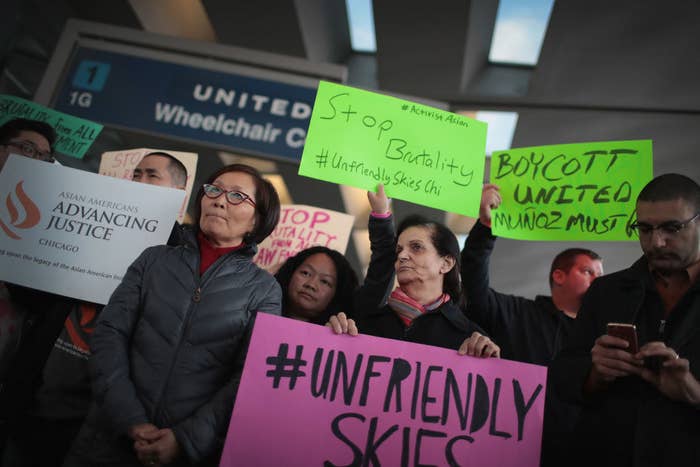 United Airlines has hit a 10-year low in consumer perception, according to a daily tracking poll that surveys the public image of thousands of brands around the world.
The company's reputation score, as measured by YouGov BrandIndex, had fallen to -28 by Wednesday, meaning 28% more people have heard negative stories about the company than positive ones. On Saturday, before a video emerged showing a man being violently removed from an overbooked United flight, the company's score was +3.
"United was really insensitive and callous in this particular case," YouGov BrandIndex CEO Ted Marzilli told BuzzFeed News. "The initial response defending or supporting the policy I think was really tone deaf."
United's drop in consumer perception marks the steepest decline for a US airline since last August, when Delta's computers failed, causing thousands of cancelled flights. It took Delta's reputation score only a few days to recover from that crisis.
The forced removal from United's flight was the second misstep by the company in recent weeks. In March, United stopped three girls from boarding a flight because they were wearing leggings, which is not permitted for passengers on "company benefit travel." While it only took United a week to recover from that incident, Marzilli said multiple missteps create an amplifier effect in consumer perception.
The incidents may put United at a disadvantage with customers who are choosing between flights that are equal in price and convenience, he said.
"People still have a choice," said Marzilli. Despite the impact, "It's just not going to be the sort of thing where people stop flying United tomorrow because of this particular incident."