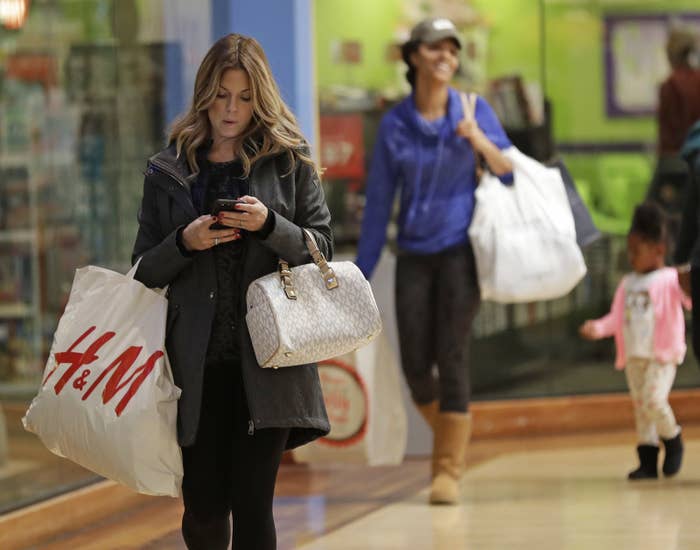 Holiday shoppers ended the year with plenty of retail therapy, brightening up an otherwise bleak year for retail.
Sales in November and December last year increased to $691.9 billion, up 5.5% over the same period in 2016, according to the National Retail Federation, a trade group.
Shopping at online or other nontraditional stores accounted for about $138.4 billion in sales, according to the trade group. That is an increase of 11.5% in online sales over the year before.
"Retail today doesn't look like retail 10 years ago, and it certainly won't look the same in another 10 years," Matthew Shay, the National Retail Federation's CEO, said in a statement. "But retail is retail, and will always be here to serve its customers."
The holiday sales numbers end a year of tumult within the retail industry as companies wrestled with how to ramp up their digital strategies to reach consumers who, thanks to Amazon, expect fast and seamless buying and delivery experiences.
Amazon, which added 4 million Prime members in just one week over the holiday season, dominated online shopping throughout November and December. The company controlled 38% of the online holiday shopping season, according to Slice Intelligence, an e-commerce data analysis company. Best Buy came in second but far behind, with just 4% of online sales.
While Amazon increased its holiday season market share by a half of a percent, competitors like Target tried to keep pace. The big-box retailer grew its market share by just over half a percent, according to Slice Intelligence. This suggests its strategy to convert some of its brick-and-mortar retail spaces into online distribution center spaces and smaller stores is working.
Digital sales helped grow Target's sales by 3.4% over November and December compared with the year before, the company reported Tuesday. Its stores fulfilled 70% of Target's digital orders over the holiday season, meaning that stores enabled about 80% of the company's comparable sales growth in that period.
Holiday spending was up in part because unemployment is low and consumer confidence is high. The unemployment rate was 4.1% in December for the third consecutive month, bringing the total number of unemployed people to 6.6 million, according to the Bureau of Labor.
People were also feeling more optimistic about their finances in December than they had in 17 years, according to a December report from the Institute for Social Research at the University of Michigan. About 50% of all consumers reported that their finances had improved, and they said they planned to shop more during the holiday season.
And though department stores took a battering in 2017, with a number of stores closing and consumers moving online, they also saw their sales go up this holiday. Macy's reported that during November and December, its sales increased by 1% compared with last year. JCPenney reported a 3.4% growth in sales, compared with a decrease of 3.1% in the same period last year.
While it remains unclear how department stores and shopping centers will fare in the post-holiday shopping year, several retailers' stocks rose on Friday after news of the improved holiday sales. People in the industry are relishing the bright spot in sales reports.
"It was a very positive season," Stephanie Cegielski, a spokesperson for the International Council of Shopping Centers, a global trade association of the shopping center industry, told BuzzFeed News. "I think that also goes to show consumer confidence is at a good point and people have settled down a bit and they're spending money — which is what we want them to do."