This Photo Of Mark Zuckerberg Has People Predicting A Grim Future
"A quick glimpse at our dystopian future."
Facebook CEO Mark Zuckerberg announced the company's partnership with Samsung and his vision for a virtual reality future at the Mobile World Congress in Barcelona on Sunday.
The entire audience at the Mobile World Congress, an international conference on mobile technologies, wore a pair of Samsung's VR Gear as Zuckerberg walked to the stage without notice.
When the audience removed the goggles, they were shocked to see Zuckerberg had entered the room.
Zuckerberg told the audience that when he was 11 he would "sketch images of a world where you could not only navigate to a 2D website, but transport yourself to a completely different place in reality."
"I've been waiting for it to be possible to create this experience, and today it finally is," he said.
He announced every pre-order of the Samsung Galaxy S7 and S7 Edge will ship with a free Gear VR.
But one of Zuckerberg's photos had some people a little disturbed.
Some people saw a "glimpse at our dystopian future."
People saw a future of digital zombies led by this casually dressed overlord.
Our new "virtual reality with our leaders walking by us."
Even more grim, maybe this overlord will lead us while also living in virtual reality.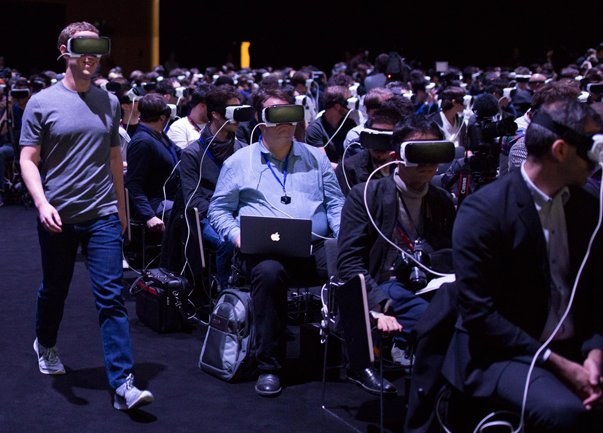 A few people referenced Apple's iconic "1984" commercial.
Some people saw a Matrix sequel.
And they saw those future humans from Wall-E.
Other people predicted Zuckerberg's end.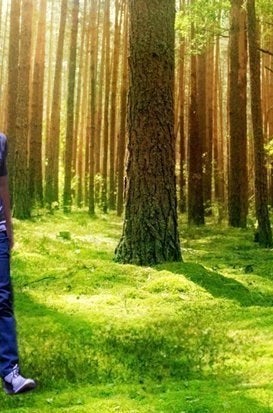 And some took the chance to make fun of GOP presidential candidate Marco Rubio.