Lori Elizabeth Ens told BuzzFeed News she's never had any major problems with her skin. She doesn't consider it "sensitive" — and with regular facial cleansing she's managed to keep it clear and healthy.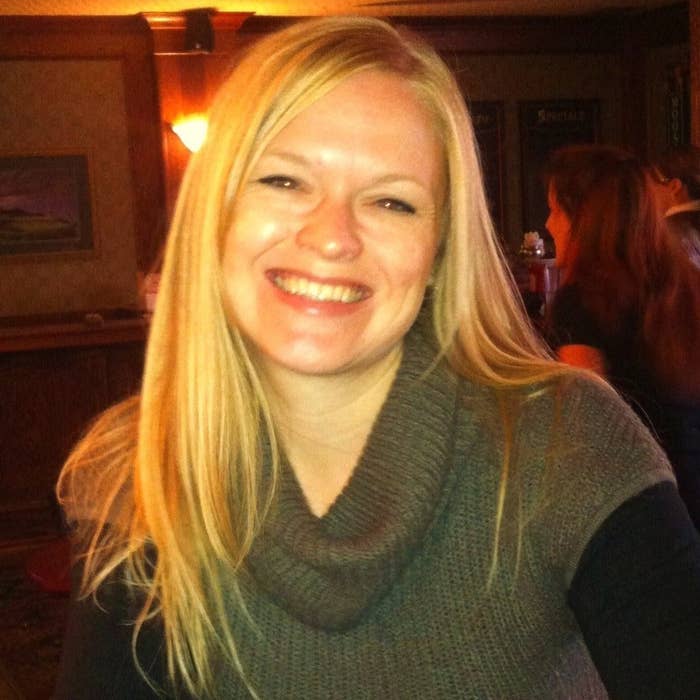 Ens, a 38-year-old holistic therapist in Ontario, Canada, has used Neutrogena's gentle scrubs and fragrance-free face washes as part of her daily skin care for years.
She didn't think twice, she said, when she spent the night at her sister-in-law's house on March 26 and borrowed her Neutrogena Oil-Free Acne Wash Pink Grapefruit Foaming Scrub.
But two days later, her skin became inflamed and started to peel.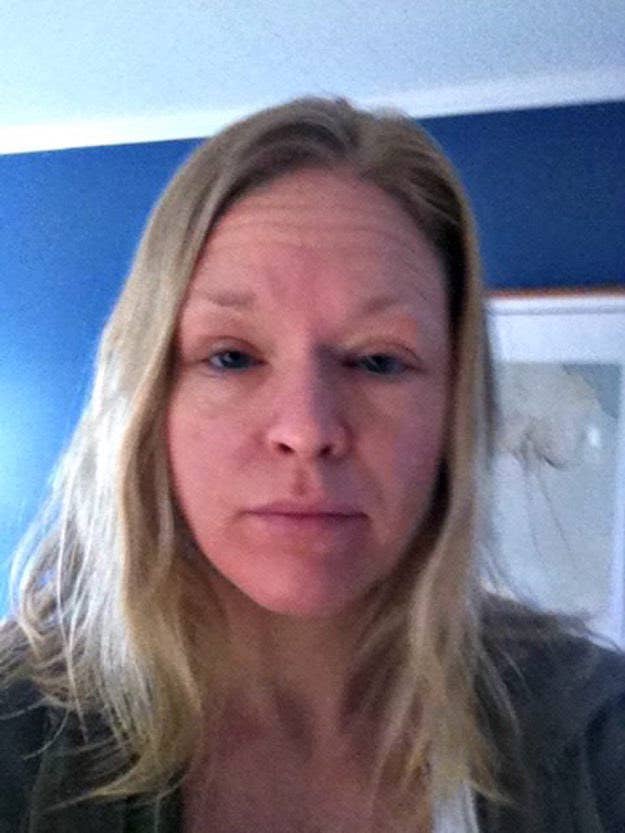 The night she said she used the face wash she slept for 11 hours, but woke up still tired.
"Not until the following day, I woke up in middle of night and my whole face was swollen and my eyes were swollen shut," she said. "I couldn't recognize my face in the mirror."
She went to see her primary-care doctor not realizing what brought on the inflammation. The doctor prescribed her prednisone, which is used to treat allergic reactions, and eye drops to treat the irritation.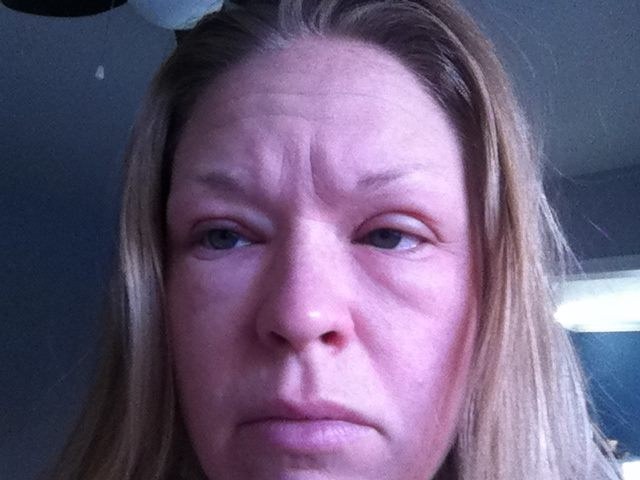 "He was trying to get me to figure out what it was but i didn't know at the time," she said.
Her eyes were most affected and that's when she said she realized she had cleaned her face with the cleanser to remove her make up.
"I scrubbed around my eyes and thought, 'I bet that's what it is,'" she said.
Ens began researching the product online — and discovered hundreds of complaints from people who say they experienced similar inflammation after using two of Neutrogena's grapefruit products: Neutrogena's Oil-Free Acne Wash Pink Grapefruit Facial Cleanser and the Oil-Free Acne Wash Pink Grapefruit Foaming Scrub. People said the products left their faces irritated, red, and burning.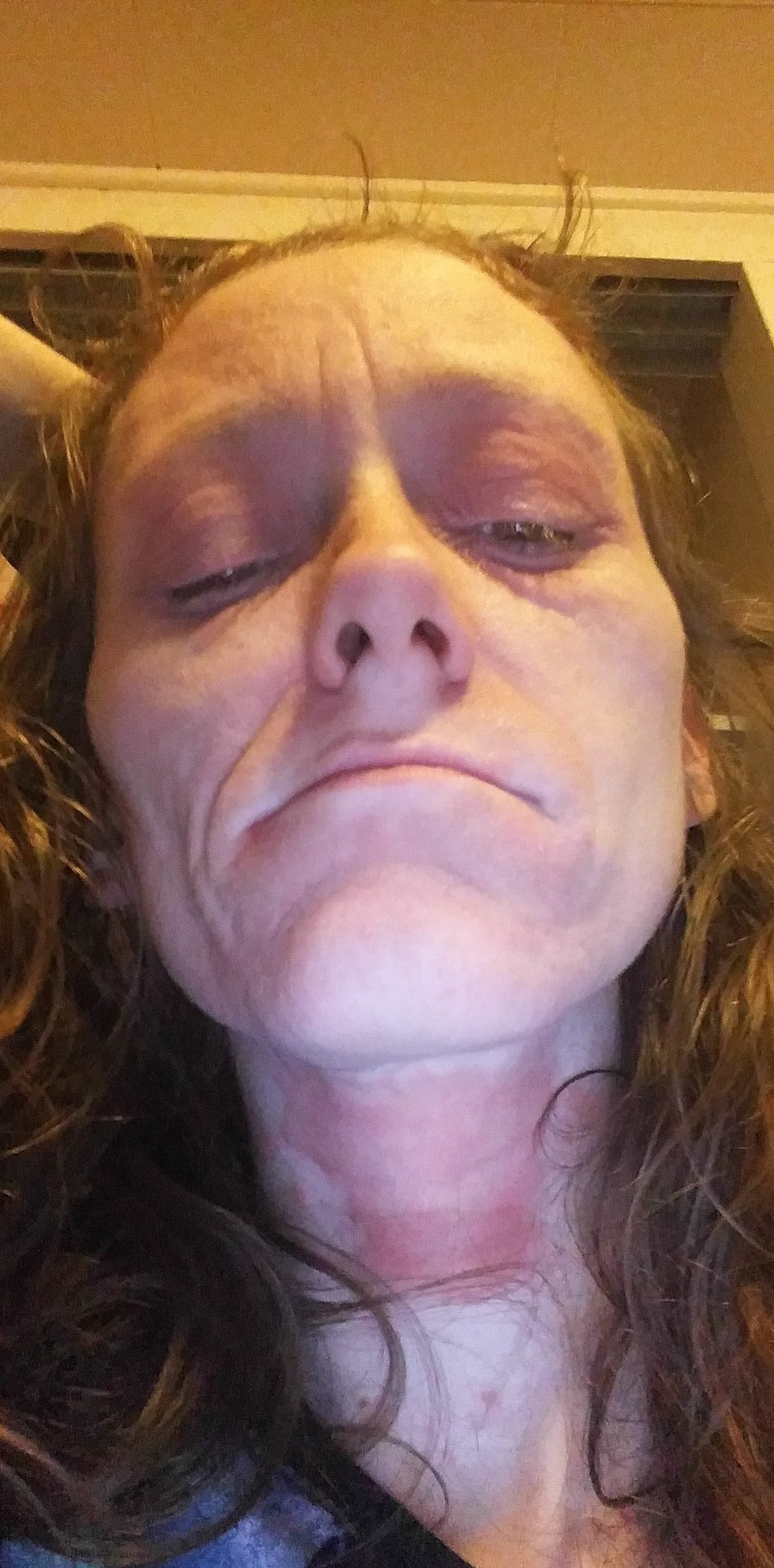 Neutrogena, which is owned by Johnson & Johnson, is marketed as "the #1 Dermatologist Recommended" brand.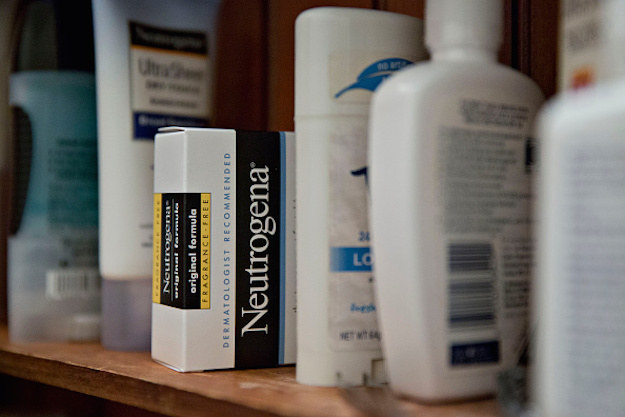 Neutrogena's Pink Grapefruit Facial Cleanser was first launched in retail stores in early 2008, a Johnson & Johnson spokesperson told BuzzFeed News.
The cleanser "responds to consumer preference for an Oil-Free Acne Wash Facial Cleanser that also has the added benefit of a vitamin C plus a Grapefruit scent," said the company.
The scrub, released in August 2008, claims to "smooth away roughness without over-drying or irritating your skin" using small microbeads for exfoliation.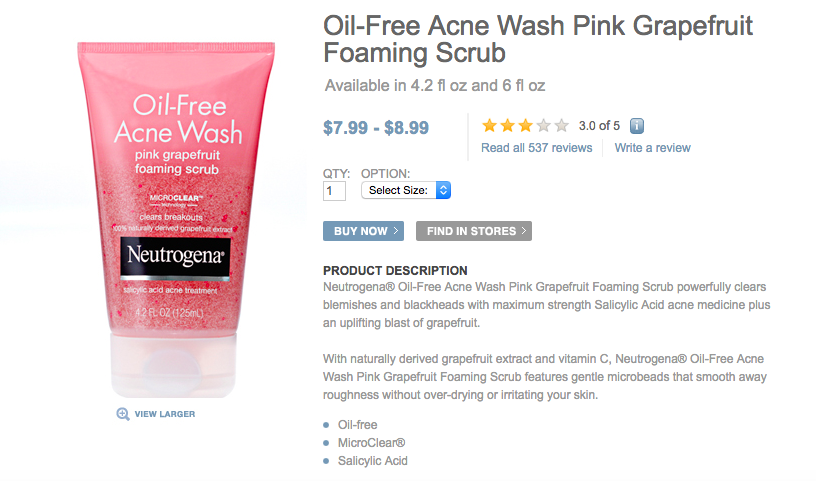 Neutrogena stood behind the grapefruit facial cleanser's safety in a statement to BuzzFeed News.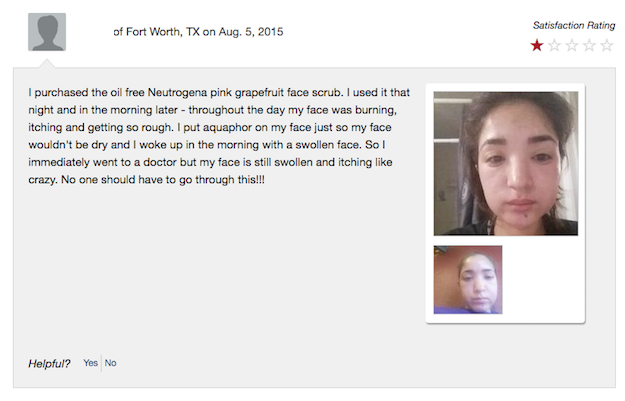 "All of our products are safe and effective when used as directed," it stated. "Skin irritation and dryness is more likely to occur if you use another topical acne medication at the same time."
But people are complaining on the company's Facebook page, both products' websites, and Consumer Affairs — a for-profit consumer news publication — that the cleansers left their skin red, swollen, and burning.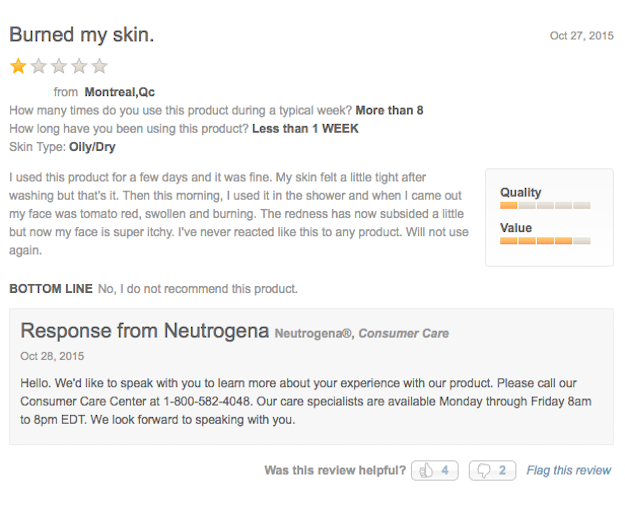 One person said their reaction to the grapefruit cleanser "can be likened to 'chemical burns'" leaving her in "agony for days" after she stopped using it.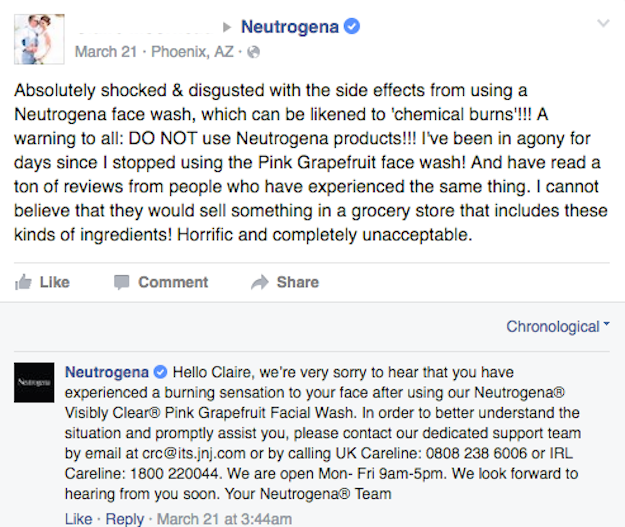 One woman claimed the grapefruit cleanser was the only Neutrogena product that gave her skin irritation. She said it left her face and neck red, stinging, and peeling the day after using it.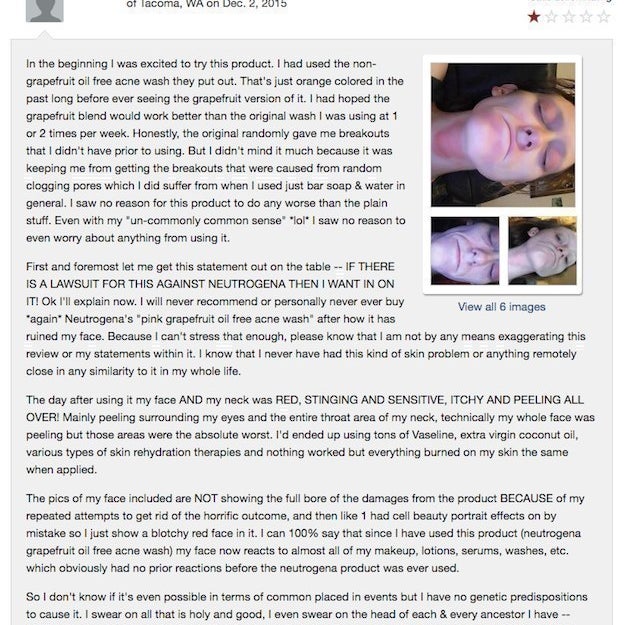 She said she treated the irritation with petroleum jelly and coconut oil, but claimed her skin became sensitive to other products and appeared blotchy.
One person who posted a complaint in March on the scrub cleanser's website said the burning was so severe that they missed work to go to the emergency room.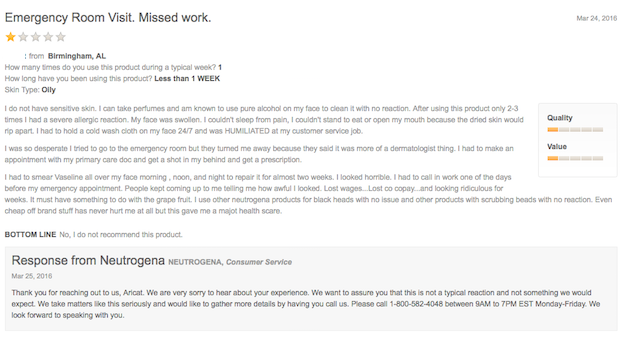 "My face was swollen," the person said. "I couldn't sleep from pain. I couldn't stand to eat or open my mouth because the dried skin would rip apart."
The commenter said they eventually went to their primary-care doctor, who prescribed medication to treat the reaction.
Neutrogena responded to the complaint stating the reaction is "not typical."
Silverberg, who specializes in chronic inflammatory skin diseases, said that it is difficult to nail down exactly what is causing the irritation without seeing patients in person. But he said the botanical extracts in the grapefruit cleanser and scrub products — chamomile and grapefruit — as well as fragrance are all common skin irritants.
Cocaimopropyl betaine, propylene glycol and benzalkonium chloride, contained in both the scrub and cleanser, are also associated with irritation.
"People can be allergic to them," he said. "Even if patients aren't allergic to them, it can be downright irritating to their skin."
The product's signature ingredient, grapefruit extract, does not have a robust amount of cosmetic research behind it, added Silverberg.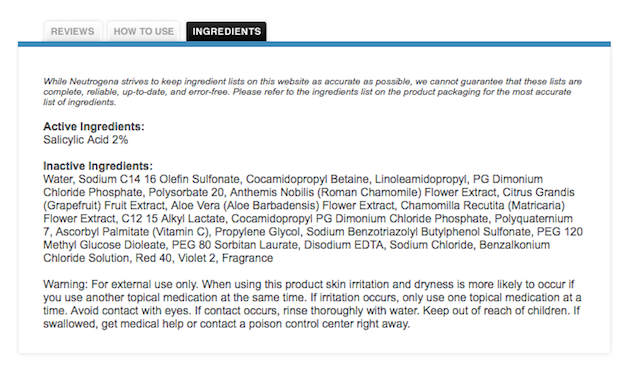 "We don't have a whole lot of information about that as an ingredient," he said.
Dr. Tyler Hollmig, a dermatologist and director of the Laser and Aesthetic Dermatology at Stanford Health Care, told BuzzFeed News that grapefruit contains alpha-hydroxy acids, which can exfoliate the skin. But the extract and salycylic acid may "work synergistically to induce skin peeling or exfoliation, which could theoretically cause an increased risk of skin irritation."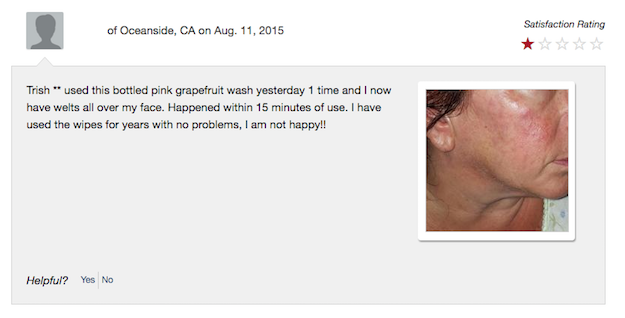 "We often take advantage of this in skin peels, which mimic an 'irritant dermatitis' to help patients shed dead skin and induce production of new healthy and glowing skin," said Hollmig.
But with salicylic acid as the product's only active ingredient, Hollmig said it is unlikely there is "another type of acid hiding in there."
"Time will tell whether patients are experiencing an irritant or allergic reaction," he said. "If patients seem to develop adverse reactions to this product, further investigation may be needed."
Hollmig said he is unable to comment specifically on the grapefruit extract ingredient's harm or benefit to the skin. But he said there are multiple ingredients that make up grapefruit, including certain acids and other products that may or may not benefit the skin.
Because the face wash is considered a cosmetic, Neutrogena does not have to specifically list their ingredients — unlike drugs — which makes it difficult to assess from the packaging what may make up the extract, he said.
Neither Silverberg nor Hollmig said the issues reported by consumers were directly caused by the cleanser.
The grapefruit wash, like other cosmetics, is not required to undergo pre-market approval by the U.S. Food and Drug Administration. Instead, Neutrogena's products must pass the company's "end to end" safety assurance process.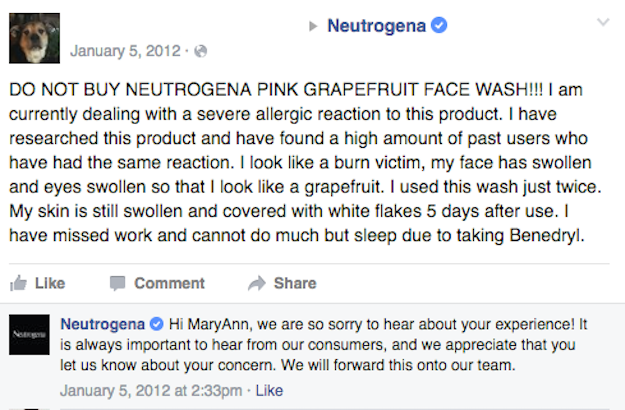 Each skin care product is evaluated for irritation, allergy, and stability on anywhere between 60 and 150 volunteers, according to the company's website.
Neutrogena declined to disclose the safety assessment methodology and results for the grapefruit cleaner, saying it is "proprietary."
"We recommend to consumers if symptoms persist or gets worse, or if new symptoms occur, stop use and consult a physician," it said.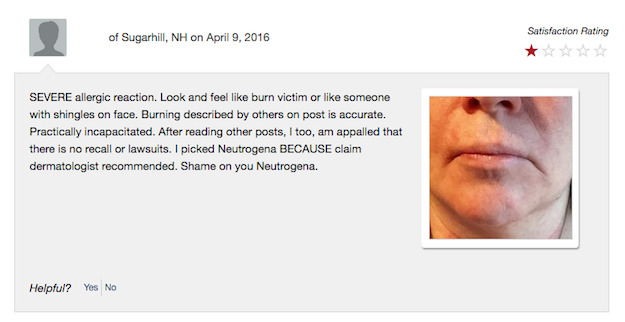 Ens no longer uses any Neutrogena products. Since her experience with the Oil-Free Acne Wash Pink Grapefruit Foaming Scrub, she said she now cleanses her face with coconut oil and uses noncommercial products.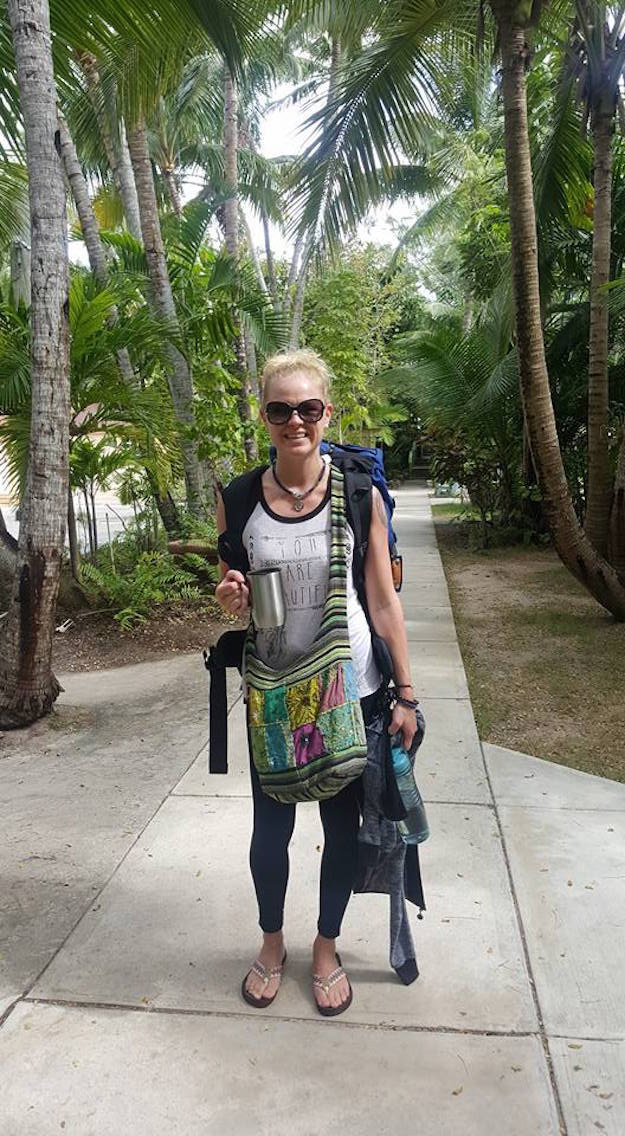 "My skin has gone back to normal," she said. "It's good now."
She said she trusted Neutrogena because their advertising promoted the brand as reliable.
"I read the ingredients and it seemed pretty straightforward," she said. "I thought well they're a good company and I grabbed the pink grapefruit, but I had a very different reaction."
Correction
Ens clarified to BuzzFeed News that she used the Oil-Free Acne Wash Pink Grapefruit Foaming Scrub, not the Oil-Free Acne Wash Pink Grapefruit Facial Cleanser. This post has been updated to include additional information on the scrub.