Gucci Mane, a trap rapper from Atlanta, Georgia, has found himself at the center of an online conspiracy theory that his post-prison self is actually a government clone.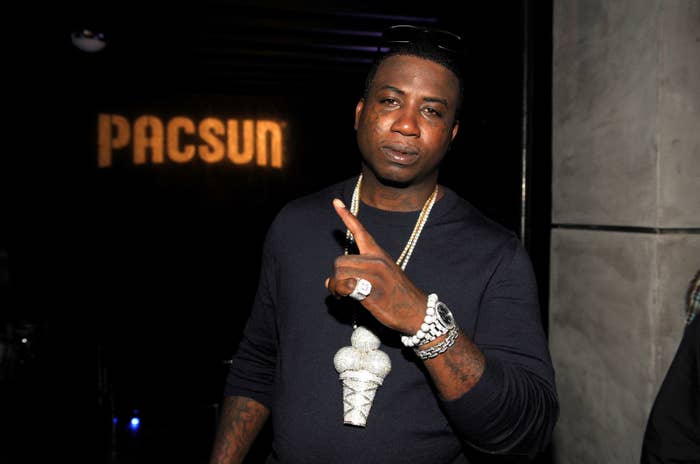 It's a real thing.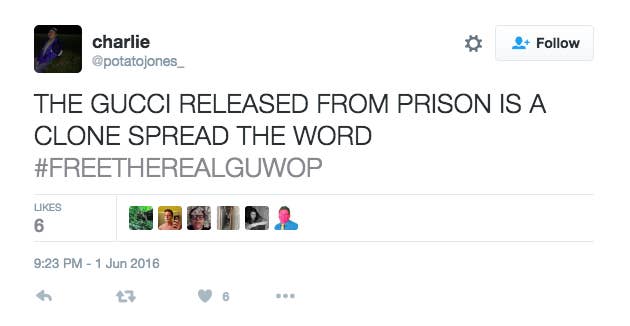 The rumors gained traction after Gucci Mane, whose legal name is Radric Delantic Davis, was released from an Indiana prison in May after serving time for a federal firearms charge.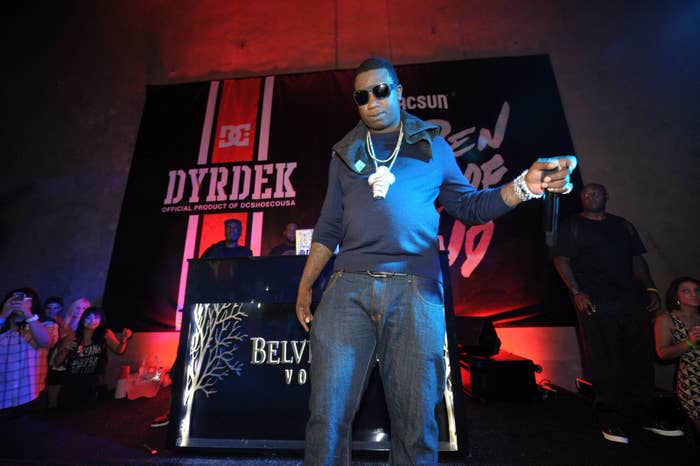 Davis pleaded guilty in May 2014 to a federal possession of a firearm charge by a convicted felon after reaching an agreement with prosecutors.
He was released four months earlier than expected.
But some Guwop fans have noticed that the 34-year-old rapper seems different.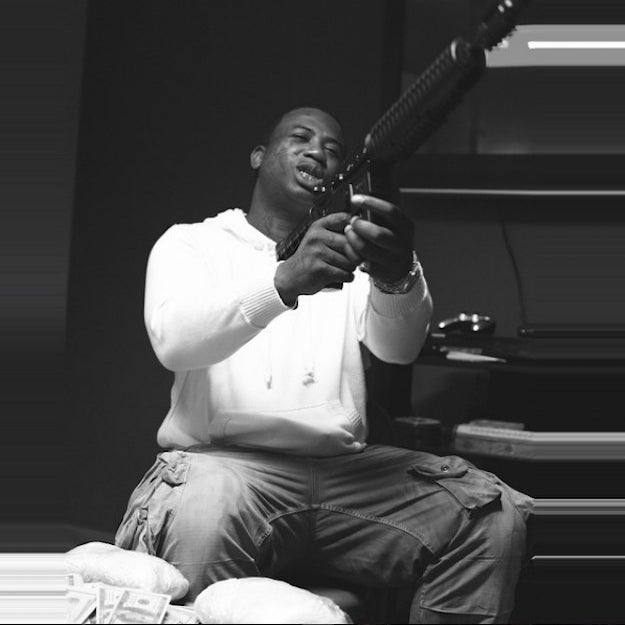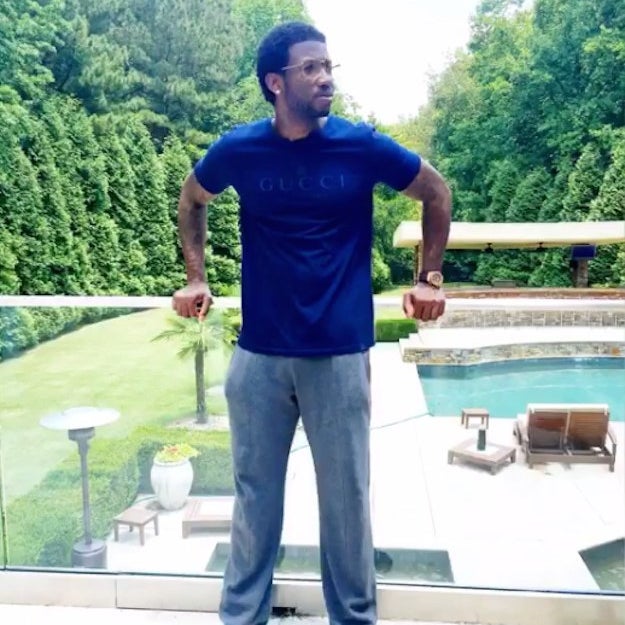 Rumors circulated online that this new man is not actually the old Davis. Some people believe that he is a government clone, perhaps created by the CIA to whitewash trap music.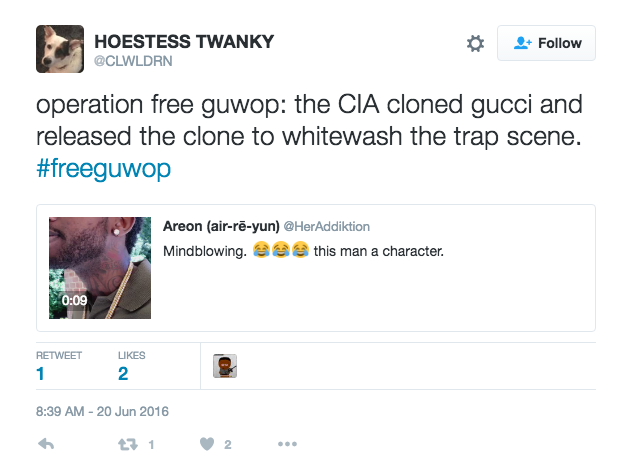 Most notably, people noticed that in some pictures Davis' ice cream face tattoo appears to be missing.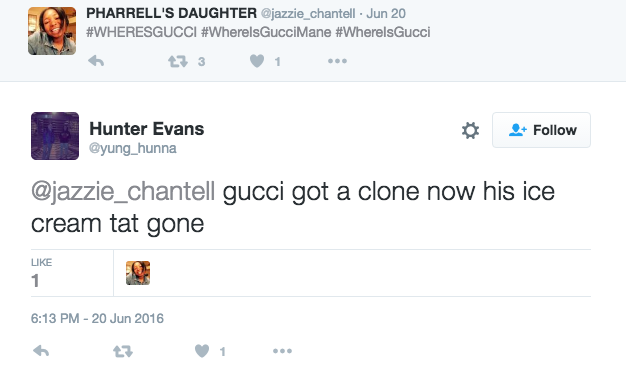 In response to BuzzFeed News' inquiry about the rumors, a CIA spokesperson said "internet rumors are not news and the Office of Public Affairs will not waste time on them."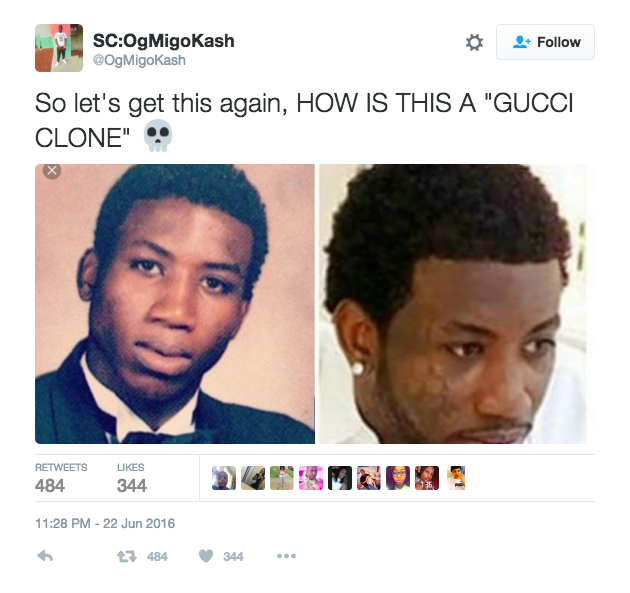 It's unclear how exactly the rumor started. But the first mention on Twitter of a Gucci clone comes from Twitter user @Sir_Geechi in April 2015.

A user called @dustychad came up with a similar thought in January 2016.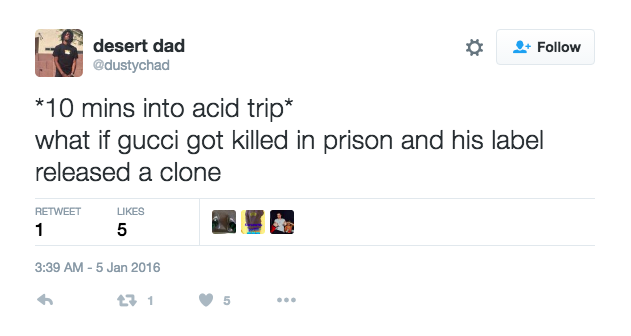 But the online conspiracy gained traction around the time that Davis was released from prison in late May.

"The reason it took so long for Gucci to get out of jail was because they had a hard time re-tattooing that ice cream cone on his clone," said one person.
The theory was fueled by a fake article published June 19 on the website, ThingsUthink.com, which reported Lil Boosie, another rapper, said the man who left prison is "not the real Gucci Mane."
The site reported that Lil Boosie, who now goes by the name Boosie Badazz, spoke with Charlamagne Tha God his radio show "The Breakfast Club," expressing his sense that Davis is not himself.
"That ain't the real Gucci," said Boosie, whose legal name is Torrence Hatch, according to the site. "We both sitting in the studio and he seemed lost and after his show at Mansion he called me Herman."
The problem is that it never happened.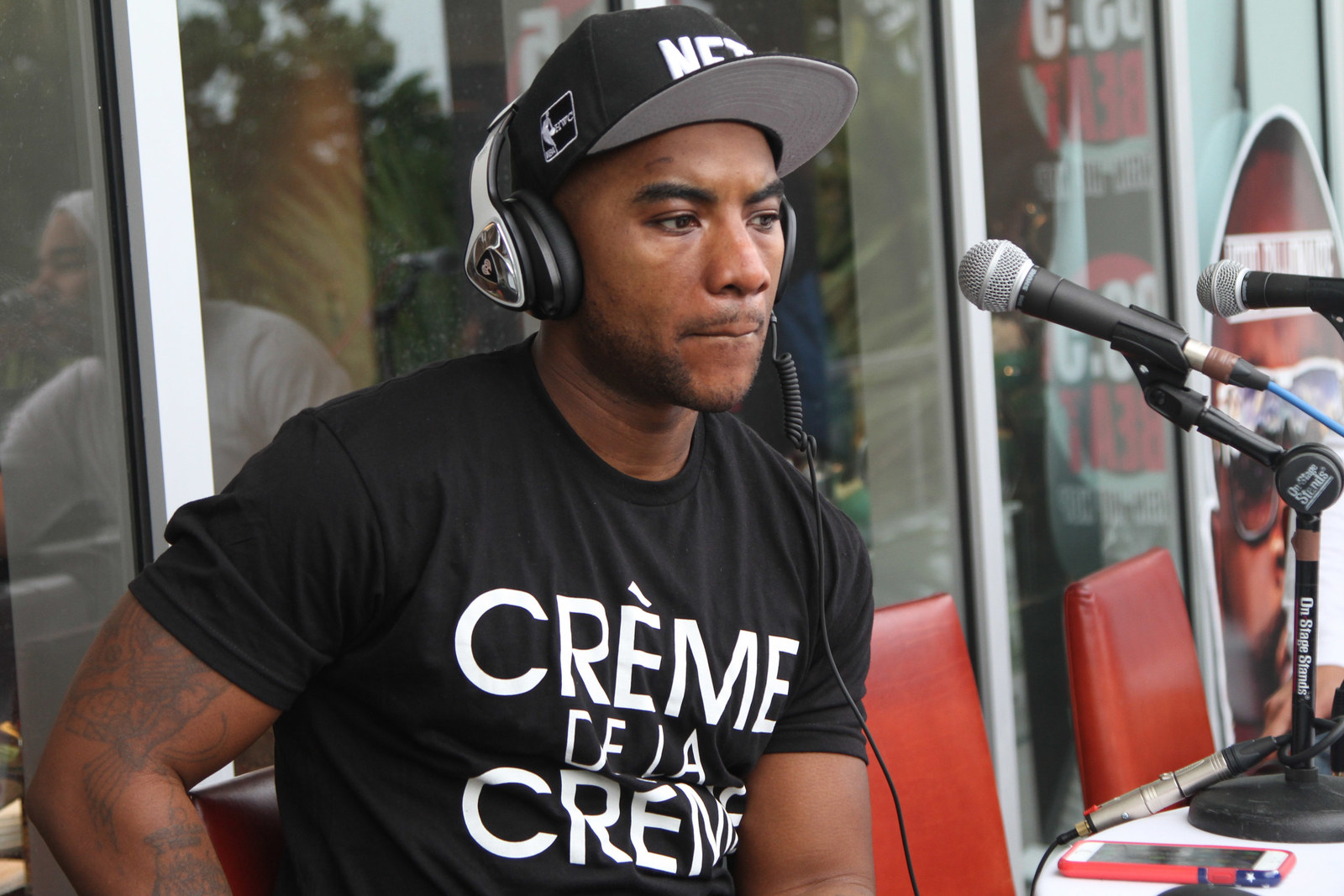 Charlamagne Tha God last spoke with Hatch on May 26th, 2015, the show said in a blog on Wednesday, and the article is totally fake.
"To all the Gucci-clone truthers, why can't you believe that Guwop made a commitment to his health and improved his life?" they wrote. "Most importantly, what reason would the government or the illuminati have to clone Gucci Mane? Out of all the people in the world...Gucci? Really, bruh?"
But people are so convinced that the man released from prison is not the "real" Gucci Mane, they've started trolling his Facebook page.

"What did you do with the real Gucci?"

People sincerely want some answers.

Davis directly addressed the rumors in a video posted to Snapchat on Wednesday.
"I'm hearing that Gucci is a clone," he said with a big grin. "I wouldn't support nor deny those accusations."
But the vague response to the rumors left some people still calling to free Gucci Mane.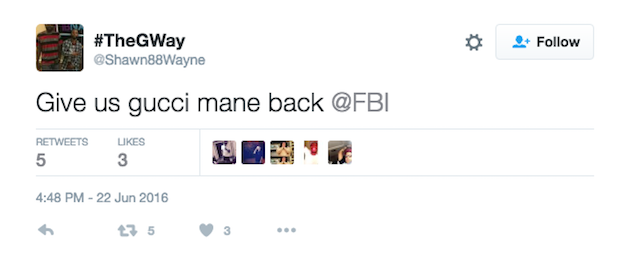 And even though some fans have heard from the rapper himself, people still believe that it is possible to clone humans because "SCIENCE."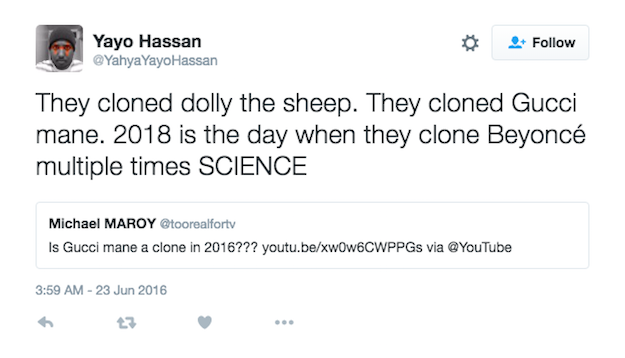 But science shows it's not actually possible to clone humans.
Jeannine Mjoseth, a spokesperson for the National Human Genome Research Institute, directed BuzzFeed News to the organization's public fact sheet on human cloning.
"Despite several highly publicized claims, human cloning still appears to be fiction," it reads. "There currently is no solid scientific evidence that anyone has cloned human embryos."
Previous attempts to clone humans have been proven false. Cloning humans and other primates is more difficult than other mammals because of the location of two proteins called spindle proteins, adds the Institute.
Those two proteins are essential to cell division and are located close to the chromosomes in primate eggs. That makes it difficult to remove an egg's nucleus for donor nucleus without also removing those proteins.
Some people suggested that people may just find it unbelievable that he got his life together after prison.