People are traveling really far to nerd out over the solar eclipse on Aug. 21. People have already booked housing and bought all the gear they need to see the eclipse, which can only be seen from the US. But Hertz has thrown a wrench into some of those plans by canceling overbooked reservations.
A number of Hertz customers received a robocall last week alerting them that their Portland, Oregon car reservations around the solar eclipse had been cancelled due to overbooking.
"We acknowledge that we unintentionally overbooked reservations for the Portland area for the days of the solar eclipse," Hertz told BuzzFeed News in a statement. "Some affected customers received initial phone calls last week from our local team to apologize for the inconvenience and discuss alternatives."
It said it has reached out to all customers whose reservations were cancelled to accommodate them.
Some Hertz customers said that reservations they had made months in advance had been cancelled.
"Whole trip now cancelled," said one person.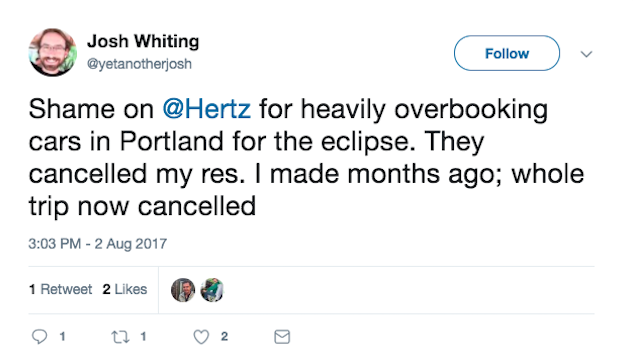 "Airline tix for 2 from NY to OR: $1400," wrote one person. "Hotel: $1300; Hertz cancelling res: priceless!!"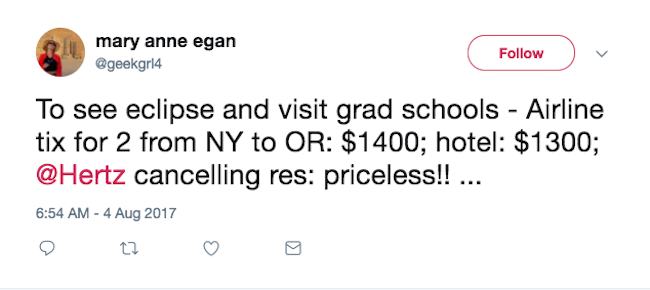 The eclipse will stretch a 70-mile-wide strip where the moon will almost fully block the sun which covers 12 states from Oregon to South Carolina. It's the first US coast-to-coast total solar eclipse in 99 years.

Customers had already been complaining about their reservations with Hertz, accusing them of "gouging" prices in the areas where a swell of people are expected to travel to view the eclipse.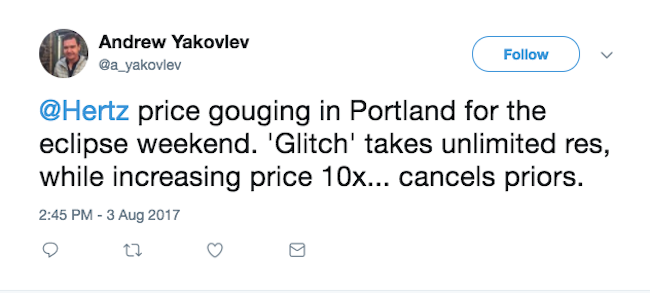 One person complained about the surge in price using the hashtag #highwayrobbery.
One person said they didn't end up reserving a car because of the dramatic increase in price.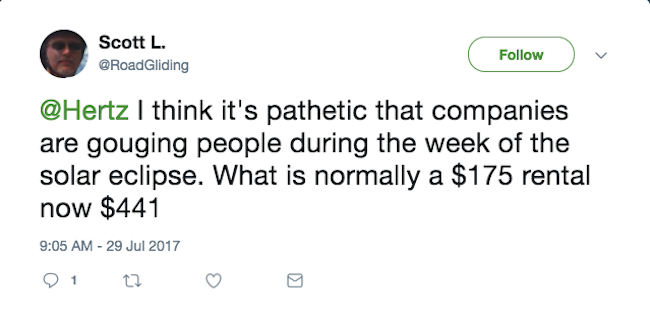 Hertz told BuzzFeed News that it will bring cars into the Portland area to fill the extra demand.