Casper, the once online-only mattress company, has joined the ranks of the many other digitally native businesses that now have physical retail stores.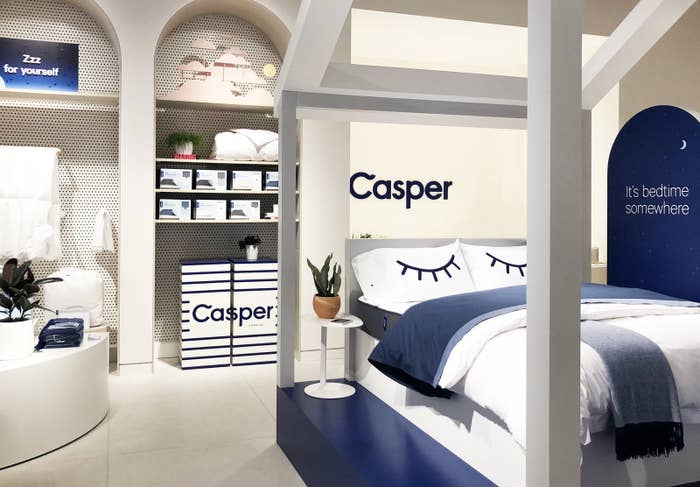 On Tuesday, Casper, which is known for its fast shipping and easy return policy, opened its first permanent store in New York's swanky NoHo neighborhood. The startup had previously dabbled in physical retail through pop-up shops, short-term stores, and more gimmicky strategies like a mobile nap pod.
It also already sells sheets and a bed mat at Target stores and, until 2017, it sold mattresses at West Elm. But Neil Parikh, cofounder and chief operating office of Casper, told BuzzFeed News that it was time for the company "to do its own thing" and launch its first permanent store.
"It's a product people look for in-person," he said. "For us to create a sleep store and take a spin on it and get people to think about it differently, it makes sense that we'd want to do that in person."
The 3,000-foot "sleep shop" at 627 Broadway in New York has six "birdhouses," constructed to resemble bedrooms where shoppers can try out Casper's mattresses and adjustable bed frames.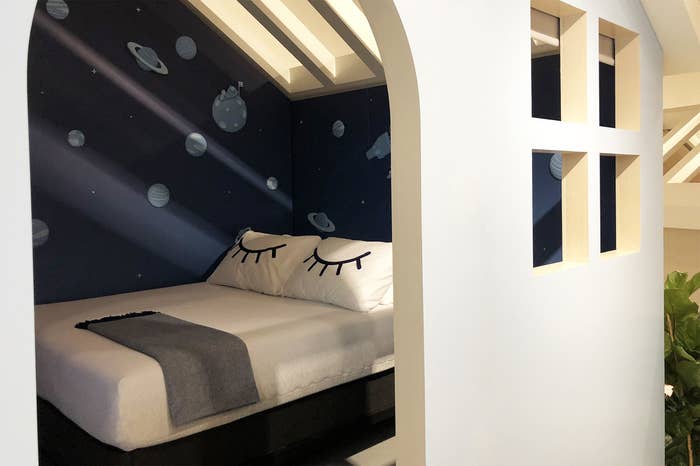 Traditional mattress stores are notorious for high markups and aggressive sales tactics because their sales people are paid on a commission. But while Casper's store has financial targets it aims to meet, workers are paid hourly and do not make a commission on sales. Parikh said this helps eliminate the pressure people may experience in other mattress stores.

Instead, the shop is designed to create "a comfortable and enjoyable experience for visitors," he said.

The majority of the store's sales floor workers have previously worked for a mix of startup, service, and luxury brands, including Warby Parker, Tesla, Apple, Lululemon, and Burberry, the company told BuzzFeed News.

Parikh called mattresses "an intimate purchase."
"A lot of times you have a couple coming in and talking about how they kick their person," he said. "We're not doctors, but we try to be more holistic about what sleep is like."

Parts of the shop seem more like a science fair than a traditional mattress store.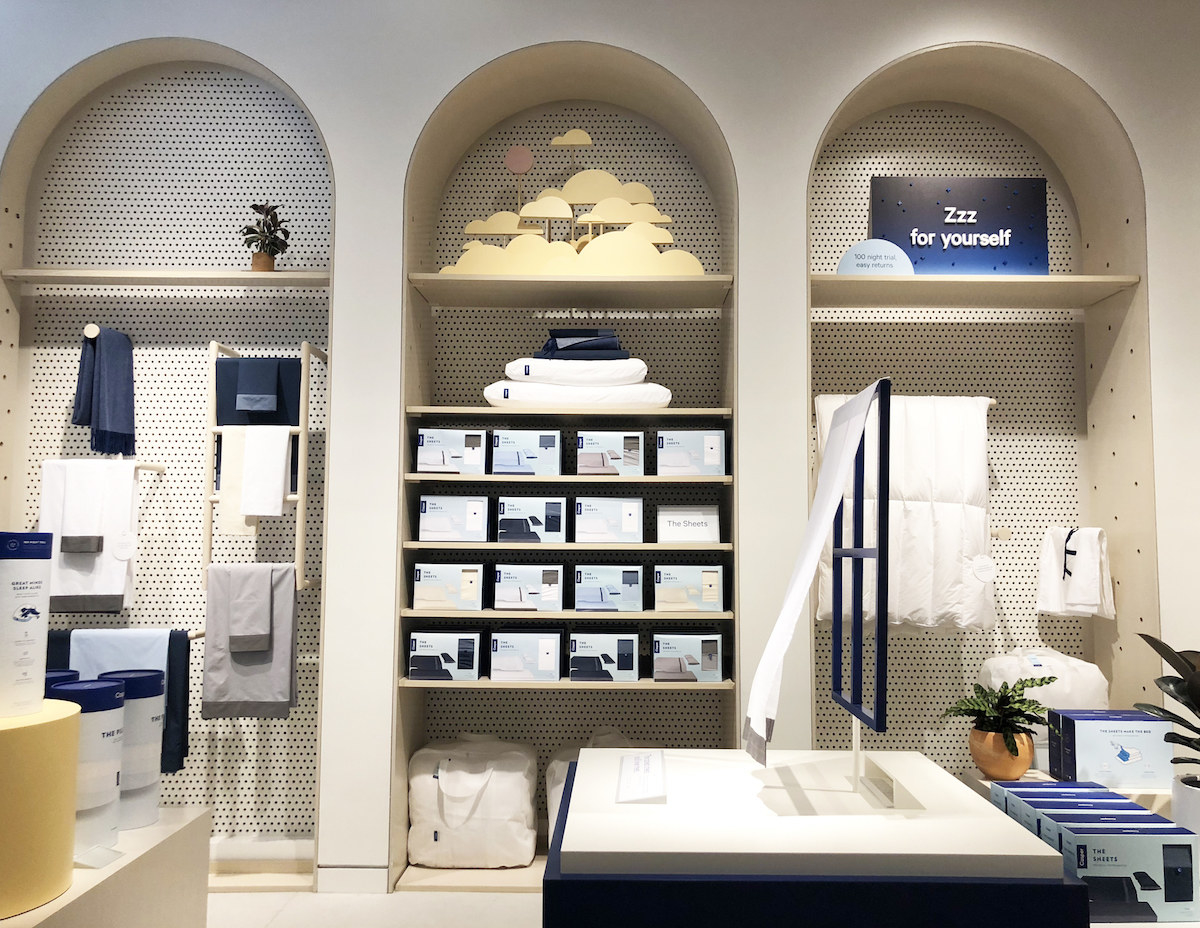 Shoppers can touch the fibers that make up Casper pillows and learn the basics about how it will adjust to move with your nightly twists and turns.
Another display features an air vent that blows over a sample bed sheet attached to a black window pane, to highlight how the company's weaving technique is meant to maintain a body's even temperature.
Casper is opening its brick-and-mortar store amid growing pressure and competition in the mattress and sleep product industry.
Consumer demand for mattresses has expanded in recent years, according to a December 2017 report from IBISWorld, and so more startups are jumping into the fray, including Tuft & Needle and Leesa, which replaced Casper in West Elm stores.

The emerging mattress brand is projected to continue to grow in 2018. KeyBanc Capital Markets estimates that market share for emerging brands will grow to 11.3% from 8.0% in 2017. That amounts to a projected $2 billion in revenue in 2018 from projected $1.4 billion in revenue in 2017.

And the competition in the industry is fierce. A Fast Company story detailed how Casper used social influencers and affiliate marketing to drum up sales for its mattresses online, and how it later sued certain blog sites, claiming they drove business to its competitors without properly disclosing that the brands were paying the bloggers sales commissions.
Parikh defended the company's decision in October, saying "a lot of the people who we were involved with were SEO content sites that were essentially trying to hijack our traffic and divert it."
Anya Cohen, a retail industry analyst at IBISWorld, told BuzzFeed News that a physical store may attract tech-wary shoppers who have been alienated by digital-only emerging brands.
"By providing a brick-and-mortar space for shoppers to try the product, Casper can increase brand awareness and capture demand from more traditional shoppers who otherwise would not buy a mattress without trying it in person," she said.

While Casper has developed a strong brand, its many competitors will be a challenge for its growth, an equity research analyst told BuzzFeed News.
"The barriers to entry in this category are low, and there is an increasing level of competition for Casper, which could ultimately limit the upside of the story," Brad Thomas, an equity research analyst with KeyBanc Capital Markets, told BuzzFeed News.

Unlike razor blades or socks, a mattress business doesn't have to sell a high number of products to make a profit. Walmart recently announced its own online mattress line called Allswell, and Pottery Barn has its own online mattress called the Robin.
"They are driving up customer acquisition costs," said Thomas.
Having a new mattress store in the neighborhood didn't seem to faze one of Casper's traditional competitors, Mattress Firm.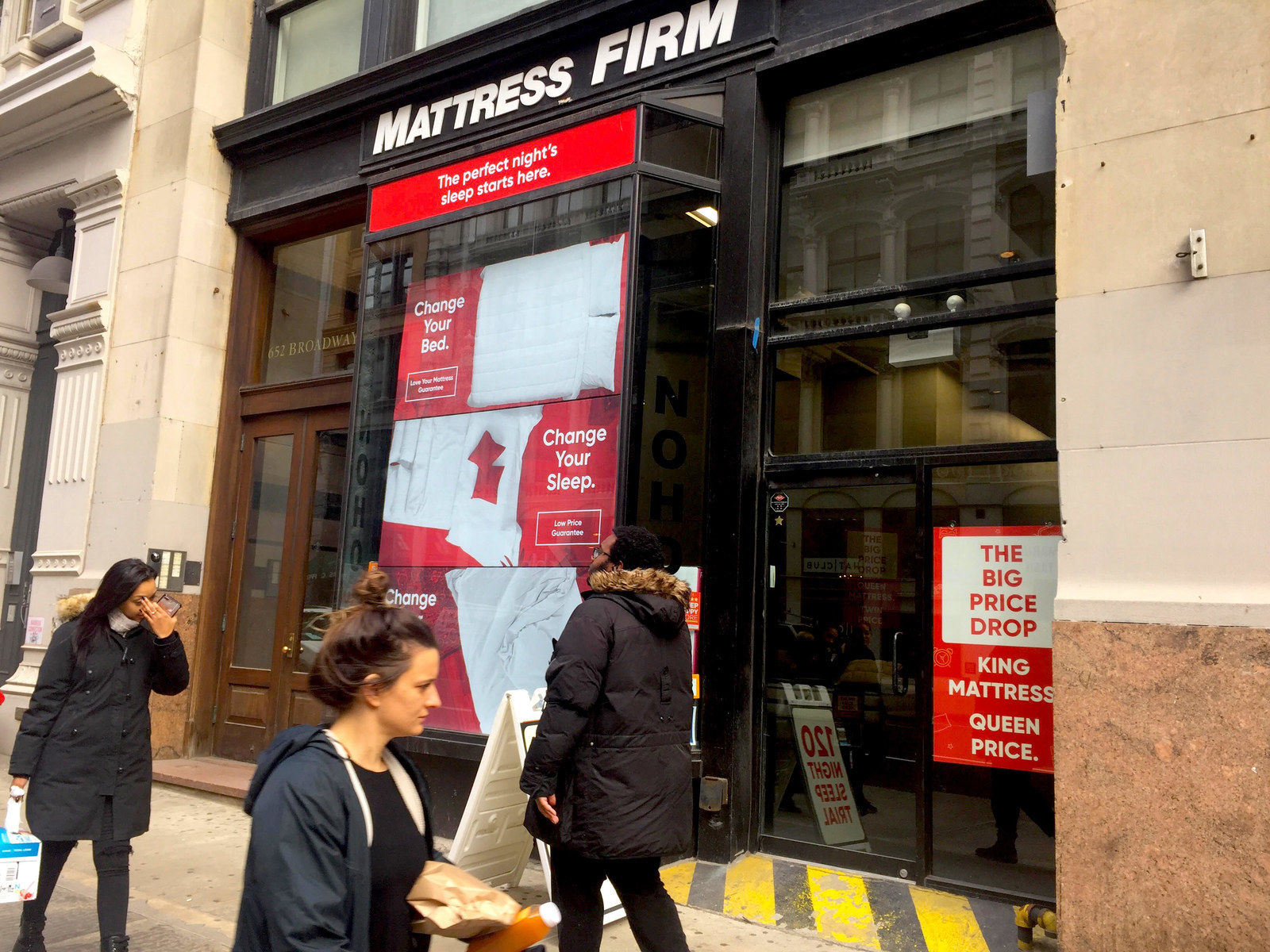 Mattress Firm has more than 3,600 stores across the country and recently bought Sleepy's, another traditional mattress store chain. The company's net sales have steadily increased over the last seven years, from about $703 million in 2011 to $2.5 billion in 2015, according to the company's most recent report.
But the company attributes some of its sales increases to acquiring new companies and stores. As it acquired new stores, it also closed dozens more. The company lost $7.5 million on store closings in 2015, which is an increase from $1.5 million in 2013.
A store manager at the Mattress Firm store down the street from Casper's new "sleep shop" in NoHo said that his store carries a sample Casper mattress because shoppers often want to compare the traditional mattresses to the Casper.
But Sunni Goodman, a spokesperson for Mattress Firm's startup mattress brand called Tulo, told BuzzFeed News that Casper's new sleep shop isn't a threat to its business.
"We'll have a good value for you whatever your budget is," she said. "It's validating that sweet spot of brick-and-mortar and digital."
Parikh said Casper opened its permanent store partly because shoppers kept asking for a real-life shopping experience.
"People are just learning to expect more of retailers," Parikh said. "The [retailers] that are going to make it will make it fun to be inside and create a non-pressured environment. I think that's the bar you need to hit."

CORRECTION
Mattress Firm's net sales were $2.5 billion in 2015. An earlier version of this post misstated that number.