Officers Involved In Minneapolis Shooting Have A History Of Excessive Force Accusations
Two officers involved in the Minneapolis shooting of an unarmed black man have faced previous accusations of excessive force, federal court records show.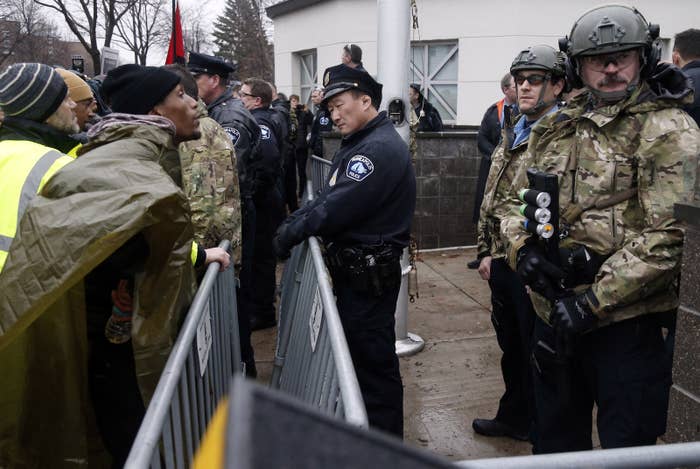 The two Minneapolis officers involved in the fatal shooting of 24-year-old Jamar Clark have been previously accused of false arrest and excessive force in three separate cases, according to federal court records.
Mark Ringgenberg and Dustin Schwarze were named as the officers involved in Clark's Nov. 15 fatal shooting. Investigators still have not named the officer who shot Clark.
Clark was shot in the head after a brief struggle. The officers believed he was a suspect in an assault that was called in to police earlier, according to the Minneapolis Police Department.
It is also unclear whether Clark was handcuffed when he was shot — some witnesses said he was and the police department denies it.
Riggenberg was sued as an officer with the San Diego police department for beating Fred Clark Jr. as his family yelled for him to stop, according to court records.
Clark, who is black, was in San Diego for his sister's wedding in May 2010, according to a March 2012 lawsuit against Riggenberg filed at the U.S. District Court Southern District of California.
The family was parting ways in downtown San Diego when a man staggered into Clark, sparking a verbal argument between the two. At one point the man called Clark a racial slur as five other men surrounded Clark, according to the suit.

Suddenly, Riggenberg grabbed Clark from behind and threw him to the ground, according to the suit. Riggenberg pulled Clark's arms behind his back and pushed his face into the sidewalk as he kneeled on him, according to the lawsuit.
"I couldn't move. I couldn't breathe," Clark told ABC 10. "I really thought I was going to die."
Clark Jr. dropped the lawsuit in June 2013 because of legal costs. Riggenberg left the San Diego police department for Minneapolis two months after the lawsuit was filed.
Dustin Schwarze, during his time as a Richfield, Minnesota, police officer, allegedly tased Nataniel Hanson, a car passenger, several times as another officer allegedly pinned him on the ground and punched him, according to court records alleging excessive force.
Hanson is seeking $50,000 in damages over accusations that Schwarze and two other officers used excessive force and falsely arrested him, according to the suit filed with the Hennepin County District Court. The officers pulled Hanson over early in the morning in December 2011.
One officer allegedly threatened Hanson, pulled him from the vehicle and punched him several times as he was prone on the ground, according to the complaint. Schwarze allegedly stunned him with a taser several times. Hanson was then handcuffed and charged with assault on a police officer. The charges were eventually dismissed.
Hanson was convicted of a petty misdemeanor for not wearing a seatbelt related to a Dec. 11, 2011 incident, according to Hennepin County District Court records. He was required to pay $103 in fees and fines.
Another Richfield resident accused Schwarze two other officers and the City of Richfield for false arrest and violating his constitutional rights, according to the February 2011 lawsuit.
Billy McCoy alleges the officers briefly detained him in April 2009 in an attempt to force him into becoming an informant, according to the lawsuit. He was released because the officers lacked probable cause to bring charges.
After he was released, Schwarze and the other two officers "began a malicious campaign of threats, harassment, random searches, and arrests to pressure" him into the job, he said in the court filings.
McCoy and the city denied the charges and eventually settled with McCoy in April 2011.
Court records don't specify the race of Hanson and McCoy.
Attorneys for Schwarze and Riggenberg could not be immediately reached for comment by BuzzFeed News.