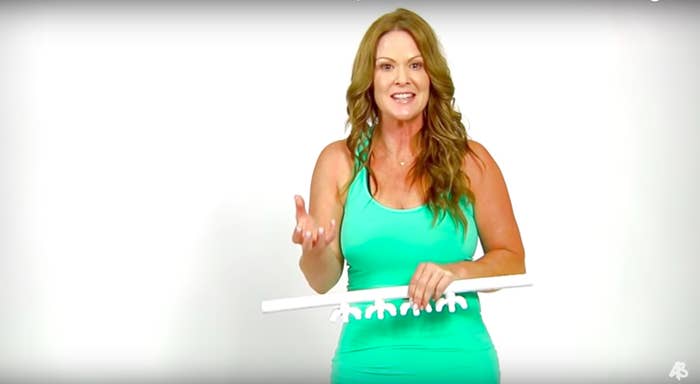 A twist on an old cellulite-busting product based on flimsy science has found new life through Facebook ads targeting women. The FasciaBlaster, a plastic stick with four octopus-like massage claws, is a viral hit. It's received attention from the likes of the Today show and Extra, and gained more than 290,000 followers on Facebook. Its inventor, Ashley Black, says it can "get rid of cellulite" and break up fat cells.
However, doctors told BuzzFeed News that those claims are not backed up by any credible research, and one doctor claimed it appears to be based on "loose science." Meanwhile a group of former customers are claiming that the device caused them serious harm, including severe bruising. When they complained to the FasciaBlaster Facebook group, the women were blocked from posting or reviewing the tool, they told BuzzFeed News.
"I was desperate," said Julia Lefebvre, a 49-year-old former FasciaBlaster user who told BuzzFeed News she stopped using the tool and still has bruises six months later. "Women are so self-conscious of their bodies it's almost instant gratification you get when you drag that claw across your skin and you get bruises. It's almost like feedback, but in our heads it's like why would women — extremely intelligent women — buy into this? I don't know how I bought into it."
A company spokesperson told BuzzFeed News that the company has not thus far received any "verified cases of serious injury, nor have we ever had a personal injury suit or claim." But BuzzFeed News reviewed 62 complaints submitted to the Food and Drug Administration which reported severe bruising, inflammation, and changes in menstruation. Ashley Black sent BuzzFeed News copies of Facebook messages she received from one customer who mentioned an "illness" and another from a customer who had posted "concerns and allegations" online. Six other complaints sent to the company were forwarded to BuzzFeed News by the users who made them. In addition the company's one-star reviews on Facebook include reports of severe bruising, weight gain, sagging skin, increased cellulite, nausea, and menstruation changes.
"We take the safety and welfare of our users very seriously," the company said in a statement. "Our practice is to have an independent third party physician investigate, but none of our users have provided any medical documentation of serious injury."
The company said this "small fringe group" of social media "haters" represents only .017% of Black's total audience. It suspects that at least 500 of the "hater profiles" are fake.
Between May and June, the company said it sent "2,000 emails and approximately 2,000 messages to anyone who posted a concern or complaint about the FasciaBlaster anywhere online, including in the hate groups." It got few responses, but after investigating their claims, the company said the users were making "baseless and unsubstantiated attacks on our company."
BuzzFeed News received emails from satisfied users who said the tool helped them gain back their range of motion and relieve lower back pain, and who said they were touched by encouraging discussions in the Facebook group.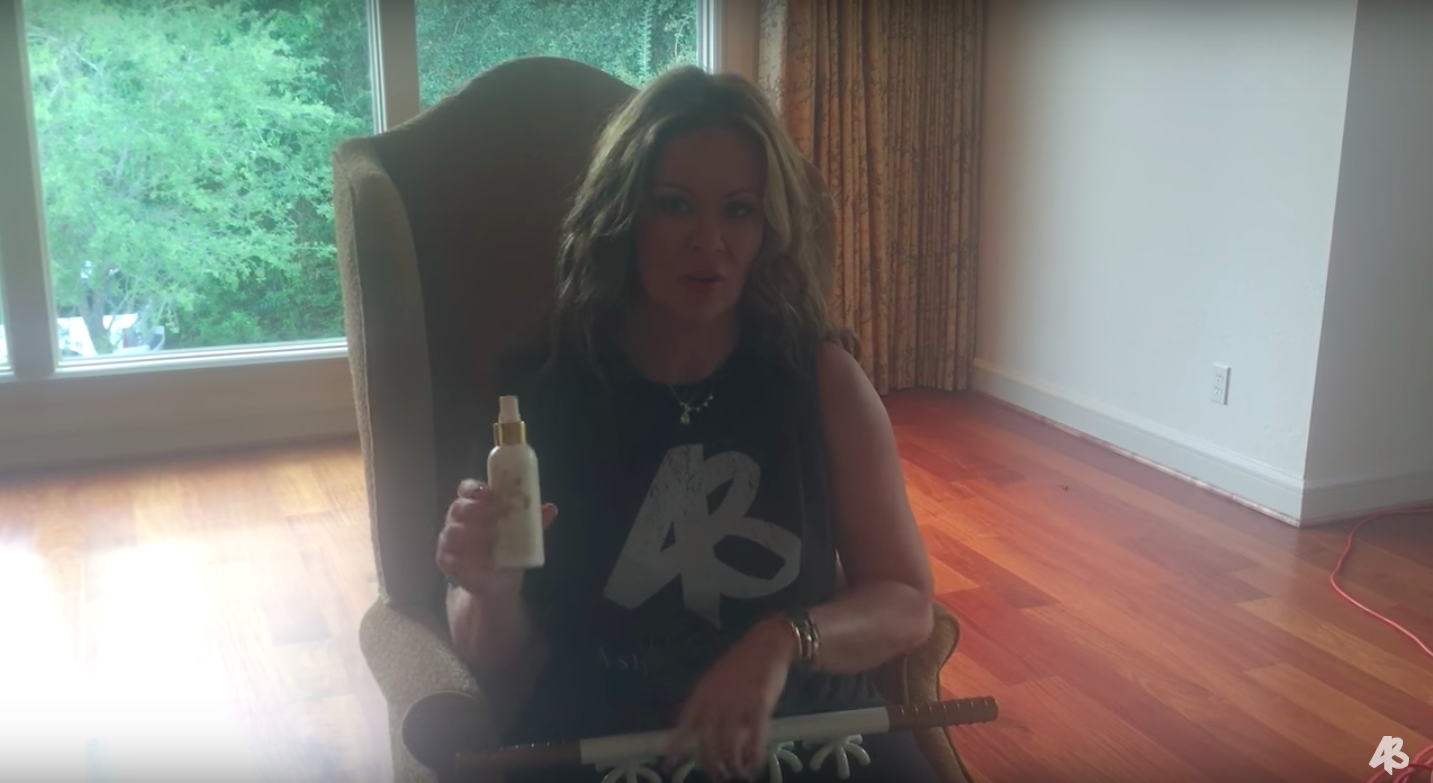 Black has developed an entire pseudoscience around a real type of tissue, fascia, which connects muscle to skin and contributes to the appearance of cellulite. Facebook posts and ads for the FasciaBlaster claim that people can "get rid of cellulite," "carve out" muscle, and "erase … pesky fat pockets" by following Black's instructional videos — of which there are 170 on YouTube.
The $89 FasciaBlaster wand is meant to be used up to four times a week, intentionally bruising the skin in order to supposedly break up cellulite. To "FasciaBlast," women are instructed to heat up in a sauna, slather themselves in oil, and then rigorously massage their bodies with the blaster to "break up" fascia. Bruising is a sign of restoring "unhealthy fascia," Black claims.
She tells customers to press the claws into their skin — which she said can hurt because it means "you're breaking up the fascia." As layers of fascia get broken down, she instructs users to press even harder into their skin, up to a "pain level of seven," to smooth out deeper layers of fascia. (A seven is considered low-level severe pain in the Universal Pain Assessment Tool.)
On her website, Black wrote that one technique calls for people "to rake through and loosen tight fascial adhesions that cause those unsightly dimples." These adhesions, she said, are signs of "unhealthy fascia" that collect into small knots that can be released by rigorously massaging the body. After raking, "the places that hurt the worst [and] are most sensitive are generally where you have severe fascia distortions - This is totally normal," she wrote on Facebook.
Through another more painful technique, Black claims users can break up fat cells with the wand so they are excreted with urine.
"Contract the muscle as hard as you can and then you go ballistic on the area," Black instructs users in a video posted to YouTube in June 2015. Users should expect bruising when breaking up fat, she says.
The promise, ultimately, is that by enduring the pain you'll have less visible cellulite.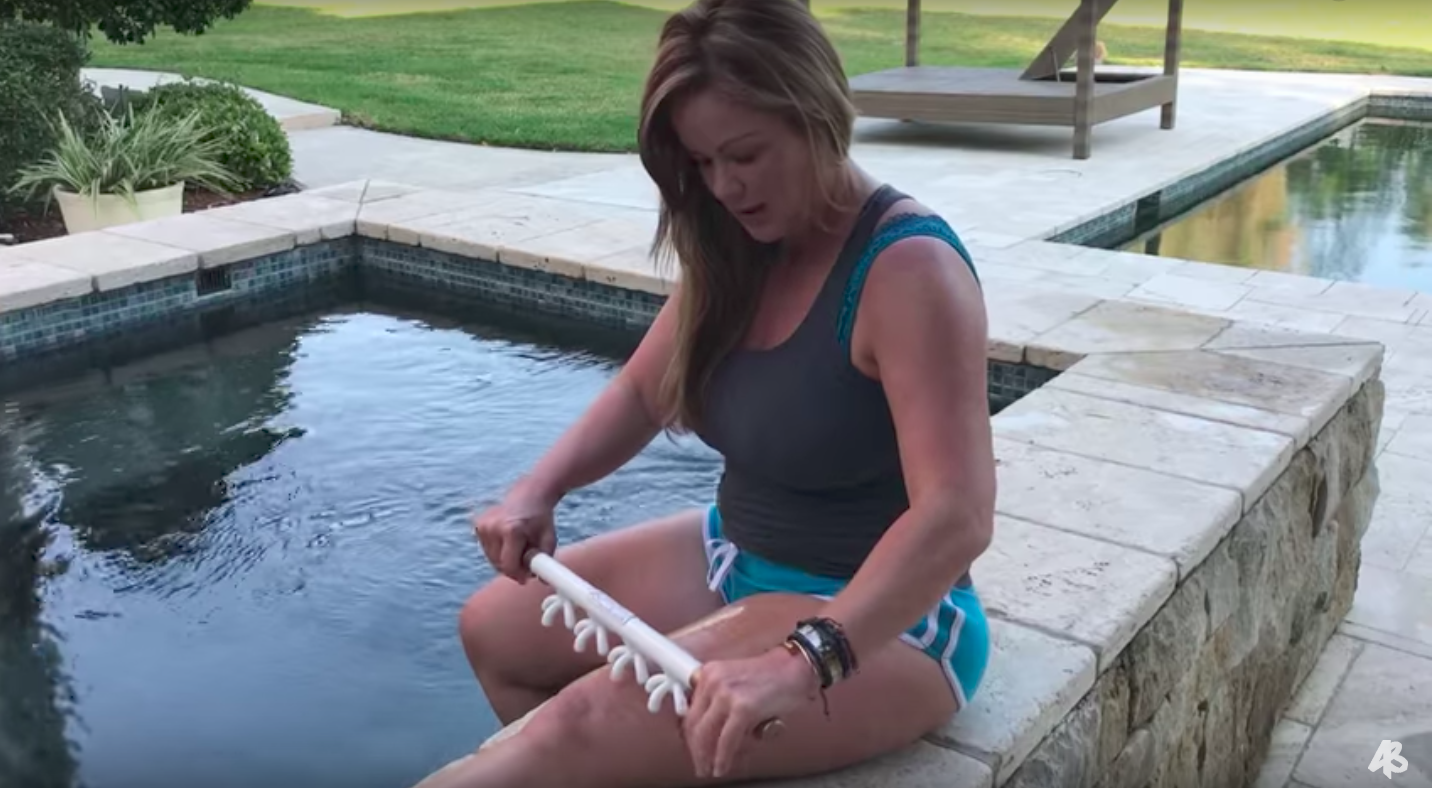 Ashley Black isn't a doctor, licensed physical therapist, or scientist — nor does she hold a college degree. Prior to starting her FasciaBlaster business, she spent more than a decade as a health and wellness trainer and entrepreneur. She designed a tool to relieve her own pain from hip-replacement surgery. By 2012, she was distributing the device, originally called the Lumpbuster, to her bodywork clients for use in between sessions.
Everything changed when a client's girlfriend texted that the tool got rid of her cellulite, Black says in a YouTube marketing video. "It literally was one of those moments in time where you go like, whoa, how have I studied this my entire career and didn't make the connection?"
Black has since promoted herself as a "pioneer" in fasciology — a term she coined — in her book The Cellulite Myth: It's Not Fat, It's Fascia, which includes Wikipedia entries and WebMD articles among the dozen references cited in the bibliography. During an interview with BuzzFeed News, she declined to cite the names of specific instructors she learned from and institutes or training certifications she had earned, out of concern those institutions would be targeted by "trolling."
She added that asking for credentials in fasciology is "like asking Thomas Edison where his electrical engineering degree is. There is no basis or background."
A spokesperson for Black said Black "has spent thousands of hours reading books on Anatomy & Physiology, Biochemistry of fascia, including paying to have papers translated from Mandarin and other languages, as traditional western medicine dedicates very little time to the study of Fascia."
The company began investing heavily in social media marketing in March 2015, according to Black. Most of the 20 women BuzzFeed News spoke to for this story said they learned about the tool through Facebook ads or Black's private Facebook group of more than 290,000 women. Several said they were drawn to the tool because of the ads and the positive discussion in the tool's main Facebook group.
"Ladies, you can use the FasciaBlaster® to ERASE cellulite!!!!! Check AWESOME results!" reads one Facebook post.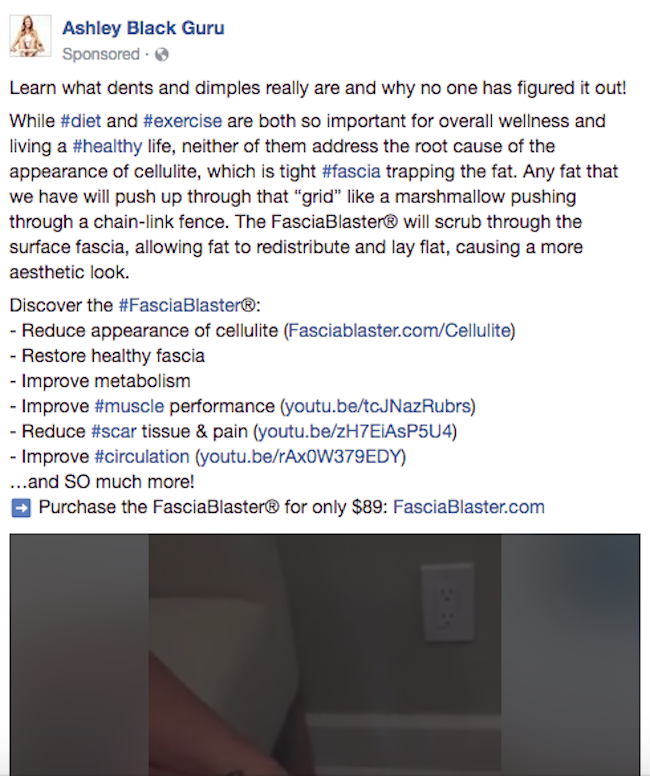 Meanwhile, in YouTube videos posted as long ago as 2015, Black claims that the tool not only gets rid of cellulite, but also alleviates symptoms of scoliosis, fibromyalgia, and Parkinson's disease.
The company's spokesperson said it has "hundreds of thousands of satisfied customers," but declined to disclose sales information to BuzzFeed News.
Yet multiple women BuzzFeed News spoke to also reported that when they tried to report their injuries in the Facebook group, a major forum for marketing the device and building a following, they were blocked for violating a ban on posting about "negative, rude, catty, or inappropriate remarks."
Black said she doesn't allow "drama in my group" from people who ask "foul" questions such as "does this cause miscarriages" because "we keep it positive."

"For me this is a support group for people who are trying to restore your fascia," she said. "You wouldn't let an alcoholic with a bottle of champagne walk in to an AA meeting and say 'Don't listen to this — drink some wine.' I don't let people come in my group and say things that are false and starting trouble."
The company said it has a "three strike policy" when it comes to violating the rules, and that all members are warned before they are blocked. It told BuzzFeed News that it has blocked people from the main group 788 times.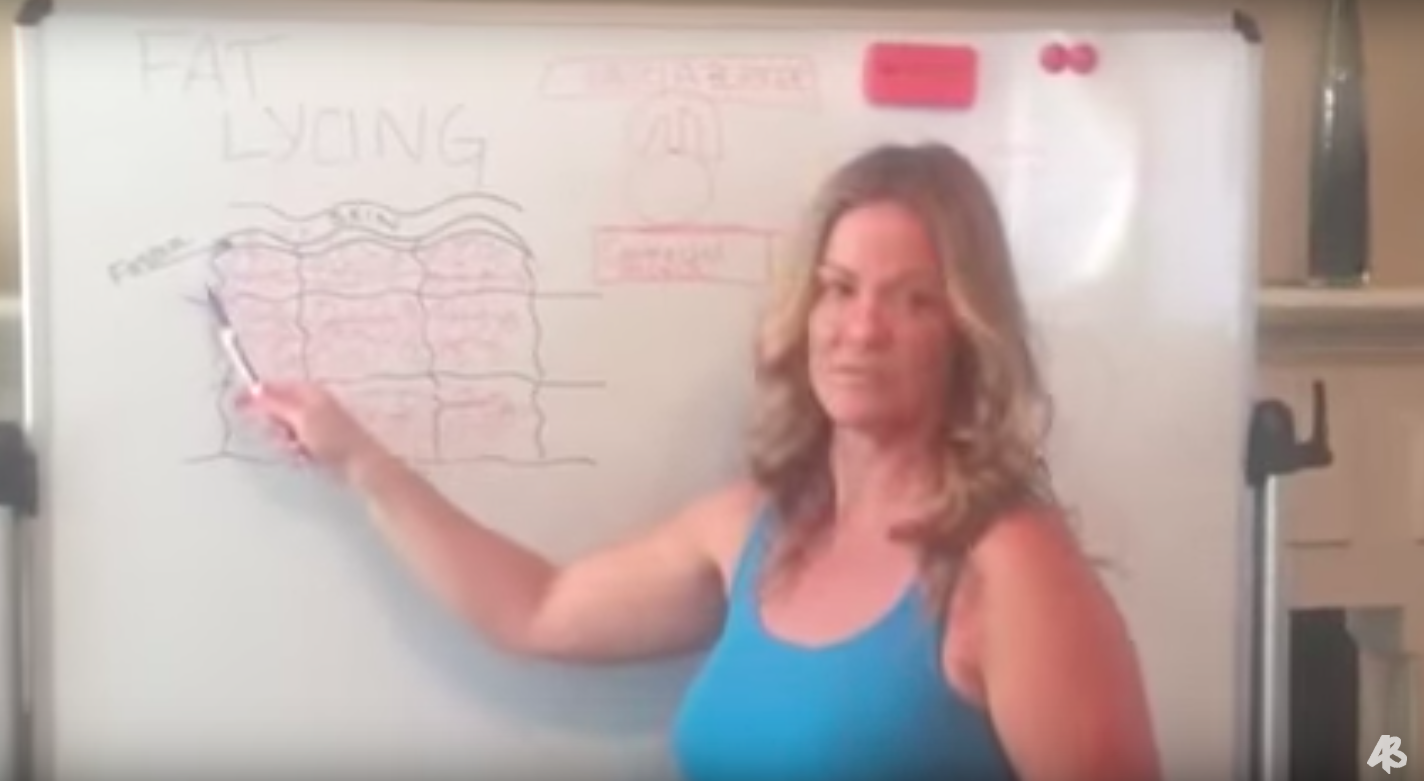 Doctors told BuzzFeed News that it's true that cellulite is caused by fat squeezing through fascia, but challenged many of Black's claims that the FasciaBlaster can "get rid" of cellulite and pop fat cells, and that bruising is a result of breaking up a "fascial adhesion." One doctor told BuzzFeed News these claims are based on "loose science."
It is possible to squeeze fat into small particles, Robin Travers, a doctor with Skincare Physicians based in Chestnut Hill, Massachusetts, told BuzzFeed News. But it's "only from very intense trauma, to the point where it would be dangerous."
Clinical studies have shown that massage may be a short-term treatment to smooth out cellulite, but there is little evidence that it has any permanent impact. A 1999 clinical study in the Journal of Plastic and Reconstructive Surgery showed there was no statistical difference between the control group and the group that was treated with massage to reduce cellulite. Of 35 people who had their legs treated by massage, 10 said they thought their cellulite appearance improved.
Another clinical study from 2009 published in the International Journal of Dermatology showed massages were "mildly effective" in reducing cellulite, while other studies have shown that the results aren't permanent.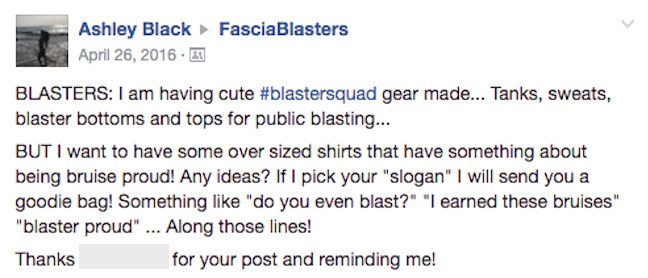 While Black emphasizes bruising, describing it as a sign that the treatment is working, Kathleen Cook Suozzi, an assistant professor in the dermatology department at Yale School of Medicine, told BuzzFeed News, "Bruises are pathologic, or an indication of tissue injury, and shouldn't be the goal of a treatment." Although trauma can destroy fat cells, it's not something you can control "with this kind of crude device."
John Morton, chief of bariatric and minimally invasive surgery at Stanford Health Care, told BuzzFeed News that a bruise is essentially a collection of blood beneath the skin.
"A bruise does not equal fascia being broken up," he said. And although Black claims the FasciaBlaster doesn't bruise healthy tissue when properly used, "any skin can get bruised. It doesn't matter if it's healthy or not."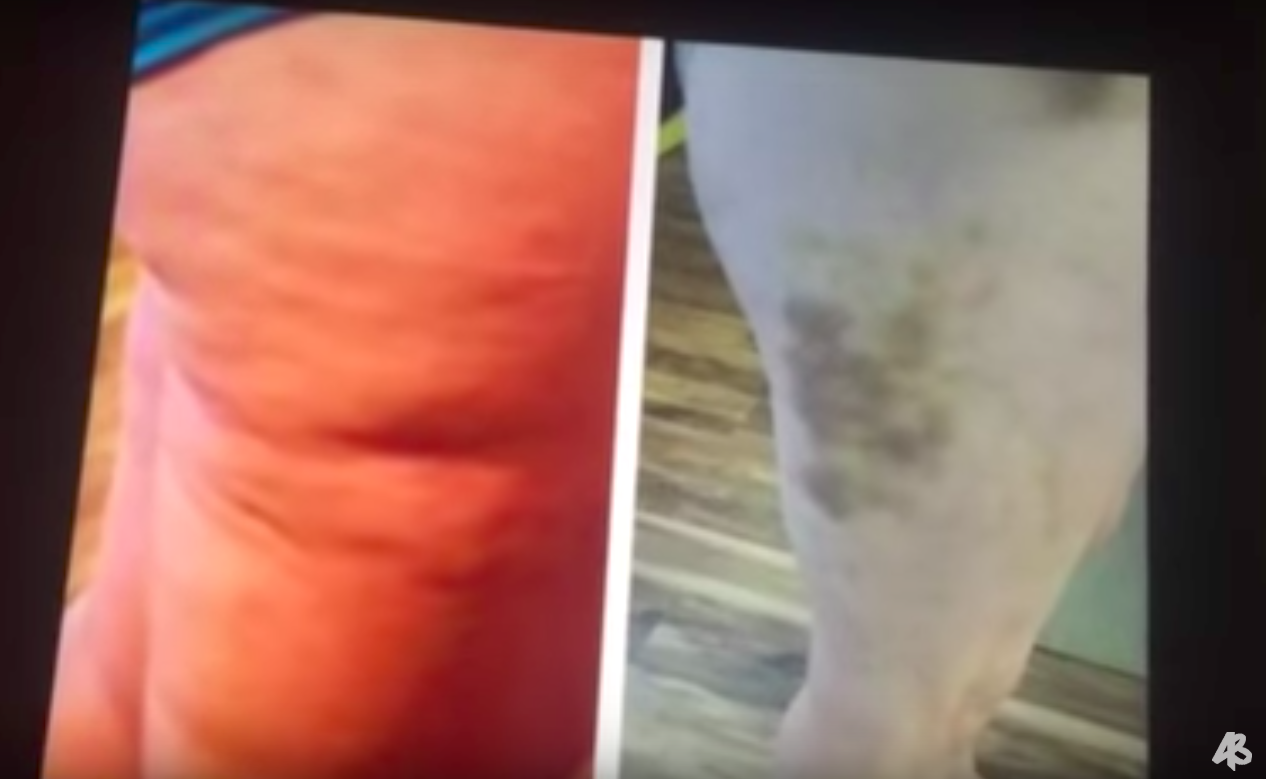 There also isn't any scientific evidence for Black's claims that cellulite can be massaged out of the body, Mathew Avram, a doctor with Massachusetts General Hospital's Dermatology Laser and Cosmetic Center, told BuzzFeed News.

"It's hard to say something definitely works or doesn't work without having a clinical study that goes under scrutiny of scientists that are not involved with the product," he said. As for perceived improvement, he said any reduced appearance of cellulite from using the FasciaBlaster may be a result of temporary swelling that conceals the cellulite.
Although there haven't been any published clinical studies on the device, the company has performed its own 90-day study. The results, posted on the company's website, show the subjects' before-and-after pictures, and claim the device decreased fat thickness and the appearance of cellulite. The study was led by Jacob Wilson, CEO of the Applied Science and Performance Institute, who also gives nutrition and training advice under the name "The Muscle PhD."
Black declined to share the raw data from the study with BuzzFeed News because "no one at BuzzFeed is trained to look at the raw data."
Wilson told BuzzFeed News in a statement that "while the reason fascia blasting works has yet to be fully understood, it is likely that the fascia blasting frees fat cells from fascia." The results, he said, are consistent with three clinical studies that show massage does have an effect on cellulite appearance, although one of the studies he cites found the effect "is not permanent."
While the company said the 90-day study "did not identify any adverse effects," Michelle Lanum, a 36-year-old PhD student in psychology at Keiser University and a subject in the study, told BuzzFeed News that FasciaBlaster ignored her complaints about the side effects she experienced from using the tool while she was participating in the study.
Despite symptoms such as nausea, dizziness, and vomiting — which the company told her were unrelated to using the tool — Lanum was sold on the product and wanted to partner with FasciaBlaster on her dissertation. During the 12th week of the study, however, she took a break from blasting due to discomfort, although she reported, "I enjoyed and appreciated my experience." After speaking with other users about their symptoms, Lanum stopped blasting and eventually abandoned it as a research subject.

"I lost 18 pounds and they were excited," she said. "But it was because I hadn't eaten and that's not a good way to lose weight."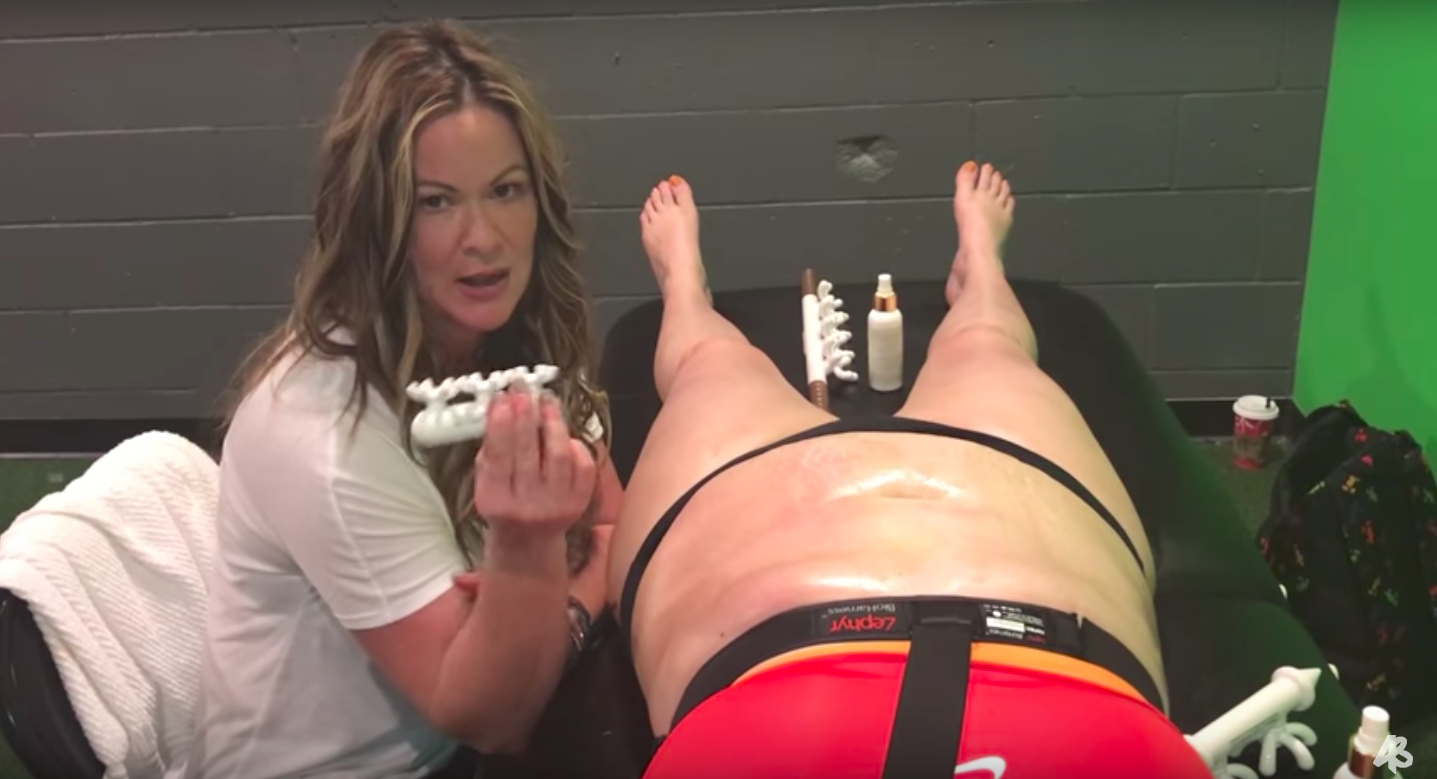 Despite skepticism from the medical community, Black defended the science behind her tool to BuzzFeed News, as well as her role as a scientist.
"To me a scientist is anyone who is willing to step out and willing to be proven wrong and conduct research," she said, pointing to hiring Wilson to lead a 90-day study on the FasciaBlaster, which returned positive results. "Does that make me a scientist? Yes."
BuzzFeed News spoke to 16 people who reported being injured after treating themselves. Three of them told BuzzFeed News they went to the emergency room for injuries they think may have been a result of using the tool.

BuzzFeed News reviewed 62 reports of injuries and product malfunctions related to the device that were submitted to the FDA since October 2016. The reports include bruising, digestive issues, and sudden weight gain. (Black's attorney said 77 FDA reports were filed in the last three months, and attributes them to a campaign against FasciaBlaster.)
The FDA declined to comment to BuzzFeed News about the product.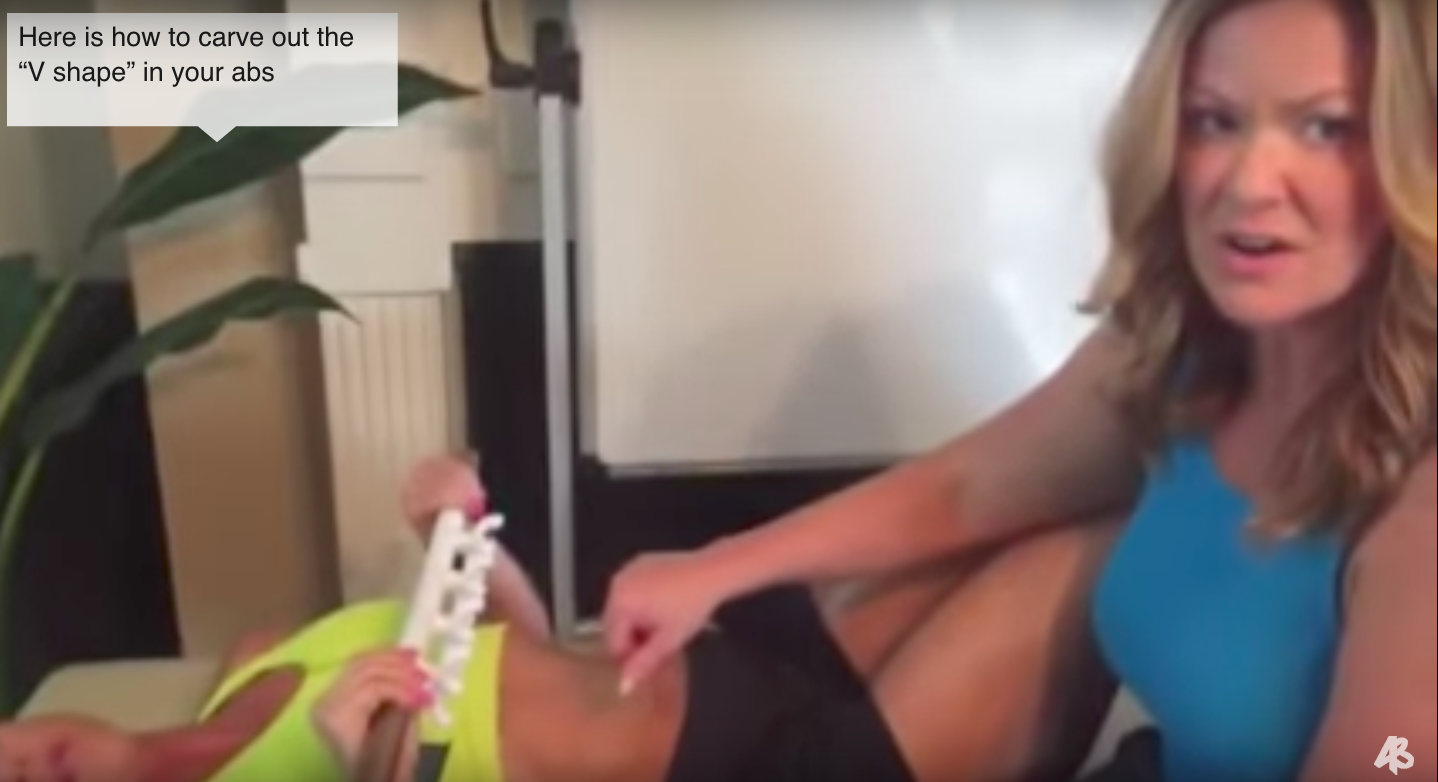 Black dismissed women who claim they've been injured by the FasciaBlaster as "a Facebook group of rambling idiots." She said anyone who is experiencing injuries from the tool is not following her instructions.
"I could say that glass vase causes bruises but only if I hit myself over the head with it. If someone has excessive bruising, they are improperly using it," she said.
Among her fans is Cindy Hemphill, a 44-year-old woman in Oklahoma, who told BuzzFeed News that she has been using the FasciaBlaster since February. She said the bruising can be painful, but her cellulite appears less distinctive.
"To me it's just a little bruise and a little sore for a day, but it's totally worth it," she said.
Black believes her success in treating people like Hemphill is a testament to her "inquisitive and explorative mind." She believes in herself as a leader on the cutting edge of fascia research, which should attract praise not complaints.
"The reason we did the research was not because we had to or needed to, but because we wanted to," she said. "I would like to be awarded for how out of my way I have gone to produce the best possible product."