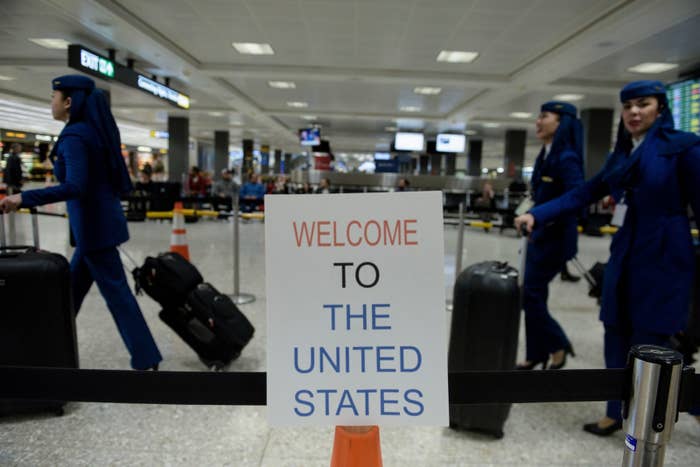 The US is barring passengers from bringing laptops, tablet computers, and other electronic devices as carry-on items on nonstop flights from 10 airports in the Middle East and North Africa.
The ban was revealed Monday after two Middle Eastern airlines began telling passengers about the new restrictions. A representative of Saudi Arabian Airlines, based at JFK International Airport in New York, told BuzzFeed News that the ban begins immediately, and covers all electronic devices, excluding cell phones. The airline said the ban applies on flights headed to the US.
On Tuesday, the Department of Homeland Security released a statement on the new policy, stating the "2015 airliner downing in Egypt, the 2016 attempted airliner downing in Somalia, and the 2016 armed attacks against airports in Brussels and Istanbul" as examples of why increased security was needed.

"Evaluated intelligence indicates that terrorist groups continue to target commercial aviation and are aggressively pursuing innovative methods to undertake their attacks, to include smuggling explosive devices in various consumer items. Based on this information, Secretary of Homeland Security John Kelly and Transportation Security Administrator Acting Administrator Huban Gowadia have determined it is necessary to enhance security procedures for passengers at certain last point of departure airports to the United States," the statement said.

The department said airlines would have 96 hours to comply with the new rules and the ban would remain in place until "the threat changes."
Here's the list of every major air travel hub that is affected by the ban:
Hamad International Airport, Doha, Qatar

Dubai International Airport, UAE

Abu Dhabi International Airport, UAE

Ataturk International Airport, Istanbul, Turkey

Queen Alia International Airport, Amman, Jordan

Cairo International Airport, Egypt

King Abdul Aziz International Airport, Jeddah, Saudi Arabia

King Khalid International Airport, Riyadh, Saudi Arabia

Mohammed V Airport, Casablanca, Morocco

Kuwait International Airport, Kuwait

All these countries are US allies, many of them crucial ones: Turkey is a NATO member, Egypt is the second-largest recipient of American military aid, and Qatar hosts the forward operating headquarters of the US Central Command. Dubai's airport is the world's busiest for international passenger traffic, while Abu Dhabi's is so trusted that US customs and immigration checks are conducted there.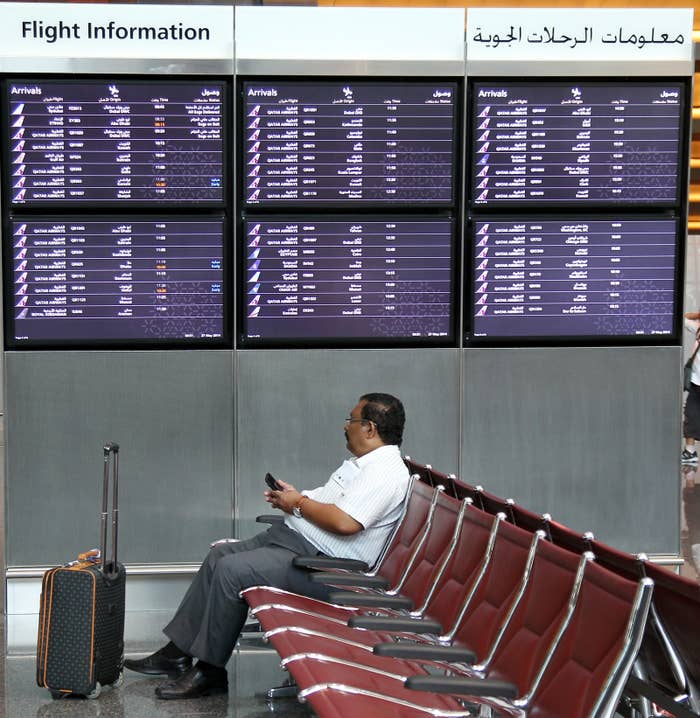 The devices banned from the cabin will need to be packed in checked baggage. Former officials said the use of certain electronic devices in the flight cabin has presented a longstanding threat, but some questioned why action is being taken now.
Examples of large electronic devices that will not be allowed in the cabin on affected flights include laptops, tablets, e-readers, cameras, portable DVD players, electronic gaming units larger than a smartphone, and travel printers/scanners.

"If this is true, the threat of attempts to disguise explosives within laptops and other large electronic devices carried through the last-point-of-departure airports bound for the United States is not new. What appears to be new is this latest overreaction," a former administration official familiar with aviation security procedures told BuzzFeed News. "It appears to be a Muslim ban by a thousand cuts."
For as many as two years, US officials have trained airport security personnel across the Middle East on how to search for explosives, the former official said.
"It's an unnecessary piece of overreach that is a kind of punishment meted out to a group rather than a targeted application of reasonable security measures," the person said.
A Republican aide to the House Homeland Security committee confirmed to BuzzFeed News that its chair, Michael McCaul, and committee members had been briefed on the issue, but could not provide additional details.

Adam Comis, a spokesperson for Democrats on the committee, said ranking member Bennie Thompson had been briefed but Comis said he could not provide more details about the ban either.
Senate Homeland Security Committee Chair Ron Johnson has spoken with Secretary John Kelly "and a briefing is being set up mid-week," an aide to Johnson told BuzzFeed News.
Royal Jordanian Airlines informed passengers of a ban coming into effect on Tuesday. "Following instructions from the concerned US departments," the airline tweeted, all electronics are banned on US-bound flights, with an exception for cell phones and medical devices.
That tweet has since been deleted. In a response to inquiries from BuzzFeed News, a representative said "further updates will be announced soon."
Here's the original, deleted Royal Jordanian tweet.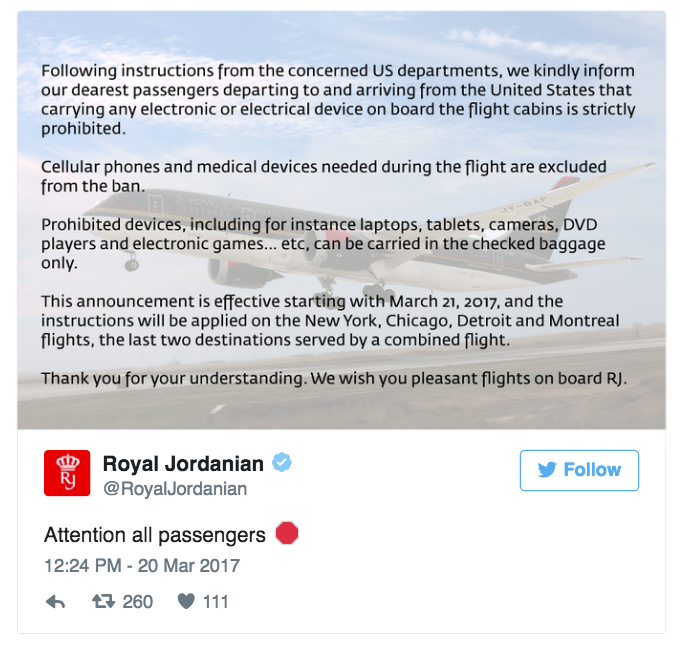 As of Monday night, not all members of the Homeland Security committee had been briefed on the security changes.
"I have not been briefed yet, but it's a conversation that's happening," one member told BuzzFeed News. The committee will be briefed on Wednesday, another member said.
JFK-based representatives of Dubai's Emirates Airline and Doha-based Qatar Airways said they had not heard of any changes. BuzzFeed News has reached out to other Middle Eastern and African airlines, and will update this article when responses are received.

Here is the full list of affected airports: Queen Alia International Airport (AMM), Cairo International Airport (CAI), Ataturk International Airport (IST), King Abdul-Aziz International Airport (JED), King Khalid International Airport (RUH), Kuwait International Airport (KWI), Mohammed V Airport (CMN), Hamad International Airport (DOH), Dubai International Airport (DXB), and Abu Dhabi International Airport (AUH).
BuzzFeed News reporters Emma Loop, Lissandra Villa, and Nancy Youssef contributed to this report from Washington, DC.
Outside Your Bubble is a BuzzFeed News effort to bring you a diversity of thought and opinion from around the internet. If you don't see your viewpoint represented, contact the curator at bubble@buzzfeed.com. Click here for more on Outside Your Bubble.