Meet The Cartoonist Fighting For Freedom Of Speech In Malaysia
"Cartooning is not a gift, but a responsibility."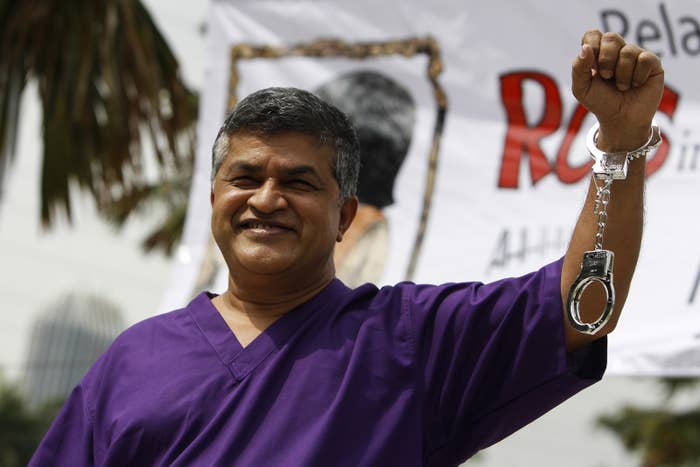 Zulkiflee Sm Anwar Ulhaque, a Malaysian cartoonist known as Zunar, understands the power of a pen and paper.
Zunar is facing nine counts of sedition over a series of tweets he posted in February following a controversial court ruling that sent opposition leader Anwar Ibrahim to prison for five years. Now the cartoonist faces up to 43 years in prison.
Known for his cartoons mocking the prime minister and other politicians, Zunar, 53, has become Malaysia's leading figure in a running battle against the Najib Razak regime's crackdown on freedom of expression and human rights.
"There are so many laws the government uses to silence people and imprison people without trial," Zunar told BuzzFeed News. "We are even worse day by day in terms of human rights, freedom of expression and corruption."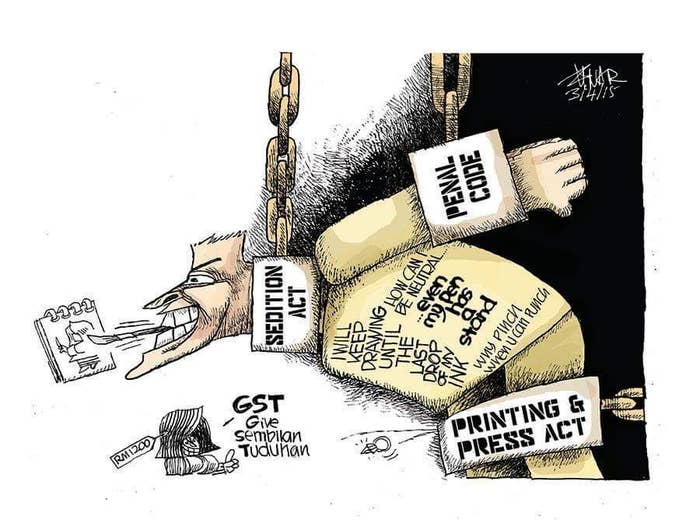 Free on bail until his sentencing in December, Zunar has spent the last few months outside of Malaysia on a mission to expose the country for being one of the most corrupt in the world.

For decades, the nation has been plagued by excessive police force and a judicial system that has been mired in controversy amid accusations that authorities conspire to appoint "friendly" senior judges.
But freedom of speech battles have amplified under Razak's regime with expanded authority to criminalize government critics. In April, Razak "strengthened" the Malaysia's 1948 Sedition Act to enhance penalties for people who pose any threat to national security or stability.
The so-called sedition dragnet came after Razak was hit with allegations that he funneled $700 million from a Malaysian state fund into his personal bank. It quickly turned into one of the nation's biggest money corruption scandals, with Razak firing the attorney general in charge of the investigation and a deputy who had become a prominent critic.
Around 100 people have so far been arrested or charged under the Sedition Act, including Zunar, who according to Amnesty International has been detained twice over his tweets and his book Cartoon-O-Phobia.
Zunar's office in Kuala Lumpur has been raided several times. And the workers who print his books have been questioned by police, as has the webmaster who runs his website, Zunar.My.
All five of his books have been banned from Malaysia, he added.

"They worry about how people use creativity to fight a corrupt government," he said of the government. "When we use creativity, they know that people attach to it. My cartoon makes you laugh at the government. If you laugh, they can't do anything. No regime can stand if you laugh at them. This is why it's a crime for them."
Zunar's most popular cartoons have portrayed Najib as the club wielded by police and regime administrator's as fools under the prime minister, who wears a large diamond ring. The cartoonist has even criticized the Obama administration as turning a blind eye toward Malaysia's human rights violations as it seeks approval of the Trans-Pacific Partnership Agreement.
"My philosophy of cartooning is, 'How can I be neutral when even my pen has a stand?'" he said. "I want everybody who reads my cartoon to have a stand. When you're facing the regime, you need to stand up and make your stand clear. It is very dangerous to any regime, which is why I've become a criminal."

Zunar has been drawn towards cartooning since he was 12. At 18, he drew his first controversial cartoon for his school's magazine critiquing a teacher who did not discipline students who left school to date or wasted time at restaurants.
The teacher banned the cartoon from being published.
Under pressure from his parents, Zunar followed a traditional career path toward being a doctor under pressure from his parents. He'd work days as a lab technician during college and draw at night.
But the widespread corruption in the country during the 1980s prompted him to turn his pen into a bullhorn.
"I like politics and I am also a cartoonist," he recalled thinking at the time. "Why don't I combine this as a political cartoonist?"
Since then, Zunar's worked for a newspaper drawing cartoons and for the opposition government in the 1990s, when he also faced prison time.
His work has also won the 2011 Courage in Editorial Cartooning Award from the Cartoonists Right Network International, Human Rights Watch's 2011 and 2015 Hellman/Hammett Award, and the Committee to Protect Journalist's 2015 International Press Freedom Award.
Now, as he prepares to potentially spend decades in prison, Zunar said he remains driven by a larger mission to fix his broken country.
"For me these are not political cartoons, but cartoons for the people," he said. "Cartooning is not a gift, but a responsibility. It is my responsibility to use my cartoons for the benefit of my people. I want to use my case to expose the real face of Malaysian government.
"This is my responsibility to fulfill my responsibility as human and Malaysian and as a political cartoonist."